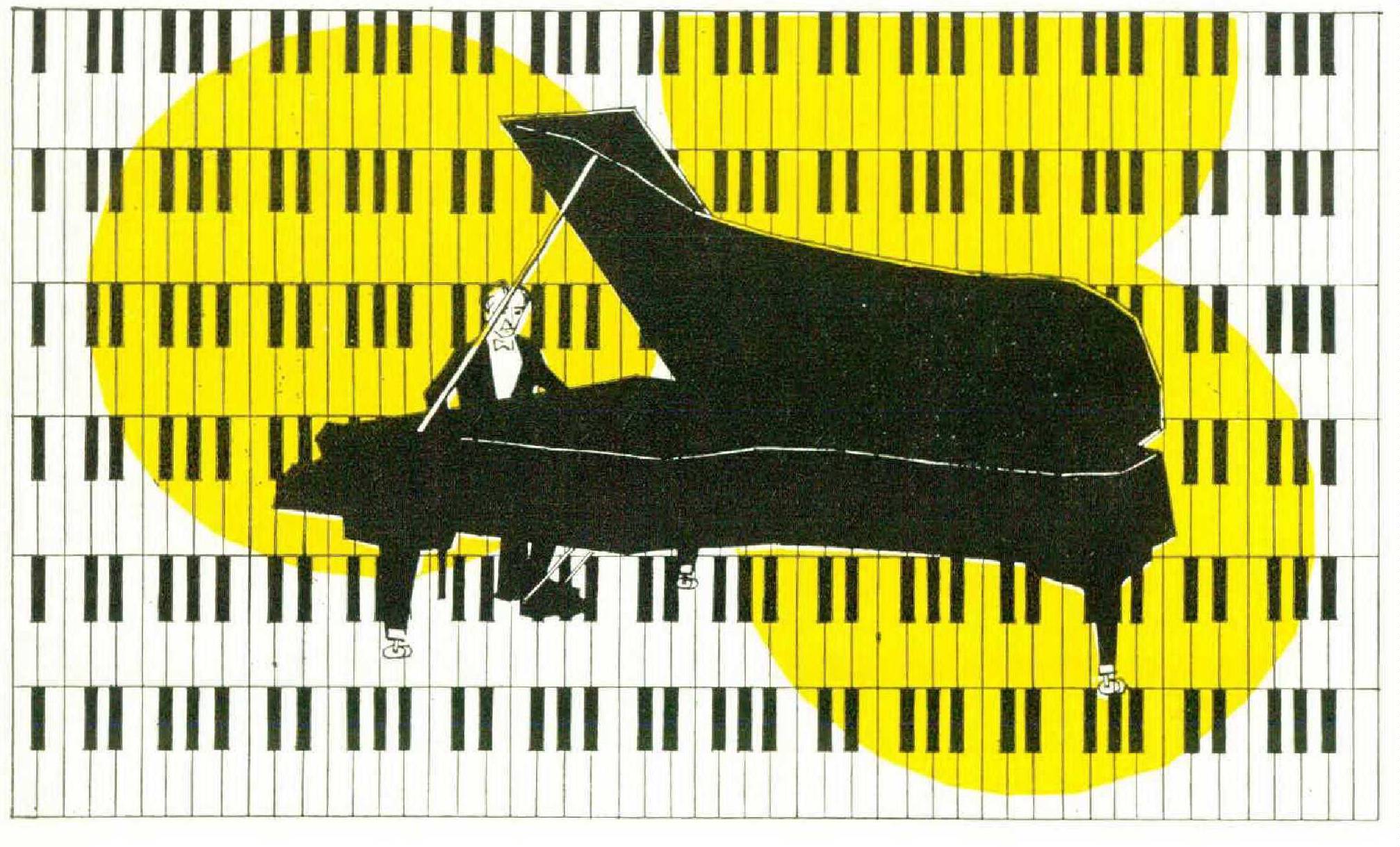 No pianist of our time has had a more curious history than Vladimir Horowitz. After a brief but brilliant career in Europe he made his American debut in 1928 at the age of twenty-four. It was no easy matter to establish oneself in an era when Paderewski, Rachmaninoff, Lhévinne, Gabrilówitsch, Hofmann, and others were still active, but Horowitz quickly became not only a success but a sensation. He played to packed houses wherever he went, and his records found an eager market. He married Arturo Toscanini's daughter, Wanda, became an American citizen, and pursued his dazzling career. Then, early in 1953, upset by the tensions and stresses of concert life, he suddenly withdrew from public performance. His records, which had been appearing for thirty years on the RCA Victor label, dwindled to a trickle and then ceased. He had virtually become a musical recluse.
Two years ago Horowitz took his first step back toward public activity. He switched his record affiliation from Victor to Columbia, signing a three-year contract calling for the release of two long-playing records a year. Horowitz retained control over the choice of material to be recorded, which apparently had been a sore point between him and Victor. His newest release — his third for Columbia — contains Beethoven's Sonata No. 8 in C Minor, the Pathétique, three Debussy preludes, and two études and a scherzo by Chopin.
Horowitz's resumption of recording activities has naturally raised the question of a possible return to concert life. As his new recordings attest, he is still a brilliant performer, and at fifty-nine he is far from being the oldest practicing pianist in the business. The question is one which only Horowitz himself can decide, and if he is not yet ready to answer it directly, at least he has no objections to talking about it.
His present attitude, as he described it recently in a pleasant conversation in the art-lined living room of his Manhattan home, is that while he assuredly intends to play in public again, and hopes it will be soon, he still is not prepared to set the date. Looking fit, slender, and youthful, he discoursed on a number of subjects ranging from the problems of the younger pianists today to his own activities as a composer. His English is strongly flavored with a Russian accent, but it is fluent and decisive. He mentioned three or four American pianists as musicians he admired, but lie found the younger generation of pianists as a whole lacking in individuality and in lyricism. "The young people all play alike — the same style, the same pieces. They copy from records and from each other," he said. "There is no personality, no singing quality. It is all very well to have mechanical ability, to be able to play double notes and trills. But you cannot do it for two hours. It is like a beautiful woman. If she has diamonds it is nice to see them, but she must have a face, too — and character."
Although Horowitz made his first impact on the public by the sheer headlong brilliance of his playing, he insists that lyricism is the essence of great pianism. "It is not easy to sing on a piano, a percussive instrument," he said. "But I try to sing. And I tell others to sing when they come to me. 'You don't even have to practice,' I say. 'Sing in your mind when you are playing.' "
Horowitz recalled fondly the days when the piano, as well as being a display instrument, was a means of gaining musical insight and understanding. "When I was a boy I used to play operatic scores at the piano," he said. "Do you know Sadko? A wonderful opera; I loved to play through it. I played the Brahms symphonies at the piano long before I heard them at an orchestral concert. You learned to know music that way, but nobody does it anymore. I played many times four hands with Rachmaninoff things like the symphonies of Haydn and Bruckner. Those were marvelous times."
Henceforth, Horowitz said, he is going to concentrate less on bravura showpieces — such as his own incredibly difficult piano transcription of John Philip Sousa's "Stars and Stripes Forever" — and more on basic repertory. Talking of his virtuosic transcriptions, he remarked, "Maybe that's one reason why I stopped playing in public. There was too much exhibitionism; too much was expected of me."
Now Horowitz wants to record more Mozart and Clementi, and such pieces as Beethoven's Thirtytwo Variations in C Minor. Horowitz, like Toscanini, has always been meticulous with his recordings. "I cannot blush for my records," he said. "I take time with them. I
don't record just like this" — a rapid motion of his lingers — "and then 'good-bye, good-bye.' That is why I have not made so many records. But I think the ones I have made have a good standing."
Today Horowitz likes to go to Columbia's recording studio, housed in a former church on East Thirtieth Street in New York, and spend hours playing before the microphones. Then he listens to playbacks — "I have lots of free time" — and gives his approval to the selections to be released. Many observers have noted a more relaxed feeling in his latest recordings, and he says that he is in accord with their reaction. "When I go again on the stage I will be more relaxed, too," he said with a smile. "Well, maybe not the first time—•"
As for his own activities as a composer, Horowitz disclosed that he had never written down, except in sketch form, such famous transcriptions as his "Stars and Stripes Forever" and his astonishing keyboard version of Saint-Saens's Danse Macabre. As a young man, he said, he had composed a series of piano pieces which he described as "old-fashioned and sentimental." "Do you know," he said thoughtfully, "I played my music for three composers — Szymanowski, Rachmaninoff, and Prokofiev — and they all said they liked it."
Did that mean that there might yet be a record entitled Horowitz Plays Horowitz? "Oh, no," he replied, laughing. "I can see the reaction to it. They will say, 'better Horowitz plays Beethoven.'"
Certainly Horowitz's performance of the Pathétique Sonata on his newest record (Columbia MS-6541, stereo; ML-5941, monaural) makes such an attitude seem eminently reasonable. Generations of piano students have tried their hands at the Pathétique; it is usually accounted among the most old-fashioned and demode of Beethoven's sonatas. Yet to Horowitz, who has never programmed it before, it is a work both fresh and vivid, and he plays it with a sense of discovery. To its romantic contours and broad melodies he brings eloquence, spaciousness, and even, for the most novel element of all, a touch of mystery. It is hard to picture any other pianist playing the Pathétique in just this way, or any other performance as satisfying. And the Debussy and Chopin on the reverse similarly bear the authoritative Horowitz stamp. For performances of this unique quality, two LPs a year seem too meager a ration.
Where Vladimir Horowitz keeps himself to a rigorously limited schedule of record releases, Sviatoslav Richter seems to produce them as a matter of course wherever he goes. Probably no other pianist has had recordings on as many different labels or from so many widely scattered points of origin. Recent releases have included recordings made during concert tours in Paris, Rome, and Vienna, and taped right on the recital stage. Richter's entry in the Schwann catalogue is longer than Artur Rubinstein's, and he has been recording for far fewer years.
Under these circumstances, it is understandable that Richter recordings are not always of a high quality. Indeed, the forty-nine-year-old Soviet artist is said to be unhappy about certain releases that bear his name and to wonder how some of them have managed to reach the market. All the more reason, then, to welcome a new Richter performance of music by Schubert, impeccably recorded last year in Paris and released here by Angel (S-36150, stereo; 36150, monaural).
On the record are Schubert's Wanderer Fantasy in C Major, Opus 15, and the Sonata in A Major, Opus 120, By coincidence, the same two pieces have just been recorded by the young American pianist Leon Fleisher (Epic BC-1274, stereo; LS3874, monaural). Fleisher is a pianist of unusual gifts, musical no less than technical. He brings to the Wanderer Fantasy rhythmic excitement and a firm grasp of the musical line. And yet it is no reflection upon his ringing performance to say that Richter's surpasses it in almost every aspect save sheer vigor. This is one of the great Richter records, displaying the fluidity of motion and gracefulness of touch that this pianist can combine with pure technical wizardry. Richter's tempos are generally slower than Fleisher's, his climaxes less percussive, and his rhythms less insistent. Perhaps the differences are most clearly marked in the relatively light and lyrical Sonata in A Major, which in Richter's performance emerges as a delightful excursion into sheer pianistic song.
Pianists in general seem to be turning increasingly to the Schubert sonatas, finding in them music that is challenging and relatively unhack-
neyed. The Sonata in B-flat Major, Opus Posthumous, one of the longest and loveliest of Schubert's scores, has been recorded by both the Hungarian pianist Géza Anda (Deutsche Grammophon 138880. stereo; 18880, monaural) and the Chinese pianist Fou Ts'ong (Westminster WST17038, stereo; XWN-19038, monaural).
Anda's approach is serious to the point of being phlegmatic. Fou Ts'ong, whose record also includes the Sonata in A Minor, Opus 143, plays with more suppleness, life, and flexibility. Nothing, probably, will ever displace Artur Schnabel's recording of the B-flat Sonata (rereleased in Angel's Great Recordings of the Century series as COLH-33) in the affection of Schubertians. But the young Chinese pianist, who defected a few years ago to the West, demonstrates that he, too, is aware of the need to make a piano sing.
Record Reviews
Bach: The Well-tempered Clavier, Book I
Ralph Kirkpatrick, clavichord; DGGArchive ARC-73211/12 (stereo) and 3211/12: two records
The key to this recording of twentyfour of Bach's preludes and fugues lies in the choice of instrument. Nowadays it has become almost obligatory to perform them upon the harpsichord, although some musicians still use the piano. But Ralph Kirkpatrick chooses to go back to the clavichord, a lighter and more delicate instrument. The attempt is only intermittently successful; the clavichord works well in the lighter and gayer preludes, but it is unable to bear the weight of many of the fugues. At times, however, its refinement of sound is lovely, with almost prismatic tonal effects. These can be heightened by raising the volume above normal levels, but at the cost of distorting the music. In his album notes Mr. Kirkpatrick earnestly beseeches the listener not to succumb to the temptation.
Berlioz: Nuits d'Été
Ravel: Shéhérazade
Régine Crespin, mezzo-soprano, with Ernest Ansermet conducting l'Orchestrede la Suisse Romande; London OS25821 (stereo) and 5821
Berlioz: Nuits d'Été
De Falla: El Amor Brujo
Leontyne Price, soprano, with Fritz Reiner conducting Chicago Symphony Orchestra; RCA Victor LSC-2695 (stereo) and LM-2695
Eleanor Steber's recording of Berlioz's Nuits d'Été, one of the most romantically enchanting of all French song cycles, has been regarded as virtually unassailable for a good ten years. Now along have come two new versions to challenge it, one by an American of rare vocal equipment and musical intelligence, the other by a Frenchwoman who adds to her technical skills innate insight and sympathy for the music. It is no reflection on Miss Price's carefully sung and well-balanced presentation of these songs to say that it seems inconsequential beside Miss Crespin s exquisite performance. The Crespin record also includes the delicate and atmospheric Shéhér azade of Ravei, a setting of three poems by Tristan Klingsor. On the reverse side of her record Miss Price offers De Falla's El Amor Brujo, sung with gusto but also with a Spanish flamenco flavor that often borders on the excessive.
Handel: The Organ Concertos
Marie-Claire Alain, organist, with Chamber Orchestra conducted by Jean-François Paillard; Decca DL-710085/8 (stereo) and DL-10085/8: four records
During the intermissions of operas and oratorios in Handel's day, audiences apparently did not rush out into the lobby for a smoke; instead they remained in the hall and expected further musical entertainment during the intervals. Handel wrote his organ concertos to supply that need: works alternately festive and beautiful that sometimes quoted passages from his own previous music, including a snatch of the ''Hallelujah Chorus." This is a performance of the complete organ concertos — all sixteen of them — very much in the French style, suave, refined, and tasteful. Marie-Claire Alain is an organist unknown to this listener, but she brings to her performances a quality of intimacy that makes them ideally suited to living room listening. And the organ of Eglise des Maronites in Paris has a lightness and flexibility that serve the music perfectly. The records, each containing four concertos, are available individually.
Verdi: Falstaff (complete)
Georg Solti conducting RCA Italiana Opera Orchestra, with Geraint Evans and Robert Merrill, baritones; Alfredo Kraus, John Lanigan, and Piero de Palma, tenors; Ilva Ligabue and Mirella Freni, sopranos; Giulietta Simionato and Rosalind Elias, mezzo-sopranos; and Giovanni Foiani, bass; RCA Victor LSC-6163 (stereo) and LM-6163: three records
Verdi: Falstaff (highlights)
Edward Downes conducting New Symphony Orchestra, with Fernando Corena, bass: Renata Capecchi, baritone; Luigi Alva, tenor: Ilva Ligabue, soprano; and Regina Resnik, mezzo-soprano; London OS A-1154 (stereo) and A-4154
Since Verdi's Falstaff does not especially lend itself to excerpting, one is at a loss to explain the issuance by London of a single disc of highlights, although the performances by Corena. Capecchi, Resnik, and Company arc perfectly amiable and expert. The RCA Victor album is, however, much more than that. Not only is it a complete recording of this masterful operatic comedy by an eighty-year-old composer, but it is the only one that can stand beside the Toscanini recording of nearly fifteen years ago. No other Verdi work is so nearly an ensemble opera as this, and great care has been taken to assemble a cast of uniformly qualified artists, as witness the presence of Robert Merrill as Ford and Alfredo Kraus as Fenton. And in this Italian musical translation of Shakespeare, it seems particularly satisfying to find a sturdy Briton in its midst — the Welsh baritone Geraint Evans. who brings a fine comic flair as well as musical amplitude to the title role. "Falstaff immenso!" is the salute sung by Bardolph and Pistol to the fat knight; let it serve as well to describe this beautifully sung and deftly conducted recording of Verdi's comic masterpiece.
An Anthology of Chinese Folk Songs
Ellie Mao, soprano, and Ann Mi Lee, pianist; Folkways FlV-8877 (monaural only)
A new world of song, and apparently a very fertile one, is opened by this record of Chinese folk melodies sung in their original tongue. They treat of subjects universal to folk songs, as some of the titles indicate: "Heartache," "A Festive Song," "Digging Potatoes," "The Mule-Driver's Song," "The Funny Old Man," "Bean Sprouts," "Scallions and Garlic Cloves." In their intervals and scales the songs are unmistakably Chinese; yet at times there is an affinity with folk melodies of other lands, as when the listener is reminded of a phrase or a mood in another famous folk collection, the Songs of the Auvergne. In any case, the flavor of these Chinese songs is always agreeable and often enchanting. Perhaps (this is only a guess) part of the gap between East and West has been bridged by the performers, both of whom, though born in China, are juilliard graduates. It seems unlikely that a Chinese village would offer a soprano as expert as Miss Mao or so accomplished a pianist as Miss Lee. Use of a piano, in place of native instruments, represents a compromise, but one which few Western listeners are likely to object to. English summaries of the songs arc included in a brochure, as are the original texts in Chinese script.
Kurt Weill: Lady in the Dark
Risë Stevens, Adolph Green, and John Reardon, with chorus and orchestra conducted by Lehman Engel; Columbia 0S2390 (stereo) and OL-5990
Lady in the Dark came to Broadway in 1941, before the era of the longplaying record or the original-cast show album. Gertrude Lawrence is, alas, no longer around to re-create her part as Liza Elliott, the fashion magazine editor whose neuroses make for such seductive music. Danny Kaye, who gained much of his early fame in the show, is not among the participants either. But a strong cast has been assembled nevertheless. Rise Stevens, whose career as an opera singer apparently has ended, makes an excellent Liza by singing the part with a warm voice and straightforward style rather than trying to imitate the quite inimitable Miss Lawrence. Adolph Green docs not quite match Danny Kaye's insouciance in "Tchaikovsky," that remarkable song consisting of the unadorned names ot fortynine Russian composers tossed off in staccato style, but he does get through it reasonably well. The record has been done so expertly that the participants seem ready to step out onto a stage and perform the work — which might be an excellent idea, for Weill's score, along with Ira Gershwin's lyrics and Moss Hart's book, retains its flair and flavor after twenty-three years.