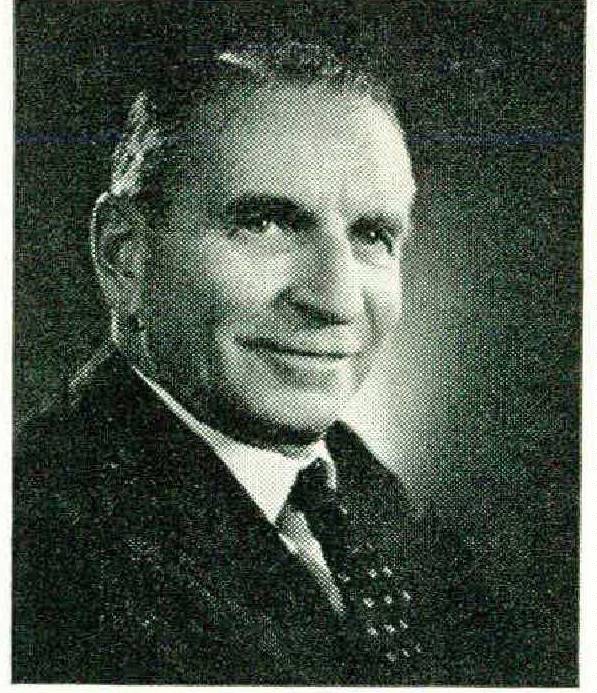 WHEN I was in college, President Harding, the most incompetent Republican ever elected, had closed the door firmly against Wilson's dream of the League of Nations. Foreign policy was something a few people in Washington worried about; it did not monopolize the editorial page as it does today, and in its absence that page could be devoted to domestic affairs like the scandal of Teapot Dome, the price of cotton, prohibition, and the arts. There were four columnists who then enlivened the best papers in New York, and what stands out in memory is the innocent expectation with which they discussed the Great American Novel, their unashamed delight in light verse and the American vernacular, their pleasure in translating Horace or in keeping a Manhattan diary in the manner of Samuel Pepys. They were "F.P.A.," Don Marquis, Heywood Broun, and Christopher Morley.
F.P.A. was Franklin Pierce Adams, and he mattered to all young writers because he might accept and publish in "The Conning Tower," as he called his column, a piece of our prose or verse, which if it appeared alongside a piece by Dorothy Parker on "People I Loathe" would really put us in the spotlight. F.P.A. awarded a gold watch each year to the contributor he most enjoyed, and his watches had been won by Robert Benchley, Deems Taylor, Gelett Burgess, Will Irwin, and, of course, Miss Parker. Don Marquis we prized for his incomparable dialogue between archy the cockroach and mehitabel the cat; Heywood Broun, because of the way he laid about him as if he were swinging not with a shillelagh but with a baseball bat — he had come to literature from the sports page — and Christopher Morley we admired because of his aspiration and his unquenchable love for books.
Chris Morley I first saw in the Harvard Union. We had packed the place to the rafters, and I recall that as he talked he leaned back, bracing his broad shoulders against the old grandfather clock until it began to sway from side to side as he did. What he talked about was John Keats and his letters, from which he kept quoting with a point and intimacy that soon had the big room still. Chris made us see this poet our age or only a bit older, how he developed in such a magically short time against the odds of poverty and illness, and how he had never swerved, even in the final tragedy, from his belief that it was possible to be a poet and to be great.
The life of Keats, like the life of Lincoln, should be rewritten for each generation. Keats is the one English poet other than Shakespeare to whom all young poets, no matter how radical their taste, turn for sympathy, self-measurement, and in unqualified admiration. He lived in a world of transition, such as ours, when, as WALTER JACKSON BATE has so clearly emphasized in his splendid biography, JOHN KEATS (Belknap, Harvard University Press, $10.00), poets were unsure of the future and assailed by self-doubt. Keats, whom Mr. Bate describes as one of the most "unbookish" of great writers, had to fight for his independence at the same time that he was struggling for his selfconfidence in poetry. He was opposed every step of the way by his wrongheaded, miserly guardian, a villain out of Dickens; dragged down by worry over his brother Tom's illness; and he was roasted alive by the most scurrilous reviewing in the sordid history of that craft. Yet his development, as Mr. Bate portrays with a warmth of detail and poetic understanding, was steadfast and almost incredible in its swiftness. Less than five years separate the early, pretty sonnets from the great odes and the Fall of Hyperion. In this amazing mastery he moved out from under the influence of Leigh Hunt, was touched in passing by Shelley, learned from his reading what he most needed from Shakespeare, Milton, and Dryden, and so found his own voice. His achievement is an amazing one, and the more touching for the humiliation and anguish which he suffered.
Not that Keats pitied himself as a martyr; he was too eager and healthy for that, and his love for his brothers and his sister, Fanny, was ever a source of buoyancy. One of the most appealing aspects of Mr. Bate's biography is his delineation of the family and of the friends who beckoned the poet on and of what each — Clarke, Haydon, Reynolds, Brown, and Severn — contributed to his career. Because that career was so tragically short, and because his letters tell us so openly, so eloquently, of the creative process which was his life, we know more about John Keats than we do about any other major poet. Research and evaluation have extended our appreciation in the big eight-volume compilation. Poetical Works and Other Writings of John Keats, edited by Harry Buxton Forman, in the biographies by Sir Sidney Colvin, Amy Lowell, and Edmund Blunden, and more recently in The Keats Circle, edited by Hyder E. Rollins, and the Diary of Benjamin Robert Haydon, edited by Willard B. Pope. Mr. Bate began his initial study of Keats's versification twenty-five years ago, and his fine, capacious book is a capstone of his scholarship, a blend of fastidious research, critical discernment, and understanding of Keats as a man. Mr. Bate recalls Whitehead's famous statement that "Moral education is impossible apart from the habitual vision of greatness." It is with this "habitual vision" that Keats lived, and lives today.
SONS AND MOTHERS
BRIGHTNESS (Coward-McCann, $3.95), ELIZABETH JENKINS' new novel, is a story of mothers and sons: Una Lambert, the widow, and her scholarship son Richard, who is doing so well at Cambridge, are drawn in sharp contrast to Marion Sugden, the wealthy materialist who makes any excuse to spoil her irresponsible Derek. The young men have each turned twenty, and premonition tells us that the dice are loaded against Richard; he is too good to win, the gods will claim him. But once this John Bunyan morality has been accepted as inevitable, one can settle back and enjoy the insight and quiet irony with which Miss Jenkins describes the power of love, for good or evil, in these two families from New Broadlands, a London suburb built by highminded cranks and still retaining traces of the Fabians.
Miss Jenkins, who has gained distinction in her two biographies about Elizabeth I, Elizabeth the Great and Elizabeth and Leicester, is less sure of herself as a narrator. Brightness evolves in a series of vignettes loosely held together. The first
shows us the two mothers in opposition, Marion so pretentious in her display of wealth and so envious of Una for her ability to find happiness without it. Their encounter, in which Una characteristically has been suppressing her resentment, is interrupted by the appearance of Faith Metcalfe, the slender, attractive student in whom both sons are interested. In chapters that follow we see the young men: Derek, indulging in his love of speed and contemptuous of restraint, and Richard, who in his maturity has shown a resourcefulness that makes his mother the dependent. His homecoming from the university to the delightful repast Una has laid out for him is a scene charged with affection; the meeting of the Brains Trust in the Civic Hall is excellent for its comedy, and that moment on the Down when Richard and Faith are so close to being lovers, for its sentiment. But Richard, as we suspect, is too good to last. When disaster strikes, it is not with a slow buildup of suspense but with the suddenness of a skidding car.
THE BRAVE NEW HISTORY
The revolutions in the teaching of physics and mathematics are symptomatic of the upheavals that have occurred in all the major disciplines during the past three decades. In American history, in Edward Eggleston's words, the shift was away from "drum and trumpet history" to "the history of culture, the real history of men and women." This determination to survey the totality of human experience, to study the contribution of the immigrants with the same care that had once been bestowed upon those in uniform or lace, inspired the work of Frederick Jackson Turner and Charles Beard, as it did one of the most able disseminators of the new doctrine, ARTHUR M. SCHLESINGER, who taught first at his alma mater, Ohio State University, then at the University of Iowa, and finally for thirty years at Harvard. His book of recollections, IN RETROSPECT: THE HISTORY OF A HISTORIAN (Harcourt, Brace & World, $4.50), is warm, quizzical, forthright, and puckish, the qualities which have endeared him to teachers and students regardless of age.
The book begins in the county seat of Xenia, Ohio, where young Schlesinger, the son of selfrespecting German immigrants, absorbed his American heritage. He was a voracious reader, graduated at the head of his class in 1906; and his valedictory address, "The Approach of the Dawn," borrowed yeast from Edward Bellamy and Teddy Roosevelt. Ohio State, where he was a member both of the Sphinx Society and Phi Beta Kappa, confirmed his love of learning, and here in his junior year he met the co-ed Elizabeth Bancroft, whom he was happily to marry. At Columbia University, where he did his graduate work, he came directly under the influence of James Harvey Robinson, who opened for him the wide horizon of the New History. Mr. Schlesinger writes of the college communities in which he has served, with a salty reasonableness and a flash of humor.
As an instructor at his alma mater he had the courage to break out of the old ruts; and at the University of Iowa under President Walter A. Jessup he was given the freedom to teach any course he chose, and for the first: time began to excite graduate students with his zeal for the new ground. Here he published his trailblazer, New Viewpoints in American History, and with two of his associates he embarked on the multivolume History of American Life, which was to be twentyone years in the writing. Then in 1923 he was invited to Harvard, where he was to serve under three presidents and where, as he found, "the faculty placed an emphasis on first-rate teaching beyond anything I had known." At Harvard his gift for friendship and his ability to speak out made him a polarizing force, and here he attracted, as a non-Harvard professor said, "a sizable share of the best Ph.D.'s in United States history," candidates such as Merle Curti, Carl Bridenbaugh, Paul H. Buck, Oscar Handlin, and Donald H. Fleming, to name but five. In addition to his books, it has been Professor Schlesinger's knack to remind the country of things it should not forget. In an article on "The Vanishing Voter" he compared the ratio of actual to eligible voters, showing that it had declined from 83.5 percent to 52 percent over a period of sixty-four years. Again in 1957, when people were so alarmed by the advances of the Soviet Union, Schlesinger published an article on "America's Influence: Our Ten Contributions to Civilization," which was widely quoted and very tonic in its effect.
I have mentioned his puckishness. Speaking of Iowa City, he recalls "the absent-minded professor of psychology who on taking off his clothes to dress for a party went to bed instead." And again, "the gentle little professor of chemistry dominated by a large masculine wife, who recovered his manliness after her death by marrying a deaf-and-dumb woman." These were the kinds of things that were likely to pop out at the Sunday afternoon teas which he and Elizabeth gave to so many grateful students in Cambridge.
THE FLAVOR OF BRITAIN
SAMUEL CHAMBERLAIN, artist and epicurean out of Marblehead, Massachusetts, is the author of three volumes as sumptuous as any that have been published in this country since 1914. Sam is a veteran of the First World War, with a palate second to none. With his wife, Narcissa, to record the recipes, and with his heavy Linhof view camera and his drawing equipment to record the picturesque, he set out some years ago at the request of Gourmet on a leisurely tasting, talking, and drawing tour which eventually carried him and his wife through every province in France. The book which resulted, entitled Bouquet de France, was the most appetizing, impeccable thing of its kind. The illustrations were as mouth-watering as the meals described, and the volume, often reprinted, has sold upward of 70,000 copies. This was followed by Italian Bouquet, published in 1958, and this year by BRITISH BOUQUET, An Epicurean Tour of Britain (Gourmet, $13,75), which it took the Chamberlains four long summers to complete.
British cooking is usually a standard American joke, as Mrs. Chamberlain acknowledges in her reference to a pudding called "boiled baby" and that other delicacy "suet paste," and we all giggle as she recalls the American who stepped out of a tour bus to enjoy a view of the velvety English countryside with the remark, "Thank God they can't cook it!" But the British do have their specialties: mutton as it is served nowhere else, the superb roasts at Simpson's on the Strand, Dover sole and boiled turbot, strawberry tarts with Devonshire cream, deep-dish apple pie, and cheese which puts our homogenized goo to shame. As the Chamberlains went from county to county they sought out the best inns no matter how remote, and these they have linked together with the famous castles, country houses, and old ruins. This big book is for browsing, for nostalgia, and best of all as an appetizing road map for those planning to visit the British Isles.
When I was a student riding my way around Britain on a push-bike, I could not afford places such as these, but I still remember the shrines which drew me on and which Sam has photographed so beautifully. I remember Richmond Castle as I saw it from the bridge over the River Swale; Fountains Abbey in Yorkshire, where I felt I had lived in another life. It is the most beautiful of all the old ruins, and when I go back I mean to stay and dine at the Devonshire Arms at Bolton Bridge; Warwick Castle and the Woolpack Hotel, where I shall go for thick but tender lamb chops; the Wild Duck Inn and Buttery in Ewen, Gloucestershire; Abbotsford, which looks today much as it did when Sir Walter Scott lived there; and, in Sussex, Rudyard Kipling's home in Bur wash, which will mean something special to everyone who loves Puck of Pook's Hill.