Farewell to Carlyle Square
Connoisseur and critic, traveler and biographer, SIR OSBERT SITWEEL had furnished for himself a home on Carlyle Square which was in its way an extraordinary museum of the twentieth century. Here is what went through his mind when at last he had to more elsewhere.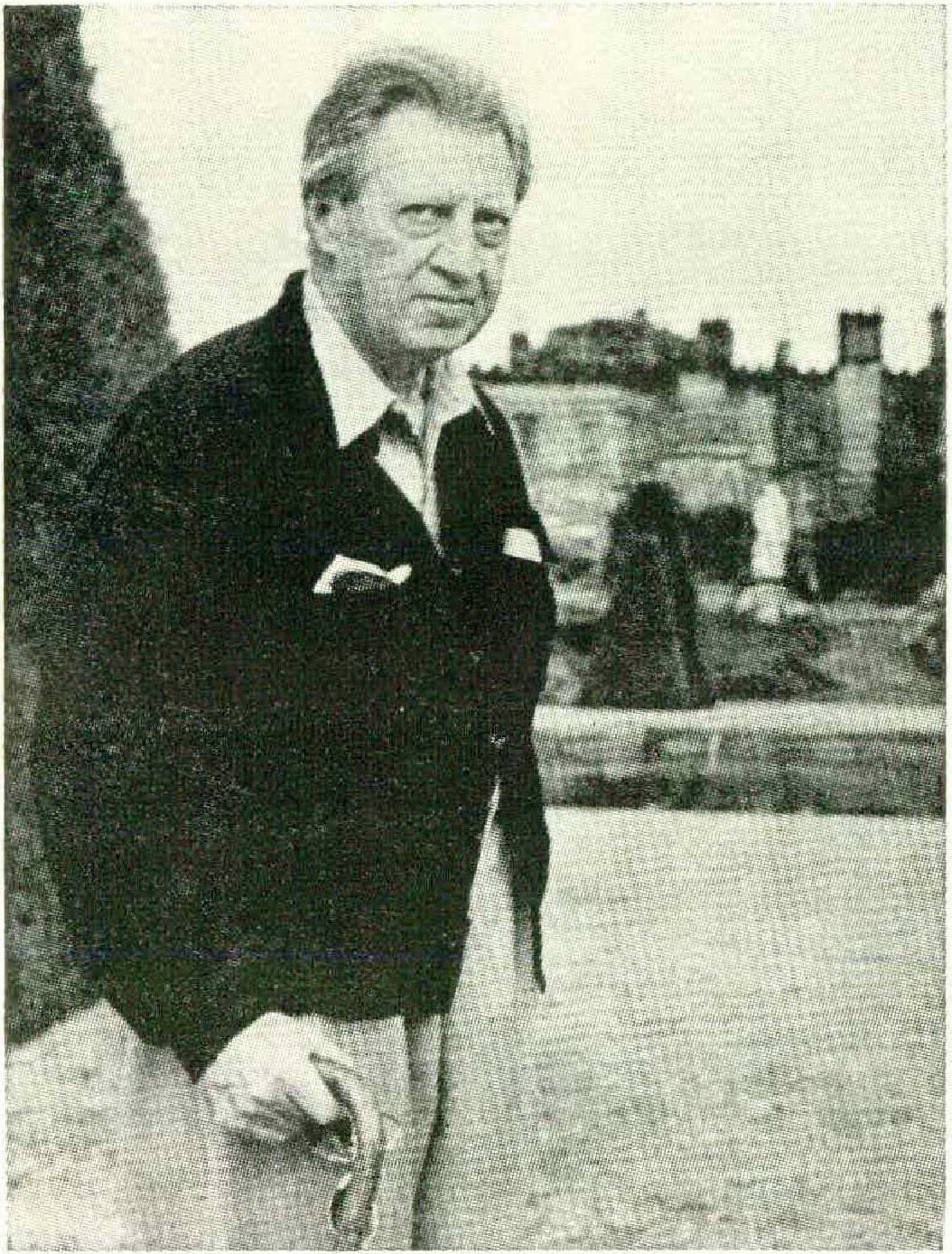 SIR OSBERT SITWELL
To MOVE house after a lifetime is a harrowing and hair-raising experience. One of a number of extraordinary things about it is the amount of objects and events forgotten that are then salvaged, as it were, from the past; the manuscripts which had been lent and with which Time had walked away; the pictures which had been shelved, or rather floored. When I first took the house in Carlyle Square in the spring of 1920, most of the few objects I possessed went there by taxi. When finally the lease ended, it was necessary to have two large vans loading and unloading, shuttling to and fro between the house and my new flat in Kensington, and the operation of removing took not less than ten days, by which time I was so muddled that I nearly got removed myself. To make the process of dealing with material possessions easier for me, however, I suffered two burglaries at about this time. During the first, the burglars were interrupted, and in their sudden flight left on the floor a sackful of objects all ready to spirit away. After this, the house was naturally in disarray. A representative of the press telephoned to me and revealed several fixed ideas, one of which was that I must have been giving a large party at the time of the burglary, whereas, in fact, I was ill in bed.
"Were you entertaining?" he inquired.
The hopelessness of trying to get any sense into his head led me at last to reply: "I hope so. I have always tried to be."
Ignoring what I had told him, he gave the next day an account of my supposed party.
Among the pictures found was one by the first abstract painter in England, which had somehow been mislaid. There were books, too, everywhere, which threatened, and still threaten, to overwhelm the living person, and there was a debris of machines which I had never used and the working of which I could never understand, dictaphones, electrical adapters, coils of wire and India rubber, and curious antiquated stoves.
There were objects which seemed far too heavy to be lifted, even by the numerous, stalwart, aproned men who had turned up to carry out the job, and pieces of furniture so bulky that they appeared to have grown where they stood and would never pass through the small doorways and up and down the narrow, twisting stairs by which they must have entered the house forty years earlier. Nor had I realized before that smooth marble, exposed to heavy torrents of rain, becomes so slippery that it is almost impossible to handle. To move a large piece of marble statuary of the Goddess of Liberty from the minute garden at the back of the house required techniques used —and now forgotten— in building the Pyramids, and took about half a day. I had found an ideal position for this statue in my new flat: a lead roof, surrounded by distant trees, that lay outside the French window of my bedroom. Fortunately, at the very last moment, I discovered that not even a bowl of daffodil bulbs could be placed there without the permission of the landlord, and as it was too late to obtain this, the goddess had to make the long journey to Renishaw and now stands in a cold stone passage, waiting for a position to be found for her in the garden there, which had already some years earlier given shelter to another refugee. I had come home from a sojourn abroad to find that a friend of mine had given me Sir Hamo Thornycroft's Muse of Fame, removed by the authorities from the top of the Poets' Fountain which had stood outside Londonderry House. She had presided over the figures of Dante, Chaucer, and Shakespeare, before they had been destroyed in a fit of planning ardor. The Muse could not enter my London house owing to the great span of her golden wings. Now, almost entirely concealed by luxuriant rhododendron bushes, she blows her trumpet to the empty air in the solitude of my Renishaw garden.
The kitchen had developed its own gallery of pictures and had become one of the nicest rooms in the house. It was there, in a cupboard, that we at last found, lining the cat's basket, a manuscript of a play — the only copy in existence — written by a journalist, who insisted on leaving it in my house, though I had warned him not to. It had disappeared at once, though for years we had sought it until the cat's basket was about to be destroyed.
During the moving, I had occasion to be dismayed by the way in which objects crumble at a touch. Things which had appeared solid, stable, and beautiful, and which had efficiently served their purpose for forty years, suddenly disintegrated before one's eyes. I am thinking in particular of a small ornate console table in my dining room. The top was a fine piece of veined verd-antique marble, which rested on intricately carved supports with large gilded masks of baroque brutes, part lion and part some mythological animal. When the movers tried to lift it, the heavy marble crashed to pieces, crushing the beasts, which were found to be eaten away by woodworm and had acquired the consistency of that light, porous sweet known as Edinburgh Rock. Had no one tried to move it, no doubt the table would have stood up to life for another forty years. As it was, there it lay, a sorry mess of sawdust, splinters, and marble, and I had to pay for this rubbish to be collected and consumed.
On the whole, the dining room stood up nobly to the squall. One heavily framed mirror had fallen long ago, but so gently had it slipped from the wall that it broke none of the delicate shell furniture beneath. It had been fixed more firmly and survives to hang in my new dining room: its seven playful black cupids, naked except for neat gold pants, patterned in green, and wearing gold caps on their curling hair, are gaily climbing up festoons of lacquered wood.
My dining room was a very dark room, and as the darkness could not be dispelled, I had tried to accentuate it. With its rich blue and silver tapestry wall coverings, its shells and shell and dolphin furniture, the room resembled a grotto under the sea. Now all these objects, though not the shell chairs, stand exposed in my new flat to the full glare of daylight, thereby acquiring an entirely different appearance.
MANY pictures have had to be separated, but I have been able to keep together three of my favorites, which now hang in my dining room: first. Giovanni Battista Tiepolo's Rinaldo and Armida, in which Rinaldo, clad in pink coat of mail and golden cloak, lies sleeping at the edge of the blue Mediterranean, while Armida leans over him and a mermaid, emerging from the sea, looks on; second, a youthful St. John the Baptist, variously attributed to Raphael, Sebastiano del Piombo (referred to in a letter from the insurance company with which I deal as Sebastino Pimbo Jumbo), and Giulio Romano, the only Italian painter to be mentioned by Shakespeare; and finally, a beautiful picture of the Judgment Day, painted on wood by Brueghel, in which hosts of delicate white skeletons are carrying off flesh-and-blood human beings to a doom that is certain, though its nature is less sure, and are gloatingly playing havoc with the happiness of man.
The large dining-room table had remained firm. It is a sumptuous affair, and its history is this: I bought a sample slab of French marble from a monumental mason's yard and hoisted it on four bronze lions that had come from a chiffonier in Carlton House Terrace. This might have supplied a regular skeleton at our feasts; but somehow it did not. If the table could acquire the habit of namedropping, there would be an impressive list. To take names at random of friends who have sat around its soft goldand peach-colored surface, it would murmur: Arnold Bennett, W. H. Davies, Maurice Ravel, Sergei Diaghilev, Maynard Keynes, Lydia Lopokova, Walter Sickert, Clive Bell, Roger Fry, Virginia Woolf, Leonide Massine, George Gershwin, Arthur Waley, T. S. Eliot, and many others.
As I left the dining room for the last time, my mind went back to an earlier occasion, a Christmas Eve celebration in 1920 when twenty-four people dined at three tables arranged on three sides of a square. One of the guests, Sydney Schiff, chose to wear the pink coat of some obsolete and forgotten hunt, looking exactly as if he had just come from a Hunt Ball. When I asked him why he was wearing it, he explained that it was to give people a good idea of England. At a later stage of the proceedings, the Icelandic poet Harmer, known to his friends tout court as Iceland — no doubt to balance the painter Guevara, who was known as Chile—was missing. Eventually he was found in a room at the top of the house staring intently into a looking glass. When asked what he was doing, he stated that he was fixing his image in the glass; so that his image, too, has now been moved to my new flat.
Poor man, his life was short. He died some two years later after a singular episode. He came to see my brother and complained that his landlady was putting electric currents through his mattress and that people kept on climbing up drainpipes to the fourth floor of a house in Doughty Street in order to peer into his room and threaten him. What was he to do? My brother counseled: "See a doctor." We persuaded him to go to our own doctor, who lived nearby in Oakley Street. His chief complaint, however, was neither of electric currents nor of people peering at and threatening him but of a man carrying a black umbrella who would frequently come up to him in the street and murmur some indescribable message in his ear. Through fear of danger from this man, Iceland always carried a revolver. We got him safely into the doctor's consulting room and waited for him outside. In a little while the doctor invited us both to come in. We entered, and he turned to us and said: "Mr. Hanner now admits that what he thought he saw were all the time illusions." The doctor then persuaded him to give up the revolver, and we left. Suddenly I noticed that I had left my stick behind and went back to fetch it. When I returned, my brother and I, to our surprise, saw a man carrying a black umbrella come up to Mariner, speak in his ear, and then shuffle off into the twilight. Harmer looked at us in a distracted manner and exclaimed: "Now you see for yourselves!" And from that moment until his death there was nothing more to be done for him.
THE material difficulties of moving are innumerable and often appear insurmountable. I had to choose from the accumulated possessions of forty years what I could take with me and what would have to be stored or sold. The choice was agonizing, yet oddly enough difficult to remember, so that I am always being surprised at something not being here that I had thought to see again.
I found myself in a world of red tape and misunderstandings. Whenever I stirred, I was tripped up by the invisible barbed wire of rules and regulations. The frustrations are mitigated by an apparently amiable, willing, and efficient body of men and women who remain untiringly anxious to "carry out all your requirements with the maximum of attention." Nevertheless, good-humored men (always in pairs) turned up at the new address at the wrong hour to fix the gas stove before it had been disconnected at the old address, and the telephone engineer came across a tangled cluster of wires which have no purpose but cannot be extricated from behind the walls. Perhaps many years ago the flat had been used by a spy who had been obliged to leave in a hurry, and certain rooms had been specially wired to trap the words of the unwary.
In every room at Carlyle Square there was a piece of furniture or a picture with a memory. Ethel Sands decorated a wardrobe for me, and on the outside she painted a replica of the inside, shelves of ties, collars, shirts, shoes, and shoe trees, a shiny black tall hat and a long cane with a tortoiseshell handle. I also possess two curious glass bottles with Negro heads. They were given to me by a remarkable charwoman in whom I had at once recognized a likeness to various members of my family. She had exactly the look and bearing of several relatives of mine and suffered severely from gout. A week after she came, she said: "I'm sorry that gout compels me to leave you, but I've brought you these two bottles as a present. They were given to my mother by your great uncle."
I seldom entered my drawing room without there coming to my memory a winter's evening in November when the rehearsal of William Walton's Façade was in progress. The rehearsal was peculiarly exciting. The cold outside was terrible, and in spite of two large coal fires, the players had to be brought to, by copious drafts of sloe gin. As I listened to the subtly constructed melodies evoked by popular songs, there was borne in on me the realization of the touch of genius already manifesting itself in the work of my very young talented friend.
As I prepared to leave my house for the last time, the air was full of the names of friends and I was aware that ghosts were watching my departure from the windows. I was going to stay in a suite at the Ritz while the movers destroyed what had been my home in order to construct it elsewhere. I recalled a night when I had been a young man of about thirty and was returning to my house after a concert. As I got out of the taxi, I noticed that the driver was dressed in a somewhat unusual way. On his head was a large, broad-brimmed sombrero, and he wore around his neck a voluminous, dramatically colored and patterned necktie. I was paying him the fare when he said to me with assurance: "You are a writer, aren't you?"
I acknowledged this and inquired: "How did you know?"
"Oh, I often drive my taxi at night on the astral plane, and I sometimes see you there," he answered.
I wonder whether fellow travelers on the astral plane may not still see me darkening the door of my former house and fumbling for my latchkey. Forty years is a long time.