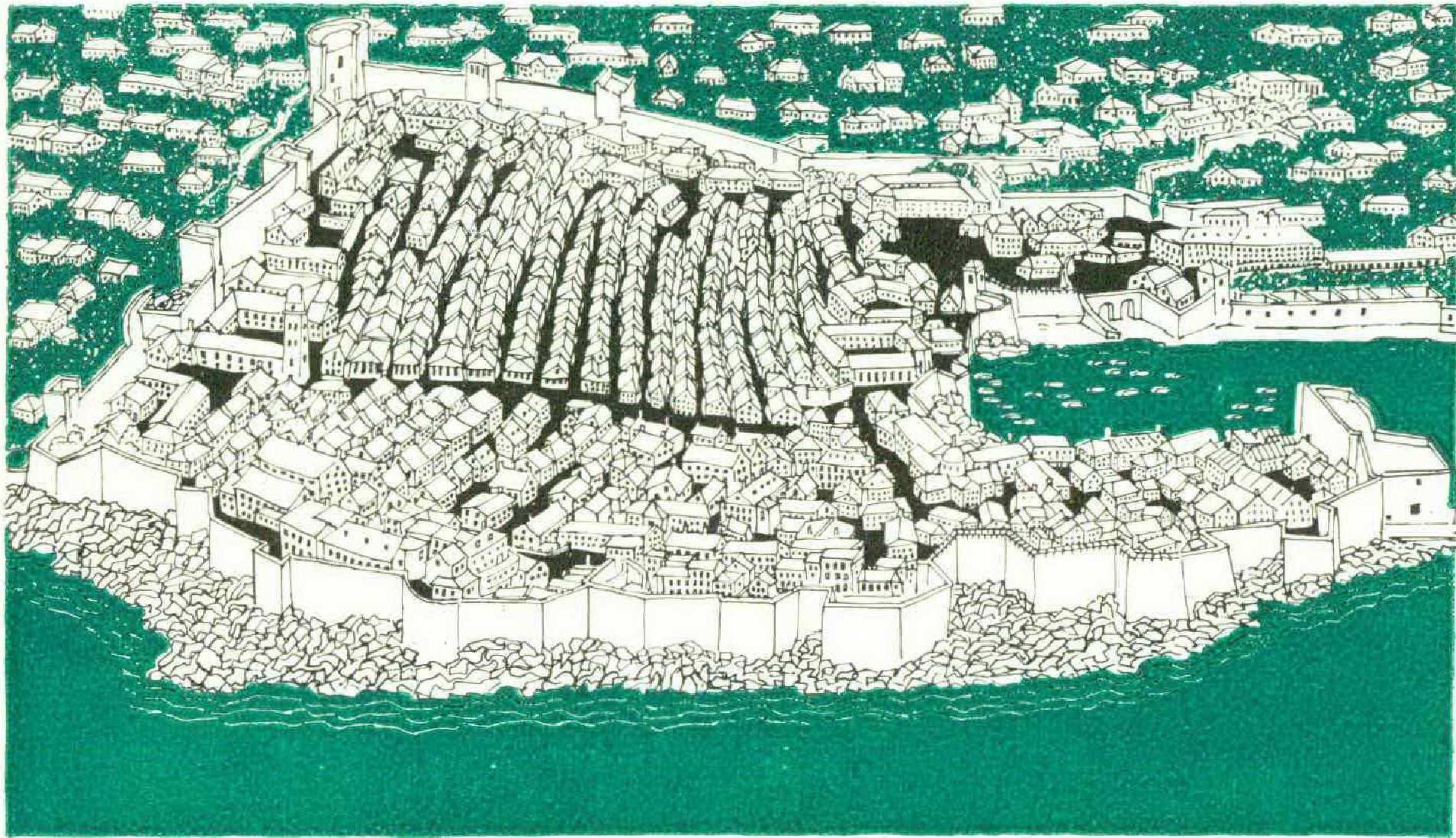 If all the walled medieval cities of legend or of memory were combined into a single design in luminous white stone and set in exactly the right proportion of mountains, palms, cliffs, and sea, the result might approach the beauty of Dubrovnik. But not quite. For this city is no dustbound antique. The bustling life within its walls gives it a brisk, immediate presence. If Carcassonne throbbed with the festival life of Salzburg, or the Riviera's jaded Grande Corniche were suddenly invaded by handsome Slavic scoutmasters, it might offer a few of the contrasts that greet a visitor in Dubrovnik.
Hotels and pensions in this city suit every mood and temperament as well as pocketbook, which in any case will not be too strained in Yugoslavia. To the south, on steep cliffs overhung with flowering vines and punctuated with cypresses, is Ploče, where the living is gay and luxurious. Bikini beauties and svelte skin divers do Eden Roc one better in the turquoise waters below, and the view, the gardens (especially at the Argentina), and the wine cellars are all superb. Madame Tito's villa, Scheherazade, with its tile dome and minarets, is in the city of Ploče.
For visitors who want to be more in the heart of things there is the Dubravka, the oldest hotel in Dubrovnik. It is directly over the marketplace — in other words, for early risers and determined sightseers. Just outside the city walls is the unwieldy old Imperial, a monument to Austro-Hungarian days, with high ceilings and gypsy music till dawn. At the opposite extreme, for languid beach life and afterdinner strolls, the beautiful suburb of Lapad offers a bevy of familystyle hotels and pensions. There is dancing, too, at Lapad, but at a discreet distance, in a shadowy tropical garden.
At the most luxurious of the hotels, the Argentina, which is a truly idyllic place, and at the rather too sleek Excelsior the maximum full pension is about ten dollars in high season (July and August) and eight dollars in June and September. (These figures are based on the official exchange rate, which some tourists find they can improve upon.)
This variety of creature comforts and a greater variety of views stretch along the shore, but Dubrovnik itself is a magnet which sooner or later draws every visitor inside its walls. Perhaps it will be at the crack of dawn, to climb up and down the cobbled steps that rise on both sides of the main street, the Placa. At that hour it is possible to enjoy a cool panorama from each of the five great forts: Lovrjenac (which becomes Elsinore every summer), Minčeta, Bokar, Revelin, and Sveti Ivan. These strongholds dominate peaks of rock above the rest of the city. The steep alleys that lead to them are dappled with color. Rugs woven in geometric patterns hang from window to window; tiny courtyards hold plots of tomatoes bordered by pinks and hydrangeas; and every balcony is an ark, crowded with pots, tins, jugs, and pitchers, overflowing with blossoms and vines.
Midmorning is the time to visit the cool monastery courtyards, some of which, like the Franciscan cloisters, with their stone grotesques on the columns and fountains, are of exceptional beauty. As noon approaches one may still wander in the granary, with its deep, illuminated pits carved out of the bedrock beneath Dubrovnik. Even darker and cooler is the aquarium, where tourists exchange looks with silvery eels and giant lobsters. But for any sensible traveler, the midday routine consists of a quick dip, a leisurely lunch, and a long siesta. This last pleasure need not be cut short, for no one in Dubrovnik — hairdresser, businessman, or travel agent — opens his doors again until five o'clock.
The very late afternoon is time enough to join the Dubrovacki for their evening parade up and down the Placa and to browse in the little shops for narodna folklor: rugs, flutes, gourds, embroidery, filigree necklaces. Unfortunately, with the exception of heavy silver and brass jewelry and some Croatian and other peasant costumes, antique arts and crafts are almost impossible to find. The secondhand stores where families bring heirlooms are run by the state, which means that, aside from suspect icons and Aladdin's lamps, church and folk art pass straight into museums. One is more likely to come home with colorful new toys or slivovitz than artistic treasures.
As the sun sets over the campanile and the pigeons in the very Venetian main square, it is time for a civilized interlude at one of the town cafés (kafanas). There a Turkish coffee, a rakija, or a milder aperitif will help mellow the light on the battlements, whose stone, inappropriately called ashlar, turns every evening to a kind of golden pink. Unlike the jazzy Americanized bands at the hotels, the little black-coated professors who play at the kafanas still specialize in nostalgia: marches, mazurkas, and Zigeuner laments.
The spell cast by the view, with the wooded island of Lokrun and the fleet of little white boats against the old port, is deepened by the startling contrasts in faces — Slavic, Nordic, Mediterranean, with lightgray eyes under black brows or blond braids over dark Kirghiz eyes. Robust local blades escort girls whose straight-browed, intelligent faces are topped by tousled Bardot hair. Caucuses of sleek Italianate officials, gnarled farmers in nubbly homespun, or businesslike women in the inevitable man-tailored suit are mixed among the English and Scandinavian tourists. Even the most voracious traveler, however, cannot live on staring alone, and pungent suggestions come from nearby spits and grills.
The culinary offerings are as varied as all the other pleasures of Dubrovnik. If any cordon bleu purist has warned you about food in Yugoslavia, forget his misguided words and find out for yourselt. First, at the hotel, keep an eye out for such tasty regional specialties as Serbian gibanica, a hot, many-layered pâté of cheese, eggs, and cream: pohovana tikvica, zucchini stuffed with minced pork and beef and smothered in a frothy sauce; or djuveč, a rich, peppery stew of lamb, eggplant, string beans, rice, and cheese. Since the guests at many of the hotels are predominantly English, of an elderly mineral water and consommé vintage, these delectable dishes are often disguised under such antiseptic titles as "cut-up omelette" or "vegetable marrow with custard sauce."Austria-Hungary has left many echoes in the cuisine of Dubrovnik, especially in the tender and imaginative preparation of veal, in the strudels and nut torten, and in the fillips of schlagobers that adorn many a dessert. Service in the hotels is efficient and yet bubbling with a genuine charm that contrasts favorably with the obsequiousness at other resorts. English is still at the command of few. At lunch one day, the dignified headwaiter assured me, "Tonight you will become a veal."
Bolder spirits and heartier appetites will venture further than the hotel into what an understanding Dubrovkan friend called the "naturnatur" restaurants. Here the center of interest is a bed of glowing coals and the spit, where suckling pig or baby lamb sizzles on alternate evenings. If, about an hour before dinner, one wanders over from the café and reserves a few generous portions, a feast is assured. Very little is needed to complement the rich, crisp little pig or slabs of lamb with tiny white bones. Fry a carafe of Žilavka, a white wine from Hercegovina; or better still, experiment with the table wines, which are often delicious. Salad means just what it should: a fresh, leafy heap of lettuce with oil and vinegar; and for the incurable gourmand there could be a plate of spicy čevupčiči (ground meat, spiced and grilled) to start. This hearty eating, stripped to its savory essentials, is to be found at the Gradska, an animated hangout for the town cabdrivers just outside the Pile Gate; at the Mimosa, a bit quieter; or in Lapad at Singer's, the only one of these restaurants where the view is as exciting as the dinner. Besides čevapčiči, there arc other skewered delicacies: ražnjiĚi (shaskliks of lamb or pork), Ěvaps (chunks of marinated pork), or pljeskavica (lamb minced with onions and peppers).
Fish is varied and interesting in and near Dubrovnik, but it has to be sought either in special restaurants (Riblji restoran) or when it appears sporadically on other menus. This means, of course, that when it is served it is a miracle of freshness, usually shown to the guest in its gleaming pristine state before it is cooked. Barbuni (red mullet) and Ěipoli (a delicious freshwater fish served with a surprising garlic-butter sauce) are two frequent possibilities. Our most delightful taste of seafood came one afternoon while exploring the coast in a rowboat. As we gazed peacefully at grottoes and untouched sandy coves, Danko, our oarsman, swam to shore and pulled a handful of unusual shellfish from the rocks in a quiet tidepool. Then, back in the boat he produced from under the floorboards a knife, a lemon, and a bottle of white wine. A sweeter or more impromptu little feast was never served.
For the days that are not entirely filled by sun, sea, and suckling pig, a wealth of excursions beckons on all sides of Dubrovnik. Directly out to sea is the island of Lokrun, where two ill-fated Hapsburgs, Maximilian and Rudolf, and a shipwrecked English king, Richard the Lion-Hearted, left gloomy memories. To the south lies a dazzling succession of steep bays — Kupari, Mlini, and Cavtat, which is topped by the white dome of the MeštroviĚ mausoleum — and then the wide vineyards of the Konavle Valley that sweep down to the Montenegrin border By car one can hazard the sixteen hairpin bends of the Lovćen Pass that lead to Montenegro's rugged capital, Cetinje; or by steamer there is the great fjord of Kotor and the sleepy pink ruins of pirate towns along the coast all the way to Albania.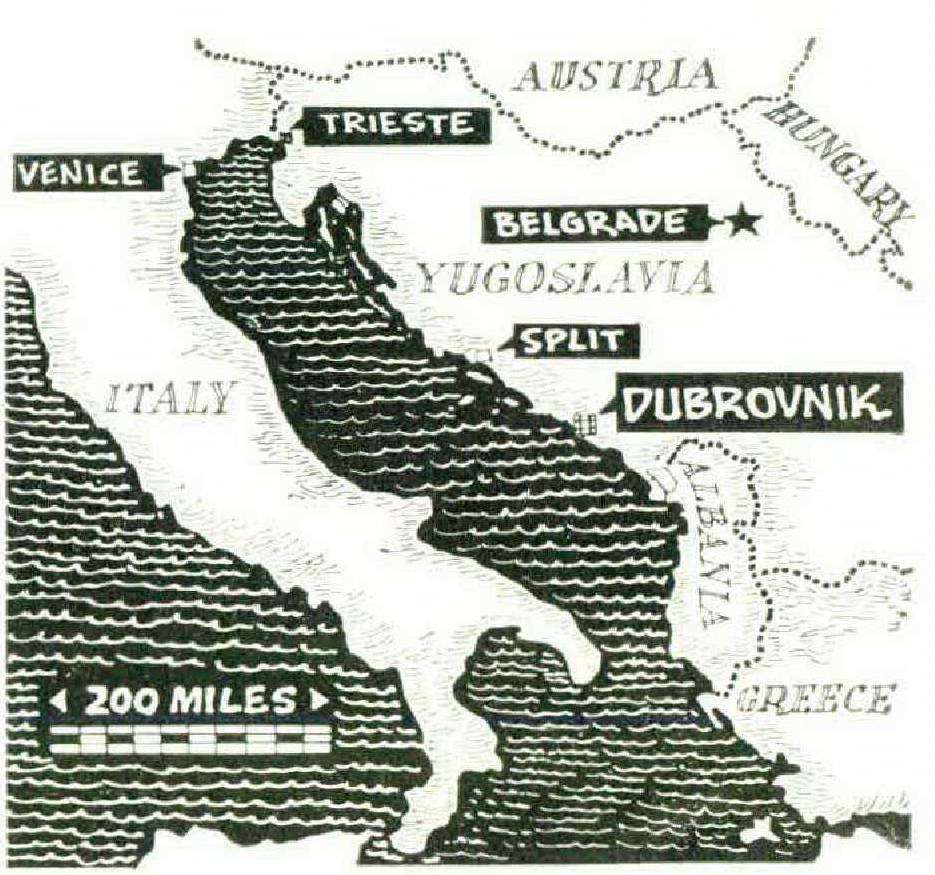 Inland from Dubrovnik are the Muslim towns of Trebinje and Mostar, and another more famous one, Sarajevo. Here, and actually on all Yugoslav sightseeing, one expensive, leisurely trip with a private car and driver is worth ten bus tours, where one is nudged aside by a dozen Leica experts and where one sighs in unison with others over frescoes, mosques, and panoramas.
Like all monopolies, Putnik, the state travel agency, has its faults, but if dealt with patiently and imaginatively, it can be tremendously helpful. Now and then, however, the agency is saddled with a lunatic such as one woman we heard who ordered a small Fiat and driver for herself, four pudgy traveling companions, and fourteen pieces of luggage. Until the roads and other forms of transportation are improved — and this is happening at an impressive rate — Putnik cars and the airlines (reliable, though austere) are the best ways of getting around. Some tourists try their own cars, but with widely separated gas stations and roads like sabotaged roller coasters it is possible to finish the visit having seen nothing but the inside of one's car.
For a last trip that will linger in the memory, or for the only excursion during a short stay in Dubrovnik, one should go north. About a halfhour ride leads to where a rushing underground river turns into mountain-enclosed bay called the Ombla. By its banks the noble families of Dubrovnik built their summer villas. Cypress groves and lagoons overhung with mimosa surround these stately, patrician ruins, while above, in the hills, small monasteries and chapels are precariously ringed with umbrella pines. Sunset is the ideal hour to enjoy the rarefied charms of the Ombla, where the Italianate taste of the Ragusan aristocracy is distilled to its essence. The most extensive of these summer estates, that of the Gozze-GuĚetići family, is beyond, near the tiny town of Trsteno. Here, beside the huge, semitropical gardens where the plane trees are famous for their Sequoialike circumference, there is an old and unusual establishment where one might well have a last Dalmatian feast. Tante Dominie's is the name of this delightful combination of eating house, gaming parlor, bar, and discreet rendezvous. The rakija and cards are dealt downstairs, while in a quaint upstairs living, room festooned with Turkish carpets and Venetian lamps a party of two or twenty can dine in privacy. Any Dalmatian specialty can be ordered, in advance, but tiny game hens, a special crumbly cheese preserved in oil, and a modestly anonymous but ambrosial rosé are possibilities not to be overlooked. At the very end of the meal, one of Tante Dominie's descendants brings a bowl of cherries and announces in a blurred, multilingual phrase that the room, molim, bitte schön, is libre.
An evening here, after glimpses of the bays and mountains and the mistshrouded archipelago that begins along this part of the coast, will probably end in the solemn resolution never to leave Dalmatia, or Dubrovnik. At the very least, allowing for the sobering mistral on the drive home, vows will be made for an early return.