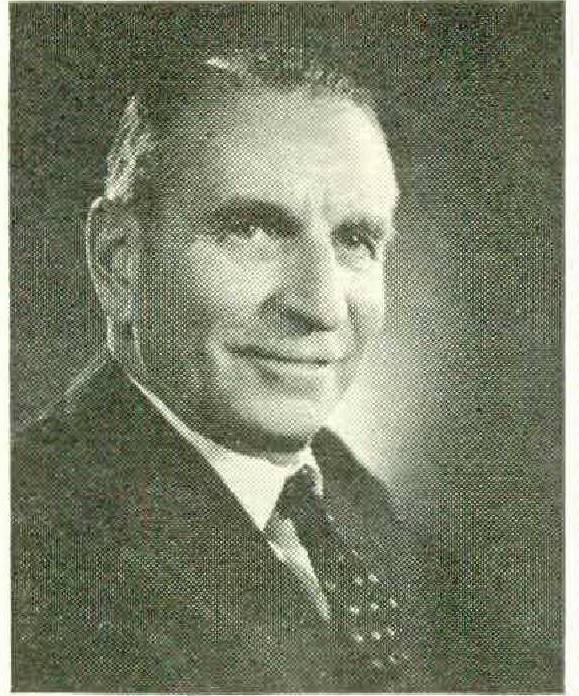 BY EDWARD WEEKS
THE director of the Agassiz Museum in Cambridge, Dr. Thomas Barbour, six foot six and broad in proportion, with his great head of silver curls, was crossing the Harvard Yard in the company of President Lowell. "The place has gone to hell," said Dr. Barbour. "Lost all its characters. Shaler is gone and Albert Bushnell Hart and Irving Babbitt and —" "Tom," interrupted the President, "when did you last look at yourself in the mirror?"
Harvard has always had its characters, some as ruddy as Tom Barbour, others shedding their light as resplendently as Kittredge, Whitehead, or William James, and still others of a quieter mien. Taken together they have composed a faculty second to none in American education.
The sovereignty of the various departments rises and falls: Philosophy when it numbered James, Royce, Palmer, Munsterberg, Santayana, and young Ralph Barton Perry was pre-eminent. English in the 1920s when it numbered Kittredge, Dean Briggs, Bliss Perry, John Livingston Lowes, Copeland, and Robinson provided a galaxy that outshone any other in the English-speaking world. When the great oaks in a department go down, there can be no swift replacement, but it has been Harvard's good fortune — and good management — that its leadership, especially in the humanities, has passed from field to field.
In this magazine in 1935, Edwin R. Embree, then head of the Rosenwald Fund, made an appraisal of American universities, department by department; and of the twenty-four departments he enumerated, Harvard was ranked first-rate in twenty-two. He went on to rate the eminence of other universities in this order: Harvard, Chicago, Columbia, California, Yale, Michigan, Cornell, Princeton, Johns Hopkins, Wisconsin, Minnesota. Were such a ranking attempted today, Harvard would still lead, but by a narrower margin. The second choice would be the University of California at Berkeley because of its preeminence in the sciences, and the third place would be a toss-up between Yale, Princeton, and Michigan. Stanford would almost certainly rate in the first ten, and one would question what to do with specialists like Cal Tech and M.I.T.
In 1869 President Eliot began the transformation of our oldest college into America's first university; Harvard has retained that primacy ever since, and in the long run the country has come to look upon it as an institution to be proud of, and as one to criticize at the slightest provocation. I remember the howl that went up when, in President Lowell's administration, the rumor was reported at the Boston Statehouse that there was a quota for Jewish students in Cambridge. I remember when I was an overseer under President Conant the resentment of conservative alumni at the extent to which Keynesian economics was being taught in Harvard classrooms, and again the headlines during the McCarthy era with which the Chicago Tribune charged that the Harvard faculty was a hothed of Communism. Time restores the balance in such things.
Last fall there were two uproars reaching far beyond the Yard. The first was provoked by a couple of young faculty members who months ago, engaged ostensibly in research, began testing the effect of hallucination drugs on their students. The administration, wary of infringing on academic freedom, warned that the experiments must be confined to graduate students. When it was proved that undergraduates were also being dosed, the researchers were fired. The second uproar was over the sexual behavior of the undergraduates, a matter of deep concern on every campus in the country. Harvard has no social center, and girls are permitted to visit in the dormitories or houses in the afternoons and on Saturdays. The bedrooms are inevitably used for entertaining, and the question is to what degree for intercourse; a dean and a psychiatrist say to an alarming extent; the housemasters and undergraduates say the reports are exaggerated. Since the incidence of those having premarital relations between the ages of seventeen and twenty-two is rising the country over, it would be curious if Harvard were exempt. Ruling the bedrooms out of bounds would have little effect on the compulsive, who have usually found a way; it would help to protect the inexperienced and the unsure. Supervision at this age is difficult enough when the girl lives at home; when she is mature enough for college she must be trusted to set her own standards.
THE GENTLE BEGGAR
Harvard because of its eminence will be blamed almost as often as it is praised, and not least by its alumni. The relations between the alumni and the college office, if uncultivated, can quickly degenerate into a battle of letters: letters from the university on the one hand, asking for funds, and from irate or heartbroken fathers on the other, demanding to know why their sons were not admitted. In these and other sensitive issues Harvard has had for the past thirty-five years a rare and skillful conciliator in the person of DAVID MCCORD. Dave, who graduated in 1921. is a poet and essayist with an ear for the gleaming quotation and a veneration for all that Harvard stands for. Since 1926, at the rate of a million words a year, he has been writing to the members of the alumni who have been contributing to the Harvard Fund, of which he was the director. His gift for friendship, his wit and kindliness have informed his prose and made him one of the most affectionately known men in the university's history. It is quite impossible to estimate how many millions of dollars he coaxed into the treasury by his gentle, individual pressure. But by his example and in his "language of request," he established a new relationship in alumni affairs.
The cream, the witticisms, and solid substance of David's writing about Harvard have been handsomely bound up in his new book, IN SIGHT OF SEVER (Harvard University Press, $5.95). The book opens with a series of thumbnail portraits, and the best of them, so appreciative of man to man, are of Copey at Walpole, of Bliss Perry, and of Robert Frost as he sat for his portrait. The profile of President Lowell is the fairest, saltiest summing-up I have ever read, and the eulogy to David Little, a Harvard housemaster, has in it a quotation from George Herbert Palmer which applies equally to McCord: "Why should Harvard University pay me for doing what I would gladly pay to be allowed to do?" There are longer chronicles of the Harvard Tercentenary and of Radcliffe College, and vignettes of Cambridge after dark, of which "Celestial" is the beauty. The best are the short essays which he addressed to the alumni at the conclusion of his career, essays which hold the warmth of his rooms in Wadsworth House, his reminders of what a great university must be, his reaching out across time and space to those who treasure the humanities as he does and wish to keep them fortified.
CIRCUS IN SPAIN
It is rare to find a circus novel which sounds as if it had been written by one of the troupe. LOVE, LET ME NOT HUNGER (Doubleday, $4.75) by PAUL GALLICO is such a one, the highly professional, engrossing story of a little British traveling circus which attempts a tour in Spain where there is no television, and goes on the rocks.
Sam Marvel, the owner, in a tattersall waistcoat and a brown bowler hat, takes the gamble after watching his receipts decline season after season, and after hearing that there has been no British circus on the Continent for over forty years: He will cut his troupe down to those who can double in brass. And as he does so we are drawn to the principals: Marvel himself, who is as tough as rawhide; Toby Walters, the equestrian star, with his gleaming black hair and superb body: Jackdaw Williams, the biggest of the clowns, with his tame crow, and Rose, the redheaded waif who shares his caravan; Janos, the Hungarian dwarf; and old Mr. Albert, who cares for the animals and whose special love is Judy, the lone elephant.
All goes well until they play the little town of Zalano in the furnace heat of July. Midway in the performance the tent boss and his Spanish helpers are alarmed by the ominous electric storm that is building up, and word is passed to Marvel to cut the acts. The audience gets out in time, but what the wind, hailstones, and lightning do to the big top is appalling. The tour is canceled, a skeleton crew is left to care for the animals and caravans, and Marvel takes his troupe back to England to collect the insurance.
There are scenes in this story Goya might have painted: the blazing, sweating frenzy of the circus as Mr. Albert tumbles into the clowns' act just before the storm hits; more tender, the picture of Mr. Albert being protected by the crouching elephant when the hailstones hit; more dramatic, Mr. Albert's appeal to the grotesque Marquesa de Pozoblanco to save them all from starving.
THE BREAST-BEATER
In 1947 EDNA FERBER and George Kaufman, who had collaborated in the writing of many successful plays, were discussing her proposal to do a new one about some refugees in New York City. "Terrible," George said, "Why terrible?" "You're always breast-beating about something." And with surgical accuracy her friend put his finger on that characteristic which is at once the strength and weakness of Miss Ferber's second volume of reminiscence, A KIND OF MAGIC (Doubleday, $5.75). This is the sequel to A Peculiar Treasure, her first venture into autobiography, which was published in 1939 and on the proceeds of which she built her fieldstone dream house not far from Westport. Hers is a story notably American, and she tells it with a fierce, sensitive intensity.
Her valiant mother, Julia Ferber, wore the pants of the family after the ineffectual father lost his eyesight; she kept shop in Appleton, Wisconsin, and gave her two daughters their chance. Edna's marks in high school were low, but she had the gift of words, and four years as a reporter on the Appleton Crescent and then the Milwaukee Journal and the pressure of "a lively liberal tough newspaper city room" taught her more than college could have about human nature. For the fifty plus years thereafter she has supported herself as a writer — one of the two hundred and fifty professionals in the United States who are able to do so, as she reminds us — and her big characters (Cap'n Andy, Magnolia, Gaylord Ravenal, and Julie in Show Boat; Selina Peake and Dirk in So Big; Clio and Clint in Saratoga Trunk, and Yancey Cravat and Sabra in Cimarron) stand right up there with Scarlet in Gone With the Wind. Her pride in her work is disarming because she acknowledges as all honest writers do that her books are not as good as what she saw in her mind.
What I have most enjoyed in A Kind of Magic are the many pages given to the building and settlement on Treasure Hill; the portraits of her mother, George Kaufman, and Louis Bromfield; her evaluation of the four men in her life she most esteemed — Theodore Roosevelt, FDR, Robert La Follette, and William Allen White; the poignant little sketch of Gunther Hollander; her love for the theater, and her self-analysis before squaring away on a new job. But the lady doth protest too much when she speaks, repeatedly, about the discipline and ordeal of her writing; she is vulnerable in her private civil war with Texas, and her criticism of contemporary women is more accurate than that of "the gilded youth." This is some of the breast-beating, and I must add the further cavil that the book has been inadequately proofread. In a space of five pages there are two howlers. It was not Hitler, but a French general who made the remark which Churchill picked up in Ottawa that England would have her neck wrung like a chicken's; and Miss Ferber's statement that "North Americans do a lot of shooting in the movie Westerns but not much otherwise as a sport" is plain silly. In her native state of Michigan alone there were four hundred thousand deer hunters last fall, and they bagged something over one hundred thousand deer. Finally, since so much in the book is quotable, it is inexcusable not to have had an index.
A SCOT ON MADISON AVENUE
Speaking at Williamsburg two years ago, Arnold Toynbee remarked that "the destiny of our Western civilization turns on the issue of our struggle with all that Madison Avenue stands for." To some of us that seemed a surprisingly heavy indictment, and I am glad that DAVID OGILVY, head of New York's most audacious advertising agency, rose to the challenge in his forthright CONFESSIONS OF AN ADVERTISING MAN (Atheneum, $4.95). Ogilvy is a Scot who, on coming down from Oxford, began his career as a chef in the Hotel Majestic, then sold kitchen stoves in London and Scotland, and then gravitated to Princeton to become a junior pollster under George Gallup. In 1948 when he set up his own agency on a shoestring, he listed the five clients he wanted most: General Foods, Bristol-Myers, Campbell's Soup, Lever Brothers, and Shell. He has them all today, and others, to a total billing of fifty-five million dollars a year, and the eye-patched Man in the Hathaway Shirt, the Nest Egg, and Commander Whitehead of Schweppes are three of his many, canny campaigns. When he took over the "Come to Britain" advertising, the United States tourist expenditures in Britain tripled.
It is refreshing that a man so exhilarated with success should be so candid. He has the Scot's impudence in making his presentations attractive and a pithy way of saying things. The early chapters about his cooking in Paris and his capture of the first accounts in New York are great fun for all, and even later, when he lays down the law for executives, his humor and insight speak to the general reader, too. Here are some samples I have picked at random:
The consumer isn't a moron; she is your wife.
If you don't think the product is good, you have no business to be advertising it.
I will not allow my staff to be bullied by tyrants, and I will not run a campaign dictated by a client unless I believe in its basic soundness.
I am angered to the point of violence by the commercial interruption of programs. Are the men who own the television stations so greedy that they cannot resist such intrusive affronts?
I have a vested interest in the survival of Madison Avenue, and I doubt whether it can survive without drastic reform.