St. Maarten: A Caribbean Find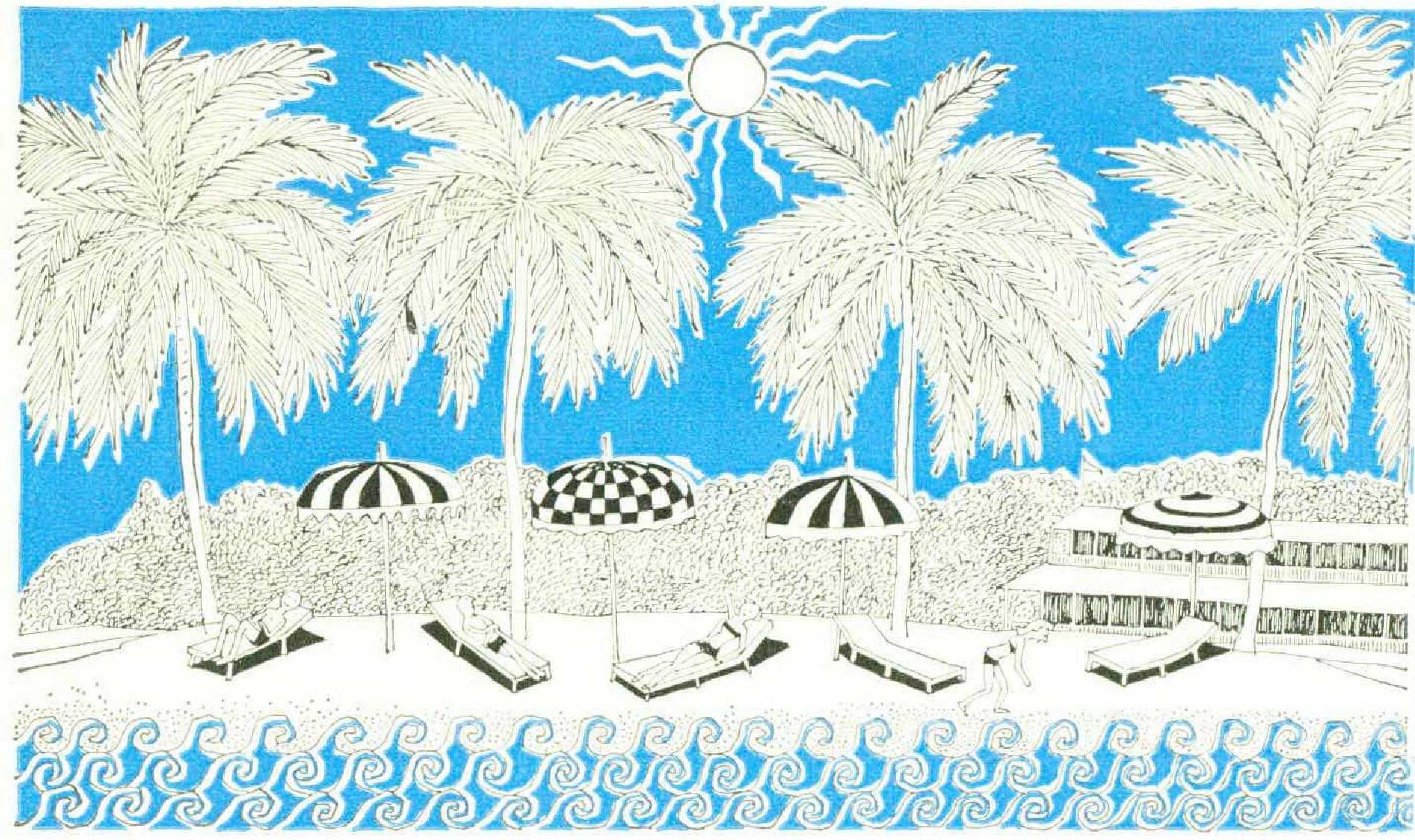 A few months ago I met a footloose friend who collects islands as some men collect contemporary art. He always knows the exact status of such islands as, let us say, Ischia, Hvar, Samsö, and Cozumel, rating them on a sliding scale as coming in, in, or impossible because everybody goes there.
"Pick me a Caribbean island," I said, "not so far 'in' that prices are like Florida's and female guests mince around in pink silk slacks, yet not so far out that the electricity goes off at midnight and I have to live on conch meat. If it is also easy and cheap to get to, so much the better."
Without hesitation he said, "Try Sint Maarten in the Netherlands Windwards. It's on the way in. but not overrun. And if you drive over to the French side of the island — that's Saint Martin — you'll even find a restaurant where you can get an excellent omelette aux fines herbes." With that, he took off for the Seychelles in the Indian Ocean, where the skin diving is superb.
My friend was right about St. Maarten, the name usually given this part-Dutch, part-French island at the upper end of the Lesser Antilles chain. Not to be confused with the larger Dutch ABC islands down off the coast of South America, St. Maarten is a thirty-sevensquare-mile dot only about a hundred miles from the Virgin Islands. Although it is undergoing a small boom, it is by no means as developed, or as expensive, as the Virgins. And since it can be reached handily by several airlines connecting with Puerto Rican thrift flights, it is something of a bargain in overseas air travel. Add free-port shopping, a handsome populace, verdant hills fringed with wide, white beaches, and you have some of the reasons St. Maarten attracts island connoisseurs.
It was high noon on a hot, blue, Caribbean-winter day when I landed at St. Maarten's Juliana Airport on the Dutch side, where most of the tourist facilities have been developed. A dozen importunate taxi drivers crowded against the fence, waving slips of paper. I spotted my name scrawled on a slip, and after being whisked through immigration, was pre-empted by my driver. He was a soft-voiced middle-aged Negro from Marigot, capital of the French side, and was English-speaking, like most of the islanders, even though the official languages are Dutch and French. "Excuse me a little," he said, using the polite island locution I was to hear so often. "I got your name from the guesthouse." He handed me the slip of paper. "It stops arguments." It also gave me a pleasant sense of being expected.
As we drove toward Philipsburg, the Dutch capital, I learned that travel between the two sides of the island is unrestricted; there are no guards at the borders, and because both sides are free ports, there is no customs inspection. The driver slowed the car as we passed through a fishing village on the shore. "Simpson Bay," he said, pointing at a row of fishermen's huts, each with its boat hauled up to the back door. "A long time ago the people settled here from Sweden." And, indeed, many of the sun-browned children in the village were blond.
St. Maarten, during the march of mercantile imperialism, was fought over and occupied many times by various European powers. Columbus is said to have discovered the island on his second voyage, in 1493. More than a century later the Dutch moved in with the rise of the West India Company. The British declared possession several times, and assorted bands of adventurers and privateers also landed on the island. But since 1648 St. Maarten has been shared more or less consistently by the Dutch and the French. The legend goes that two independent parties of Dutch and French settlers arrived on opposite sides of the island and sensibly decided that they would rather divide it up than fight. A Dutchman and a Frenchman stood back to back, then started walking around the shore in opposite directions. Where they met again, a line was drawn across the island to mark the boundary. The story does not explain why the French got some twenty-one square miles and the Dutch only sixteen, although there is a rumor that the Frenchman trained on wine and the Dutchman on Holland gin.
We approached Philipsburg on the south shore, skirting a great salt pond at the foot of a mountain. The town itself stretches along a curving mile-long ribbon of beach between the salt pond and the sea, flanked at either end by two high green peninsulas which form the harbor, Great Bay. Philipsburg is only two streets wide, and they are named, logically, Front Street and Back Street. The flavor is unmistakably Dutch: small, red-roofed houses in neat rows, freshly painted, for the most part, in white or pinkish-buff. Oldfashioned gingerbread fretwork decorates window frames and porch railings, and every doorstep has its pots of ferns or geraniums. Opposite the town dock the wooden Town Hall stands square and solid, flying both the Netherlands and the Netherlands Antilles flags. The buildings looked scrubbed, the streets were swept clean, unlike those of most Caribbean towns.
At the far end of Front Street we drew up before a sprawling bungalow set in a tropical garden along the beach. A discreet sign above the gate read "Pasanggrahan," which means "guesthouse" in Indonesian. Inside, on the wall of the rattan-furnished living room, portraits of Queen Juliana and Prince Bernhard smiled benignly.
I walked through to a vine-covered drinking-and-dining veranda at the rear and looked out over a grove of sea grape and fat-leaved almond trees to Great Bay glittering just beyond. Then, trailing my taxi driver, who doubled as an informal bellhop, I followed a garden path to a separate wing, where my room gave directly on a stone terrace and the beach. It was in this guesthouse — so much more appealing to me than the glass and chromium palaces currently springing up around the West Indies — that I made my island headquarters.
Pasanggrahan's manager is a casual young American, Bud Vass, who, having had his fill of organized activity when he was a cruise director, introduces his guests once, then leaves them alone. He is an imaginative menu maker. The first night's dinner was a promising sample: crab soup garnished with slices of lime, a shrimp and rock-lobster dish in cheese and wine sauce, tiny French peas, banana fritters, and good strong Dutch coffee. The wine, included with the dinner, was an ordinaire from the French side of the island. And, of course, there was plenty of cold Dutch beer to be had. The rates for Pasanggrahan's dozen rooms are moderate as Caribbean resorts go: $12 to $14 a person for a double room and bath with meals, from December 15 to April 15 ; $10 to $12 a person for the rest of the year. Drinks are a flat fifty cents, except for an elaborate rum punch which is sixty cents.
Swimming and snorkeling are fine all around the island, and discovering new beaches is the major competitive sport for visitors. I lacked time to explore all the beaches, but I was told they number more than forty. There are small hidden coves like Cupecoy Bay on the south shore, sheltered from the northeast trades and boxed in by cliffs of coral, or the breeze-swept Baie des Cailles on the north shore, where, in a wall of rock at one end. the waves roar through a curious blowhole called the Trou de David. The latter beach is excellent for shell collectors: turkey wings and queen conchs are as common as clamshells on Cape Cod, and one visitor said she picked up a rare lion's paw as big as the palm of her hand. Then there are the big beaches, like Orient at the Atlantic Ocean side of the island, a bonewhite beach, treeless and burning, on an emerald and sapphire lagoon ringed by coral reefs; or Gal is bay Beach, below a ruined fort at Marigot: a long, straight strand bordered with sea grape and twisted manchineel trees, whose sap is caustic. For an expedition about the island, one can rent a small European car for $11 a day, or a Jeep for $10.
Traveling around St. Maarten, I was frequently struck by the islanders' good looks. The young women have delicate heads, small features, enormous black eyes, and braided hair smoothly wound and piled high. They dress in bright full skirts, gathered blouses, and wear sandals or no shoes at all. They are as elegant as the attenuated women of Modigliani.
The men, too, are good-looking. One afternoon, on an isolated shore of the French Quarter called Cocoanut Beach, I met an incredibly handsome coffee-colored farmer, a giant of some six and a half feet, wearing a broad-brimmed straw hat and a shirt of brilliant orange. Accompanied by a wizened, mahoganyskinned old man riding a donkey, he emerged from beneath the cocoanut palms carrying a cutlass. They were father and son. The younger man courteously asked if he could direct me — I was, in fact, trespassing — and we fell into conversation. The cocoanut grove proved to be his own — a gathering place for church picnics and cockfights. He spread his arms in a wide gesture that embraced the beach and encircling mountains. "All this is we land," he said. Many of the native families have vast holdings, which they seldom sell. Since land is inherited jointly by all the children, some of whom drift to other islands, it may take years to clear the title to a tract. "Besides," my informant told me, "if you sell the land, the money gets spent. If you keep the land, you have something to leave the children."
There has been some land development on St. Maarten, the demand for island retreats usually being greater than the supply. In a region of wild scrub called the Lowlands, on the French side beyond the airport, a number of Americans have bought and started to build. They are now trying to get together enough money to put in a road to replace the present bulldozed track. At Point Blanche near Philipsburg, a Dutch government land-development project will offer eighty lots of a half-acre minimum. The government already has more than two hundred applications for the land and proposes to choose the lucky buyers by lottery.
Aside from beach life, the chief daytime activity for visitors to St. Maarten is bargain shopping. In Philipsburg, a row of shops lines Front Street — local Ma-and-Pa general stores and branches of big Dutch shops in Curaçao 600 miles away. Here are the usual free-port assortments of Swiss watches, German and Japanese cameras, English woolens and china, French perfumes, liquor, and other tourist lures, at tax-free prices said to be the lowest in the Caribbean. One shop, the Windward Islanders, offers straw from Hong Kong, silk sweaters from Italy, rugs from Haiti, and such. They wall run up a muumuu in any of four or five styles, in madras or Mexican cottons, for $15 and up. They also have men's handwoven madras shirts at $5 and shorts at $9, ready-cut or made to order.
During the winter tourist season, when a cruise ship anchors at the entrance to Great Bay, bands of visitors disembark in lighters for a few hours of fevered buying, and Philipsburg comes to life. The single traffic policeman in front of Town Hall, splendid in a topee, flails his arms in unaccustomed activity. When the day-trippers leave he slips over to the shade for a beer, and the town goes back to its ordered repose.
In contrast to Philipsburg's Dutch propriety, the French town of Marigot, just across the island, sprawls in happy West Indian squalor. Its back streets are a maze of unpainted shacks on stilts. Calico curtains flap over open doorways. The town dock buzzes with women in bright cottons and gaudy headgear — straw hats, plaid caps, kerchiefs — haggling for fish with boatmen just in with their catch. An open-air food market spreads out under a tree just off the dock. Tourist shops offer much the same tax-free wares as those in Philipsburg, at prices just a little lower, probably because cruise ships do not stop here. But for the present there is no place to stay in Marigot except an extremely modest fourroom hotel, hopefully called the Beau Séjour, where the French proprietor produced for me one noon an excellent omelet, coarse, gray homemade bread, a bottle of Heineken's, and a tattered copy of FranceDimanche.
Even on the Dutch side, accommodations offering tourist amenities are still limited in number, so reservations are necessary. In addition to Pasanggrahan in Philipsburg, there are two other pleasant guesthouses outside the town. Mary's Fancy, a converted sugar plantation, lies in a pastoral inland valley facing rolling green hills. As one bemused guest put it, the setting is a little bit of old Vermont in the West Indies, complete with lowing cattle and the smell of new-mown hay. The fourteen rooms are comfortable and cool — a breeze always sweeps down the valley — and there is even a freshwater swimming pool It has all been done with great style and color by Kit Osborn, who also owns the Windward Islanders shop. She sets out a lavish rijstafel every other Thursday in season; the night I was there it comprised fourteen dishes, from Javanese egg rolls to saté, pork tenderloin marinated in lime juice, onion, and pepper, and served up on a stick. Rates at Mary's Fancy in season are $16 a person for a double room and bath with meals; out of season, $12.
The other guesthouse sits on a hill overlooking the Atlantic, around the eastern point from Philipsburg. Designed as a modern inn and run by a former advertising man from New York, it is called Hunter House. Each of its eight rooms has a private bath and a patio facing the water. This small inn is celebrated for two institutions which I cannot believe were inspired by the serious business of advertising: one is a champagne brunch every Sunday morning; the other is known as the Happy Hour, with unlimited drinks from 6:00 to 8:15—for guests who stay a week or more. Hunter House rates are the same the year round: $16 a person for a double room and bath with meals.
At night St. Maarten's guesthouses leave it pretty much to the guests to supply their own entertainment, although Pasanggrahan imports a local steel band once a week for outdoor dancing. Those who prefer a round of planned amusements had better go to Little Bay Hotel, the island's nearest approach to conventional resort accommodations. About a mile and a half from Philipsburg, on its own beach, Little Bay has forty rooms and baths in pink and green stucco bungalows. The hotel provides dancing and movies several nights a week and even has a small gambling casino, where I watched a dozen mesmerized guests play roulette and baccarat one evening. Rates are $20 to $22 a person for a double room and bath with meals in season; $13.50 to $15 out of season.
Now being built and scheduled to open in the spring or summer of 1964 is a new hotel, the Bon Bini, perched above Great Bay on the western peninsula. It will start out with a dozen double units, some with housekeeping facilities and all with private balconies. Eventually it will accommodate a hundred guests. And still another ambitious luxury hotel of 250 rooms is planned at Mahou Bay near the airport. So the island grows.
In a few years, I dare say, my island-collecting friend will have to revise his rating of St. Maarten from "coming in" to "everybody goes there." Then, if you'll excuse me a little, I'll start looking for another island.