they shall have music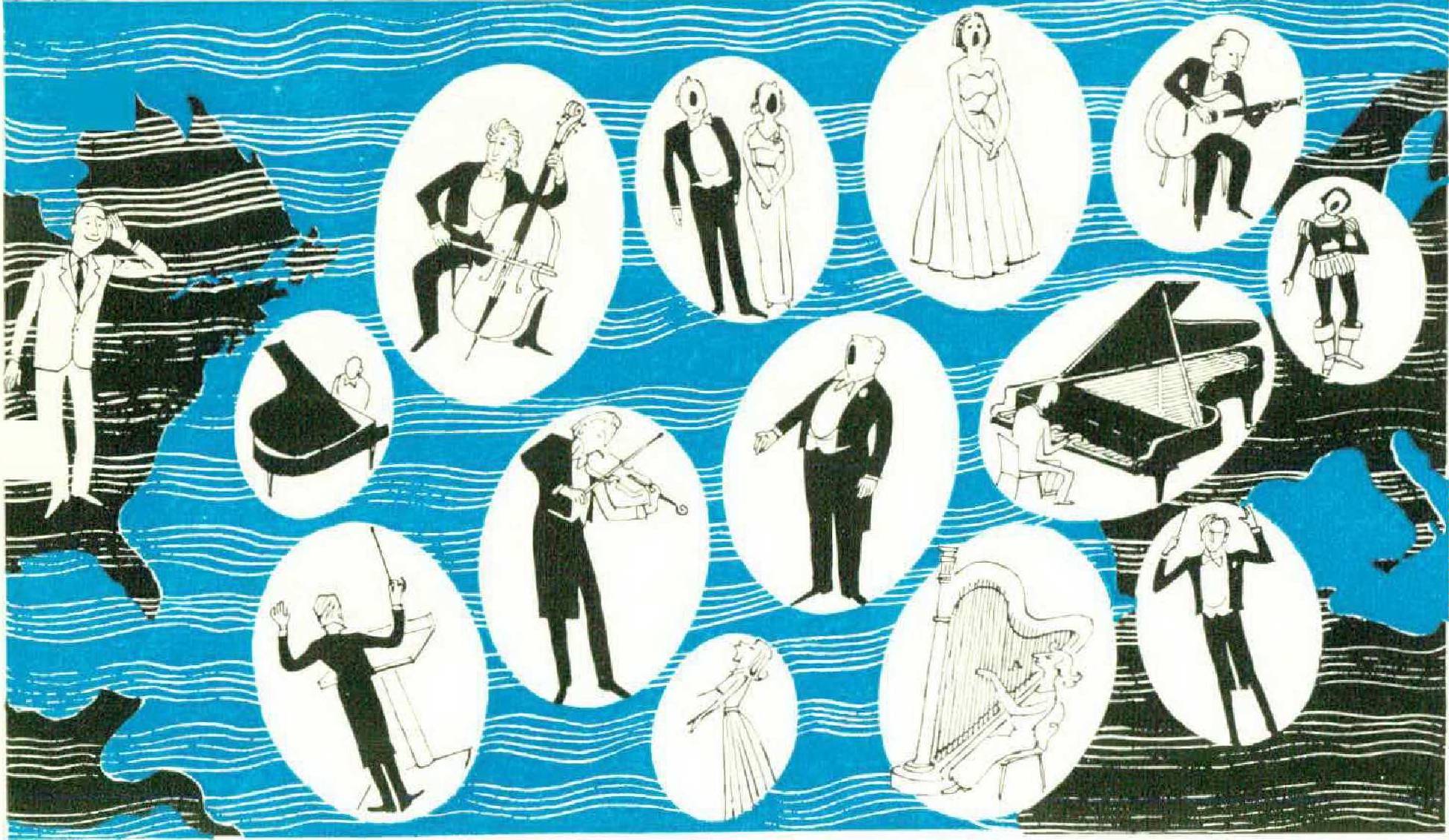 BY HERBERT KUPFERBERG
Few industries are as internationally minded as the record business. American singers travel to Rome to record Italian operas with German conductors. Touring Russian pianists and violinists haunt the studios of Paris, Berlin, and New York. The Boston Symphony and Philadelphia Orchestra find phonographic audiences in Tokyo and Buenos Aires. Recordings by orchestras in London and Vienna fill the shelves of American shops. Not only the major American companies but the minor ones, too, have overseas affiliates whose products occupy a large share of their catalogues.
But despite this virtual common market, hundreds of long-playing records of estimable quality are produced every year in Europe and never become accessible to the American public. Sometimes they are by artists of less than international renown; sometimes they are of repertory with limited or local appeal; sometimes they are of interest only to one country or language group; sometimes they have been outdated by subsequent releases. Among them are recordings of considerable artistic merit and high repute among collectors. They are not issued in the United States simply because the domestic record companies believe they would not sell in sufficient quantities to make their release worthwhile.
Of course, it has always been possible to obtain such records through shops dealing in imports, or by special order, or by the direct if rather drastic expedient of journeying to Europe. But Capitol Records, which already releases the Angel line in the United States, has now virtually demolished the import barrier by setting up a distribution system that will make foreign-produced recordings almost as readily available as the American-made product. Some one thousand titles hitherto completely unobtainable, or available only with difficulty, are already on hand, and others are on their way by sea to a storage warehouse just off Canal Street in New York. All of them are titles issued in Europe by subsidiaries of Electric and Musical Industries, Ltd., the giant British combine which also owns Capitol.
The recordings include performances not in current domestic catalogues by Toscanini, Beecham, and Bruno Walter among conductors; Gigli, Toti dal Monte, Georges Thill, Flagstad, de los Angeles, and Fischer-Dieskau among singers; Kreisler, Hubermann, Menuhin, and Ginette Neveu among violinists; Schnabel, Elly Ney, Arturo Benedetti Michelangeli, and John Ogdon, co-winner of the 1962 Tchaikovsky competition in Moscow, among pianists.
For the most part, these records will be marketed here on the Odeon label, although originally most of them appeared under such trademarks as HMV, Parlophone, Electrola, English Columbia, and others. Nipper, the terrier who sits with his car cocked toward a loudspeaker, may appear legally in the United States only on RCA Victor products; hence, Odeon labels have been pasted over the His Master's Voice, La Voix de son Maître, and La Voce del Padrone records which will appear here.
In charge of Capitol's import program is Robert Reid, whose experience with foreign discs dates back to the old Gramophone Shop, New York City's best-known pre-war purveyor of imported records. Reid explains the economics of the new program this way: "We regard the records we're bringing over as connoisseur material. If we tried to manufacture records here from these European tapes, as we do with Angel records, the cost would be too high. It's cheaper to buy the finished product in Europe, in units of twenty-five or fifty or a hundred, and then sell them here. If we bring in a hundred copies of a record and it doesn't sell well, it's not a terrible loss. We can take the risk; we don't have to move them in the quantities a domestic pressing requires to break even. Actually, though, the response to some of our first offerings has been so good that we've had to reorder on some titles."
A sampling of a few of Capitol's imports demonstrates the vitality as well as the variety of the line. It also raises one or two perplexing questions about the thought processes of American record makers. For example. one of the most desirable recordings in the import series is Haydn's oratorio The Creation, conducted by Karl Forster, with Elisabeth Grümmer, soprano; Josef Traxel, tenor; Gottlob Frick, bass; the choir of St. Hedwig's Cathedral; and the Berlin Symphony Orchestra (Odeon ASD 409/11, stereo; ALP 1834/36, monaural: three records). By every standard — beauty of singing, masterliness of conducting, richness of sound — this is the noblest of all recorded Creations, revealing to the full the imaginativeness, freshness, and even the humor that Haydn lavished on his music. Nevertheless, Capitol has not seen fit to release it on its domestic Angel label, a puzzling omission in view of the inferior editions that already exist. Perhaps one should be grateful that this recording has at least — and at last — become available as an import.
Similarly, it is only as an import that collectors in this country will be able to listen to the young American cellist Leslie Parnas, winner of the Pablo Casals Grand Prix in 1957. Parnas' recordings of sonatas by Porpora, Debussy, and Shostakovich are included on a Pathé record (ASTX 123, stereo; DTX 309, monaural). He is a cellist of considerable power if not complete polish, and merits recording in his own country.
The Pathé label is strongly represented among the imports, including an attractive variety of French operettas from Offenbach's La Belle Hélène to Christiné's Phi-Phi, and a substantial selection of complete plays by the Comédie Française, among them brilliant stereo releases of Molière's Tartuffe (ASTX 132-34: three records) and Les Fourberies de Scapin (ASTX 130/31: two records). French singers, both operatic and popular, are well represented, and there is a ten-inch children's record on which Pierre Fresnay relates the story of Babar, in French of course, to a piano accompaniment by Francis Poulenc (Les Discophiles Française 525125).
The imports will offer a number of historic recordings omitted in the American releases of Angel's "Great Recordings of the Century" series. Among them are Felix Weingartner's great 1935 recording of Beethoven's Eighth and Ninth Symphonies (Odeon COLC 27/28: two records); Fritz Kreisler's complete Beethoven's Violin Sonatas (Odeon 6/10: five records); Beethoven's Kreutzer Sonata by Jacques Thibaud and Alfred Cortot (Odeon COLH 92); and a recording of Brahms's Horn Trio in E-flat, Opus 40, by Adolf Busch, violinist, Rudolf Serkin, pianist, and Aubrey Brain, horn, that sounds as lovely today as it did a generation ago (Odeon COLH 41). Of similar merit, though not officially part of the "Great Recordings" series, are Toscanini's 1937 performance of Beethoven's Pastorale Symphony with the BBC Symphony Orchestra (Odeon ALP 1664) and Wanda Landowska's 1939 performances of twenty harpsichord sonatas by Domenico Scarlatti, issued in Italy on the Voce del Padrone label but imported under the Odeon mark (QJLP 108).
Recordings of German origin range from Bach cantatas to drinking and hunting songs. Pre-war collectors who remember the fine recordings of the baritone Gerhard Hüsch will rejoice to find him well represented, particularly with reissues of Schubert's Die Schöne Müllerin (Pathé DTX 20006) and Winterreise (Odeon E80679/80: two records). These were among the first complete song cycles ever recorded, and they retain their warm, if occasionally sentimental, beauty. More up-todate sound, but not more affecting singing, is provided in a Winterreise recording by a rising young German baritone of today, Hermann Prey (Odeon ST 91181/82, stereo). From England come such specialties as a set of Italian and French operatic duets sung in English translation by Joan Hammond and Charles Craig (Odeon ASD 384, stereo; ALP 1805, monaural) and recorded excerpts from the BBC "Goon Shows," the satirical radio program that first made Peter Sellers famous (Odeon PMC 1108).
Capitol promises that its import activities, which started six months ago, are neither experimental nor temporary, and says it plans to extend them to records produced in such countries as Spain. Portugal, Greece, and even India. With list prices set at an average of $1 above comparable domestic records, Capitol officials and their EMI counterparts abroad believe that sales will be brisk enough to assure a steady stream of imports.
Although Capitol's project is the most elaborate introduced into the field so far, other American companies are making some of the products of their European affiliates available here. Probably no handsomer set of record albums exists anywhere in the world than RCA Italiana's Storia della Musica Italiana ("History of Italian Music"), which is being handled in the United States by RCA Victor. The first three of a projected four volumes are already out; the final set will appear later this year. Each album contains ten records, is bound in tooled Florentine leather, and is accompanied by a brochure illustrated in color with fine prints and photographs. The price is similarly luxurious — $85 a volume.
The musical selections and performances are in every way worthy of their surroundings. The editor of the series, Cesare Valabrega, has brought to light and to life works of striking originality, power, and freshness. Volume I (RCA Italiana ML40000) moves from Gregorian chant to the oratorios of Carissimi; Volume II (ML-40001) from the early Florentine operas to the instrumental music of Corelli; Volume III (ML-40002) from Alessandro Scarlatti to Vivaldi; Volume IV will carry the story toward the present.
It would be possible to write almost endlessly of the delights and revelations of these albums: a jolly fishermen's chorus by one Loreto Vittori (1588-1670); a beautiful setting by Monteverdi of the verse "I am black but comely" from the biblical Song of Solomon; the serene five-voiced Miserere by Allegri, which Mozart copied from memory on a famous occasion in St. Peter's; a brilliant trumpet showpiece by Stradella; a duet by an early seventeenthcentury composer named Leonardo Vinci, which is likened, not without reason, to "certain future pages of Don Giovanni" in structure, breadth, and expressiveness.
The great lack in the project is textual rather than musical, for the explanatory notes in the brochures are translated badly and the words of the songs and arias are not translated at all. Nevertheless, the musical panorama of these albums is vast and rewarding, so much so that it seems unjust to confine it to the limited circulation of the leatherbindings market.
Record Reviews
Berlioz: Harold in Italy
Colin Davis conducting Philharmonia Orchestra, with Yehudi Menuhin, viola; Angel S-36123 (stereo) and 36123 Since Paganini himself used to double on the viola and Mozart regarded the instrument as his favorite while playing string quartets, it may be no surprise to find a violinist as renowned as Yehudi Menuhin temporarily turning violist. Berlioz's Harold in Italy, which is Byron's Childe Harold's Pilgrimage in music, is a symphony with a viola obbligato — the viola binds it together but does not dominate it. Menuhin's darkly gleaming tones weave beautifully into the symphonic fabric; whether by reason of his playing or of Colin Davis' skilled and decisive conducting, the recording sets forth the work in all its romantic grandeur and nobility.
Borodin: String Quartet No. 2 in D Shostakovich: String Quartet No. 8, Opus 110
The Borodin Quartet (Rostislav Dubinsky and Jaroslav Alexandrov, violins; Dmitry Shebalin, viola; Valentin Berlinsky, cello); London CS-6338 (stereo) and CM-9338
Although this Russian quartet bears the name of a famous Russian nineteenth-century composer, it seems most at home in the taut and driving Quartet No. 8 of Dimitri Shostakovich. This music, written in 1960, avowedly reflects World War II, echoing not only its emotions and its tensions but even its sounds, as witness the drone of airplanes and explosions of gunfire. It is a compact, powerful, and moving work, and is presented with brilliant virtuosity. Borodin's melodic and romantic quartet, with its famous Notturno third movement, gets a genial and lush-sounding performance. This is one way to play it, certainly; but another, and even more effective, way is with more refinement and less vibrato.
Gottschalk: Symphony "A Night in the Tropics"; Grand Tarantelle for Piano and Orchestra (arr. Kay) Gould: Latin-American Symphonette
Maurice Abravanel conducting Utah Symphony Orchestra, with Reid Nib ley, pianist; Vanguard VSD-2141 (stereo) and VRS-1103
Louis Moreau Gottschalk was an American composer who was born in New Orleans in 1829 and died while on a tour of Brazil in 1869. In his short lifetime he established a name as a concert pianist, especially in Europe, and also as a composer with a flair for colorful melody. His "Night in the Tropics,"composed in Guadeloupe in 1859, is a rambling set of dances and folk tunes rather than a "symphony," and the form in which it is heard here is a free reconstruction of a lost original. However, the music is lively and diverting, as is another Gottschalk piece, the Grand Tarantelle for Piano and Orchestra. Reid Nibley, the piano soloist, is a bit on the dull side; one imagines that Gottschalk himself brought the work off with more of a flourish. Morton Gould's LatinAmerican Symphonette is in keeping with the festive mood of the rest of the record.
Haydn: Symphonies No. 48 in C, "Maria Theresia," and No. 4 in D; Overture to "L'Infedelta delusa"
Max Goberman conducting Vienna State Opera Orchestra; Library of Recorded Masterpieces HS-10 (stereo or mon-
aural) The loss to music of the late Max Goberman is made to seem doubly keen by a record like this one. Goberman was not only the organizer and guiding hand ot the Library of Recorded Music's project of recording the complete Haydn symphonies, but its musical conductor as well. And he approached a Haydn score with a briskness and bounce that made his performances delightful to the ear and exhilarating to the mind. The Maria Theresia symphony, one of Haydn's most festive and exciting works, is vivid evidence of Goberman's musical exuberance, taste, and intelligence. One hopes that efforts will be made to carry on with Goberman's important project, but conductors of similar skill, vigor, and purposefulness are hard to come by.
Stravinsky : Oedipus Rex
Igor Stravinsky conducting Chorus and Orchestra of the Opera Society of Washington, with Shirley Verrett, soprano; George Shirley, tenor; Donald Gramm, bass; John Westbrook, narrator; and others; Columbia MS-6472 (stereo) and ML-5872
For this brilliant recording of his opera-oratorio, with a text by Jean Cocteau based on Sophocles, Igor Stravinsky serves not only as conductor but also as program-note annotator. In fact, he even takes a turn at criticism, announcing that, after thirty-five years, he detests "the speaker device, that disturbing series of interruptions." As if to justify this remark, the narrator in the recording delivers his speeches in a particularly stiff and pompous fashion, quite out of keeping with the strong but supple rhythms and terse, powerful melodies of Stravinsky's score. Oedipus Rex may not be especially Sophoclean, and it seems a long way from Cocteau, whose original French was recast into Latin, but it is unmistakably Stravinsky, and it bursts forth with almost barbaric splendor in this surging performance. The musical text is presented in Latin, the spoken narration, unfortunately, in English.
Italy's Immortal Tito Schipa
Tito Schipa, tenor, with orchestra conducted by Dino Olivieri; Capitol T10337 (monaural only)
Although the title might suggest otherwise, Tito Schipa is still alive; indeed, at the age of seventy-four he still sings in public occasionally. These Italian popular songs, however, were recorded some years back (apparently in Milan during World War II) and have never been released here previously. Their musical value is scant, the more substantial numbers including such items as "Luna marinara,""Serenata a Surriento," and "Addio mia bella Napoli." But Schipa probably never sang a song badly in his life, however trite it may have been. To his enormous musical skills — supple phrasing, floating tone production, faultless diction — he added a Mediterranean warmth and sensuousness lacking in most of today's tenors. This record is slight and sentimental, but it also contains singing that is extraordinarily beautiful.
The Popular Music of Leonard Bernstein
Roberta Peters, soprano, and Alfred Drake, baritone, with the Ray Charles Singers and Enoch Light and his Orchestra; Command RS 855SD (stereo) and RS 33-853
Leonard Bernstein the Philharmonic conductor and Leonard Bernstein the Broadway show composer have in common individuality, musical flair, and the power to compel attention. This record sets forth some of Bernstein's best songs from West Side Story. On the Town, Wonderful Town, and Candide in stereo arrangements that are sumptuous yet tasteful. Thanks to Miss Peters, a Metropolitan Opera star, and Mr. Drake, one of Broadway's better singers, the vocal quality is far higher than that of the ordinary show-tune album. Listening to Miss Peters' enchanting account of the lilting "I Feel Pretty" from West Side Story, one is reminded that popular composers, no less than symphonic conductors, are very much in the hands of their performers.