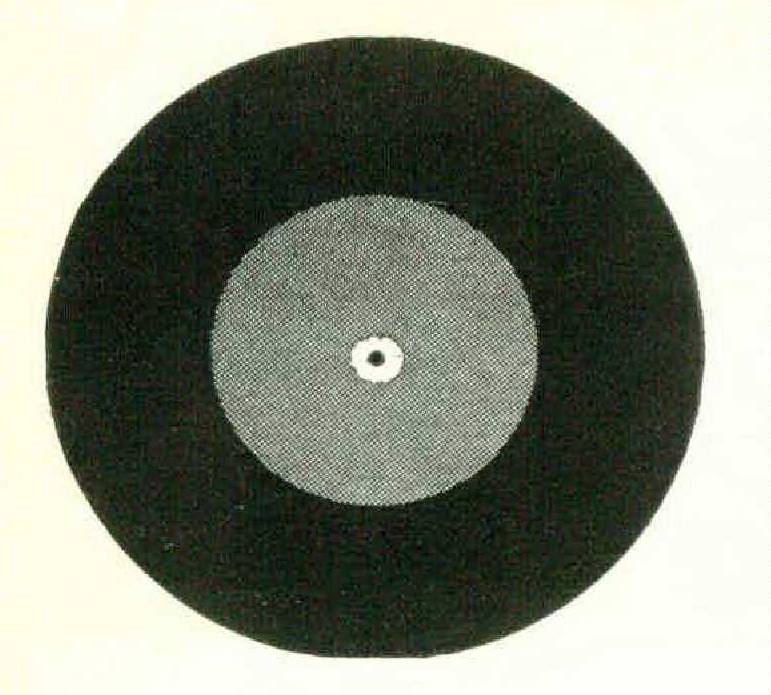 Bob James Trio: Bold Conceptions
Bob James, piano; Bob Pozar, drums; Ron Brooks, bass; Mercury SR-60768 (stereo) and MG-20768
As jazz nightclubs dwindle in number and big bands continue to be scarce, more young jazzmen are acquiring experience in the rapidly multiplying units in colleges and universities. This trio, for example, representing the University of Michigan, won the combo award in 1962 at the fourth annual Collegiate Jazz Festival held at Notre Dame. The victory led to the combo's album debut. To judge from this recording, Mr. James and his colleagues are not only briskly professional but they occasionally manifest impressive originality. James, who has received a bachelor's and a master's degree in composition, plays with easeful command of his instrument, incisively clear articulation, and an improvisatory imagination that is both daring and logical. James is least arresting on popular standards, but he is consistently thoughtful on originals by other jazzmen - as in the pungent impressionism he applies to Miles Davis' "Nardis." He is most absorbing in his own pieces, particularly "Quest" and also "Trilogy." In the latter, James and his colleagues create a fascinating spectrum of colors through the juxtaposition of such devices as bamboo wind chimes, prepared piano, different sizes of oil drums (some of which are played with marbles and a golf ball), and a recorded tape of the trio which is altered electronically and then played back in the studio as part of the final performance. "Trilogy," it should be emphasized, is not at all a factitious exercise in gimmickry. It makes sense as music, and reflects further the growing interest among jazzmen in a wide variety of experiments adapted from contemporary classical music as well as from widely divergent folk cultures. The one quality which pervades all of James's work is resilient lyricism, a characteristic which is also marked in the playing of Pozar and Brooks. Drummer Pozar, incidentally, indicates here that veteran modern jazz percussionists may have something to learn from the new graduates of the academies in terms of enlarging the scope and flexibility of jazz drumming.
Charlie Parker: Once There Was Bird
Charlie Parker, alto saxophone; Dizzy Gillespie, trumpet; Red Norvo, vibraphone; Flip Phillips, tenor saxophone; Teddy Wilson, piano; Specs Powell and J. C. Heard, drums; Charlie Parker Records (distributed by MGM Records) PLP-408
A key recording date in early modern jazz history is a June, 1945, session in which two rebels on the ascendant, Charlie Parker and Dizzy Gillespie, matched ideologies with established swing-era musicians, Red Norvo and Teddy Wilson among them. The recordings, originally made for the now defunct Comet label, were later reissued in various states of disorder; in recent years they have not been available at all. Critic-historian Martin Williams has now carefully reassembled this material. He has not only chosen the best takes of each number, but he has also provided alternate takes for each of three tunes and no less than four alternates (two of them incomplete) for "Congo Blues." The opportunity to compare different versions of these performances is instructive because it is possible to hear how Parker and Gillespie continued to change their solos into more and more original and balanced patterns. (The album could be subtitled "An Introduction to Improvisation.") Parker is masterful throughout, and his quite different solos on the two takes of "Slam Slam Blues" are classic distillations of the blues, while also a demonstration of how deeply this commanding officer of the modern jazz movement was rooted in jazz tradition. The playing as a whole — by the swing men as well as by the innovators — is often remarkably serene. It is as if the musicians, surprised at their compatibility, temporarily suspended their doctrinal disputes in order to indulge in the sheer pleasures of collective improvisation. Mr. Williams' lucid notes place the music in its historical perspective and also provide a helpful analysis of each performance.
Jimmy Rushing: Five Feet of Soul
Jimmy Rushing, vocalist; orchestra conducted by Al Cohn; Colpix SCP-446 (stereo) and CP-446
Although there are more young jazz instrumentalists of consequence than there are jobs for them, impressive new jazz singers are exceedingly rare. The aridity in the work of most recent vocal apprentices is made particularly evident by contrast with the vitality and individuality of Jimmy Rushing's newest album. Rushing, a short, spherical man of great good humor, has been a professional for almost forty years. This recital, in which he is accompanied by a crisp big band in ebullient Al Cohn arrangements, is one of Rushing's major recorded achievements. Bittersweet in sound, his hoarse voice is unusually pliable. He is expert at evoking poignancy while resisting bathos ("Trouble In Mind"), and he is equally capable of leaping celebration ("Oooh! Look-a There Ain't She Pretty"). Rushing can also transmute faded, sentimental pop tunes into unexpectedly affecting intimations of autobiography ("You Always Hurt the One You Love"), thereby demonstrating that even the most unlikely material can be personalized into believability by an authoritative jazz improviser. Mr. Rushing's rhythmic sensibility, moreover, is a model of relaxed swinging. It has taken the amiable Mr. Rushing a long time to be fully appreciated; but now that Louis Armstrong insists on limiting his repertory to the point of utter predictability and Ray Charles is diluting his power by performing in an increasingly commercial context, Jimmy Rushing, at sixty, has emerged as the most consistently refreshing and certainly the most high-spirited of all male jazz singers.
Orchestra U.S.A.
John Lewis, musical director and piano; Gunther Schuller, conductor; and Orchestra U.S.A.; Colpix SCP-448 (stereo) and CP-448
Having honed the Modern Jazz Quartet into the most precise small combo in jazz, composer-pianist John Lewis is now trying to mold a permanent large orchestra which "will be capable of performing virtually any composed or improvised music in the western tradition of music." Accordingly, Orchestra U.S.A., as this group is rather pompously called, is staffed with first-rate jazz instrumentalists as well as highly capable classical musicians. Its conductor, Gunther Schuller, is exceptionally well trained in both jazz and classical disciplines. The first recording by this ambitious, twenty-eight-piece unit is disappointing. All the numbers are jazz pieces by Lewis and by Gary McFarland, except for Mr. Schuller's orchestration of "The StarSpangled Banner,"which closes the album. The presence of this final track is inexplicable, unless we are expected to stand at the conclusion of each playing in wonder at what American culture hath wrought. The themes by Lewis and McFarland are slight but lyrically attractive. The orchestral interpretations, however, are either ponderous or sentimental. The strings, in particular, sound awkwardly out of context. (No writer has yet been able to make classical string players approximate jazz pulsation or phrasing.) Fortunately, there are sizable sections during which the orchestra is in the background; and on those occasions, the jazz soloists soar above the massed weight of the ensemble and the music bursts into vivid life. The most notable of these energizers are alto saxophonists Phil Woods and Eric Dolphy, guitarist Jim Hall, and John Lewis on piano. Whenever the orchestra obtrudes, however, the effect is pretentious or, at best, bland. It is certainly true that a permanent jazz orchestra would be extremely useful, as more jazz composers work in terms of extended composition but have hardly any forum in which their pieces can lye heard. This may indeed be an orchestra which could fulfill that role. Clearly, the musicians are capable, and Mr. Schuller is a broadly knowledgeable conductor. Musical director John Lewis, nevertheless, will have to pay much more attention to the quality of his repertory and arranging if Orchestra U.S.A. is not to sink into banality before it is effectively launched.
Prince Lasha Quintet: Cry!
Prince Lasha, flute; Sonny Simmons, alto saxophone; Gary Peacock and MarkProctor, basses; Gene Stone, drums; Contemporary S7610 (stereo) and 3610
Many among the jazz avant-garde are concentrating on increased melodic freedom. They do not permit their melodic improvisations to be anchored to conventional chord patterns. Instead, their melodic ideas tend to determine whatever harmonic contours can be discovered in retrospect. Some, moreover, have followed the example of Ornette Coleman in trying to get more spontaneous, speechlike cadences in their phrasing and more "human" sounds in the often startling pitches they suddenly choose. Both these preoccupations are strongly present in the work of alto saxophonist Sonny Simmons, a featured sideman in Prince Lasha's quintet. Equally committed to freer improvisation is Lasha himself, a flutist who achieves a warmer sound on that instrument than do most musicians who have tried to adapt the flute to jazz. Lasha, incidentally, grew up in Fort Worth, Texas, with Ornette Coleman, and has obviously been influenced by that controversial experimenter. Lasha and Simmons have composed all the numbers in this, their first album. Their themes are bold, angular, and intriguingly evocative of such titles as "Congo Call," impressions of African tribal music; "Ghost of the Past," an essay in jazz necromancy; and "Lost Generation" ("there is no peace . . . it's a time of tragedy"). As is often true of Ornette Coleman, there is an innocence ("ingenuousness" might be a more accurate term) in the music of Lasha and Simmons. This quality and their commitment to what Simmons calls "raw emotion" are invigorating after some of the more convoluted cerebration in the modern jazz of the past decade. Furthermore, Lasha and Simmons do not confuse freedom with anarchy. The frameworks for their improvisations are strong and clear; and although the ground rules for solos are now more flexible than in much jazz of the past, there is an order in these "cries" along with a disciplined sense of dynamics. The use of two basses on all but three selections makes for an uncommonly whirlpoolish rhythm section, but the two horn soloists are sturdy enough to ride the currents rather than be engulfed by them. As is customary with Contemporary Records, the quality of the recorded sound is superb.