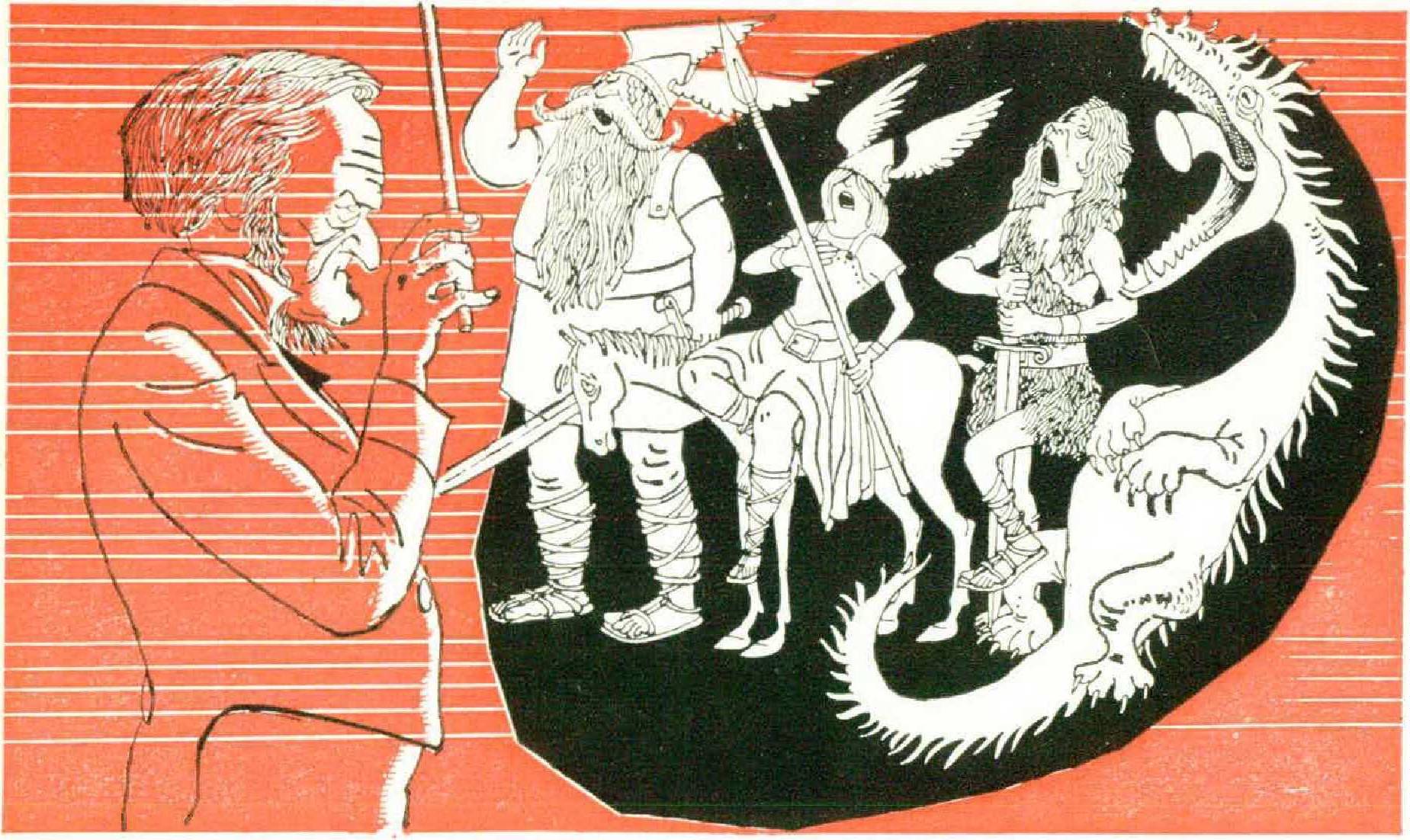 they shall have music
Commemorators of musical anniversaries, record companies included, might reasonably be expected to note that 1963 marks the 150th anniversary of the nineteenth century's two most celebrated operatic composers, Richard Wagner and Giuseppe Verdi. Wagner was born May 22, 1813, and died in 1883; Verdi, who was born October 10, 1813, lived until 1901. They never met each other. Wagner studiously ignored his Italian rival all his life; Verdi, a more generous soul, was aware of and interested in Wagner's music, and expressed genuine grief upon learning of his death. Wagner died undoubtedly confident that his music was, indeed, "the music of the future"; Verdi, although he merely remarked, "It tempo deciderà," was too clearheaded and shrewd an artist to doubt that his own place was secure. However musical vogues have since oscillated, Verdi's operas and Wagner's have managed to coexist not only peacefully but almost equally. At the Metropolitan Opera House there have been 330 performances of La Traviata since 1883, 299 of Tristan and Isolde.
So far as the record industry is concerned, 1963 has been more a Wagner than a Verdi year. No one ignores Verdi, certainly, least of all a record manufacturer with contractual rights to a Leontyne Price, a Joan Sutherland, or a Franco Corelli. But the paths that these artists tread are generally so well worn as to rob their expeditions of much sense of novelty or adventurousness. Verdians haven't really uncovered unexpected treasures since the early days of LP, when they were introduced to such items as La Battaglia di Legnamo, Ernani, Un Giorno di Regno, I Lombardi, Luisa Miller, and Nabucco — all of which are available now only as imports and in outdated sound. But at least the basic Verdi repertory, from Aïda to Il Trovatore, is established as firmly, and repetitively, as almost anything else in the catalogue.
The same cannot be said for Wagner. Nobody particularly expects recordings of Die Feen or Rienzi. But there exists no stereo Maistersinger, Lohengrin, or Parsifal; and it is only this year — the fifteenth of the LP era — that one can discern the shape of a complete, first-class Der Ring des Nibelungen, the four-opera cycle that represents the pinnacle of Wagnerism.
Two factors are undoubtedly responsible for what might be termed the Wagner lag. One is the sheer length of the Wagnerian sagas, with their proverbial wonderful moments and interminable half hours. The other is the comparative lack of great Wagnerian voices today, particularly male voices.
The shortage of heldentenors was discussed by one of the most renowned of the breed, Lauritz Melchior, during a recent visit to New York. Melchior, at seventy-three, still enjoys singing, as he demonstrated with a brief appearance on the stage of Carnegie Hall at a benefit concert of the Liederkranz Club, a New York singing group. He also enjoys talking about singing, as he demonstrated over a capacious seidel of beer.
"We have run out of heroic tenors,"he said. "They are lacking in the proper foundation. All heldentenors must begin as baritones. The high notes from F to A need a solid basis in the lower part of the voice. A heroic tenor must be built on granite, like a skyscraper. If a skyscraper is built on sand, it sinks. So does a voice. I am trying to help establish a fund to give young singers scholarships so they can restudy their voices—to develop young baritones into heroic tenors."
Melchior was willing to name one or two of the new generation of Wagnerian tenors as having excellent prospects, but he expressed the view that they were putting their voices to uses which heralded a short life, but a merry one.
"For example," he said, "take -He has a good voice, that boy. Beautiful. But he is overstraining, and it is bound to tell. Of the 515 Metropolitan performances I was scheduled to sing, I lost only three. I was singing even when I had gout in my knees so that I couldn't kneel. Today there are Wagnerian sopranos, but not Wagnerian tenors. And you need them both. It's Tristan and Isolde, not Tristan or Isolde."
But, taking the heldentenors where they find them, the record companies are going ahead with Wagnerian productions, notably the complete Ring of the Nibelung. The process started in 1959 with a complete recording by London of Das Rheingold, the prologue to the Ring. Its success, commercial no less than artistic, was considerable, but it was not until the end of 1962 that the need for a full-length, first-class Die Walküre, the second of the Ring operas, was satisfied.
This time RCA Victor was the producer, with Erich Leinsdorf conducting the London Symphony Orchestra and a cast headed by Birgit Nilsson as a secure and soaring Brünnhilde, Jon Vickers as a brightsounding, youthful Siegmund, and George London as a dignified yet human Wotan (LDS-6706, stereo; LD-6706, monaural: five records).
By today's standards this is a group of well-nigh perfect Wagnerites. Leinsdorf paces the score and the singers coolly and deliberately, as if determined to let no detail escape, no climax misfire. Such passages as the "Ride of the Valkyries" become part of a unified orchestral landscape rather than isolated peaks of excitement. The sound is open, warm, and clear, and the libretto-brochure well illustrated and easy to follow. But reading it still has its comfortably old-fashioned moments, as when the commands of one of the Valkyries to her noble steed are translated: "Quiet there, Brownie! Don't break the peace!"
The latest addition to the Ring is a new London release of Siegfried (OSA-1508, stereo; A-4508, monaural: five records). Siegfried probably is the least performed of the Ring operas, and its representation on records has hitherto been pretty well limited to such orchestral excerpts as the "Forest Murmurs." But in giving it its first complete recording, London has obviated the need of another, for this is a sumptuoussounding and generally well-sung performance which is powerfully conducted by Georg Solti.
To say that there is never a dull moment in this slowly unwinding epic of a hero's triumph over various natural and supernatural enemies would be something of an exaggeration. But the recording is surprisingly engrossing and compelling. Indeed, Siegfried on records often seems more convincing than Siegfried on the stage, if only because there is no stage director as powerful and resourceful as the human mind. Wagner's dragons, invisible helmets, steam curtains, and magic fire seldom seem satisfactory on the stage, but they exist in his music. And it's a simple matter to conjure them up quite vividly while listening to this recording.
London, to be sure, provides quite a few aids to the imagination through the adroit use of sound and stereo. Wagner called for Fafnir the Dragon to sing through a speaking tube, and whatever kind of contraption the engineers have devised for the recording, the beast sounds suitably hollow and sepulchral. Moreover, its every word is clear and understandable, a claim that very few nonrecorded dragons can make.
As if to confirm Melchior's gloomy views about the current state of Wagnerian vocalism, it is the tenor, Wolfgang Windgassen, who is the weak spot of this Siegfried. Windgassen is a thoroughly experienced and routined heldentenor who knows what is expected of a Siegfried and does his best to deliver. But there is little vibrance in his voice, and his general approach lacks ardor.
The rest of the cast includes Birgit Nilsson, whose absence from any major Wagnerian recording today would be almost unthinkable; Hans Hotter, a somewhat worn but still imposing Wanderer; Gerhard Stolze, a Mime who is a vocal epitome of craft and cunning; and Joan Sutherland, a fluty Forest Bird. Engaging Miss Sutherland for this relatively minor part can only be described as a touch of bravado. But she sings her two brief passages beautifully, and is not the least of this massive album's adornments.
With the arrival of Siegfried the entire Ring is available in stereo except for Die Götterdämimerung, which exists in complete form only in a London recording: taken from a series of broadcasts over the Norwegian State Radio in 1956. Although the Briinnhilde was none other than Kirsten Flagstad, the recording is indifferent in sound and uneven in performance. So before the Wagner gap can be considered closed, there remains the not so little matter of a complete stereo Gotterdaminerung.
Side by side with the new Wagnerian recordings, the old ones have been reappearing. When a singer like Melchior relives the musical past, he can offer more than memories in substantiation. Recent LP reissues of once-famous 78-rpm records present Melchior in the Tristan und Isolde love duet and the Lohengrin bridal chamber scene with Kirsten Flagstad (RCA Victor LM-2618); in operatic scenes and arias with Frida Leider (Angel COLH-132); and in the superb 1935 recording of Act I of Die Walküre with Lotte Lehmann, Emanuel List, and Bruno Walter conducting the Vienna Philharmonic (Angel COLH-133).
In all of these one can hear Melchior in his prime, with the beauty of voice and intensity of expression that always were his hallmarks. Melchior seemed to approach Wagner as an enjoyment rather than as a task, and his general enthusiasm shines through these recordings, whether his partner is Flagstad or Leider (he preferred the latter, he says, for her greater "warmth").
Two releases have come out as tributes to Flagstad, who died last December in Oslo at the age of sixtyseven. The Orfeo-Sonic Corporation, with headquarters in Carnegie Hall, New York, has issued a threerecord album containing the farewell concert sung on the Carnegie stage by Flagstad March 20, 1955, with Edwin MacArthur conducting the Symphony of the Air. The program included passages from Die Walküre and Götterdämmerung, the "Liebestod" from Tristan, and the Wesendonck songs. Considering that this was a stage performance, the sound is more than acceptable. From London comes a Flagstad "In Memoriam" record (OS-25778, stereo; 5778, monaural) consisting of "War es so schmählich" from Act III of Die Walküre and sever a shorter selections — a rather scrappy and inadequate representation of a great singer.
As if to demonstrate that the oldfashioned way of performing Wagner through strictly orchestral excerpts has not altogether perished, three new records are devoted to overtures, preludes, and the like, played by Hans Knappertsbusch and the Munich Philharmonic (Westminster WST-17032, stereo; XWN-19032, monaural); by Eugene Ormandy and the Philadelphia Orchestra (Columbia MS-6442, stereo; ML-5842, monaural); and Antal Dorati and the London Symphony (Mercury SR90287, stereo; MG-50287, monaural).
Of these, Knappertsbusch's record is marred by tempos so lethargic as to be downright discouraging to the listener; and Ormandy's features the lushly romantic sound for which the Philadelphia Orchestra is famous. Perhaps the single most exciting performance on the three records is Dorati's Meistersinger overture, a warm, rich, thoroughly lyrical flood of sound. Whatever their virtues, these voiceless Wagner recordings do less than full justice to Germany's greatest operatic genius. But they do solve the heldentenor problem.