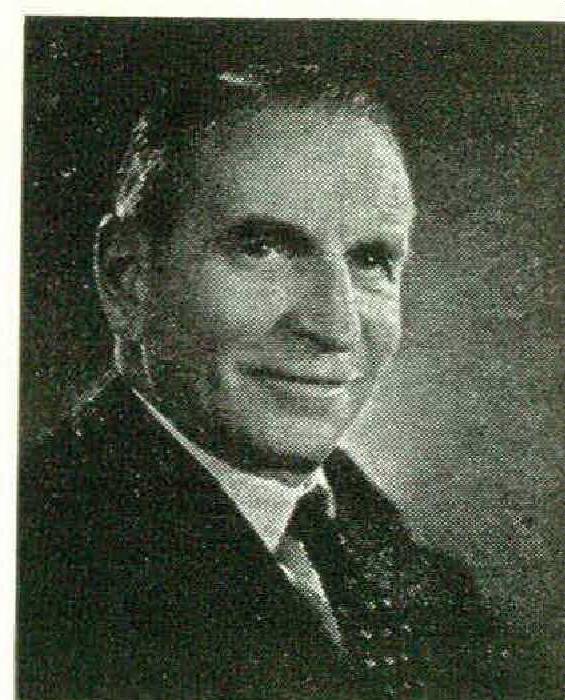 BY EDWARD WEEKS
WE OF ray generation were the last to see the veterans of the Civil War at their encampments — I remember well the one that was held on the Boston Common — and in the parades on Memorial Day. Even in my youth there were only a limited number who marched in the honored spot behind the leading band; most of them took our applause and waved to us from the back seats of the open cars. My grandfather, who had been Colonel of the Third New Jersey Cavalry, would take no part in such affairs, for he felt that they reopened wounds which were better forgotten. But he always made old messmates welcome, and at many a Sunday supper his daughters, who took care of him, would whip up something special in the chafing dish for an unexpected caller. The whiskey, which in my part of the country was rye, would soon loosen the tongues and even make the Colonel forget the caution to go slow with the helpings. On one memorable evening the roast capon had already been carved for the girls and their beaus just before two visitors arrived; the bird was whisked out to the kitchen, where the breast and drumsticks were pinned back into place to make a better show. But when he gave one real saber stroke with the carver the whole thing fell apart, the pins glistening in the candlelight
The Colonel didn't need to read about the Civil War. He had been there, been on McClellan's staff, had ridden with Burnside, had six horses shot under him, and had been rolled on by one of them with such pain that the surgeon kept him walking, walking all night on the deck of the hospital ship which brought him home. He and his aide had been captured by Moseley's Guerrillas and rescued, before they were strung up, by an Indiana regiment to whose colonel he wrote at New Year's. Into those four and a half years Grandfather crammed more living and daring and companionship than he was ever to find in life afterward, and he wanted no critic to tell him what had happened and why. When his youngest daughter sent him two of Mary Johnston's novels, The Long Roll and Cease Firing, for Christmas, he thanked her by saying, "They are nicely written, but when I read about a fight I want to read about it from the battle's point of view."
To us who come after, the Civil War is at once the most tragic and inevitable chapter in American history. I wonder that it was averted for so long and that, once begun, the Southerners, who had a talent for war-making but mighty little for internal administration, could have held out so tenaciously. It is the gift of BRUCE CATTON, our foremost living historian of the Civil War, that he can make clear to us today realities which were by no means so clearly comprehended at the time, either by the politicians in Washington or Richmond or by the generals at the front. TERRIBLE SWIFT SWORD (Doubleday, $7.50), the second volume of The Centennial History of the Civil War, begins on the Monday after Bull Run and ends with the Emancipation Proclamation, announced after the victory of Antietam in the early autumn of 1862. Mr Catton is a fine assimilator and a shrewd scrutinizer, a fair judge of men and motives, and a swift idiomatic narrator. He does not use hindsight to make fools of the dead, but when a general like McClellan alters his testimony later in self-defense, Mr. Catton is swift to note. This book is alive with character and with the shared experience of humble men.
One of the first points Mr. Catton makes is the earnest effort with which Lincoln strove to keep this "a limited war." The President believed that if he could persuade the border states to accept compensated emancipation, he could with military pressure and naval blockade induce the Deep South to cease its insurrection. The same philosophy permeated the high command, especially General McClellan and his staff, who as time dragged on without victory seemed more and more ready to accept a peace which would not abolish slavery. This theory was, of course, anathema to the Abolitionists and was finally dissipated by the Confederate victories of 1862.
Mr. Catton, who gives full credit to the brilliant leadership of Jackson and Lee and to the fighting qualities of their ragged, resourceful armies, is equally telling in his analysis of why the Confederate war effort failed. He stresses the "profound industrial weakness" of the South which could never be surmounted once the federal pressure began to squeeze. He shows the lamentable lack of forethought in the handling of the provisions, the plunder of Nashville by its own citizens, the bonfires at Thoroughfare Gap when General Joe Johnston retreated and when more than a thousand tons of bacon were left behind to fry; he shows how the doctrine of states' rights prompted the Southern governors to withhold troops from the central command; and he points up the idiocy of Secretary of War Benjamin in allowing re-enlistments to shift to other detachments and to elect their own officers, bypassing the martinets.
Some of the liveliest writing is to be found in the portraiture, especially at those turning points when the hard decisions had to be made: flag officer David Farragut's breaking into the inner harbor of New Orleans; McClellan's capacity for self-delusion and his slowness to act even when he had a captured copy of Lee's battle plan before him ("No Civil War general was ever given so fair a chance to destroy the opposing army one piece at a time"); President Lincoln as at last he foresaw that when the federal power applies its pressure on all fronts something is bound to collapse; General Grant, who "was doing no more than follow a soldier's instinct to get at the enemy and hit him"; Lee's fateful inexplicable decision to stand and fight at Sharpsburg.
In the long summer of 1862 as he waited patiently for a Union victory, the President, says Mr. Catton, carried on a brooding soliloquy: the Emancipation had been written but not released, and now with a forethought that was characteristic he kept reviewing this fundamental idea. What practical effect would a proclamation have? What about the slaves themselves? "Suppose they could be induced by a proclamation of freedom from me to throw themselves upon us, what should we do with them?" That question we are still trying to answer a century later.
THAT GIRL IN AFGHANISTAN
Ever since his first book, Tales of the South Pacific, JAMES A. MICHENER has been drawn to Asia. He is an American author who prefers to write about the foreign rather than the familiar, and in subsequent volumes he has proved himself a trustworthy authority on Japan, Hawaii, and Korea. His new novel, CARAVANS (Random House, $5.95), is a romantic tale of Afghanistan as it was in 1946, when Russia and the United States were first beginning to compete with each other for the affection of this border land, and when the direction of its superstitious, hard-fighting natives, some twelve million of them, was in the hands not of the foreign-educated civil servants but of the obstinate priests, the mad mullahs of history.
The story comes to us through the eyes of Mark Miller, a graduate of Groton and Yale who has found a place in the State Department after a notable record in the navy. Mark has the sensitivity of his Jewish background and an altogether disarming candor. He also has an eloquent command of Pashto and enough French and German to handle the foreigners in his path. What pries Mark loose from our embassy in Kabul is the demand from a senator in Washington that "that Jaspar girl" be found. Ellen Jaspar is the daughter of a prosperous insurance man in Dorset, Pennsylvania. She rebelled against her family while still in high school, and she ran away from Bryn Mawr to marry an intelligent graduate student from Afghanistan as a protest against the American way of life. Mr. Michener wishes us to accept Ellen as the personification of Young Revolt, and this l can do only with a large pinch of salt. Whether as a woman or a symbol, she seems to me incredible. At all events, she has been missing for thirteen months, and Mark has to find her.
The search for Ellen leads Mark back into the Middle Ages along the old caravan routes, across deserts, past the battlements of ancient cities half as old as time, and to campsites where he is made witness to executions of the most primitive law, to feuds and stabbings which somehow never touch his hide. He finds Ellen, and he also finds Mira, daughter of the leader of the caravan, and with her he tents under the stars.
Throughout the long pursuit Mark is now helped and now traduced by the native rulers: Shah Khan, the ruler of the country; Moheb Khan, his son; Nur Muhammad, his guide from the embassy who keeps explaining to him the nature of this brigand society; Zulfiqar, the owner of many camels who has every intention of cornering the market. What they tell young Miller about Afghanistan is to me infinitely more rewarding than the hue and cry about Ellen. This is a travel novel in which the incidental information is much more fascinating than the sex.
"THINK CAREFULLY, CAPTAIN!"
In 1924, LAURENCE STALLINGS collaborated with Maxwell Anderson in writing What Price Glory?, a highly successful play about the Americans in World War I. Before he joined the marine Stallings had been a journalist and scriptwriter. In the marines he became a combat officer with the Second Division and lost a foot at Belleau Wood. His big hobbling figure was a familiar sight in the Broadway of the early twenties, and the punch line of his famous play, "Hey, Flagg, wait for baby," was quoted by us all.
THE DOUGHBOYS (Harper & Row, $7.95) is Mr. Stallings' large-scale endeavor to join his vivid personal memories with a more objective, general history of the A.E.F. in 1917-1918. It is an ambitious effort and an uneven one. When Mr. Stallings writes of the individual soldier and of intense but limited action, he can be clear, lively, and skillful as he recalls the horrors and the comedy, the confusion and improvisation, the cocky, wisecracking, insubordinate gallantry of an army that was half-trained, dependent on foreign weapons, and only a jump from the offhand stoicism of the frontier. Mr. Stallings' bibliography ranges from Floyd Gibbons to Barbara Tuchman to army records. Somewhere in his plowing through personal reminiscence or divisional histories or his own memories, Mr. Stallings has recovered the words of a wounded doughboy offered water beside a French gully flatteringly called a river: "Give it to the Ourcq River; it needs it more than I do." The Rainbow Division, hastily amalgamating National Guard units whose forebears had murdered each other in the Civil War, turned up an Alabama gunner who told an inquiring liaison man, "Yank, this battery ain't never had no goddamn top sergeant and ain't never going to stand for none." But Sergeant Lauer of the First Division told the survivors of a now-officerless company, "I have been ordered to reach our objective. I am going to advance until every man falls, and then go get it myself." The objective was reached. And the Thirty-second Division, christened "the Terribles" by a French commander, deserved the name but "boasted only one distinction. 'We are,' they said, 'the only division which did not claim to win the war.' "
When he deals with this kind of material, or with such a circumscribed and essentially American enterprise as Pershing's furious and astoundingly effective campaign against venereal disease, Mr. Stallings is successful. But when, with maps and a massing of detail, he attempts to explain what is happening along the whole Western front, he and the reader disappear into pea-soup fog.
I think his first prompting was personal — to write a memorial to the men he served with in 1918. I wish he had stopped at that and had not attempted to do justice to the big panorama.