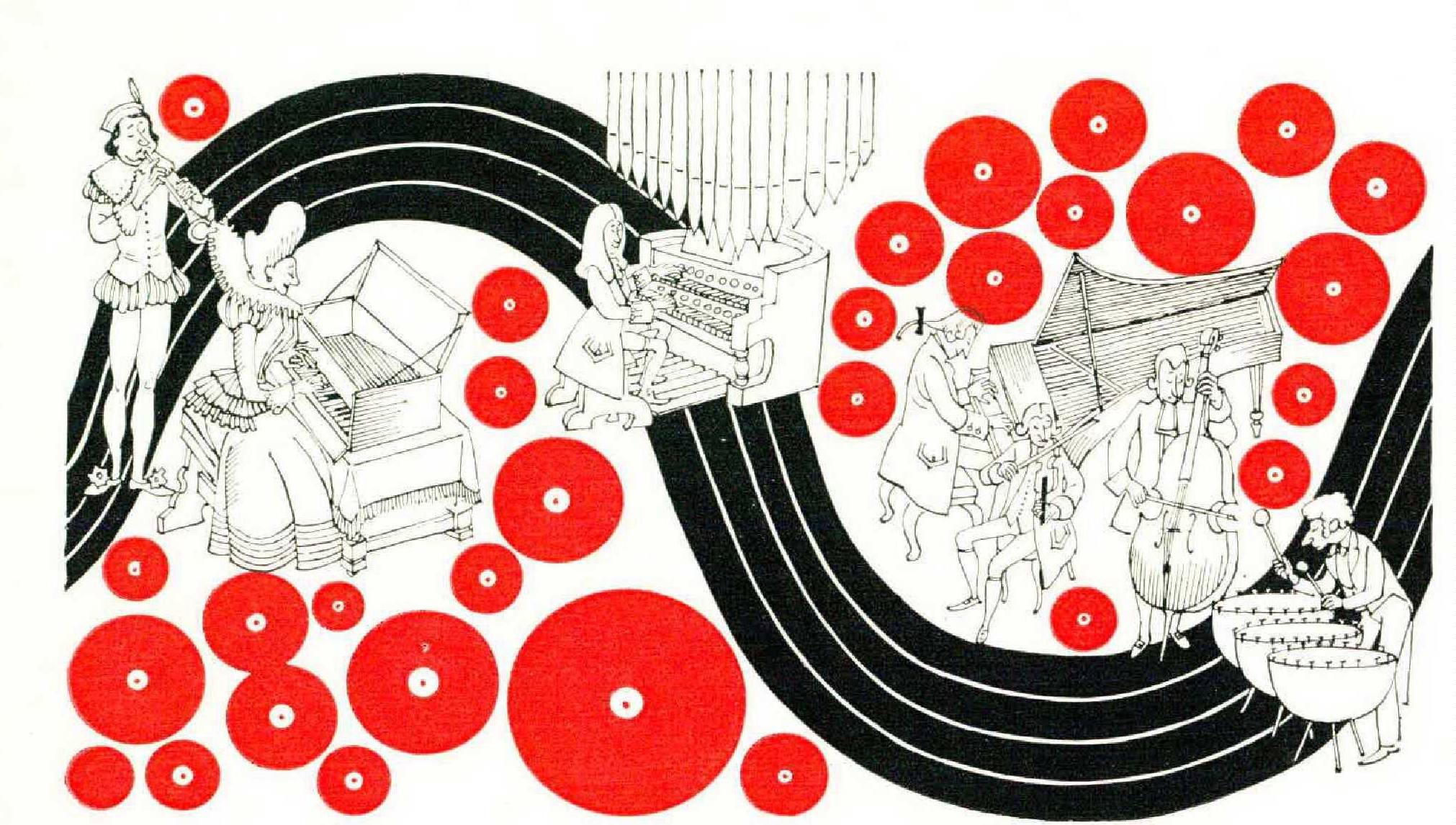 A few months ago a record came out devoted to the inimitably French songs of that most thoroughly French composer, Claude Debussy. It was sung in French by a leading French baritone, Gérard Souzay. Nothing in music could have been more convincingly or triumphantly Gallic. But it was a record conceived and produced in Germany, and its label bore the defiant and incongruous title Lieder von Claude Debussy.
How this might have affected Debussy, who signed himself "musicien français" and never called a chanson a Lied in his life, is a question one can only speculate on. But the record epitomizes the story of Germany's leading record producer, the Deutsche Grammophon Gesellschaft, which is making a massive effort to invade the American classical record market but is reluctant to drop an umlaut while doing so.
In its campaign for a larger share of record sales in this country, DGG has formed an alliance with MGM Records, which has long flourished in the popular held. Although MGM is a movie company subsidiary, its history in classical recording has been neither negligible nor undistinguished. For a number of years it turned out a line of imaginative and sometimes esoteric releases devoted particularly to contemporary music, and won considerable critical acclaim. But the succès d'estime was not matched by a succès de fisc, and the line was dropped in 1958. Some of those old MGM releases, such as Douglas Moore's opera The Ballad of Baby Doe, were of such interest that they are now being re-pressed in limited quantities for shops specializing in the connoisseur market.
But what MGM really wanted was a high-quality and comprehensive classical department; and DGG, just severing a ten-year connection with Decca Records in New York, was ready to provide it. As of January 1, 1963, MGM has taken over the handling and distribution of all DGG records in the United States, importing the discs from Germany but packaging them in heavy and handsome envelopes printed in this country. "We're retaining the familiar DGG yellow-and-blue insignia on the packages," explains Leo Kepler, the director of MGM's classical division, "but we're trying to give the envelopes more of an American look, and to bring the editorial matter, such as the jacket notes, more in line with American practices."
For the moment there continues to be something of a linguistic dichotomy between DGG's jackets and labels. For example, its superb new release of the Tchaikovsky Piano Concerto No. 1 played by Sviatoslav Richter has a jacket that carries all the pertinent information in English but a label that informs the listener he is about to hear Peter "Tschaikowsky's" Konzert für Klavier und Orchester Nr. 1 b-moll op. 23 as played by "Svjatoslav" Richter, klavier, with the Wiener Symphoniker; Dirigent: Herbert von Karajan. Even this represents something of an improvement; in its pre-MGM days DGG put out a recording that was designated on both its jacket and its label as Schwanensee-Suite; Dornröschen-Suite. It took a little effort to discover the English titles of the Swan Lake and Sleeping Beauty suites.
This insistence upon the use of Muttersprache probably contributes an exotic aura to DGG records; since they are priced at one dollar more than customary list figures, it is perhaps not surprising to find emphasis placed upon their status as "imports" which have undergone inspection and sealing overseas. For a time DGG records came in plastic casings almost as tight as sausage skins, absolutely impenetrable to all but the most determined and strongfingered customer. One of MGM's most useful improvements has been to devise a detachable strip, permitting ready access to the record itself.
Although DGG's recording activities naturally center in Germany, where its home orchestra is the Berlin Philharmonic, they extend with increasing frequency into other countries as well. The Leningrad Philharmonic, the Warsaw Philharmonic, the Czech Philharmonic ("Tschechische Philharmonie" is the jacket designation), the Lamoureux Orchestra of Paris, and La Scala Opera of Milan are among the performing units recorded by DGG. One of its most delightful products is a light-fingered and Italianate Rossini Barber of Seville recorded in Munich by an all-Italian cast directed by Bruno Bartoletti. DGG has also turned out a fine Don Carlos and Marriage of Figaro, as well as Carl Orff's Antigonae and highlights from Paul Hindemith's Mathis der Maler. It has had its slipups, too, such as a plodding and routine La Bohème inexplicably exported to the United States in one of the customary lavish DGG operatic albums, with a libretto printed in parallel columns of Italian, German, English, and French.
So far, most of the artists on the DGG roster are European. But with its eyes increasingly on the American market, which accounts for so high a proportion of world record sales (40 percent of all Italian opera recordings are sold here, for example), DGG is likely to be using more and more American artists. Its two prizes to date have been the conductor Lorin Maazel and the mezzosoprano Grace Bumbry, both young Americans whose recent activity has been centered in Europe.
Maazel, who at thirty-two is already highly regarded among conductors, is that rare specimen among musicians, a Wunderkind who not only grew up but matured. He began conducting in public at the age of eight, and his triumphs in knee pants included engagements at the New York World's Fair in 1939 and at the Lewisohn Stadium summer concerts. For nearly a decade he has been in Europe, no longer a prodigy but more than ever a conductor. A series of DGG recordings, including a wonderfully light and airy Mendelssohn Italian symphony with the Berlin Philharmonic, plus successful appearances in Germany and France, brought him back to the United States last fall for a schedule that included stops at the Metropolitan Opera and Philharmonic Hall. His symphonic appearances have been better received than his operatic; critics of the latter have complained of a rigid, metronomic beat that whips up the score but sometimes gives the singers hardly a chance to breathe. However, Maazel is a conductor of stature, and DGG is not the only company bidding for his future services.
Grace Bumbry is a 26-year-old Negro girl from St. Louis who, like many other young American singers, went to Europe to learn her trade. Two leading, if rather contrasting, figures in the entertainment world have taken an interest in her — Arthur Godfrey, the broadcaster, who put her on his show when she won a high school singing contest, and Sol Hurok, the impresario, who has helped guide her career and this winter arranged for her formal American debut in two Carnegie Hall concerts.
Miss Bumbry gained European acclaim by appearing as Carmen at the Paris Opéra and as Venus in Tannhaüser at the Bayreuth Festival of 1961. But many Americans first became aware of her bright, rich, flexible mezzo voice in two DGG releases last fall, one devoted to opera, the other to Lieder. Although she has studied with Lotte Lehmann, Miss Bumbry seems less suited to Lieder singing than opera, where both the size and range of her voice can exercise their full effect, and where subtleties of shading are less consequential. One of the lesserknown arias on her operatic, record, "O ma lyre immortelle" from Gounod's Sappho, displays to the full her ability to unloose a soaring outpouring of melody. Like those of Maazel, Miss Bumbry's recent personal appearances have shown a performer on the threshold of her powers, rather than in full command of them. Her recordings to come will be awaited with anticipation.
Whatever new paths are taken by DGG in the future, one of its projects is certain to continue unchanged and unimpaired. This is the remarkable series of records known as the Archive Production, by far the most complete and comprehensive history of sound ever undertaken by any record company. As a purely commercial proposition, the Archive Production might have difficulty justifying itself, although MGM officials say it does manage to pay its own way. However, it happens to be the pet project of 55-year-old Ernest von Siemens, who is head of Siemens und Halske AG, the giant German electrical combine which numbers DGG among Its subsidiaries. Herr von Siemens, who is an avid music listener and a proficient amateur cellist, developed the Archive Production himself, establishing a special "History of Music Division" of DGG. Under these scholarly, not to say professorial auspices, all music from 700 A.D. to 1800 was split into a dozen "research periods" for recording purposes — Gregorian Chant; Central Middle Ages; Early Renaissance; High Renaissance; Italian Seicento; German Baroque Music; Western Europe from 1650 to 1800; Italian Settecento; the Works of Johann Sebastian Bach; George Frederick Handel; German Pre-Classics; Mannheim and Vienna. Each of these in turn was broken up into subdivisions bearing such titles as "Carillon Music of the Low Countries," "Orchestral and Chamber Music in Transition," and "From the 'Galant' to the 'Biedermeier.' " The same methodical approach extends to a jumbosize index card accompanying each release, which includes practically all conceivable data on the pedigree of the music and the recording.
Little attempt is made to popularize the Archive series, either in packaging or annotation; a typical jacket note excerpt (about a Bach concerto) runs: "The same is equally true of the Larghetto, which also demonstrates Bach's striving after cyclic unification, as here, too, a succession of (3) soli and (2) tutti passages are contained within analagous outer tutti sections." Some of the Archive activities seem somewhat wasteful, being devoted to adding new versions to the catalogue of such oft-recorded works as Bach's Brandenburg Concertos or Handel's Royal Fireworks Music — although, of course, an Archive producer would undoubtedly claim, just like any other record executive worth his salt and salary, that his Brandenburgs and Fireworks were clearly superior to all others.
Where Archive has the field largely to itself, and where it operates at its magnificent best, is in its systematic recording of the works of obscure or neglected masters. So far it has issued some two hundred releases by such composers as Adam de la Halle, Adriano Banchieri, Thomas Campion, Nicolas Dalayrac, Adam Krieger, Georg Rhaw, Pierre Vachon, and Oswald von Wolkenstein, not to mention such relatively renowned pillars of musical society as Gesualdo, Monteverdi, Praetorius, Purcell, Schütz, and Vivaldi. Before it is finished, the Archive series expects to enregister the complete works of Johann Sebastian Bach, in whom its interest is unbounded. For example, it has not been content to record, as so many others have, the Goldberg Variations, which are named in honor of a pupil of Bach's who died at the age of twenty-nine; it has even resuscitated a couple of pieces by Goldberg himself, and given them their first and only recording.
The Archive Production, like the rest of the DGG output, is produced, packaged, and sealed in Germany. Each outer jacket carries a pair of initialed inspection tags, and each inner envelope contains a set of solemn instructions on record care printed, with typical Deutsche Grammophon thoroughness, in four languages. "Lieber Musikfreund!" is the salutation of the original German, while the translations bear the greetings "Dear musiclover," "Cher mélomane," and "A los aficionados a la musica." When he finally penetrates past the seals, the coverings, the casings, and the warnings, the customer, be he Musikjreund or mélomane, cannot help but handle the shiny record bearing a blue and silver label with circumspection and respect — which may be what the professors at DGG had in mind all along.
Record Reviews
Rimsky-Korsakov: Scheherazade
Eugene Ormandy conducting Philadelphia Orchestra; Columbia MS-6365 (stereo) and ML-5765
What is wanted in a recording of Scheherazade is lush orchestral playing, wide-open sound, and a fullblown romantic approach. These are supplied in overflowing measure by Ormandy and his Philadelphians, who seem to hold the modern-day American patent on music of this sort. The solo violin of concertmaster Anshel Brusilow has been practically thrust into the mouth of the microphone, but this is part of the overall abundance. Heaven knows how many times Scheherazade has been recorded before; may it now become equally aware that no further attempts are needed for quite a while.
Tchaikovsky: Symphony No. 6 in B Minor, "Pathetique"
Otto Klemberer conducting Philharmonia Orchestra; Angel S-35787 (stereo) and 35787
To find Klemperer conducting the Pathetique is a little like finding Ulanova dancing at the Folies Bergère. Nothing could be further removed from the usual sphere of interest of this granitic and uncompromising exponent of Beethoven and Brahms at their most monumental. But the no-nonsense approach of the 77-year-old conductor pays surprising dividends in his venture into Tchaikovsky, in the form of a crisp, clean, and uncongealed presentation of a score often emotionalized to the point of stickiness. Arturo Toscanini performed a similar service for the Pathetique a generation ago; Klemperer now brings the concept up to date, with stereo to make the effect more striking than ever.
Robert Ward: The Crucible
Emerson Buckley conducting New York City Opera Company with Frances Bible and Patricia Brooks, sopranos; Eunice Alberts and Gloria Wynder, contraltos; Norman Kelley and Jack DeLon, tenors; Chester Ludgin, baritone; John Macurdy, bass; and others; Composers Recordings, Inc. 168-SD (stereo) and 168: two records The Crucible is an opera about the Salem witchcraft trials. Its libretto, by Bernard Stambler, is based on Arthur Miller's Broadway play of a decade ago. Its music, by the Ohioborn, 46-year-old composer Robert Ward, is technically assured, dramatically taut, and lyrically eloquent. Audiences which have heard the work at New York's enterprising second opera house, the City Center, have liked it, and the critics have welcomed it. Last year it won the Pulitzer Prize and a New York Music Critics Circle citation, and now it has been recorded intact. If anything, the recording strengthens the impression left by the operahouse performance: The Crucible is a work of substance and importance, with a freely flowing musical score that gives new depth and impact to the drama of a sex-ridden girl spreading false accusations in a frenzied and fearful community. Ward's music is not stamped with any particular originality or individuality of style, but it establishes a mood of time and place through the use of hymnlike tunes, and it builds dramatic suspense through musical patterns that are straightforward, terse, and melodic. The soaring lyrical peroration by John Proctor, the baritone hero, as he is led off to execution indicates that Mr. Ward is even in possession of that ancient and all but forgotten secret of the operatic craft — the ability to write an aria. The performance of the work, which is almost two hours long, is impeccable, with a City Center cast possessed not only of strong and flexible voices, but of a mastery of dramatic nuance and, for the most part, of clear and distinct English.
Fritz Kreisler in Immortal Performances
Fritz Kreisler, violinist, with Sergei Rachmaninoff, pianist; Geraldine Farrar,soprano; John McCormack, tenor; Efrem Zimbalist, violinist; and Hugo Kreisler, cellist; RCA Victor LM-6099 (monaural): two records
What a wonderful adventure in musical nostalgia this album of rereleases is! The incomparable Fritz Kreisler, who died in 1962 at the age of eighty-six, is its central figure; but Sergei Rachmaninoff is represented with almost equal prominence, and the contributions of Farrar and McCormack, while more fleeting, are no less affecting. Farrar sings Nevin's "Mighty Lak' a Rose" and "Connais-tu le Pays" from Thomas's Mignon, while McCormack is heard in the Berceuse from Godard's Jocelyn and two Rachmaninoff songs — all with obbligatos by Kreisler, and all with the artistry that endows even a trifle with memorable qualities. But it is the Kreisler-Rachmaninoff playing of three violin-piano sonatas — Grieg's in C Minor, Opus 45; Schubert's in A Major, Opus 162, and Beethoven's in G Major, Opus 30, No. 3 — that represents a summit in duo performance not often achieved since. Nor should one overlook the oldest among these ancient musical glories — a 1915 recording of Bach's Concerto for Two Violins in D Minor, with Kreisler and Efrem Zimbalist weaving a practically seamless "solo" line to the accompaniment of a string quartet.
The Stories of Kafka
Lotte Lenva, reader; Caedmon TC-1114
More than one commentator on Franz Kafka has observed the contrast between the lucid simplicity of his language and the nightmarish symbolism of his thought. Both elements are brought strikingly home by Lotte Lenya in these spellbinding readings of seven Kafka stories — one long and six short. It is A Hunger Artist, an extended and grisly tale of an emaciated sideshow performer whose stock-in-trade is to starve himself before a crowd, which carries the greatest dramatic power and most pervasive sense of tragedy. The other stories, perhaps because of their brevity, develop less suspense and mood, except for A Fratricide, a swift and sharp depiction of a street murder. Lotte Lenya, the widow of Kurt Weill and the heroine of his Threepenny Opera, reads these strange stories in faintly accented but impeccably clear English, making them seem not only grotesque and painful but also human and haunting.