The Irish Pub
WILLIAM BITTNER, who now lives in Dublin, is the author of the recently published POE: A BIOGRAPHY. He has contributed to the ATLANTIC and other magazines.
The Englishman's pub is his club, but the Irishman's pub is much more than that. It can be his office, his mailing address, his social headquarters, so much his place of resort that the house on which he pays rent or taxes and where he occasionally calls on his wife and children can be called his home away from the pub. Indeed, it was only after I had left Dublin for the first time that it dawned on me that I did not know the address of any of my Irish friends. Some I met almost daily, but on parting, it was always, "I'll be at the Horse at half eight," a statement which can be translated literally, 44I shall be at the White Horse Inn, on George's Quay, at eight thirty in the evening," but which really means that some time after nine o'clock my friend could be found sitting in the corner of the upstairs lounge, between the picture of the hurling match and the one of the dog race, a whiskey in front of him, a crowd around him, singing or telling stories. That is, unless he decided in the meantime to go to Glenties or the Aran Islands. Time does not mean much in Ireland.
There are pubs and pubs and pubs. Some, like Davy Byrne's on Duke Street, a favorite haunt of Michael Collins when he was forming the Free State government in 1920 and immortalized by the visit and consumption of one Gorgonzola sandwich and a glass of Burgundy on June 16, 1904, by one Leopold Bloom, as described in James Joyce's Ulysses, have become glossy cocktail bars hardly distinguishable from those one might find in New York. Why, some no longer have a pump for the stout, but sell Guinness only in the bottle! But they never serve it with the ill will one might encounter when asking for a beer in a Madison Avenue cocktail lounge, and the price will be the same as in any other pub. Furthermore, tipping at the bar is rarely customary, although if a man does hand a few coins to the bartender (never to the proprietor) he will be tolerated as a "quare one" and accepted as " some kind of foreigner." If he leaves change at the bar, he will be called back for it.
The Dubliners themselves have trouble classifying the pubs of their city. Some are especially referred to as "singing pubs," in contrast to those prominently displaying signs, "No Singing Allowed." But last St. Patrick's Day the Canadian Broadcasting Company offered a program of pub stories and songs, some of which were recorded right under the sign forbidding them — I know because I joined in the chorus — and a few nights later in the same room I watched a prominent literary figure dance a four-handed reel with a lady from an adjoining table. Another system of classification is to divide the pubs on the line of the River Liffey, which bisects Dublin. North Dublin pubs are supposed to be more — well, I cannot say humble, for they are proud enough to scold Brendan Behan for spending too much time in south Dublin. Nor can I say cheap, for the prices are, give or take a penny, the same all over Ireland, and moans of anguish still fill the air over the new budget that last May put stout up a penny in the pint and the small whiskey up tuppence. But there is a more casual, a greater elbow-rubbing quality in the pubs of north Dublin.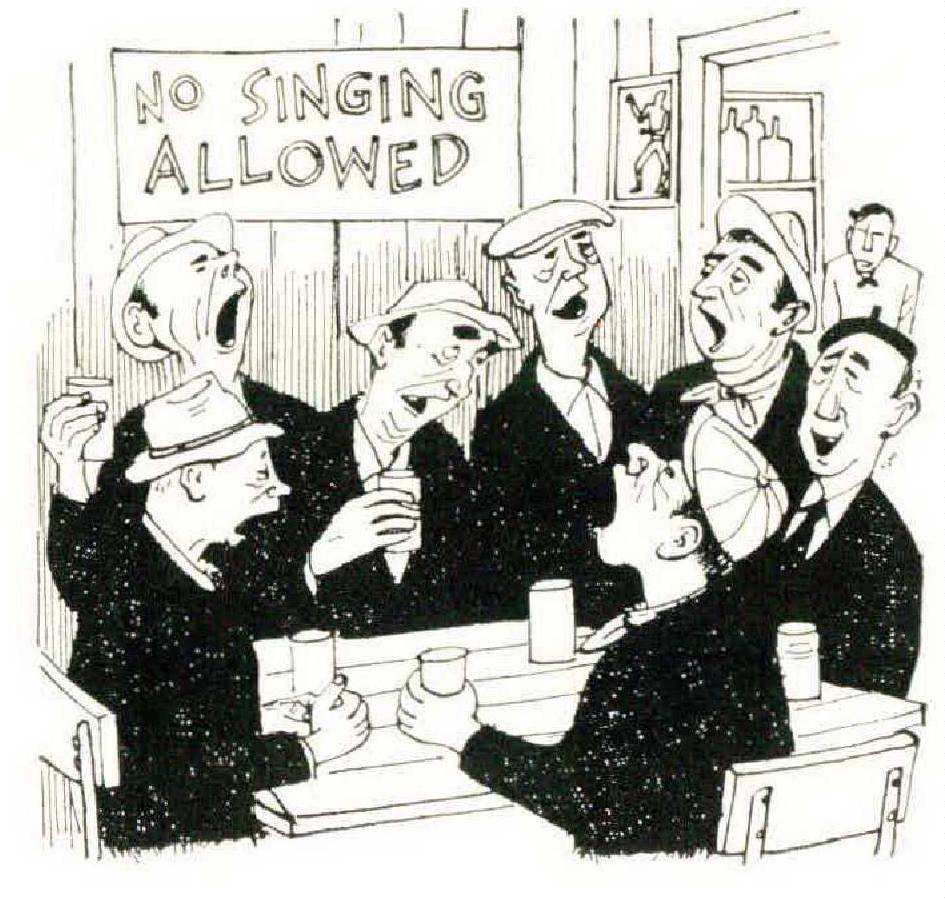 What the visitor need beware is taking too much account of external appearances. Dublin is an old, coalburning city, and anyone who shies away from a public house because it looks as dirty as a waterfront dive had better drink in the cocktail lounges of the Shelbourne or Gresham, wait for the Hilton to be built, or simply stay at home. Americantype bars are for drinking, but the Dublin pubs are for talk and song. They are places in which to listen.
A man can start out at seven thirty in the morning, when the market and dock pubs open, and with the exception of the "holy hour" — half two to half three — keep at it until eleven thirty at night, his head reeling with wit, his mind muddled with wondering how much he heard was true, drunk with talk and staggered with song; and never a headache will he have next morning. Oh, drink is sold in the pubs, all right: stout made from the pure water of the upper Liffey (by the time the river gets past the Guinness works it is nearly the color of their finished product, but I understand it has a different taste), unadulterated malt whiskey, Cork gin, very nearly whatever a man wants; but how much he consumes is his own business.
Two things seem to confuse visitors to Ireland and Great Britain more than anything else in regard to the public houses: the licensed hours, and division of the house into two or three rooms. Licensed hours are a fairly recent thing; they resulted from the Defence of the Realm Act of World War I. From my experience in England, if you want a drink the pubs have either just closed or are not open yet. In Ireland the hours are constantly being liberalized; but except for the early-opening pubs, as in market regions, where the workers' hours differ from those of most people, pubs are open weekdays from ten thirty in the morning until two thirty in the afternoon and from three thirty to eleven thirty, and on Sundays from twelve thirty to two and from four to ten. Hours are a bit shorter in the winter. The typical Dublin pub has three rooms: the public bar, the "snug," and the lounge. Except for rubbing elbows with the earthy — but very polite — dockers or market women in the public bar of an early-opening house, the visitor will find most fascinating the lounge, which is often up one flight and entered by a side door.
There are so many pubs in Dublin that no one could know them all, but I have never been in an uninteresting one, nor have I been in one, however rough-looking, where I did not receive the courtesy I offered, and a bit to boot. Indeed, a snub will call forth wit rather than curses. A very straitlaced schoolboy looking for a change entered a lounge bar one day while I was being entertained by a storyteller who not only was an enthusiastic speaker of Gaelic, but who had also had a bit more than was enough. With a slight wobble he started addressing the boy in Gaelic, and when sentence after sentence got no response, even though the boy surely understood him — everyone under thirty has had to study the language in school — my rocky-looking friend began talking about the boy in Gaelic as if he did not understand, and that was so good a joke even the boy, sporting his Pioneers (temperance) badge, joined in the laughter. I was the only one left out; I do not speak the Irish language.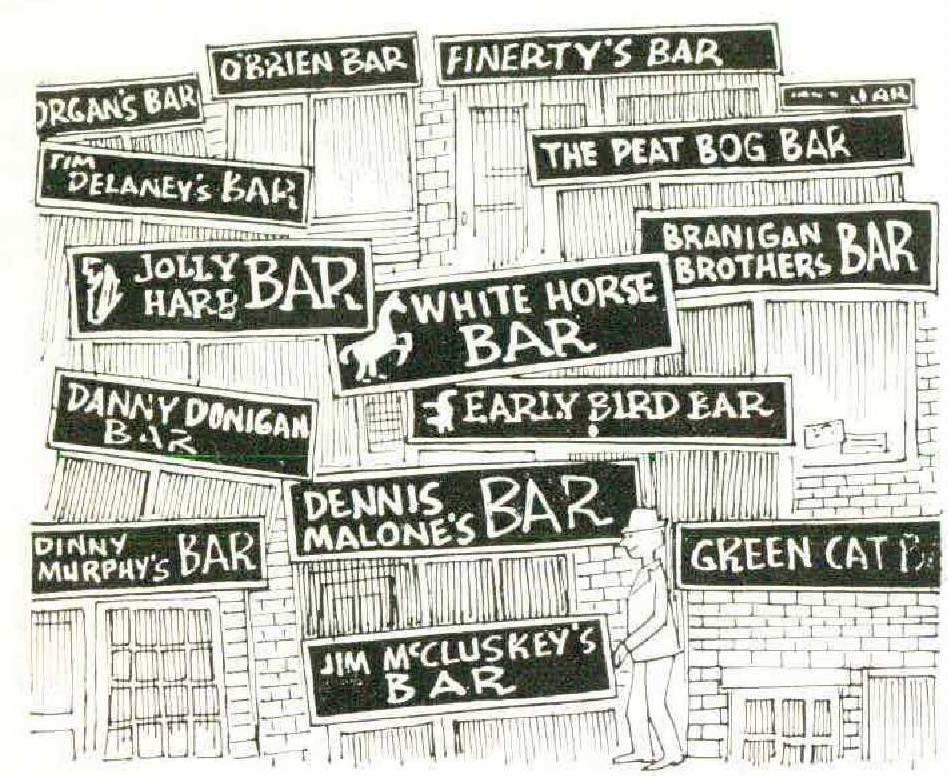 If the visitor walks west from Nelson's Pillar on O'Connell Street, the widest in Dublin, he will come to Moore Street, where every morning large, blowsy women, the sharpest tongued of whom is the Queen of Moore Street Market, roll their barrows along the curb to sell vegetables, fruit, and any number of other things. Halfway up the street, on the left-hand side, is Jerry O'Dwyer's, a pub built on one level. There is but one door, so you have to pass through the public bar, where the market women come in for their morning pint, to get back through the snug to the lounge. In the morning there is not likely to be much going on back there, so it is best to return to the public bar and listen to the women. It takes a while to get used to the Dublin accent, but it is worth it; one "Bloomsday" two literary heavyweights following the routes of Stephen Dedalus and Leopold Bloom became so fascinated by the talk of some Dublin harpies that they dropped out of the pilgrimage altogether.
But in the evening, I prefer to cross the Liffey at O'Connell Bridge, turn left, and work my way up Burgh Quay. Mingled with "Wimpy" stands and "Fun Palaces," plus the editorial and printing offices of the Irish Press (pubs close to newspaper offices are the best hunting ground for literati), are three of Dublin's most traditional pubs. True, the oldest one in Dublin is the Brazen Head, a singing pub on Lower Bridge Street, opposite the law courts, but it reminds me a bit too much of a Greenwich Village poetry and jazz cellar. Stop in, instead, at the Crystal Bar, lounge entrance down a passage, where, if asked, they will show a visitor Daniel O'Connell's favorite whiskey glass. I am afraid my response to the cup of the "Uncrowned King of Ireland" was a bit flippant. "Served larger drinks in those days, didn't they?" was all I could think of to say. There are no relics to speak of at the Scotch House next door, but there are more bars and sub-bars, linked by an intricate system of serving windows and side doors, than I have ever been able to explore.
To finish the evening, however, there is but one place for me, the White Horse Inn. The lounge entrance is around the side, on Corn Exchange Place; it is difficult to see the faded sign, "Visit Our Luxurious Lounge." Luxurious it is not, but homey it certainly is. A long-gone itinerant painter decorated the walls years ago with murals that slyly satirize the press, whose members form the basic clientele of the place. Along the right wall is a history of journalism, from Stone Age carving through the Egyptians to the invention of the printing press. Around the far wall are portrayed a hurling match, a dog race, a horse race, and a football match, all complete with photographers and reporters. At the hurling, two photographers are recording a player giving another a bloody nose, while the reporters sit at a table, one upright (obviously a Pioneer), one slumping, and another passed out entirely. Over the fireplace is the O'Connell coat of arms, and opposite, the proprietor, Michael O'Connell, is shown being interviewed at the dedication of the Limerick Monument.
These pictures, primitive as they seem when one first sets eyes on them, grow in effect; and the clientele of the White Horse fascinates from the first moment. Why go up to the Abbey to see a play when it is possible to experience the delightful charm Brendan Behan has exercised on everyone I have seen him encounter at the Horse. The "No Singing Allowed" sign is over the fireplace, but no one objects if Benedict Kiely softly intones the song from which he took the title of his latest novel, The Captain With the Whiskers. I suppose I like this pub best because it is the one I know best. There is no place where one can find all the literary, theatrical, musical, or just plain amusing characters of Dublin, nor do any of them go just to one pub. But if, while eschewing none that catches his eye, the visitor can concentrate on one, even for a few days or a week, he will, like the Irish, have found a place that is his.
I here are more subtle peculiarities to understand than licensed hours and choosing which door to go in, as the visitor to Dublin will find after a while. Most of these are due, however, to the everyday habits of the Irish, and the stranger may vary them as he pleases and be just as welcome. Very few Irish couples go to pubs together. There is no taboo against taking one's wife to the pub, but Irish wives, as a rule, stay at home with the children while their husbands live relatively independent lives. The conflict between this custom and American togetherness is what inspired the comic strip "Maggie and Jiggs."When you enter a pub, as when you leave it, it is proper to greet anyone you have seen before, especially the bartender. Speak to anyone you please. You will find that the Irish will call you by your first name quicker — and w ith more sincerity — than an insurance agent. If you sit or stand at the bar with someone you have so much as had a friendly conversation with before, he will ask, "What are you drinking?", and you should not refuse — but next round you arc expected to buy. This can lead to a dangerous accumulation of alcohol, but you can stop any time the score is even or by announcing at the beginning, "I'll just have one."It is a great deal more polite to accept and not reciprocate than to refuse and then buy one for yourself, but all things are possible with a polite explanation.
The Irish have - unjustly, I think — been referred to as a drunken race. But near the top of O'Connell Street—named after him of the famous glass — stands a monument to Father Mathew, apostle of Irish temperance; and although there are alcoholics, they arc much less in evidence than in New York. True, the prevalence of pubs makes Third Avenue seem an arid region by comparison, but the pub serves a multitude of purposes that only a few "Irish bars" in New York even attempt. If I am looking for someone in Dublin, I know I can find him in his pub, eventually. But I know from frequent experience he cannot always be found in his pub. He may be in Sligo, or perhaps even (the heavens protect him) up in Belfast. He may even be at home, wherever that is. But if I visit the pub, someone will be there. What more can I ask?