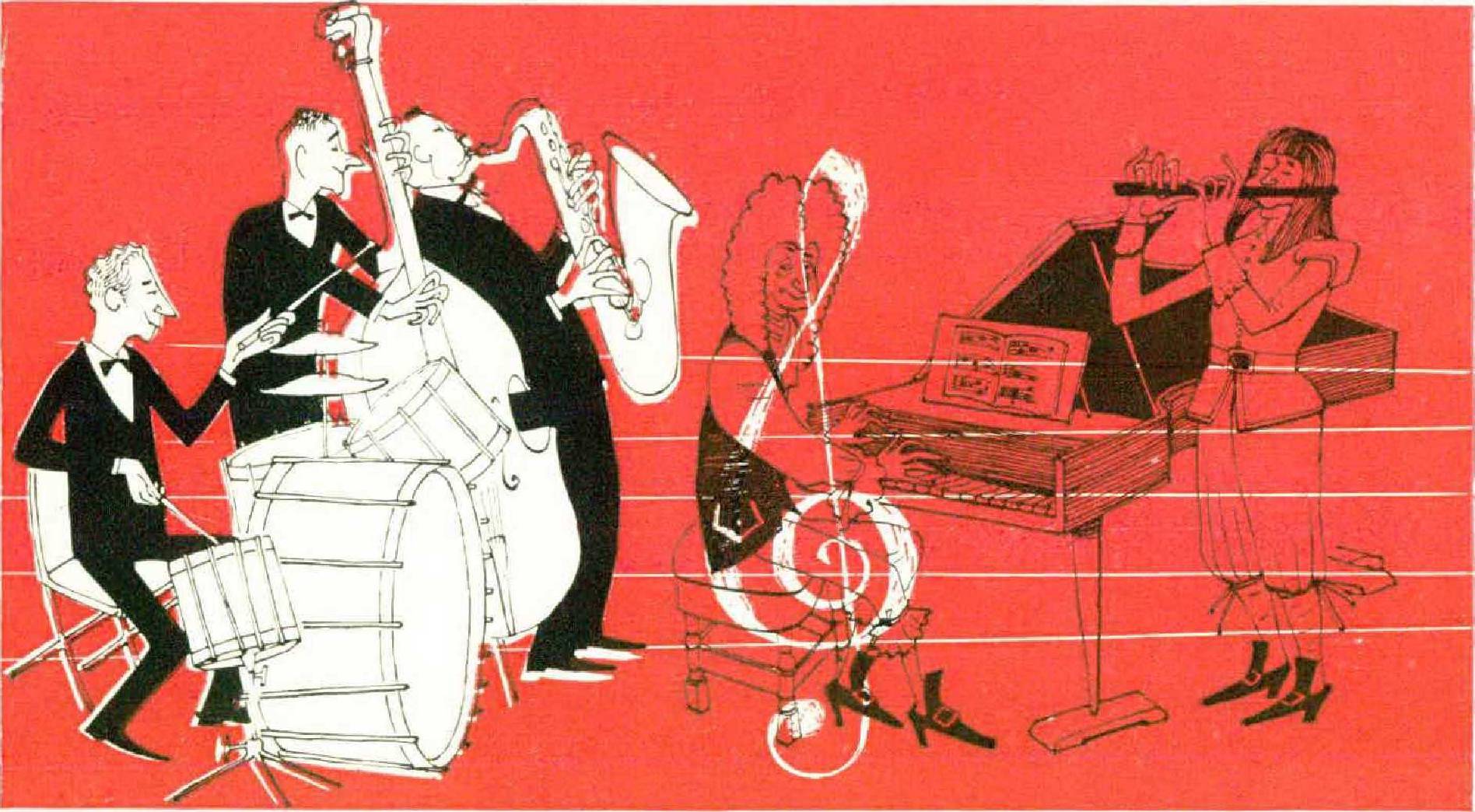 Most of the modern classical composers, in the periods when they were digging for roots, found it stimulating (but not quite inspiring) to hoe the fierce rhythms of jazz. You can cite Ravel, Stravinsky, Gruenberg, Křenek, Carpenter, Milhaud, and Copland for specific instances of jazziness; and like all other human beings, they were not immune to the blues. Right now in New York City, it is not considered a rare sight to see Leonard Bernstein leap from his table in a smoky nightclub and rip off a number or two with the performers on the bandstand. It all goes with the bohemia of desperation that sometimes engulfs classical composers.
But in the past few years, the jazz musicians, in a period when their own roots are slightly withered, have been doing some leaping of their own. They are using the surface techniques of the classics as a base for their own little improvisations. And they are not really satisfied unless they have a hundred symphonic musicians behind them while they are doing it. Jazz is now a familiar commodity of the concert hall, an accepted cultural export to foreign countries, and a subject for learned discussion. Most of the expressions of happiness have been squeezed out of it.
Everyone who has attended a jazz concert in the past five years has been exposed to the painful moments when the spokesman for the musical group stands before the audience and mumbles: "This here is a fugue — rondo form — counterpoint — solo improvisations — return to theme. And we call it 'Dunkirk,' where everybody got away safe."
The musicians who indulge in such fantasies are reflecting a segment of contemporary jazz that has been dubbed the "Third Stream."It is a term coined to describe what Gunther Schuller defines as the "attempts in various ways to bring together the sounds and feeling of jazz with the more extended format of contemporary symphonic literature."
Schuller, a former French-horn player with the Metropolitan Opera Orchestra who now devotes full time to composing, conducting, and teaching, and John Lewis, the musical director and pianist of the Modern Jazz Quartet, are the leaders in the attempted amalgamation of jazz and classical idioms. Dave Brubeck has plunked his own quartet down before several symphony orchestras, and his brother Howard composed a piece titled Dialogues for Jazz Combo and Orchestra, which was recorded by Leonard Bernstein and the New York Philharmonic (Columbia CL-1466, CS-8257). Lewis and his chamber jazz group have performed with several symphonic aggregations, notably in Germany, where this type of synthesis has been seriously received. Jimmy Giuffre, a saxophonist-clarinetist whose style has been torn in several directions of late, recently recorded his Piece for Clarinet and Orchestra with the Südwestfunk Orchestra of Baden Baden (Verve 8395, 68395), about as earnest a disaster as could be conceived.
In 1960, four weeks of intensive work and a $5000 grant were spent at the School of Jazz in Lenox, Massachusetts, in an attempt to synthesize a group of classical strings with various jazz soloists. The work in progress was described to the press as revolutionary in character, but the final result at the graduation concert was a painful rendition of a few belabored orchestrations that had been turned out almost thirty years before. The catalyst needed to fuse the diverse musical elements was as unknown to the teachers and pupils as it was to the already established star performers to be found in the field.
And yet, as with everything else, there is an exception to prove the rule. There is an album that contains a jazz musician improvising to a written background played by a symphonic string section, and it is one of the most exhilaratingly delightful musical experiences of the past several years. It is titled Focus (Verve 8412, 68412), and it features tenor saxophonist Stan Getz, as soloist with a sixteen-piece string section, playing seven selections composed by Eddie Sauter and conducted by Hershy Kay.
Getz is the most satisfying tenor saxophonist at work today. There is none of the flashy denseness of Sonny Rollins or John Coltrane in his work, and his predilection for ballads softens the edge of his newly acquired fierceness. He is a complete master of his instrument and brings freshness of thought and feeling to whatever he plays. His improvisational genius and superb technique are the contemporary culmination of the mainstream of jazz.
Sauter wrote the seven pieces for Getz in just under a year. Each composition was written as an entity, with no special provision made for an accompanying soloist. "What I wanted to do," said Sauter, "was write it like a string quartet, with space to move things. I'd let them make their own time and rhythm. . . . I wanted to write pieces that had continuity of thought and shape and that had enough thematic strength to hold together almost in their own right. And I always left, in the back of my mind, a space for another part to be added. I didn't know what was going to happen in that area. That was the hole I left for Stan."
The finished pieces were scored for an orchestra of ten violins, four violas, two cellos, a bass, a harp, and percussion. The group was built around the Beaux Arts Quartet: Gerald Tarack, first violin; Alan Martin, second violin; Jacob Glick, viola; and Bruce Rogers, cello. Getz's preparation for the recording session was a quick perusal of a sketchy lead sheet of the scoring and close attention to the musicians rehearsing the set pieces. The recording was done in three sessions, with several takes made of each piece. Getz's improvisations were the only variable factor. Usually the best take stood out from the rest, and little splicing was done with the finished product. Most of the editing was strictly an engineering matter, the balancing of sound between the tenor saxophone and the orchestra to highlight the individual characteristics of each.
On one piece, however, it was impossible to decide which of the two takes was the better one, so it was decided to splice them together into one sequence rather than discard a note from either. This piece is the most exciting number in the album. It is titled "I'm Late, I'm Late," and is a marvelous blending of fierce rhythms, exciting sonorities from the strings, and a wild and woolly Getz, darting in and through the symphonic riffs of the background.
In this number, Sauter has conjured up an almost perfect re-creation of the dash of the Mad Hatter to the tea party in Walt Disney's version of Alice in Wonderland. Drummer Roy Haynes, whose versatility is remarkable, pushes the strings harder and harder in a musical representation of that huge gold watch being plucked out of the pocket and shoved back in. Meanwhile, Getz floats above the action, at times commenting wryly and dispassionately on what is taking place, and at times being so caught up in the excitement that his horn fairly shrieks for Alice to get out of the Hatter's way. It is one of the most effective jazz program pieces that has ever been put on records.
The other numbers vary in mood and intensity; dreamy and romantic, hard and fierce, soft and mellow, stimulating and relaxing. The titles are representative descriptions of what takes place within: "Her," "Pan," "I Remember When," "Night Rider," "Once Upon a Time," and "A Summer Afternoon."
Through them all, the focus is on Getz's saxophone, but his artistry is such that he never intrudes in the set piece; he is always part of the musical framework that has been laid out. His warm, easy tone flows through the ballad pieces, and on the up tempos he shows such strength of attack, such ability to swing that he carries the strings and rhythm along with him at his pace and inclination. His improvisation has so great an air of newness, of originality, and of intensity of feeling that he gives hope for the future in this sidestream of jazz.
For it is a sidestream, albeit one that seems to be occupying more and more of the attention of serious jazz musicians. One group of jazz seekers, notably Ornette Coleman, Sonny Rollins, Cecil Taylor, Don Ellis, and Paul Bley, have been making their sound either by running up and down the scales at breakneck speed while changing chords, according to the phases of the moon, or by grabbing individual notes and beating them to death.
There is another type of endeavor that is becoming more and more popular with the young jazz composers and players. It can only be described as "non-jazz jazz." It is somewhat similar to the Third Stream in its formation, but it has none of the pretensions. One of the outstanding examples of this offshoot can be heard in an album titled A Day in the City: Six Jazz Variations on a Theme by the Don Friedman Trio (Riverside RLP 384), featuring Friedman on piano, Joe Hunt on drums, and Charles Israels on bass.
Friedman is a 27-year-old composer-pianist from the West Coast who has worked everything from bop bashes to cocktail lounges. Recently, an instructor in composition gave him the task of writing a set of variations on the theme of an old folk song, "The Minstrel Boy." Friedman worked out the variations on a linear line only, without the chord sequences that are necessary for jazz improvisation. But as the piece became a part of him, he conceived the programmatic possibilities, and he chose a chord sequence that seemed appropriate to the composition's mood. The result is A Day in the City, with sequences designated as "Dawn," "Midday," "Rush Hour," "Sunset," "Early Evening," and "Night." The moods are presented in terms of rhythm, and one can follow the story line in the musical scenes.
The best description that can be given of A Day in the City is that it is pleasant to hear. There is nothing startling in it. The soloists carry the listener through a place named New York City, and the whole album has a surge that is vital, warm, and provocative. It is not jazz, but it is jazz-oriented. In all events, it is good music.
We must focus, therefore, on Stan Getz if we are to find a reason why Focus is an exciting piece of jazz, while the efforts of Schuller, Lewis, Brubeck, Giuffre, and the others turn out to be neither jazz, classical, nor good program music. The amalgamation that was desired by these musicians was never achieved, and the results are bits and pieces interspersed among other bits and pieces.
Focus is no answer to the problem that has been plaguing the jazz musicians seeking a way out of the maze. It gives them a goal to work toward in emulating Stan Getz's jazz genius. The pieces by Eddie Sauter are first-rate and possess the qualities to spark a soloist to the top of his abilities. But it is the fire alone that gives heat and light, and it is Getz who burns brightly throughout. Focus is an exceptional album that features a group of alchemists who found the right combination through hard work and a little bit of luck. It is hard to say whether the same men could do it again under similar circumstances. It is easy to say that probably no other group now recording can accomplish anything as outstanding. That is a sad state. But that is the sad state of jazz today.