BY HERBERT KUPFERBERG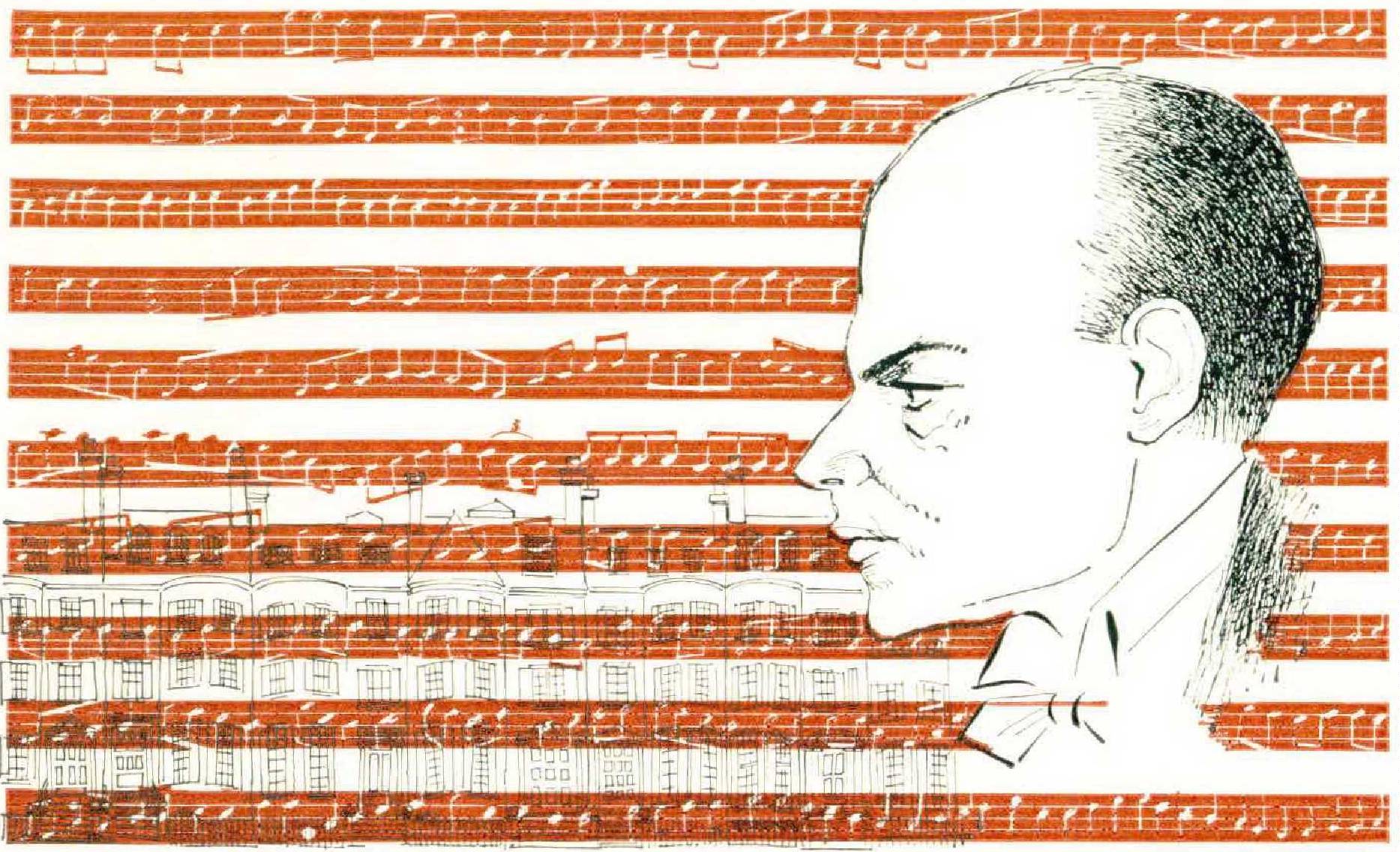 When a 26-year-old conductor, fresh off the boat from Europe, was still in his first year at the Metropolitan Opera, the late Lawrence Gilman appraised him thus in the New York Herald Tribune: "Mr. Leinsdorf seems to have a cool head on his shoulders — he must have, or he could not conduct with the authority and poise he displays. If he retains his modest self-effacement and his obvious reverence for great music, heaven will look out for him. . ."
On many different occasions since that hectic year of 1938 heaven has seemed to leave Erich Leinsdorf strictly on his own in the competitive, not to say combative, world of conducting. But after a quarter century, Gilman's prophecy is being borne out, for this month Mr. Leinsdorf, still poised, authoritative, and cool-headed, undertakes the most celestial of all conductorial posts, the musical directorship of the Boston Symphony Orchestra.
In many respects, all of them highly cherished by conductors, the Boston Symphony is unlike any other in the world. It probably is the only orchestra of consequence, except perhaps the Israel Philharmonic, whose entire season of home concerts is sold out by subscription before the season even begins. Its musicians are guaranteed employment virtually the entire year, thanks to such renowned and continuous adjuncts as the Boston Pops concerts, the Charles River Esplanade series, and the Tanglewood summer festival. It has the soundest financial condition of any American orchestra — which is not to say that it makes money, but that it loses less than the others. It has a tradition of contractual longevity, with only two conductors in the last thirty-eight years, Serge Koussevitzky, from 1924 to 1949, and Charles Munch, from 1949 to 1962. Finally, it is one of those rare musical organizations in which on matters of policy the board of trustees is said to defer to the conductor, rather than the other way around.
Says Thomas D. Perry, Jr., the orchestra's alert and capable manager: "In Boston the conductor really runs the show. He has absolute and complete responsibility, including choice of programs and selection of soloists. There is a well of good will; the audience has confidence in the management, and the management in the conductor. Choosing a conductor is a complicated and subtle process. Our need is not only for a man who is a fine musician, but for one who can take a position of leadership in a complicated organization involving the Symphony Hall concerts, the tours, Tanglewood, the Berkshire School, the Esplanade, and recordings — someone who can exert leadership on and off the podium."
Being selected for the Boston job over a field of adept and avid aspirants (every guest conductor in Symphony Hall over the last five years has automatically been regarded as a candidate) is the second most spectacular occurrence in the musical life of Erich Leinsdorf. The first came on the night of January 21, 1938, when Wagner's Die WalkÜre at the Metropolitan Opera House won an audience ovation and critical approval not only for the singing of Kirsten Flagstad and Elisabeth Rethberg, but for the conducting of the slim, slight, and almost unknown young man in the pit.
The supreme Wagnerian director at the Met in those days was Artur Bodanzky, who was ill, weary, and near the end of his career. Several alternate conductors had been introduced, but had proved unsatisfactory. Leinsdorf, a young Viennese who had been working summers as an assistant to Toscanini and Bruno Walter at Salzburg, and winters as a conductor in the Italian operatic backcountry (Bologna, San Remo, and Trieste were among the stops on his circuit), was hired by the Met as a member of its musical staff with the idea that he might spell Bodanzky occasionally. Although he was regarded as bright and promising, nobody expected him to take over the entire Wagnerian repertory; but that was just what he was called upon to do when Bodanzky died four days before the opening of the 1939-1940 season.
For three years more, Leinsdorf remained at the Met, his repertoire ranging from Wagner's uncut Ring (which was also to be his swan song there in 1962) to Debussy's Pelléas. He was introduced not only to the musical challenges of the Met but to its backstage intrigue, for Lauritz Melchior, the tenor, publicly denounced him as too young and inexperienced to conduct Wagner. The feud had more to do with several singers' attempts to insinuate another conductor into the house than with Leinsdorf's competence, and he came out of it with prestige enhanced when the audience, through its applause, and the management, through its public statements, openly took, his side.
Firmly established as the Met's boy wonder of the baton, with plenty of guest engagements to keep him busy in the off-season, Leinsdorf seemed on his way, at the age of thirty, to becoming one of the dominant personalities in American musical life. Yet the path he followed, instead of heading straight up, actually led him on a meandering course, through bypaths and backwaters, and even into a roadblock or two.
In 1943, for example, he left the Met to succeed Artur Rodzinski as conductor of the Cleveland Orchestra— the youngest man, at thirtyone, ever to direct a major American symphony. A month later he was drafted into the army, and although he received a medical discharge eight months afterward, the Cleveland job, through some combination of circumstances never fully explained, was no longer his. Instead, after a number of return engagements at the Metropolitan Opera, he accepted in 1947 the conductorship of the Rochester Philharmonic, a long-established and well-respected orchestra in a cultivated upstate Yew York city, but of lesser consequence than Cleveland in the symphonic hierarchy.
"I guest-conducted in Rochester for five weeks," Leinsdorf recalls. "The orchestra was looking. When they offered me the permanent job, I thought, 'Well, I like it here. I'll see what it's like.' So I stayed nine years. It turned out to be less minor league than I thought it might be. Some recordings we made there in 1952 and 1953 bear witness that one could get somewhere with an orchestra like that."
Leinsdorf's move to Rochester had been dictated by a determination not to remain typed as an opera conductor. But in 1956 he accepted the direction of the New York City Opera, a company which manages to lead a flourishing and sometimes quite spectacular existence in the shadow of the Metropolitan. This venture turned out to be a mistake, and very nearly a calamity, for his first and only season, which was devoted largely to modern works, ended in a financial disaster. Leinsdorf thinks his City Center experience was instrumental in convincing private foundations of the need to provide financial help for contemporary opera productions. In any case, its termination left him free to take on guest engagements from Tel Aviv to San Francisco, to resume his affiliation with the Metropolitan Opera, where he eventually became musical consultant to the management as well as one of the house's busiest conductors, and to embark on a productive and astonishingly varied recording program.
Perhaps it is his recordings which offer the best reflection of the range and multiplicity of Leinsdorf's musical interests. They cover the repertory from Haydn to Prokofiev. They include such unique items as a set of the forty-one Mozart symphonies (including the one Mozart did not write), complete on thirteen LPs, the only recording of Cornelius' opera The Barber of Bagdad, and a rarely sung Schubert Mass in E-flat, for which he has a special affection. Leinsdorf has recorded with such renowned orchestras as the Philharmonia, the Chicago, and the Vienna Philharmonic; and also with ensembles existing under such noms du disque as the Silvertone Symphony and the Philharmonic Symphony of London. He has recorded many of the orchestral staples for Capitol, while for RCA Victor he has specialized recently in opera. Considering that he first made his reputation as a Wagnerian, he has recorded an impressive number of complete Italian operas — Rossini's The Barber of Seville, Verdi's Macbeth, and Puccini's Tur andot among them. This fall RCA Victor is releasing almost simultaneously Leinsdorf-conducted recordings of two works as dissimilar as any in all opera. Die WalkÜre and La Bohèrne. Among his final pre-Boston commitments was a trip to Rome for Victor to conduct a new Madame Butterfly with Leontyne Price.
Although it is difficult to determine what part, if any, Leinsdorf's Victor connections had to do with his selection for the Boston job, it works out very conveniently for all concerned, since the orchestra has long been one of the label's bulwarks. In the Munch regime, the Boston Symphony made 75 LPs, and Victor says their total sales reach 500,000 a year, with Ravel's Boléro and Rapsodie Espagnole the best seller. "Leinsdorf," promises one Victor official, "is going to make a lot of records for us."
Leinsdorf is more than willing. He even asks interviewers to name three things they would like to have him record with the Boston — not that he does not have plenty of ideas of his own, including a cherished project of recording SchÖnberg's orchestral transcription of the Brahms Piano Quartet in G Minor, Opus 25, which he fondly refers to as "Brahms's Fifth Symphony."
As a conductor, Leinsdorf has the reputation of being something of a disciplinarian. "I like to have the right note played in the right place," he says. But he also tells about the time he spent a quarter of an hour in private conversation with the first cellist of a great American orchestra, cajoling and arguing him into putting greater expression into the solo cello passages of the Andante of Brahms's Piano Concerto No. 2 in B-flat. "I talked about the inner melancholy of Brahms, the nostalgic longing. . . . By gum, when we made the recording, this man played the music so that people remarked on it when they heard it."
For the Boston, Leinsdorf plans no radical departures either in personnel or repertory. French composers, particularly minor ones, may appear less on his programs than on Munch's, but the orchestra's continuing devotion to American and other contemporary composers will be attested at the opening concert, in which Walter Piston's Seventh Symphony will share the spotlight with Ludwig van Beethoven's Third. For his summers at Tanglewood, Leinsdorf is contemplating a somewhat more adventurous approach than has prevailed in the past, with both student and concert activities perhaps centered about a specific composer. He has such a composer in mind for 1963 — "the tenth anniversary of his death," he notes, cheerfully suggesting a trip to the reference books for more precise identification.
However much the traditions and the membership of the orchestra will remain unchanged under the new regime, Leinsdorf himself represents a new element in the Boston picture — a conductor of Viennese background who has undergone most of his musical development and acquired most of his musical experience in this country. In speech, outlook, and interests, and in his readiness to undertake organizational challenges, Leinsdorf is thoroughly a twentieth-century American.
Says a Bostonian who is intimately acquainted with both the new conductor and his predecessor: "Dr. Munch is a benign, convivial, and charming man, but he doesn't enjoy going in with a group of strangers, and he's not really comfortable unless he's speaking French. Leinsdorf, on the other hand, likes to talk, discuss, argue, listen. Munch's leadership was always there, but it gave few external signs. Leinsdorf's executive ability will be visible to the naked eye."
Leinsdorf takes over the Boston Symphony at the same age Koussevitzky did, fifty. The trustees believe that after his far-ranging travels and widely varied experience, he is ready to flower — "skyrocket," as one official puts it — into an eminence that will climax his career. Although the duration of his contract has not been made public, a reasonable estimate would put it at three years. And it is an equally good guess that, barring the unforeseen, the conductorship of the Boston Symphony Orchestra is his as long as he wants it.
Record Reviews
Bach: Art of Fugue, Volume I
Glenn Gould, organist; Columbia MS 6338 (stereo) and ML 5738 Bach wrote the Art of Fugue without indicating what instrument or instruments he had in mind for it and whether it should be played fast or slow, loud or soft. So everything is up to the performer. Glenn Gould chooses to play the first nine fugues on the organ of All Saints' Church, Kingsway, Ontario, which has a pleasantly baroque sound to it. Moreover, he chooses to play them in brisk and bouncy tempos for the most part, giving more of a feeling of sheer joy in music making than is generally associated with this austere work. In temporarily leaving the piano for his first organ recording, Gould says that he is returning to the instrument which is his first love.
Griffes: Eight Songs Grieg: Nine Songs
Norman Myrvik, tenor, and Emanuel Levenson, pianist; EMS 501 (monaural) Charles Tomlinson Griffes is known to most listeners as the composer of The While Peacock and The Pleasure Dome of kubla Khan, two thoroughly agreeable orchestral tone poems. His songs are quietly romantic and plainly modeled on German lieder. But the models are good ones, and the excellent English texts Griffes chose (by John Masefield and Sidney Lanier, among others) help give his songs a coloration and directness of their own. Norman Myrvik's tenor is as smooth as honey in the Griffes songs as well as in the Grieg, which he sings in Norwegian. He conveys not only the attractiveness of this music but the affection that he feels for it.
Mozart: Symphony No. 29 in A, K.20I Mozart: Symphony No. 41 in C, K. 551, "Jupiter"
Ferenc Fricsay conducting Vienna Symphony Orchestra; Deutsche Grammophon 138700 (stereo) and 18709 On this record, as in several others recently, Deutsche Grammophon attains unusually warm, spacious, and airy stereo sound. A Mozart symphony is an exacting test for sound engineers no less than for conductors, and here the various instrumental groupings are clearly differentiated without ever distorting the big picture. Aside from a slight slackening of tension in the Jupiter finale, Fricsay's readings are crisp, clean, and expressive; and the Vienna Symphony is made to sound like a first-class orchestra, with rich, three-dimensional brasses, beautifully rounded woodwinds, and strings that positively glisten.
Prokofiev: Semyon Kotko
Mikhail zhukov conducting chorus and orchestra of the USSR State Radio with Nicholai Gryes, tenor; Lyudmila Gelovarii and I amara Antipova, sopranos; Genadi Troyitski, bass; and others; MK 214D (monaural): four records This 1939 opera by Prokofiev, barely mentioned in most assessments and analyses of his works, comes as a stunning revelation in its rich musical atmosphere, its dramatic force, and its vivid characterization. The hero, Semyon Kotko, is a czarist soldier returned from World War I to find his native Ukraine ravaged by civil war. He joins the partisans, routs the invaders, gets the girl, and does everything else expected of a revolutionary hero. But though the opera abounds in political references, its flavor is that of the countryside, occasionally heightened by the quotation of a Ukrainian folk song or a snatch of accordion music. A lovely orchestral prelude, filled with moonlight and longing, sets the mood for the soldier's return home, and the story proceeds through a succession of luxuriant melodics and inventive instrumentation. A love duet in which tenor and soprano sing in clashing, overlapping rhythms is as beautiful as it is ingenious. Some of Semyon Kotko is conventional, and Prokofiev's sharp edges are beveled to uncharacteristic smoothness. But the opera is the work of a creative mind moved by a story and its characters, and able to breathe musical life into them. The performance, apparently by a radio cast, is lifelike and dramatic, with Nicholai Gryes an expressive if somewhat hardvoiced Semyon. The greatest compliment to Semyon Kotko is that it can be enjoyed with no other guide to the Russian words than a scanty English summary, which constitutes the only textual aid provided.
A Field Guide to Western Bird Sonus
Common Loon, Arctic Loon, Red-Throated Loon, Red-Necked Grebe, Horned Grebe, and more than 500 other birds recorded in the field by Laboratory of Ornithology, Cornell University; Houghton Mifflin Company HM 5 PT: three records A bird watcher's, or bird listener's, delight is this compendium of chirps, peeps, tweets, and twitters — and also an occasional grunt or croak emitted by birds ranging alphabetically from the albatross to the yellowthroat. These records, made with painstaking patience by a small army of ornithologists, are designed to accompany and illustrate aurally the new Second Edition of Roger Tory Peterson's ,A Field Guide to Western Birds, also published by Houghton Mifflin. Some of the sounds are surprising, not to mention unbirdlike. The American bittern, for instance, snaps out a pretty good imitation of a ping-pong game. The birds represented come from the sections of North America west of the 100th meridian, running through the Dakotas. Canadian and Hawaiian species are also included.
Richard Rod tiers: No String-;
Original cast album with Diahann Carroll, Richard Kiley, Noelle Adam, Alvin Ebstein, Richard Gregg, and others; Capitol SO-1695 (stereo) and 0-1695 No Strings is Richard Rodgers' first solo Broadway show, with his own lyrics as well as his own music. This is partly due to necessity, since Rodgers has outlived his two famous literary collaborators, Lorenz Hart and Oscar Hammerstein II. But some of the impulse may have been sheer curiosity; an experienced theater hand like Rodgers probably gets a yen to turn a lyric now and then, just to see how it comes out. The lyrics of No Strings, if not as sharp and piquant as those written by Hammerstein. are neatly dovetailed and often quietly amusing. The music is low-pitched, too, with no showstoppers, but with an agreeably insidious quality that enables it to make itself comfortable in the memory. The opening, and closing, tune, " The Sweetest Sounds, gets a toehold on the mind immediately, and the rest of the score never relinquishes it. The story (white novelist meets Negro fashion model in Paris) is slimly developed, but this hardly matters on a record. Diahann Carroll and Richard Kiley sing appealingly, and the prevalence of brass and woodwind sounds (No Strings means "no strings") adds pungency to the score.
You're Stepping on My Shadow
Nine Sound Stories Conceived and Recorded by Tony Schwartz; Folkways . 5582 (monaural)
Amateurs of the tape recorder must surely envy Tony Schwartz, who not only tapes the sounds of the world around him but translates them into delightful and sometimes touching little "sound stories." In an aural essay called "History of a Voice,"he takes down the sounds of a little girl's voice through the early years of childhood her first cries, her first efforts to talk, her first actual conversations. This adds up to a charming exercise in nostalgia for parents, and perhaps children, too. "You're Stepping on My Shadow" deals with the more mysterious aspects of childhood ; youngsters gravely present their imaginary friends, such as donkeys who crowd into elevators with them. On a presumably more adult level is "People Contemplating Aristotle Contemplating the Bust of Homer," in which Schwartz's microphone records the remarks, from the asinine to the perceptive, of visitors gazing upon the Metropolitan Museum of Art's $2,300,000 Rembrandt. Several of the other sound stories are rather contrived and pretentious, but the sum effect of the record is to demonstrate the use of the tap recorder as a creative and even an artistic tool.