Brendan Behan's Dublin
The theater, poetry , and rebellion are quick in the blood of BRENDAN BEHAN, the Irish playwright; and in this episode drawn from his volume of reminiscences , BRENDAN BEHAN'S ISLAND, illustrated by Paul Hogarth , which is to be published by Bernard Geis Associates in October, we see the lively , colorful background from which his writing has emerged.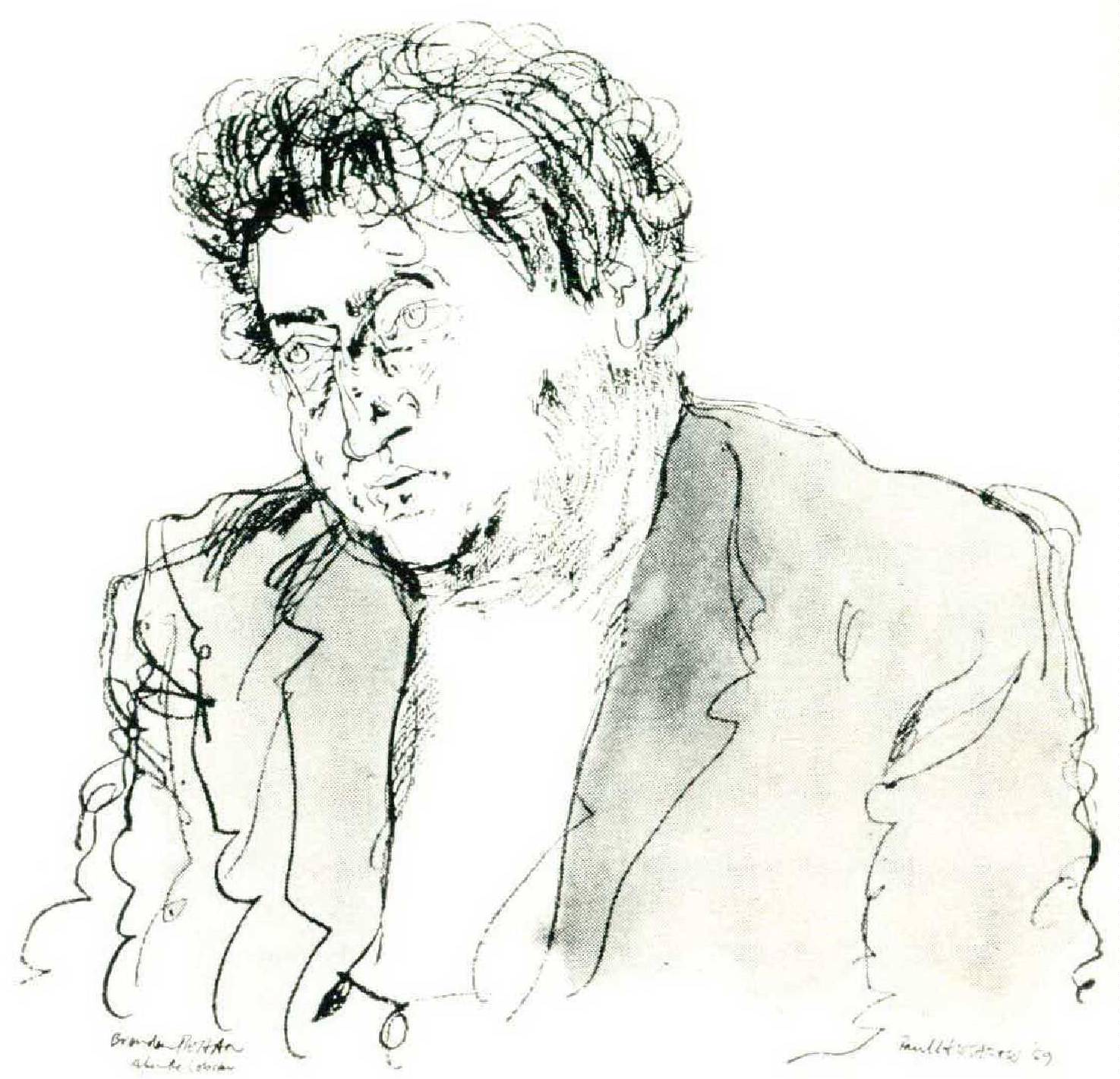 DUBLIN saw a lot of trouble, but not all her songs were, as they say, of war and slaughter. They also knew the heart-scald of men chasing women or, as happens now and again during leap year and the three years leading up to it, of women chasing men:
I left me father, I left me mother
I left me brothers and sisters too.
I left me friends and kind relations.
I left them all for to follow you.
For love is teasing , first hot , then freezing.
Love is a wonder when first got new;
But as it grows older , it soon grows colder ,
And fades away like the morning dew.
Oh! love and porter make young men older
And love and whiskey make old men decay;
So what can't be cured, love, must be endured, love,
And so I am off to Americay,
Singing , "Love is teasing , first hot , then freezing.
Love is a wonder when first got new;
But as it grows older , it soon grows colder ,
And fades away with the morning dew."
Well, that's a bit like the Scots song "Waly, Waly, gin love be bonny," but you get songs like that, I suppose, common to every country. When I was at school, we used to sing a version of "Lord Randal" that went like this:
What'll you give your sister, Henery, me son
What'll you give your sister, my pretty one?
Pizened be-ans,
Pizened be ans:
Make my bed,
I've a pain in my head
And I want to lie down
But, then, we said more nor our prayers in the slums of North Dublin where I was born, less than an ass's roar from Nelson's Pillar. I come from the same area as Sean O'Casey, about whom I don't intend to say anything, for the simple reason that it would be like praising the Lakes of Killarney — a piece of impertinence. As far as I'm concerned, all I can say is that O'Casey's like champagne, one's wedding night, or the Aurora Borealis or whatever you call them — all them lights. At the time I was young, this area was pretty bad, but that's one thing I must give the government credit for; they built lovely flats for the people. You wouldn't see anything in Dublin now like the slum parts of Westbourne Park in London or some parts of Glasgow. Mind you, it was pretty bad while it lasted. I was born in a Georgian house that had gone to rack and ruin as a tenement, so I should know. It's been knocked down since, but without any remorse on my part, much as I admire the Georgian Society, whose activities are all right as long as they're confined to the houses of wealthy doctors in Fitzwilliam Street.
Lovely garden estates the government built when they were clearing the slums, but somehow the people hated leaving where they had been reared and where they had reared their children. They had a social status in their way in those slums that was destroyed altogether when they were shifted out to Crumlin or Kimmage and set down in terrace houses mixing with God knows what muck from Irishtown, Ringsend, the Liberties, and other parts south of the Liffey. I remember, when we got our notice to get moving, hearing one oul' wan moaning to my mother, "Oh! Mrs. Behing, jewel and darling! Don't go out to Kimmage — that's where they ate their young." Four miles away it was, and no more, where this cannibalism took place.
Not far away is Nelson Street, where I happened to set the scene of The Hostage. Most of the incidents in that play were taken from life, though, needless to say. I fiddled around a lot with them — catch me leaving anything unembroidered. The incident of the British Tommy occurred actually in Belfast, but in real life, I'm happy to say, he wasn't shot. As a matter of fact, he said later that he spent the best four days of his life in the hands of the l.R.A. He was captured at a place called Ballykinler Camp in County Down. He wasn't taken as a hostage at all, but he'd been around by accident when the l.R.A. was raiding the place for arms, so they brought him home with them for a while. They kept him in a house on the Falls Road in Belfast, and he wasn't at all upset because he knew he wasn't going to be shot. The incident moved me and remained in my mind because I thought it was tragic for young fellows from England to be stuck in Northern I reland — or any part of Ireland, for that matter— but particularly in the north, with their cute faces and their bowler hats. You might as well set any decent Tommy down in the environs of the Stock Exchange in London — he'd die of fright.
At the back of my mind, too, was a story I heard from the leader of a flying column about something that happened during the War of Independence. A flying column, in case you don't know, was a full-time mobile section of the l.R.A. They lived in the hills and off the country and performed great feats from 1919 to 1921 and again in 1922 and 1923. This man told me how he found oul about a train that was traveling from one place to another somewhere in County Kerry along a stretch of railway where there were no arches or bridges. It was a warm summer's day, and the troops — boys of seventeen and eighteen — sat out on top of the train as they went along. Suddenly they ran into my friend's ambush. He told me it was like as if they were on holiday. They were singing away, and all of a sudden they found themselves in the midst of a war. At the time I heard this story, I thought it was tragic, and I still think so. I mean, the fellows who shot them had nothing against them, and they had nothing in particular against the people that were shooting them. But that's war. It's only the generals and the politicians that are actively interested in it.
I wrote the play very quickly, in about twelve days or so. I wrote it in Irish, and it was first put on in Irish in Dublin. I saw the rehearsals of this version, and while I admire the producer, Frank Dermody, tremendously, his idea of a. play is not my idea of a play. I don't say that his is inferior to mine or that mine is inferior to his; it just so happens that I don't agree with him. He's of the school of Abbey Theatre naturalism, of which I'm not a pupil. Joan Littlewood, I found, suited my requirements exactly. She has the same views on the theater that I have, which is that the music hall is the thing to aim at for to amuse people, and anytime they get bored divert them with a song or a dance. I've always thought T. S. Eliot wasn't far wrong when he said that the main problem of the dramatist today was to keep his audience amused; and that while they were laughing their heads off, you could be up to any bloody thing behind their backs; and it was what you were doing behind their bloody backs that made your play great.
But if I go on like this, I'll begin to think I'm getting above myself, like the time I published a piece of verse in Irish in the Irish Times with an accompanying translation by Donagh MacDonagh. It was about the death of Wilde in Paris, It was much praised by the local mandarins. and later in the week there was a vicious letter in the paper attacking it as "brutal and Ugly." Jesus help my wit, didn't I think I was a great man altogether when complete strangers would go to the trouble of abusing me, until I discovered that the bastard that wrote the letter was some son of a bitch that disliked me on grounds purely racial and social, and thought it a disgrace that the likes of me should be allowed into print at all, unless it would be into the criminal intelligence.
I SUPPOSE they were great days — I was younger, anyway — and even if I had no money, there were people in the literary pubs in the vicinity of Grafton Street that would give me an odd pint of porter or a glass of malt betimes, as long as I could listen respectfully enough to the old chat about angst. A generation or so ago they were arsing around the bog, and a bowl of stirabout and a couple of platefuls of spuds would have cured all the angst from here back to Norway; but since the changeover in 1922, when they got well down to the porridge pot, there was no holding them. It started off with top hats and white ties and getting into the gentry, and then to chatting about the servant problem with the Anglo-Irish Horse Protestants (who at least were reared to it), and it went from that to late dinner, and now it's angst, no less.
Not that the Horse Protestants were any better, but they were longer at it. They are just as ignorant, except that their ill manners are sharpened by time. Sheridan was a peasant's grandson, Yeats an artist's son, Wilde a doctor's son; Parnell was the grandson of an American sea captain, Robert Emmet a doctor's son, Bernard Shaw a clerk. The myth of the Anglo-Irish, and the attempt to drag Irish writers (particularly those who happened to be Protestants) after the fox hunt and the royalist inanity, would have us believe that the most rapacious rack-renting landlord class in Europe were really lamps of culture in a bog of darkness, doing good by stealth and shoving copies of Horizon under the half doors of the peasantry after dark and making wedding presents to the cottagers of Ganymede Press reproductions of Gauguin.
There is, of course, no such thing as an AngloIrishman, as Shaw pointed out in the preface to John Bull's Other Island— except as a class distinction. Even all Protestant genius is not nobbled lor the stable boys and girls. It must, at least, wear a collar and tie. Sean O'Casey is not claimed as an Anglo-Irish writer because he had no land except what a window box would hold on the window sill of a tenement. The Belfast industrial workers, who are the thickest concentration of royalism and pro-Britishism in Ireland, are never claimed as Anglo-Irish. The whole thing nowadays is a middle-class myth.
One thing about Dublin which is indicative of this is that the middle classes are inflicted with a desire to ride. They have their daughters going bandy taking riding lessons out there in Stillorgan and competing at the Horse Show. When Yeats said about Dublin, "Great hatred, little room," he was referring to the middle and so-called upper classes. Joyce described the same crowd as "the centre of paralysis."
John Mitchell, a rebel leader of 1848, was being transported to Van Dieman's Land, and passing in the ship the villas on Killiney Hill on the south side of the bay, he described it as "a city of genteel dastards and bellowing slaves."
I once remember saying to my father, "I suppose he really said 'bastards' but they changed it to 'dastards' for reasons of respectability.
"No." said my father. "It's nobody's fault to be a bastard, but to be a dastard you have to work at it."
And the middle classes are that way to this very day. They will go to London and attend a play of mine or of Scan O'Casey's and they will inform all the English people that, of course, to really understand this play you've got to come from Dublin. Back at home, they will adopt either the straightforward outraged indignation of the censor and sav, "We think this is a disgusting and immoral play," or they will say. as they have said about me, that I write to please English audiences — they'd stand on their hands to please any English audience themselves.
Straightforward censorship is fairly harmless; no Irish writer is really injured by it. He is damaged by the indirect and unauthorized censorship which goes beyond the reasonable suppression of pornography. Some years ago, I was looking for a copy of Plato's Symposium when it appeared as a Penguin. I got it in the end, but with a good deal of difficulty. The censorship could hardly get after him at this time of the day, but as one bookman (saving your presence) said to me, "We saw a slight run on it, and the same sort of people looking for it, so we just took it out of circulation ourselves. After all, we don't have to be made decent minded by Act of the Dail. We have our own way of detecting smut, no matter how ancient.
IT'S the working class that binds me to this town; they're the only real people here. The middle classes put years on me. If they didn't see my name in the Sunday Times and the Observer, they wouldn't want to know me; and that goes for Catholics as well as Protestants, lawyers as well as doctors. Not that I'm idealizing the working class — far from it. They don't pretend to care. Their attitude is, they've known me a long time, they've seen me around for as long as they can remember, and they don't give a damn what I'm doing or think I'm doing. They've a great spirit and good neighborly hearts; if they couldn't do you a good turn, well, they wouldn't do you a bad one.
You find the people I like on both sides of the river, but mainly they live more or less along a line that you might draw between the Custom House and Glasnevin Cemetery — between birth and death, come to think of it. The Custom House is a remarkable building, though, to tell you the truth, I'm not particularly knowledgeable about architecture, Georgian or otherwise, possibly owing to an architect friend solemnly informing me at some stage in a very austere voice, "Good architecture is invisible." The Custom House, as far as I'm concerned, is notable mainly for the fact that it was there I used to get false birth certificates in order to get false passports when I was in the I.R.A. It was burned by the Volunteers in 1921, and that's what brought British administration in Ireland finally to a standstill, for all local government records were housed there. Across the way from it lies Liberty Hall, the headquarters of the Irish Transport and General Workers' Union, where the Irish Citizen Army had its headquarters in 1916. It has been knocked down now, and they're building a skyscraper block on the site.
Not far away is the General Post Office, which was the headquarters of the 1916 rising. The story of the rising is too well known to go into it all again, but during that week an aunt of mine went down to the G.P.O. to look for her husband, who was in there fighting. Shells from a gunboat on the Liffey were falling all around the place, and my aunt was asked with some urgency to go away. She had a baby in her arms that was afterward killed in France while he was with the British Army in 1944. She refused to budge and kept demanding to see her husband, who finally came to a sandbagged window and roared, "Go away, Maggie," and she shouted back, "I only wanted to know if you were going to your work in the morning."
Turning down Bachelor's Walk at the Liffey by O'Connell Bridge, where British troops fired on the people of Dublin in 1914, you come to the Metal Bridge, It's known as the Metal Bridge for the very obvious and un-Irish reason that it's made of metal, but in my father's day it was better known as the Halfpenny Bridge, because you had to pay a halfpenny toll to cross it. Further along there is the Four Courts, where the anti-treaty forces dug in, in 1922. I remember the man that was more or less second in command there told me that during the attack on the building, a young I.R.A. man from the country — a boy of seventeen or eighteen — was going up the stairs carrying the chancellor's large wig. ''Hey, where are you going with that?" he called, and the boy answered, "I'm only going to take the kettle off the fire."
Nearby is O'Meara's pub, the Irish House, though why it should be called that in Ireland, I don't know. I used to know the man who owned it — it has changed hands since — and I remember him principally for some lines of poetry that he recited to me:
Then Hoolihan hit Hannaghan and Hannaghan hit McGilligan
And everyone hit anyone of whom he had a spite,
And Larry Dwyer, the cripple, who was sitting doing nothing.
Got a kick that broke his jawbone lor not indulging in the fight.
A friend of mine painted that pub one time — Dinny Bowles, a very famous man — a sign writer he was, and a very good one at that.
Pubs are dull enough places at any time, though not so dull in Ireland as they are in England. I suppose I know most of them in Dublin, and I'd rather have them than the pubs in London. I remember being in the Blue Lion in Parnell Street one day, and the owner said to me, "You owe me ten shillings," he said. "You broke a glass the last time you were here."
"God bless us and save us," l said, "it must have been a very dear glass if it cost ten shillings. Tell us, was it a Waterford glass or something?" I discovered in double-quick time that it wasn't a glass that you'd drink out of he meant; it was a pane of glass, and I'd stuck somebody's head through it.
It was about the Blue Lion, also, that I remember my grandmother, Christina, getting into a bit of embarrassment. It's more or less at the back of what was Joyce's Nighttown, near Montgomery Street, which was one of the streets in the redlight district. My grandmother had me by the hand, and as we were walking down the street, we met a friend of hers who said. "Come on, Christina, and have one," meaning to come in for a glass of porter. So my grandmother said all right, but she didn't want to go into the Blue Lion because, she says, "All those characters go in there" — meaning whores — but her friend says, "Ah, they won't take any notice of us."
So in they went. "We'll go in the private part," she says, and, "All right," says my grandmother. So when they went into the private part all the "characters" roll up and say, "Ah, hello, Christina, come on in, we didn't see you these years."
There's a pub up near Guinness' Brewery on the Liffey Quay — it must be the nearest pub to Guinness' — known as the Shaky Man. I don't know if it's there now or not, because it's a long time since I was in it, but I think it was there l heard one of my friends — a man named Crippen —refer to "Evelyn Warr."
"Aye," he said, "Evelyn Warr was a tough woman."
I don't know what we had been talking about, but I sang him a bar or two:
They told me, Francis Hazley, they told me you were home With red protruding eyeballs and black protruding tongue. And says he, "Aye, Evelyn Warr," he said, "she was a great soldier and a great warrior. And she was called Evelyn because that was her name, and she was called Warr because she was all for war."
BOTH the big Irish distilleries are not far from Guinness'; I suppose what makes both Irish whiskey and Guinness so good is the curative properties of Liffey water. Scotch whiskey seems to be getting more popular than Irish now, particularly in America. Its popularity there is due to the fact that Queen Victoria drank it. She didn't like the Irish and she wanted to be Celtic, so she thought that maybe the Scots weren't so mad as the Irish and she became very Scots-minded. There were other influences on her too, I expect, but they didn't stop her exporting half the population of the Highlands to Canada.
Irish whiskey is made in a pot-still, which is simply a pot surrounded by Irish anthracite coal from Kilkenny. Scotch whiskey is made in a patent still which was invented by an Irishman named Angus Coffey, who hawked it around the Irish distillers, who wouldn't have anything to do with him. So the Scots took it over, and they made whiskey in a series of pipes surrounded by peat but now presumably heated by electricity. Most Scotch whiskeys are blended, and a great number of them contain Irish whiskey which is exported for that purpose. The best Scotch whiskeys are what is called "single malt," and are not blended; they are straight whiskeys and are very good indeed. The other Scotch whiskeys I wouldn't give to a dog.
The popularity of Scotch really only dates in these countries since the First War — never mind Victoria, she only influenced America, which is slavishly royalty-minded. In Trollope's novels, for instance, when they're not scoffing claret in their clubs, they're knocking back Irish whiskey. It wouldn't surprise me at all to find Mr. Macmillan, who is an admirer of Trollope, I'm told, enjoying a quiet glass of Irish now and again for his health's sake. And if you ever look at that cartoon strip in the Daily Mad, "Flook," you'll find the conservative landed colonels dashing into their locals for a double Irish now and again. Only the lower classes drink Scotch; it marks you off to go into a London pub and ask for Irish nowadays; when they've finished looking at you, they realize slowly that you've got a very eclectic palate.
Scotch, of course, is increasingly popular in Ireland, but that's because it's a bit dearer and the fact that you drink it indicates that you've got money — enough to pay for that ball of malt anyway. Most literary men go in for it now, or for the glass of wine, like Yeats. What's this he drank? — not that he was ever seen in a pub — "a glass of brimming Muscadcl," I think, or maybe that was somebody else. My mother was a maid in the house owned by Madame Maud MacBride, and she knew Yeats quite well, but I never heard her advert to his drinking. He used to visit that house, which was on St. Stephen's Green, and he used to call her Kitty, which she disliked, for her name is Kathleen. He arranged his entrances to the house so infallibly that he was there just as she'd be coming up the stairs with a tray of tea and cakes and sandwiches for the visitors, and he'd stop and talk to her for a couple of minutes. I think it was probably an inverted form of snobbery, to show the guests that he'd as leave talk to the housemaid as to a lord. But this didn't excuse my mother from Maud Gonne's tongue when she scolded her for having the tea cold.
My mother also told me that at lunch, where she often served Yeats, he was absolutely impervious to what he ate, as he didn't know what he was eating half the time. He absentmindedly would put sugar in the soup and salt in the coffee and all sorts of peculiar things like that. The one dislike that he had in the way of food was parsnips. Once he was served parsnips by some mistake, and he remarked, "This is a very peculiar pudding."
I was in the Deux Magots in Paris one time, and an American that I was introduced to asked me if I had known James Joyce. I said that I hadn't had that honor, but I told him that my mother had often served a meal to W. B. Yeats in Maud Gonne's house on Stephen's Green and that the poet turned up his nose to the parsnips. "He didn't like parsnips?" said the American, reaching for his notebook. "You're sure this is factual?"
"It is to be hoped," I replied, "that you are not calling my mother a liar."
"No, no. of course not," he said, "but she might have been mistaken — it might have been carrots," he added hastily.
"You must think I'm a right fool to have a mother than can't tell a carrot from a parsnip," I said nastily.
"No, no, of course — I mean, I'm sure she could, but it is very important — " He wrote in the book: Parsnips — attitude of Yeats to. "And you say he didn't like Stephen's Greens either; now, what kind of vegetables are they?"
[To be continued)