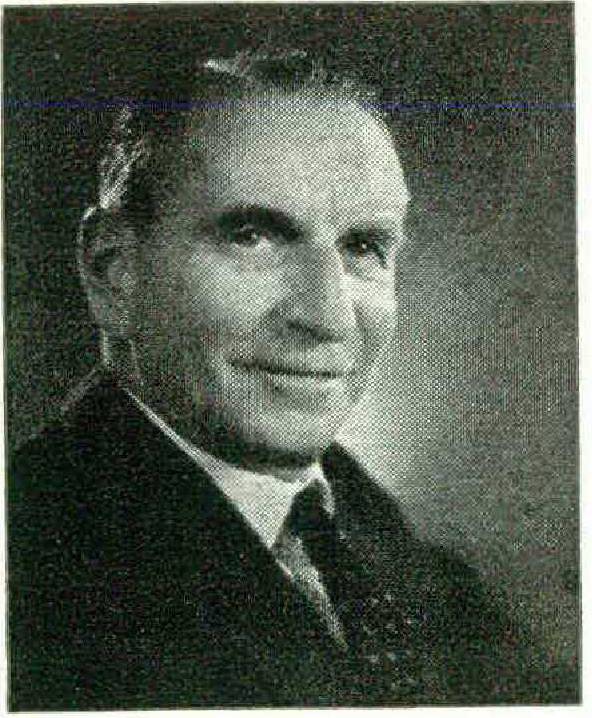 TO A young volunteer, fresh off the boat and seeing Paris for the first time, the leaders of the American Field Service, as we met them on the grounds of the chateau on Rue Raynouard. were an impressive group. We had come to France to serve as ambulance or camion drivers with the French Army, and most of us were under twenty. Colonel A. Piatt Andrew, a tall, dark six-footer from Gloucester, Massachusetts, was our chief, and we came under his spell the first afternoon, when we gathered in a big semicircle on the grassy terrace to hear him give us the word. It was the spring of 1917, and Paris was in lull bloom. But the French armies were being hard-pressed on the Chcmin des Dames and at Verdun, and we were eager to get going. Colonel Andrew — we noticed that he wore the ribbons of the Croix de guerre and the Légion d honneur — stirred us when he told us what it would mean to serve with the poilus. Then his deputy, Steve Galatti, dark, rugged, with an encompassing smile, took over, and we were assigned to our ambulances. Fiats or Model T's, or to the camion units, the ammunition trucks, which were under the direction of John R. Fisher, a Vermonter and the husband ot Dorothy Canfield Fisher, the novelist. These three, Piatt Andrew, Steve Galatti, and John Fisher, were our leaders, and each in his own way personified the voluntary spirit and the sympathy for France which were the very breath of Rue Raynouard.
The funds for our ambulances had been privately subscribed, and until the American Army enlisted us in the fall of 1917, the volunteer drivers had paid their own way. After the armistice, the endowment we had left was used to provide scholarships for study abroad. In the years that followed, the organization went into a deep sleep, from which it was aroused for an occasional reunion at the prompting of Steve Galatti. But in 1939 it came to life in earnest. New sections, most of them as young as we had been, were sent out to the British 8th Army in Africa, and by 1945 our ambulance drivers on all fronts had carried more than a million casualties. Again, what had sustained us was this volunteer spirit and the desire to help another country that was in trouble. And again there came the question: Should this driving force simply be dispersed at the war's end, or was there a way of harnessing it in peace:' Galatti thought there was.
This time, instead of sending American scholars to Europe, the plan was to work the other way; the question was whether to concentrate on graduate students or whether to get younger ones and import those of high school age. There were those in the State Department who had their reservations about working at so youthful a level, but the Field Service felt that the years between sixteen and eighteen were the impressionable ones and that if carefully screened youngsters could live in an American home for a full school year, from Labor Day to graduation in June, the effect would be lasting. In 1950 the AFS committed itself to the importation of a hundred students from. Germany, boys and girls whose average age was seventeen. For each student, a sum of $650 had been raised, usually by the community in which he was to reside, and for each there was a place reserved, usually in the senior class of high school. That was twelve years ago. This September, 2500 seventeen-year-olds from 55 foreign countries will be coming to us for a year's study in our preparatory and high schools. Some of them will be on full scholarship. The total AFS expenditures in 1961 amounted to around $2,230,000, of which approximately $1,450,000 came from American communities, $660,000 from the foreign parents, and the balance from private subscription.
In any exchange as personal as this, there must be adjustments: an unexpected illness in the American family acting as host may mean that the student must be shifted in midterm, or the foreigner may not get on as congenially as was hoped with his foster sisters and brothers; for whatever cause, 15 percent of the students are shifted from one household to another during their stay. Nor can there be any uniformity in the acceptance of the visitor's aptitude. In a majority of states, if the foreign students live up to the required standards, and they usually do, they will be graduated with a diploma. Actually, 95 percent receive diplomas, and the others are granted certificates, attesting to their year's study. But over and above their subjects, they are learning the character of an American community and the pros and cons of our spontaneous democracy; they acquire a swilt knowledge of English; and by dint of some extraordinary logistics they are rounded up lor bus trips which permit them to see Washington and Williamsburg, Boston, or the Yosemite. in addition to the region in which they are living.
We know by now the enthusiasm and affection which most of them take home with them, an enthusiasm truthfully and vigorously recorded by KATHARINE T. KINKEAD in her book WALK TOGETHER, TALK TOGETHER (Norton. S3.75). We know that this is a two-way street and that in reciprocity some eight thousand Americans of like age have been assisted by the AFS to study abroad, some for the summer and some for the year round. In Mrs. Kinkead's book we hear the students and the parents of the students speaking their minds, and what they say about this international hybridizing makes one more hopeful of the future.
SEEING OUR COUNTRY CLOSE
As his books reveal, JOHN STEINBECK is a writer who is happiest when he gets down to earth. He is a rugged, broad-shouldered, six-foot Californian, born in Salinas, and destined to write his first stories about the Valley. He has the gilt of identifying himself passionately with other Americans, with migratory fruit pickers, as in his novel In Dubious Battle, and with the Okies, as in The Grapes of Wrath. He relishes doing things with his own two hands; in a swift self-portrait he writes. " I have always lived violently, drunk hugely, eaten too much or not at all, slept around the clock or missed two nights of sleeping, worked too hard and too long in glory, or slobbed for a time in utter laziness. I've lifted, pulled, chopped, climbed, made love with joy and taken my hangovers as a consequence, not as a punishment."Gradually his career drew him into the success and confinement of Manhattan and Long Island, and it came to him with a shock one day at the age of filtyeight to realize that not for twenty years had he seen at close hand the country he had been writing about.
His new book, TRAVELS WITH CHARLEY (Viking, $4.95), is a one-man, one-dog account of the expedition in which he recaptures his familiarity with America. He set out with some misgiving, not sure his health would stand up to the 10.000mile journey he envisioned; as he traveled, the years sloughed off him, and the eager, sensuous pages in which he writes about what he found and whom he encountered frame a picture of our human nature in the twentieth century which will not soon be surpassed.
For the trip Mr. Steinbeck wanted a threequarter-ton truck, and on it a little house built like the cabin of a small boat. He tells in delightful detail of the cabin and ot the viands and equipment with which it was stocked. "I had to go alone and I had to be self-contained, a kind of casual turtle carrying his house on his back. for companionship he took with him Charley, a middleaged French poodle, and Charley, as we come to know him, is one of the most civilized and attractive dogs in literature. They set off together in Rocinante. as the truck is called, in the early autumn. and they drove north through Connecticut and on to Deerfield, where the writer stopped to say good-bye to his teen-age son. one of "two hundred teen-age prisoners of education just settling down to serve their winter sentence."The boys of Eaglebrook came down to visit the truck, and "they looked courteous curses at me because I could go and they could not." This was the effect that he and the little cabin were to have on hundreds of casual visitors. "Lord. I wish I could go with you!" was what they said or thought. And on he goes through the blazing foliage into Maine, pausing at Deer Isle, commenting on why he prefers climate to weather and wondering how a State-of-Mainer could ever find contentment in the sameness of Florida. Then, at our most northerly border he turns west, and camping now on a knoll, now beside a trout brook, now in his manmade loneliness in the drumming rain, he and Charley find their way back to the understanding of this monster land.
This is a book to be read slowly for its savor, and one which, like I horeau, will be quoted and measured by our own experience. It holds such happy passages as his love for Montana, his rediscovery of San Francisco, and his surprising new impressions of the Middle West; it holds such horror as he witnessed in the rancid race demonstrations in New Orleans. And as all good journeys must, this one suddenly went flat as he was returning through Virginia. Thereafter, his one desire was to get home, and when a policeman forbade him to drive through the Holland Tunnel with so much butane in the cabin, all the novelist could say was, "But I want to get home. How am I going to get home?" Incidentally, in his passage of over 10,000 miles through thirty-eight states, he was not recognized even once.
THE PREACHER AND THE NATURALIST
CONRAD RICHTER is a talented novelist with an extraordinary knowledge of many parts of this country, and despite the pretentious claim of his publisher — no one should be tagged as "perhaps the most trulyAmerican [writer] of all" — the best of his books,The Sea of Grass, the trilogy which began withThe Trees, andThe Light in the Forest will hold an abiding interest.
Richter's father was an itinerant preacher, and as a boy young Conrad followed his elder from parish to parish, absorbing in those formative years impressions which have made his fiction so terse and full of color, A SIMPLE HONORABLE MAN (Knopf, §4.50) is the story of the dedication of Harry Donner, who in mid-life surrendered his security as a storekeeper to become a Lutheran preacher at the mercy of congregations not too charitably disposed. Of Harry Donners dedication there can be no question; of his equipment for the undertaking there is plenty. An unquenchable optimist, stubborn, without a trace of humor, and as unsparing of his family as of himself, he can never understand why he antagonizes people and why the good he would like to do is so often obstructed. In following in the footsteps of the Master, he is at pains to help the lowliest, and the time he devotes to the anthracite miners at Lost Run leaves him too little for the other churches in his care. He moves from flock to flock succoring those for whom the reader has only a shadowy sympathy. The most powerful scene in the book is that in which Harry receives the blessing of his father-in-law as the old man lies dying. Had more of such feeling been evident in Harry's relations with his rebellious young son John, this would have been a stronger story.
In Lincoln, Massachusetts, HENRY B. KANE has written and illustrated a trio of books which can be happily shared by parents and adolescents. The Tale of a Pond came first, then The Tale of a Meadow, and now, in THE TALE OF A WOOD (Knopf, §3.00), he depicts the open-season saga of the Lincoln country he loves and observes so minutely. His episodes have great charm, and are pointed up with exquisite photography and line drawings. I like best the raccoons in the carriage house, the cliff swallows being fed, the mother rabbit chasing the bluejay, and the boys' liberation of the skunk; but there are many others to be read aloud. A succinct and sunny book telling you much you did not know.