Stripers on a Fly Rod
BY EDWARD W. ROGERS A native of Manchester'by-the-Sea,Massachusetts, and the director of the sporting goods department of Johnny Appleseed's, Inc., EDWARD W. ROGERShas some sound and succulent advice for those who feel templed to do some game fishing in the estuaries north, of Boston.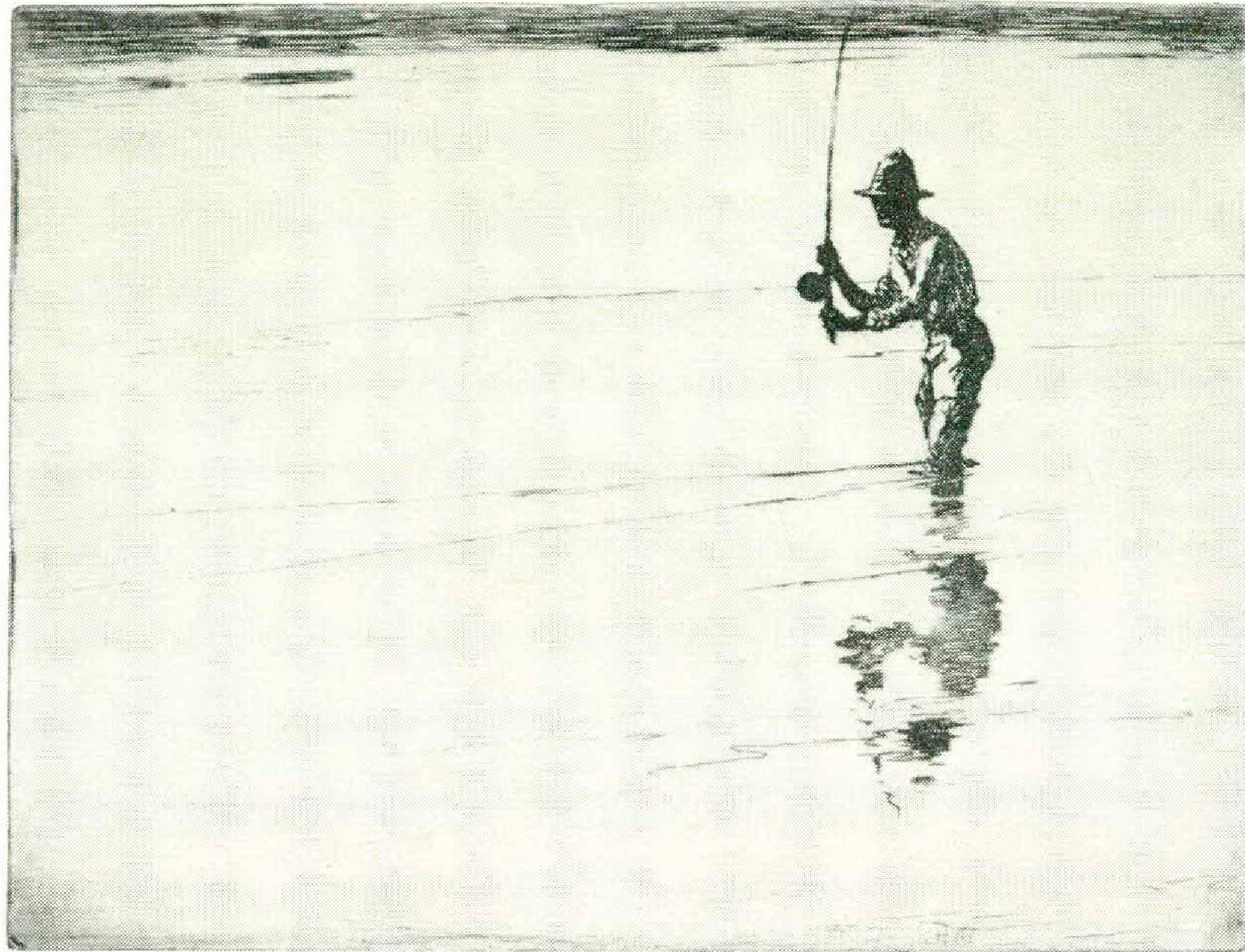 FLY fishermen who live handy to New England's tidal waters are lucky, for when mayfly hatches dwindle on their favorite trout streams they can fill the hot-weather gap of July and August with the striped bass.
School stripers have returned in multitudes to the northern coastal rivers. They school up in the brackish waters at the mouths of these streams, and many an unsuspecting angler has been taken by complete surprise. Two of my fishing companions enjoying a day on the Narraguagus, one of Maine's better salmon rivers, had such a surprise when an incoming tide swelled upstream. With salmon flies they caught a dozen stripers, running three to five pounds — strong, bright fighters stripping out forty yards of backing in their first runs.
Schoolies run up rivers and creeks on incoming tides, feeding on small bait fishes and the numerous sand eels and shrimps that flourish there. They will stay after the top of the tide and remain active until it is well beyond half out. School bass are ferocious feeders that will take streamers and big bucktails, and like to play the shallow sandy bars, the mussel flats, and the eddies where creeks have been deepened by strong rips. There you will see them swirl and break water; fish weighing from two pounds up to eight or ten — but be sure you observe the legal minimum length of sixteen inches.
Your freshwater fly-fishing equipment should include an eightto nine-foot rod, any fly reel with a reliable drag and with a capacity for holding two hundred yards' backing, tapered leaders that you would use for salmon, and the old standard fly patterns, such as the Black Ghost, Grey Ghost, Barnes Special, and the Mickey Finn. My favorite saltwater rod is an impregnated-bamboo nine-foot Shooting Star, with oversized guides of nonrusting metal. The larger guides allow more line to be shot into each cast, and they make it possible to cover more water with less effort. The impregnation processes used on the bamboo make it completely impervious to salt water.
Remember that salt water is hard on tackle. It sets quickly to work on all metal parts. Regardless of how tired you may be on your return, you should immediately wash and oil your tackle on arriving home. Reel seats, rod guides, ferrules, and the intricate mechanisms of reels will suffer if they are left overnight. 1 take my entire outfit into the shower with me. Unless your streamer flies have been tied on rustproof Z metal hooks, they, too, should be thoroughly rinsed. Tubular glass rods are unaffected by salt, but ordinary tackle hardware is not. If the guides become rusted and abrasive pits are allowed to form, an expensive fly line can be ruined in a single day. Dacron sinking lines are safe in salt water but cannot be expected to stand up under roughness in the guides.
IT WAS a hot August afternoon when Bill Hammond and I sped down the Merrimack River from Newburyport toward the flats on the back side of Plum Island. Bill's thirteen-and-a-half-foot Boston Whaler, an extremely stable flat-bottomed craft that allows two men to stand and cast with ease, skimmed across sparse, retreating sheets of transparent sea. We found a likely salt river that wound eel-like through tawny marshes; its channel cut deep through the shallow flats. At the spot where a red buoy, marking mid-channel, tugged and undulated against the outrushing tide, 1 said to Bill, "Right straight across. Just above that red buoy there," trying to sound as if I knew just where the bass would be.
"Have you ever fished here before?" asked Bill.
"Never. But where the shoals drop away into the creek, it looks just right."
"A cold beer for the first fish," said Bill.
"You're on!" said I, and stripped line off my reel. Mine was a sinking Dacron fly line, and a Black Ghost streamer fly followed obediently, at a depth of about three feet, some sixty feet behind us.
Bill guided us with his knee against the wheel as he stripped off a considerable length of line, but I noticed his fly skimming along on the wake kicked up by the motor.
On our first crossing of the creek I felt the heavy take of a fish and shouted, "Fish on!"
The swiftness of the current, the power with which the fish took off in the opposite direction, and the speed we were making all put pressure on my reel, which was screaming.
"I like my beer real cold, Bill," I said; he was reeling in fast to avoid a tangle.
"You've got to get it in the boat first." He laughed. "This river must be full of schoolies."
This first fish was dogged; it made use of the current, too — was, in fact, fifty yards below us before Bill managed to coast the Whaler onto a mussel shoal, where he held it steady with an oar. Not one yard of the way back upriver did the fish yield without fighting. When at last it came to the surface, it was no monster, just twenty inches, silvery in the water from the sun on its scales, my streamer fly secure in the corner of its jaw.
"I'll be damned!" Bill exclaimed. "I was sure it was bigger than that."
On the next four runs of the Whaler across, above the same red buoy, I took a striper each time. Bill drew a blank.
"What goes on here?" he fumed. "What are you doing that I'm not?"
"Let's swap rods for a spell," I suggested.
What Bill had never suspected was that his floating line was dragging too close to the surface. Now, with my rod and my sunken line, he got his first strike.
"Well! That's more like it." He beamed.
"You've been fishing a dry line until now," I said. "You've got to get down a few feet before these fish will take."
After a can of cold beer I left Bill and the Whaler and waded waist deep across the sand bars and black-looking mussel flats in the half-light of a flaming sunset. All about me the bay was coming to life with hungry stripers chopping through frightened schools of small bait fishes. Overhead the gulls and neat-bodied terns, with black-tipped wings and black-marked heads, wheeled and screamed and dived with folded wings for bits of torn flesh and crippled fish drifting away from the slaughter. I could hear the broad tails splashing, the brooklike rippling of the bait schools frantically foaming the surface in useless maneuvers. All the while the birds, screaming ever louder, fought among themselves for tidbits.
When I came back to the boat, the rods were stowed. The Whaler strained against the Merrimack's surge. Time to return.
That evening we split and cleaned our catch and prepared the stuffing (bread crumbs, melted butter, touch of oregano, dash of Worcestershire, finely diced onion, salt and pepper). They baked succulently in the juices, and there was time to make chowder with the heads. For the chowder I used a recipe from Archie Post, my old friend from Vermont University, and master of the dry fly on Maine's West Branch. It goes like this:
Cook six strips of bacon in a pot until crisp; add a cup of chopped onions and fry until they turn gold; add diced potatoes and enough water to cover. Simmer until potatoes are nearly cooked.
In another pot, cover six striper heads with water. Add one big tablespoon of wet mustard and stir well. Add oregano and Worcestershire sauce, salt and pepper. Both pots will be ready about the same time. Combine the contents. Add one cup of dry sherry. Stir in lightly, briefly. Add one pint of milk and a half pint of cream. Maintain heat until chowder is piping hot, but do not boil. Ambrosia.