A Young Rector in an Old Parish
HENRY KNOX SHERRILL was consecrated as Bishop of Massachusetts in 1936. In that office and during his eight years as Presiding Bishop of the Episcopal Church, he was the most influential and best-beloved Protestant leader in the United States. It was in Trinity Church, Boston, first as the assistant minister and then as the young rector of a parish made famous by Phillips Brooks, that his qualities were tested. His capacious autobiography, AMONG FRIENDS, will be published this autumn by Atlantic-Little, Brown.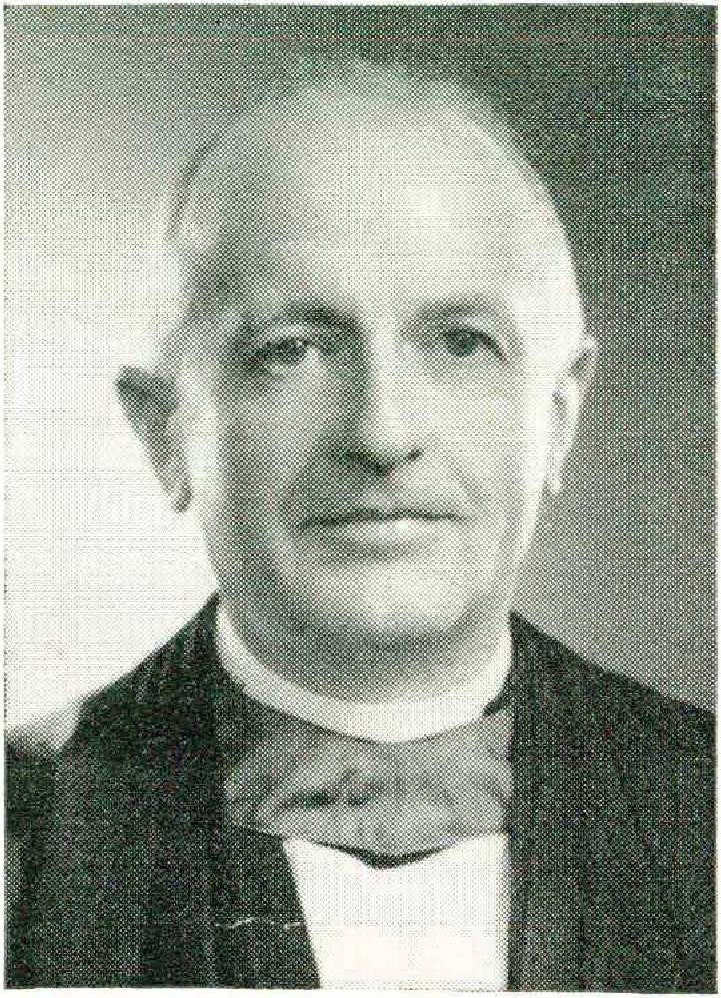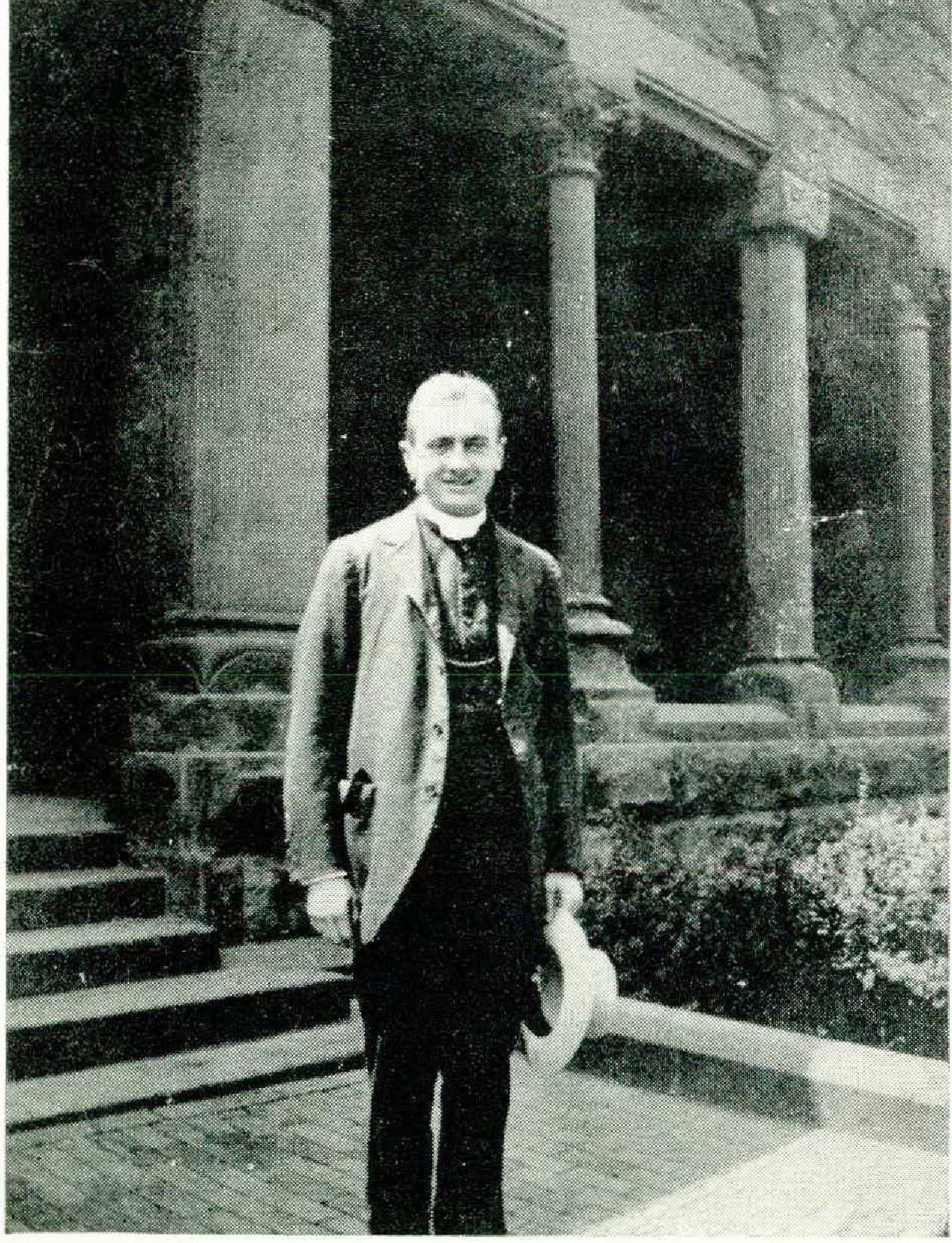 AS I look back, it is possible to see certain turning points in my life which seemed quite insignificant at the time — for instance, that evening at the close of my first year at the Episcopal Theological School when I stopped by the house of Dr. Drown, the professor of theology. Present was the Reverend Edwin J. Van Etten, who had graduated from the school the year before and was now assistant minister of Trinity Church in Boston. He was cordial to me and asked if I would come to Trinity to help him with the Church School and the choir Bible class. As I recall it, I was to receive five dollars a week. I agreed, and thus by chance began a lifetime association with Trinity, Boston, and Massachusetts.
Trinity Church was founded in 1733, and the first building of wood was erected on Summer Street. In 1829 a stone church was built, also on Summer Street, where Filene's store now stands, but this edifice was destroyed in the great Boston fire. Under the leadership of Phillips Brooks, who had become rector in 1869, the great venture was then made of moving uptown to Copley Square, where the present church, designed by H. H. Richardson, was consecrated on February 9, 1877.
My teaching in the Trinity Sunday School, as we called it then, began under somewhat difficult circumstances; the parish house was inadequate, and my class, composed of some exceedingly tough boys in their teens from the South End, met in a partially furnished basement. My task, difficult at best, was complicated by two unforeseen factors. First, the girls in the choir came into the room after the opening service to remove their choir vestments. I defy anyone to hold the attention of a group of boys when such an operation is going on in the room. After the girls' departure, we had a few minutes of quiet. But there was a Silent Mission at Trinity composed of deaf mutes. Their service followed the Church School, but they came early and would stand in the room, talking in their sign language. Under these conditions even St. Paul himself would have found it difficult to expound the story of his journeys effectively.
When my senior year at the Episcopal Theological School arrived, the question was, what next? At that time, as is true today, there was a shortage of clergy, so each one of us had innumerable calls as assistants in parishes throughout the country. Dean Hodges liked to have this matter settled so that he could cross our names off the list. However, none of the invitations appealed to me. Finally, one day he said, "Henry, what are you waiting for — to be chosen Archbishop of Canterbury?"
I said, "No, I want something which really interests me."
The one call which deeply moved me was to become missionary of the Episcopal church at Logan, Utah. I had come to know the bishop, the Right Reverend Franklin S. Spalding, on his visits East, and he became and still remains something of a hero to me. A former Princeton football player, he was tall and spare, with a penetrating mind, skeptical of conventional ways and phrases, and he had a remarkable combination of fearlessness and personal humility. There was something about him which aroused my sympathy, stimulated my mind, and stirred my conscience.
When the call came to work with him, I was in a quandary. It was one of the most difficult decisions I have ever made. I talked with my friends, members of the faculty of the school, and my mother and brother. Finally, after several weeks of painful indecision, I decided that I could be more useful in a city parish. In fact, my urge had been to be with Bishop Spalding rather than accept a call to that particular field of work.
I wrote a letter of declination, and the Bishop replied most touchingly in a letter which I kept for years. "This is a small and difficult field," he wrote. "I drove a number of miles last Sunday to hold services in a shack. I was there before anyone else, lighted the fire in the stove, swept out the place. A little group came who thought I ought to thank them for the privilege of speaking to them. I spoke on one's duty to one's neighbor. A drunken woman interrupted and said that one should look out for oneself. As I tried to straighten her out,
I recalled that two months before I had preached the same sermon in Grace Church in New York, where everything was beautilul. All I can say is that God calls some of us to do this work. As for myself, I love it and would not be anywhere else."
In the meantime Edwin Van Etten was receiving many calls. He told me that it he left Trinity he would recommend me as his successor. Eventually he accepted the rectorship of Christ Church, New York, and one morning I received a letter from Dr. Alexander Mann, rector of Trinity, asking me to become assistant minister of Trinity Church at a salary of $1500 a year and rooms. Not for the last time in my ministry, I was given a cheering word from a friend: "You don't mean that you are going to try to take Van Etten's place?" I replied that someone had to; the position could not remain vacant.
In the Episcopal Church, candidates for the ministry are under the direction of the bishop of their diocese. Canonical examinations, very similar to examinations for the bar, are held before ordination. Since I was born in Brooklyn, I was a candidate from the diocese of Long Island, where I had to return for these tests. My lifelong friend from Flatbush days, Will Roberts, later bishop of Shanghai, and I took all the examinations die same day. We were nervous because the diocese was considered to be so much more conservative than the Cambridge school. Particularly, I was troubled by the examinations in Greek at sight, given personally by Bishop Burgess, who, so far as I was concerned, seemed formidable indeed and somewhat skeptical of my qualifications. I had studied Greek in preparation for Yale but had not continued with it in college, so my knowledge was very limited. But the Lord must have wished me to pass. The month before, in our New Testament course, we were required to write out a translation of the third chapter of the Epistle to the Romans. The only sermon I had ever preached was based on the ninth chapter of the Gospel of St. John. On the appointed day, Will Roberts and I, along with candidates from other seminaries, were herded before the bishop. He opened the New Testament at random and asked me to translate from the third chapter of Romans, which I did as if I had written it. Will Roberts did likewise, for he was a good Greek scholar. The candidates who followed stumbled and stuttered, and I thought to myself that I would be far more embarrassed than they on my second and last round. Again the bishop opened the Bible, and this time asked me to translate the ninth chapter of St. John! Years later, an examining chaplain of the diocese of Long Island told me that they still talked in Long Island of the proficiency in Greek of the students of the Episcopal Theological School. Having passed the examination, I was ordained to the deaconate on June 7, 1914, in the cathedral in Garden City. I had some fear that Bishop Burgess would not release me to Massachusetts, but thanks to Bishop Lawrence's request, he did so, and on July 1, 1914, I became canonically resident in the diocese of Massachusetts, where I have remained to this day.
IN SEPTEMBER of that year I moved into Trinity House and began my ministry. Dr. Mann was on vacation on Cape Cod, and I was to conduct the services and to preach twice each Sunday for three weeks. It was a terrifying ordeal. I rose very early in the morning on Sunday and worked on the final touches for my sermon. When the morning service was over, I thought that I had said all I knew. I daresay those talks had one thing in common; they were the shortest sermons preached at Trinity in decades.
Trinity Church has always seemed to me a great parish for many reasons, but especially because it was made up of all kinds and conditions of people from the Back Bay, the South and West End — in fact, from all over Boston. It attracted a large body of students and visitors from all over the world, who came because Phillips Brooks had been rector, although by then he had been dead twentyone years. To me, at the age of twenty-three, this seemed a very long time, but now I realize how short it was. A great proportion of the parish remembered him vividly, and his presence was constantly felt. In his day, Trinity had been a preaching center, and the parish work was simple by modern standards. Dr. Donald, who succeeded Phillips Brooks, was an able man and preacher, but he felt the burden of his predecessor. In my observation there are two ways of meeting such a situation, to ride the wave or to buck it. Apparently Dr. Donald, with all his good qualities, attempted the latter. It was a heartbreaking, if not impossible, task. Mr. Chester, the sexton, told me that Dr. Donald once said, "Chester. I wish that a hole would suddenly open up so that I could go back underground to the Church of the Ascension in New York."
Dr. Mann chose to ride the wave, referring frequently to the great man who had been his predecessor, much to the joy of the older parishioners. Dr. Mann had come to Trinity in 1905 at the age of forty-live, in the prime of life and strong as an ox. The story used to be told that in Orange, New Jersey, he had converted a man by knocking him out in a boxing contest. He was a muscular Christian who especially loved the game of golf, at which he was not too proficient, as I occasionally beat him. We had a standing joke that if he lost at golf on Friday, we had a gloomy sermon on the next Sunday. If he won, we had a cheerful message ending with a poem. I used to tell him that my job, in deference to the congregation, was to lose.
Dr. Mann's great contribution was to reorganize an extensive parish, notable for its services and preaching, into a seven-day working unit. We had a large number of organizations for men, women, boys, girls, for mothers, students, the aged — for almost everyone. As a preacher, Dr. Mann would be considered old-fashioned today. He preached twenty-eight minutes on the dot. The first twenty-five minutes were given to the Biblical setting: where the people were, who they were, what they had been doing, in minute detail. The last three minutes were devoted to a very helpful application. Once I said to him (this is revealing of his relationship to his assistants),
"Why don't you surprise us by giving three minutes to the setting and twenty-five to the application?" He laughed and said that he would, but he never did. The young organist would wait until the sermon was well under way, note the time of beginning, and slip out for a rest, returning in exactly twenty-seven minutes. I used to tell him that if he tried that when I was preaching, I would stop the sermon. At their best, Dr. Mann's sermons were splendid; in them were a confidence, a breadth, a quality which could be deeply moving.
Dr. Mann was wise, infinitely patient, and generous with his assistants. If we made mistakes, he took the responsibility. If we did well, he gave us the credit. The rectory was always open to us. He was ready to give us any amount of time, as he listened sometimes with puzzlement to youthful programs and sometimes with protests. He was never wholly at home in New England. He was a western New York churchman, a graduate of the General Seminary, but loyal to the core to Bishop Lawrence and to the diocese. His pattern of thought was more conventional and conservative than the current Massachusetts temper. I never heard him say or do anything which was petty or small. I remember I once came into his study to find him deeply hurt; he showed me a letter from a parishioner which was unfairly and bitingly critical of him. I blew up and said, "I would write her a good hot reply."
"No," he said. "Here is my reply." And he read a letter which expressed his gratitude for the parishioner's interest in the welfare of the church.
So Alexander Mann made his mark upon me. Today I do certain things that he taught me almost fifty years ago. His broad spirit has been an example which I hope I have been able to follow. We did not always agree, for I was of another generation and of a different theological background. He had something of a reputation of talking people down, and sometimes when we were arguing, he would shout at me with his admonition, "Now, listen to me, son." I have often told young clergymen who were considering an assistantship, "Never mind the parish, look at the rector." Some clergymen use their assistants as errand boys and view them critically and formally. Such was not true of Dr. Mann, and I am constantly grateful that I was able to start my ministry with him.
THE senior assistant was the Reverend Reuben Kidner. He had been associated with Trinity Church since the days of Dr. Brooks, first in charge of St. Andrew's Mission in the West End and then as an associate in the great parish. He was a small man with a white beard, twinkling eyes, and a benevolent expression. His gifts, at first sight, were small. He was not an interesting preacher, was gentle rather than forcible, and was no organizer. Whenever I started a new organization, he was sure to say, "I move that there be no constitution." His real gift was that he loved people. Never have I seen a better illustration of St. Paul's maxim, "the greatest of these is love." For forty years he moved in and out of the homes of people, usually the least fortunate, and he always remained interested in their problems, trusted and loved them. He had the ability to see something to praise in even the most unpromising. I am anxious not to give a false impression of him in what I am now to relate. He was a naturally spiritual man, everywhere the same, whether in church or out. He recalls to me a sentence written by Dr. Roland Cotton Smith, who said of his childhood in the rectory that "he learned to pray in the house and to play in the church." That was something of the quality of Reuben Kidner. As we were walking up the aisle in the processional, he would whisper to me, "Henry, who is the woman in the big hat behind Robert Treat Paine?" We sat side by side behind the organ during the sermon, and sometimes he would say, "Bully, good," or another time he would kick his feet up and say, "Don't believe a word of it." We used to have a special service in October to welcome the student population. One year Dr. Faunce, the president of Brown, preached a remarkable sermon on the question, "Is Goodness Interesting?" Some ten years later I met him and recalled the occasion. He said that as he went to the pulpit he was overcome by emotion, as he remembered hearing Dr. Brooks preach while he was a student. He continued, "And then I passed a little clergyman on my way to the pulpit. He started to speak to me. Thinking he had a message from the rector, I put down my head and was startled to hear him say, 'Doctor, what kind of a ball team have you got this year?' " I knew who that was, Mr. Kidner's quizzical humor could be quietly devastating. Once when we were in the robing room, Dr. Mann was looking over the Psalms for the day. Suddenly he said sententiously, "I tell you, these Psalms are wonderful," as if he were addressing a congregation. Mr. Kidner shot back, "Oh, gwan, who told you?" Dr. Mann looked somewhat deflated.
The first Easter I was at Trinity, Dr. Mann asked me to preach in the evening. I feared that Mr. Kidner would be hurt. Before the service he saw me looking at some notes and was surprised that I was to preach. After the sermon, as I took my seat beside him, he whispered, "Bully," and his face was radiant because he thought that I had done passably well. He had the gift of losing himself in others. So, from one point of view he lived an insignificant life, serving as an assistant for more than forty years; when he died a great congregation filled the church, thanking God for what he meant to them. In some ways he was the most successful clergyman I have ever known. I pray that a little of his spirit may have rubbed off on me.
The sexton and parish undertaker was Charles E. Chester, a charming old gentleman who had also been at Trinity since the days of Phillips Brooks. He and Mr. Kidner were old friends, but there was a gentle needling in their relationship. For instance, Mr. Kidner would say, "Chester, the only people who will be damned at the last day are sextons. Look at you. When you ought to be down on your knees asking God's forgiveness for your many sins of omission and commission of which we are so conscious, you are seeing that the wind does not blow on somebody's bald head. When you ought to be singing God's praises, you are looking at the furnace. When you ought to be listening to my sermon and applying it to your life, you have retreated into your office and gone to sleep. Oh, Chester, do try and see if you cannot get some religion into that Gospel-hardened old heart of yours this Lent." To which Mr. Chester would reply, "What do you preach but the same old sermons we have heard for forty years?"
MY WORK at Trinity was varied. Since I was superintendent of the Church School, I worked with the boys in the choir, in their Bible class, in various clubs, and in their summer camps. My handicap at the outset was their natural affection for Edwin Van Etten. One Friday afternoon the seminary student who taught the choir Bible class told me that three of the boys had broken up the class by their misbehavior. I talked with the ringleaders and told them that since they could not behave in the Bible class, they could go home and not stay for supper. They sat for a while outside the dining room, not believing that my punishment could come to them. Finally, when I insisted that they go, they filed by me with tears in their eyes. The first boy said, "I am going to write Dr. Mann a letter."
I replied, "I am sure that he'll be glad to hear from you."
The second said, "I will write to Mr. Van Etten."
To which I replied, "It will give him great pleasure."
The third soliloquized, as he passed me, by the door, "To think that this is Mr. Van Etten's successor." But in the end I think that I won them over. I had an inkling when, during a morning service, one of the boys signaled to me. I thought that he had a message from Dr. Mann and leaned forward, whereupon he placed a large juicy chocolate in my hand. On the whole, I appreciated the confidence, though it did present me with a disposal problem.
A crisis arose one day when the boys were boxing in the gymnasium. The champion was an overgrown boy who challenged me to box with him. I had never worn the gloves, so I was not too anxious to put what prestige I had on the line. But a clamor arose, and to preserve my position I had to go through with it. The boy advanced upon me, bobbing and weaving in professional style. I swung one desperate punch, which by good fortune landed on his nose. Blood spurted out. Ma Hunter, our housekeeper, had to bring ice, and I had to see his parents to try to explain the situation. They were dubious, but fortunately I was never challenged to box again.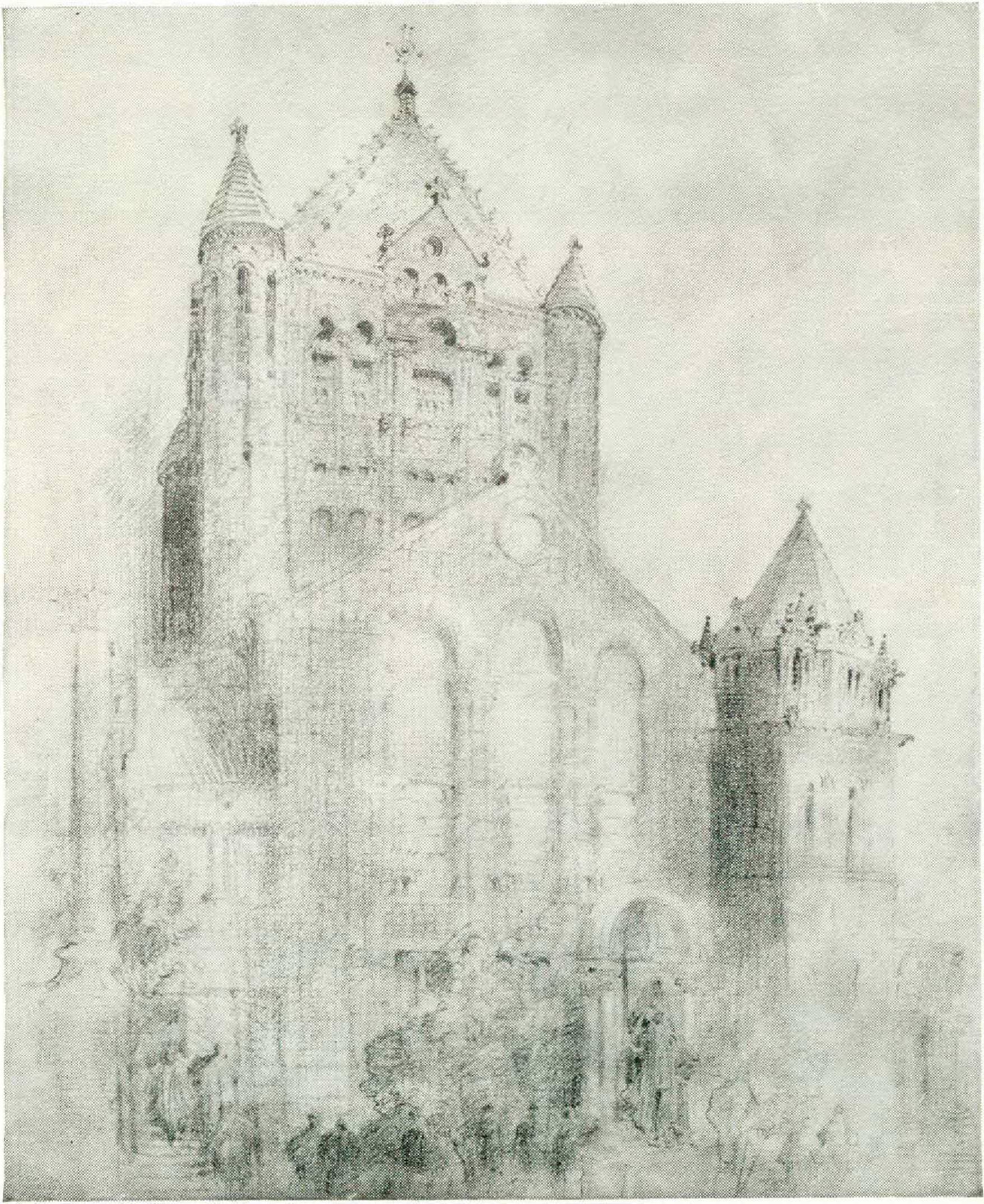 I was young and looked it. One night I went out to mail a letter while it was snowing, and so I turned up my coat collar. A man stopped to ask the way. ''Boy," he began. Then he saw my clerical collar. "Excuse me, Father." It was a rapid transition. The cloth adds stature to one's youth, and I well remember the day when Pa Hunter, our housekeeper's husband, who acted as our janitor, reported to me: "The ashman says that he won't take away our ashes unless we pay him extra." I replied that since the city paid him, I did not see why I should. A few mornings later, while I was eating cereal in the little kitchen in the basement, Mr. Hunter encountered the ashman in the back alley. "You had better get off that cart. This is the cardinal's house, and he wishes to see you." The ashman remonstrated that he did not wish to see the cardinal. But Pa Hunter insisted, and suddenly they both appeared in the kitchen. Mr. Hunter, bowing with the greatest dignity, said, "Your Eminence, let me present the ashman." He was a little man carrying a derby hat covered with ashes. He genuflected, whereupon I rose to the occasion and said, "Why don't you take away our ashes?"
"I will, Your Eminence," said the man.
Pa Hunter: "The audience is concluded." They backed out, bowing very low. All I can think is that the little man was so bewildered that he took in neither me nor the surroundings. At any rate, our ashes were taken away promptly thereafter.
THE war was soon to engulf us all. It is impossible to explain to the present generation the shock of the German invasion of Belgium when we heard of it in America. We had been brought up in a nineteenth-century atmosphere with the belief that the world was growing better and better. We thought we were on an escalator of progress; all that was needed was more science and education. But that illusion disappeared with the capture of Liége. Dr. Mann, at that time, was for neutrality.
I can well recall a sermon he preached on the text from the Psalms, "Yea and I had almost said even as they; but lo; then I should have condemned the generation of thy children." Dr. Van Allen, rector of the Church of the Advent, was a very large man with a high-pitched voice and a witty but caustic tongue. He was for immediate intervention, so he and Dr. Mann debated the issue before a meeting of the Episcopalian Club. Dr. Van Allen declared oratorically that he "would be glad to shoulder a musket and go to the front if necessary." As one looked at his physique, this did not seem the complete solution to the problem.
Bishop William Lawrence, who was to play such a decisive part in my life, ordained me and other classmates, including his son Appleton, in Trinity Church on May 9, 1915. A few days later I celebrated the Holy Communion in the small chapel with my mother and some Trinity and seminary friends present. Despite the countless services since I shall never forget the inspiration of that particular day.
Boston then was an outwardly uncomplicated city with little of the modern traffic and congestion. Some people still went to the symphony or to business by horse and carriage. Businesses, professional offices, and apartments had not yet invaded the Back Bay brownstone houses. I remember in 1915 my mother and brother wished me to purchase a Model T Ford, but I hesitated for a long time, fearing that the ownership of a car might put me out of touch with many of the people of the parish. Yet it did help me cover the ground. Our children and parishioners came from every walk of life and from every part of Boston, and calling was a steady part of my work — up tenement-house stairs and into rooming houses, as well as the calls on the apartments and mansions of the Back Bay. Calling was something of an ordeal. No one may believe this now, but I was exceedingly shy and would stand for some minutes getting up courage to ring the doorbell. The Fuller Brush man was an example to me. I would think, "Here is the salesman who is thrown out of nine places out of ten and still keeps knocking on doors. Can I do less for the Gospel?"
The experiences of a young deacon are new and sometimes disturbing. I am sure that in the first marriage service I held, the groom was less nervous than I, and that in the first baptisms I must have confused the babies' names. My work ranged from escorting a drunkard to the South End Mission to the care and commitment of an insane Chinese student. It always amuses me when people suggest that a clergyman sees little of life. Funerals in a tenement apartment were an opportunity to draw close to people, but also something of a problem. There was the inevitable quartet who, started by a pitch pipe, wished to sing "Beautiful Isle of Somewhere."
All clergymen are subject to nightmares in which the place cannot be found in the prayer book, or the vestments are missing, and so on. Once I lived through such an experience. While I was a deacon, there was a young people's service at the Unitarian church at Audubon Circle. The pastor, the Reverend Mr. Maxwell, who was a sort of high-church Unitarian, asked me to preach and to read the lessons. As this was my first service outside our fold, I was exceedingly nervous. The service was from the Book of Common Prayer. When the Psalm was ended, I went forward to read the first lesson at the lectern. I had never seen one like it. There were two Bibles opposite each other on the lectern, which swung on a pivot. As the Bible facing me was open at the Gospels, I concluded that the Old Testament was on the other side, so to find Isaiah, I took hold of the lectern to turn it about. But the lectern was blocked in that direction, and I had now to turn it three quarters around in the other direction.
But then I found that the division between the two Bibles was not the Old and New Testaments but Genesis to Second Chronicles, so Isaiah was on the outside again. There was nothing to do but to begin where I could, so I seized on a chapter of Kings. By this time the perspiration was standing out on my face. The worst was yet to come. The script was old English, and I could not tell the f's from the s's. I stumbled through a few verses, making very little sense. Here endeth the first lesson. I spent the time during the chant in looking over the second lesson. My second reading was considerably more coherent, except instead of reading "the king cometh," I read "the king foameth." After the service I said to Mr. Maxwell, "That is the meanest trick I ever had played on me."
He replied, "I did not think of it when I asked you, but I certainly enjoyed it. When I first came here I read 'riding upon the soul of an ass.' "
IN THE summer of 1916, I received a letter from Dr. F. A. Washburn, director of the Massachusetts General Hospital, stating that a Red Cross hospital was to be established from the personnel of the Massachusetts General Hospital with the idea of possible service on the Mexican border. Bishop Lawrence, he wrote, had suggested me as the chaplain. After talking it over with the bishop and Dr. Mann, I went to the hospital, signed the roll, and quickly became immersed again in parish work. In April of 1917, after our entry into the war, I happened to meet Dr. Jason Mixter in the corridor of the hospital. He said, "We may be called out any day now."
I said, "Who?"
He replied, "The hospital of which you are chaplain." Friends of mine had gone to serve at Plattsburg, but the possibility of transporting an army to Europe had seemed remote. Now it was our turn to go, and I resigned my position at Trinity Church.
Dr, Mann wrote with characteristic generosity in the Parish Calendar a statement which cheered me as I embarked for the unknown:
Trinity Church makes a real sacrifice for the country in letting Mr. Sherrill go. Modest, straightforward, clear-headed, and efficient, he is eminently fitted for the important work of chaplain of a Hospital Unit, but how surely we shall miss him. May God bless and keep him wherever he goes is the prayer alike of the people of Trinity whom he has served so loyally and the Rector, who feels that in losing him he is losing a younger brother.
So ended my first affiliation with Trinity. The experience gave me an insight into Christ working in the lives of men, women, boys, and girls. I have no recollection of sermons I preached, but it was good to be pushed to do the best. No one could stand in that pulpit and give a suddenly improvised talk.
THE next twenty months were spent with the American Expeditionary Force in France, mostly as chaplain of Base Hospital Six. This was a deep experience with all sorts and conditions of people that brought me into close contact with leaders of the medical profession and was the beginning of a long association with the Massachusetts General Hospital. Upon my return I became rector of the Church of Our Saviour, Brookline, Massachusetts, where for four happy years I learned a great deal from a splendid group of parishioners, including our neighbors Sir Wilfred and Lady Grenfell. I was most fortunate in my marriage to Barbara, daughter of Mr. and Mrs. George B. Harris of Brookline, on September 6, 1921.
In the autumn of 1922 Dr. Mann was elected bishop of the diocese of Pittsburgh, being consecrated on January 25, 1923, with Edwin Van Etten and myself as attending presbyters. In March of that year a committee from Trinity, with my dear friend Edward W. Hutchins as chairman, came to the Brookline rectory and informed me of my election as rector of Trinity Church. It was a very great responsibility, but with the warm support of Bishop Lawrence I accepted because I could not resist the pull of continued association with close friends in a parish which had so greatly influenced my life.
Bishop Lawrence instituted me on Trinity Sunday, May 27, 1923, as the twelfth rector of the parish. In the service of institution, the senior warden gives the rector-elect the key to the church. The actual key to the church was small and unimpressive. With characteristic thoughtfulness, Mr. Hutchins had made a large silver key which he gave to me with the little one attached. Bishop Lawrence in his sermon said, "Trinity Church, when it has come in contact with a new generation, has not stood still. It has studied the situation, and under the leadership of the rector it has moved forward. Now you are entering a new era under your new rector. He is a young rector. Do you realize that he is almost exactly the age of Phillips Brooks when he became rector? Let us keep in mind that the future is as great as the past of Trinity on the condition that the people of the parish are willing to sacrifice themselves. What we believe in, we put our life in. We will put into it that which costs us real sacrifice. Trinity has been the bulwark of the diocese. But let us look at Trinity with a new eye, seeing that there are larger things to be done, that there is broader scope to our endeavor."
The wardens and vestry of the church were a remarkable group of men. Both Mr. Hutchins, the senior warden, and Robert Treat Paine, the junior warden, loved every stone in the church and gave constantly of themselves. Among the vestry were an associate justice of the Massachusetts Supreme Court, three distinguished architects, businessmen of ability, lawyers, and a surgeon, Dr. Jason Mixter, who had been my roommate at Base Hospital Six. The rector customarily presides at the meetings of the vestry, but Trinity has an old charter which provides that the senior warden be the chairman. In many ways this was an asset, giving me a freewheeling opportunity to be an advocate rather than a more restrained moderator.
Our first meeting was held in Mr. Hutchins' law office, though usually we met in the evening at a member's home, and very soon it became clear that we were facing a critical situation in regard to the support asked of Trinity for the work of our church at home and abroad. In the current year we were almost $30,000 behind our pledge, which came as a shock to me. Mr. Hutchins announced this fact, and then added, "We have decided to let this year go and to concentrate our energies on reaching the full amount next year. Dr. Mann left in January, and our new rector has come in May. This deficit, therefore, is the responsibility of neither."
I spoke up almost immediately. "It is not a matter of whose responsibility this is, whether Dr. Mann's or mine. The question is, what happens to the salaries of the missionaries in the field?"
Mr. Hutchins said, "This has been decided."
To which I replied, "This has not been decided so far as I am concerned. The parish has a right to know the facts. Next Sunday I propose to appeal to the congregation — if necessary, over the heads of the wardens and vestry." After a few moments of silence, Mr. Hutchins reached into his pocket, took out a piece of paper, wrote on it, passed it by me to Mr. Paine and the members of the vestry. I had no idea what this meant, and the thought passed through my mind that they were being polled on my resignation. When the paper was returned to Mr. Hutchins, he announced, "We have just subscribed [so many] thousand dollars toward the needed amount. Gentlemen, there is a balance in the treasury. I should like to have a motion that this, too, be added." It was carried. Then Mr. Hutchins, in his courtly manner, bowed to me and concluded, "Mr. Rector, we hope that next Sunday you will ask the congregation for the balance to make up the full amount, with the entire support of the wardens and vestry." I have always felt that the future of my leadership of the parish depended upon those first minutes of my initial meeting. I pay tribute to the understanding and support of those older men. The next Sunday I asked for the full amount, and the money was given. We were on our way.
An amusing incident arose on that Sunday of my first sermon. I preached on the theme that Christianity must not be an aside in life but must be in the center of the mainstream of human affairs. After the service a lady approached me, saying. "I don't think that I am going to approve of you as my new rector. You preached against sisterhoods."I assured her that sisterhoods were not in my mind at all, but to no avail. She continued to iterate that she was certain to be unhappy with me. "I agree with you," I finally replied, "and tonight I will mail you a letter of transfer to the Church of the Advent," which was near her home. She was gone from Trinity for about three weeks. Evidently she missed the family pew and her Trinity friends, for back she came with an unusual letter of transfer from Dr. Van Allen. "Rev. and dear Brother: I enclose a Letter of Transfer for Mrs.-, who for the moment has been a Communicant of the Church of the Advent."She remained thereafter a cordial but quiet communicant.
FROM the outset I felt strongly that we must know the people on our rolls, not simply as they came to church but in their homes. I had no personal confidence that by my preaching alone the parish could either be maintained or built up. So my associates and I went out into the streets, ringing doorbells, climbing apartmentand tenementhouse stairs. We had a weekly meeting of the staff in the rectory study. I led off with an account of my calls during the week, and then the others followed suit. If any of us had been less than zealous for any reason, the parish secretary, who kept the records, would pointedly ask, "Is that all?" This weekly conference gave us the necessary follow-up. Here was a family with children who ought to be in the Church School — refer to the assistant in charge — and so on, straight through the lists.
House-to-house visiting is a vital aspect of the work of the ministry, the outreach of the church. Many of the people who need the church the most are at times unconscious of that fact. They will never come to a parish house or a rectory to discuss their problems. After we had made our calls, even if the parishioners were not at home, the majority would turn up the next Sunday and say, "We are glad that you have not forgotten us, even if we have seemed to forget the church." Many clergy rightly stress that they are available for emergencies. But in times of stress no one wishes to confide in a stranger. Regular and persistent calling is the only real preparation for the crises which inevitably come to every family. Surely it is difficult; in the afternoon I could think of many other concerns which seemed more important at the moment. But I started on the road and would come home rejoicing and uplifted. Naturally, in the early years at Trinity I had periods of uncertainty and depression. So often I found people of the simplest backgrounds carrying with Christian fortitude greater burdens than any I had ever been called upon to face. I found that I lost my own troubles in theirs. My parishioners did much more for me than I could ever do for them.
I am told that times have changed, and what with the modern tempo of life and the new housing conditions, this home visiting is impractical. I do not believe this for a moment. It is a rationalization of the unwillingness of many to undertake an apparently pedestrian task. I realize that there is great pressure upon the clergyman of today to have the institution of the parish move forward in all of its organizations and activities. However, in the past twenty years, I have traveled throughout the breadth of our church, and everywhere I have heard the same complaint from the laity, that they do not see their clergymen in their homes. It apparently makes no difference whether the parish is large or small. If I were to suggest a means of spiritual revival in the church, it would not be the creation of new organizations or slogans, but having every clergyman call every day, resolutely and persistently. I belong to an older generation, but it strikes me that many clergy are too concerned with themselves. Perhaps there is excessive introspection encouraged in the training of our clergy. To find his life, the best thing any clergyman can do is to lose it in the lives of his people. This is not done by uttering broad generalities about sheep but by knowing well each of his own flock.
One of the immediate problems for me was the preaching, for I could not help but be conscious of the great tradition of the Trinity pulpit. For better or for worse, I had never committed my sermons to writing. In France, as a chaplain, it was essential to talk directly to the men without a manuscript. To speak without a manuscript means that one has to live constantly with a sermon until it is delivered. Sometimes a book or an article would ignite a spark; often the idea would come from a parochial experience, and I would wrestle with it the rest of the week, producing an outline which I took into the pulpit. For years a secretary took down these sermons in shorthand and typed them out. I know of no more Lenten discipline than reading in cold blood on Monday what you had said publicly the day before. This certainly was a cause for great humility.
At any rate, I worked hard at it, trying to preach direct sermons within the scope of my experience. As each Sunday passed, I wondered if there would be anyone present the next Sunday. There always was.
One reason for the lack of response to sermons is that they are apt to be too general. People long to be told ways of the spiritual life which they themselves can practice. I almost hesitate to mention several requests I made, since they were so simple. One of my most fruitful suggestions, which came as a casual remark, was to ask the families of the congregation to join in the Lord's Prayer at the Christmas Tree before the presents were opened. After Christmas a lady stopped me outside the church to say, "We had the happiest Christmas ever in our home."
I said, "How was that? Were all the children home?"
She replied, "For the first time as a family, we joined in prayer in our home." Another woman, whose husband rarely crossed the threshold of a church, told me, "I was embarrassed when we came to the tree, remembering what you requested, when my husband said, 'What's the matter with us? Aren't we going to do as Mr. Sherrill asked?' " So the testimony continued. In one way it was pathetic; in another, a judgment upon the vagueness and generality of much of our preaching.
IN DECEMBER of my first year at Trinity, I received an unusual letter from Bishop Lawrence, which I quote at length:
MY DEAR SHERRILL:
I had the privilege of worshipping in Trinity Church yesterday morning, and it was a privilege, for it was extremely gratifying to me, not only to find the church filled, but filled with a congregation that were evidently so keenly interested throughout the service and the sermon. Hearty congratulations on the hopeful outlook. To me it was quite striking, to repeat, the keen attention of the congregation all the way through. The sermon was excellent, really excellent, straight, simple, and had the ring of sincerity. That last was the special point that a Chicago fellow, a law student, who was with us, mentioned.
Having said all of this, which is true, I am now going to make some suggestions and even criticisms, for I know that you want them in order to make an excellent thing even more excellent. I am going to begin at the very beginning of the service and go through.
The Bishop went on to make comments upon the whole service, including the staff. He returned, then, to me.
Now as to reading, I listened perhaps too much as a critic and too little as a worshipper, but being interested in you and Trinity, I thought that a part of my duty, and there had been other times when I have thought of speaking to you on the subject.
The tendency of your reading is towards the minor key, a bit depressing, and as years go on, unless you know just what you are doing and are able to listen to your own voice, the general effect of your reading will be liable to depress the congregation. Of course it is extremely difficult to make the opening sentence heard with the unconscious rustle that goes on at the beginning of the service. That was about half heard, and not so well, of course, as the rest of the service; but I might say this in general, that your voice as you use it is not a carrying voice, and its intonations are somewhat monotonous. You are liable to begin each sentence on somewhat the same note, with a little minor tone to it; and so far as you think of your voice at all, I have the impression that you are trying to fill Trinity Church instead of trying to make some one person who is at the furthest end of the church hear you. If, for instance, when you are facing the congregation, you have your eye on one person in the back pew and talk directly to him, in a pleasant conversational voice, you will be likely to make that one person hear, and that means that the whole congregation have heard; whereas if one makes an effort to fill a whole church, one's voice is farther down in one's throat and is not thrown directly out. . . .
You are of course at liberty to read this letter to any of the others, and even to Mrs. Sherrill. She may jump on me, but you can tell her that Mrs. Lawrence has been a persistently keen critic of reading, style and sermons — and I mean by that an adverse critic; and I have always been grateful that for the first ten or fifteen years of my ministry I was from time to time under a good elocutionist or voice culture person. The congregations get accustomed to a man's voice, and it is very difficult for them to look at things from the outside point of view.
Of course in going around among the parishes, I notice the limitations of clergy everywhere, but do not speak of them, for I do not want to give the impression that I am making visitations in order to criticize; but I have thought that sometimes I should like to get all the clergy of the Diocese, or certainly the younger half, together on a Monday morning, and give them a piece of my mind and experience. Please remember that I would not criticize if I did not think that you were worth it.
I remain with kind regards,
Yours sincerely,
WILLIAM LAWRENCE
That is a splendid illustration of real Episcopal pastoral concern and friendship. I was deeply grateful.
After many years have passed, the details of organization seem less important than the contact with people. But we did have a comprehensive program, with departments touching every aspect of church life at home and abroad. It soon became evident that the parish house was inadequate for these increased demands. Under the direction of Charles A. Coolidge, the noted architect and a vestryman, a new floor was made by running steel beams across the hall in which Phillips Brooks had given his lectures for many years. One of our successful projects was an annual parish supper which brought together all sorts and conditions of people in a happy family gathering.
The parish prospered financially as the number of givers increased. We initiated an Every Member Canvass, with volunteers who would visit all the homes of our parish. This was more than a financial survey, because I asked that canvassers write on the backs of their cards information helpful to the staff. So back would come the cards: "Baby unbaptized." "Children not in Church School." "Has never been called on." Then the staff would follow up the information.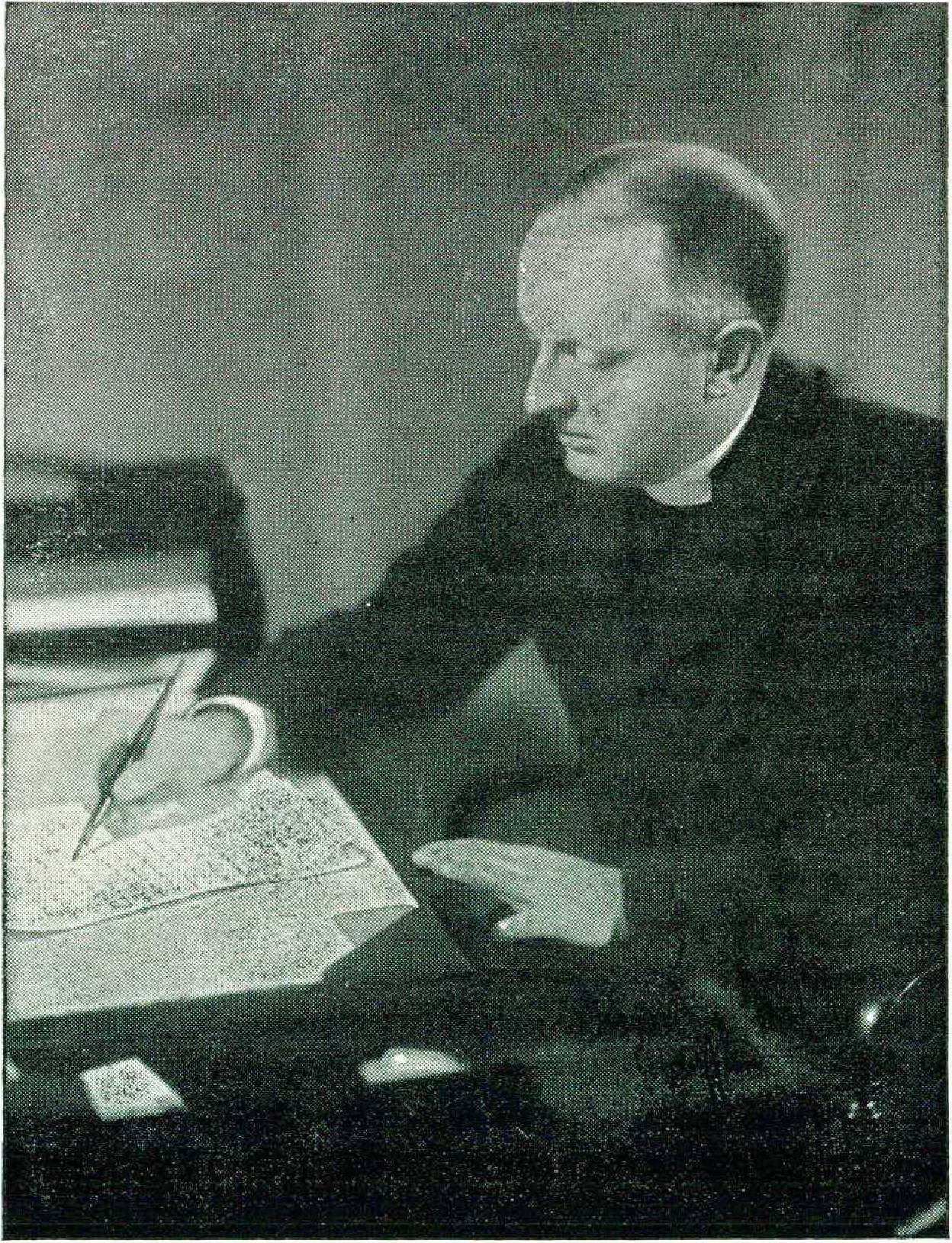 Some people resented being called on; others desired it. We opened the campaign with a letter from me and a budget from the wardens and vestry, and it was stated that if a response was not received by a certain date, someone would call to give further information. One Sunday morning just before the service, a distinguished lady appeared in the robing room with flashing eyes. "Mr. Sherrill, I wish to protest. A man had the effrontery to call me up three times for my gift. Doesn't the church think that my pledge is good? I gave that man a piece of my mind."
I replied. "Why didn't you send your card back by mail? If you had. no one would have called. I should like to know the name of the canvasser. It took a great amount of courage to call you three times. I should like to thank him for his unselfish service to the church and apologize for the treatment he received."
She looked at me sternly and then capitulated. "You are perfectly right, and I want to tell you another thing — my pledge, in the future, will be the first one sent in."
As was to be expected, we had intermittent financial crises during these years. The sandstone of the church is porous, and the whole structure had to be waterproofed. It may be a surprise to people who do not know the Back Bay to learn that Trinity stands on hundreds of wooden piles. If you look through an opening in the cellar floor, the appearance closely resembles a ferry slip. Once the water level receded suddenly, exposing the piles to disintegration. If this had continued, the whole church would have settled. To protect the piles above the water level would have entailed a staggering expense. But owing to the indefatigable and able work of Mr. Paine, the cause of the drainage outside the church was discovered and corrected. At another time, the rear organ went to pieces. Just before Christmas I had a space available in the weekly calendar, so I wrote a few lines to say what a welcome gift a new organ would be. A few days later I was looking through a number of Christmas cards. At the bottom of the pile I almost missed a small envelope. Enclosed was a note from Mrs. Thomas Jefferson Coolidge: "I should like to give the new organ, provided my name is not known." I gave a shout of joy which brought my wife to the top of the stairs. I persuaded Mrs. Coolidge to allow the source of the gift to be announced. Thanks to her generosity, we had the new organ.
IT HAD always seemed to me sad to have Trinity Church stand dark and unoccupied on Sunday nights, so I instituted a Sunday evening service, which in time supplanted the long-established Sunday afternoon service. The attendance varied from a comparatively small congregation on a stormy night when there was no special program to a filled church when there was a special preacher, a pageant, or a musical service. From the beginning I tried to bring in preachers from outside, as I wished our people to be in touch with the whole life of the church throughout the world. It is impossible to list all of the visitors who enlivened our services with their sermons, but surely one of the most loved was Bishop Rowe of Alaska.
Bishop Rowe was a striking figure in the life of the church. A physically powerful man, bronzed from his outdoor life, of positive convictions, he had been consecrated as bishop in 1895. He had been in Alaska during the Klondike gold rush, traveling with his dog teams over the trails through snow and ice. He would visit our home for a week to ten days at a time, arriving worn-out from a long series of preaching engagements. Barbara would insist that he rest as much as possible and have breakfast in bed. When I would take this up to him, he would laugh and say, "This is the life for the bishop of Alaska." I well recall the sermon he preached on his first visit. The church was so crowded that people were sitting on the cushions at the communion rail. He paraphrased St. Paul's description of his labors in describing his own ministry: "Once was I chased by a polar bear," and so on.
He was wonderful with our children and had a great influence upon them. The boys would cluster about him and be thrilled by his stories of the North. He used to play hearts with them. The noise would be terrific. Once he put the queen of spades on my son Harry's trick, whereupon Harry, about ten years old, shouted, "Bishop Rowe, you big bum." Barbara, above the din, cried, "Harry!" The bishop roared with laughter. On his last visit he became very devoted to our small daughter. After that, in writing, he would sometimes address his letters to her rather than to Barbara or me.
In one of his last letters he wrote, characteristically:
DEAR MRS. SHERRILL:
My thoughts of you, your husband and your children have overflowed, and now I must write you I am longing to see you all. For this reason I have decided to go East soon. I cannot get away until Feb. 1 and may stop over a few days in Chicago and Detroit, so it may be in March before I can get to Boston. Tell the boys that I expect to beat them in hearts, so they had better practice up. I hope that you are all well. We are, only I am tired and want to get away from the monotonous grind of things. Give my love to your husband and the dear children with the same to you and every good wish.
Affectionately yours,
PETER T. ROWE
To some on the outside, the church seems to be an organization reft by many controversies and differences. I quote that letter to show that at its best the church is a family bound together by ties of affection and by a great common task. A courageous pioneer of the love of God in Christ in the turbulent and rough environment of Alaska, Bishop Rowe gave us all strength to face the times in which we live.
Besides having visitors to the church, we held special services. I wished to keep alive the memory of Phillips Brooks for the benefit of the young parishioners. The third Sunday in Advent seemed an appropriate time, since it is traditionally devoted to the presentation of the ministry, and Phillips Brooks's birthday fell on December 13. Bishop Lawrence and Bishop Slattery, Dean Washburn of the Episcopal Theological School, and Dr. George A. Gordon spoke of Bishop Brooks from their own personal knowledge.
Dr. Gordon loved Phillips Brooks. Once he said to me, "Much that has been written about Phillips Brooks is no more like him than a prayer meeting. They miss his humor and charm. I will give you an illustration," he continued. "Once Mrs. Gordon and I went abroad on the same steamer with him. One morning he and I were walking on the deck. A lady interrupted, 'Is not this Dr. Brooks?' He turned and treated her like a perfect knight. Then as we continued our walk, he said, 'Gordon, women are a menace to the happiness of man. They should never have been created. You cannot have a vacation even in the middle of the Atlantic.' " But when he saw Mrs. Gordon coming up the companionway, he went into a humorous extravaganza, beating his chest with his fists, and said, "Flurry, Mrs. Gordon, help me defend women against the vicious attacks of your husband."
Dr. Roland Cotton Smith, who had been his assistant, once remarked to me that people have moralized too much about Phillips Brooks. He gave this example. After Dr. Brooks had been elected bishop, and before his consecration, he would walk along Clarendon Street. At the moment he might be depressed. He would meet a man who would say, "Are you looking forward to being bishop, Dr. Brooks?"
"Well, I do not know that I can make the grade."
"Oh, the humility of the great man," the questioner would say as he told of the incident. After another block, Dr. Brooks would be feeling more cheerful. Another friend would say, "How do you feel about becoming bishop?"
"I'll make a bully bishop." Whereupon that friend would use this as an illustration of his selfconfidence.
Shortly before her death, Miss Agnes Brooks gave me a trunk full of letters and memorabilia of her uncle's. I spent a whole summer going through this material. It was a fascinating experience. There were his letters from the Virginia Seminary to his mother, and mementos of his visits to England, including a four-page, handwritten letter from Lord Tennyson.
All this material was available to Dr. A. V. G. Allen in preparing his great biography of Phillips Brooks. But in reading these letters, I was struck by the point made by Dr. Gordon — namely, Bishop Brooks's wit and humility. I made notes of those passages, particularly in letters to his brother Arthur, which emphasize these qualities. Some of the following letters are found in Dr. Allen's book, but they are overshadowed by more important and more solemn matters.
Phillips Brooks revealed himself as a literary critic of ability:
December 27, 1870
I had already got Huxley's brilliant and unsatisfactory little book, so I indulged myself in a little piece of mediaeval mysticism in Rossetti's poems, and as I read over the "Blessed Damozel" last night, I thanked you for it. Have you ever read the Poems? They are Pre-Raphaelitism in verse, and very curious and lively in their way, but you need to go at them in the right mood, — perfectly dreamy, untroubled with practical affairs, perhaps a little drunk might answer. Quick wouldn't like them because they do not preach the Gospel a bit, and Claxton wouldn't like them because there isn't a word of Parish work in them, but they are pretty, nevertheless, when you are not for the moment preaching, and are a trifle tired of Parish work. . . .
March 18, 1877
As a sort of variety in Lent, I have begun to read Miss Mardneau's autobiography. It is as unlike a Lenten Lecture as possible. The calm complacency of her unbelief is wonderful. . . .
Phillips Brooks had, of course, a happy gift of expression.
March 26, 1879
Everything looks very prosperous and promising, though the way in which Bishop Burgess left that Parish with everything ingeniously arranged to be a burden on his successor is a beautiful illustration of the inanity of that man whom everybody praises so, — the man of executive ability. . . .
September 13, 1881
Thank you for your kind note, and I am truly glad that you thought Dr. Vinton's sermon was right. He was a great old man, and the Church will feel him long after it has forgotten him. . . .
December, 1879
You will have to say to your friend who sends me the kind invitation that it will be quite impossible for me to come to the New England dinner this year, just as it was last year. The fact is that Christmas and those Puritans interfere with one another just as they ever did. I believe that they landed just before Christmas so that the celebration of their landing might forever interfere with the preparation of Christmas trees and Christmas sermons. So I can't come. I'd rather like to, all but the having to speak. That spoils a dinner. . . .
Many clergy will be encouraged to realize that he found certain occasions exceedingly difficult.
March 28, 1885
Confirmation is over, and only one more terrible Bible class after tonight. I wonder if those innocent boys have any idea how much I dread the meetings, and how awfully I am afraid of them. I am startled at the idea of holding a "Mission." I don't know how, and so far as I do understand it, I don't think that I have the right sort of power. I have an idea that there are mysterious methods of which I am profoundly ignorant. . . .
From Scotland he wrote of his intimate friend Dean Stanley and of his experience in preaching to the Queen.
Scotland, 1890
Your letter reached me a day or two ago, and it was pleasant to learn all about Commencement up among these wretches who never heard of Harvard. In London everything was pleasant. Stanley was very devoted, and put us in the way of seeing lots of pleasant sights. I preached for him in the Abbey on the 4th of July, and was quite shamed with the way in which Farrar in the afternoon outsaid everything that I possibly could have said about America. Then I went down to Windsor and preached for Mrs. Victoria and her queer company in the castle, which was a funny experience. . . .
Most of this material I gave to the diocesan library, making it available to all who are interested in the original sources.
Phillips Brooks has had an extraordinary influence upon my thought and life, though he died when I was two years old. However, my knowing his friends, living in his house, and my friendship with his nieces made it seem that I had known him. His breadth of vision, his liberality of spirit, his proclamation of the Gospel have so touched me that often in facing problems of today I have turned to him for guidance and inspiration, I cannot, of course, claim him as a friend, but I am grateful that among my friends have been those who cared deeply for him.
ONE of the privileges of being in Copley Square was the opportunity to make friends with the Reverend Dr. George A. Gordon, the pastor of the Congregational Old South Church across the square. Dr. Gordon, born in Scotland in 1853, had immigrated to the United States in 1871. After attending Bangor Theological Seminary, later in life than his contemporaries, he had graduated from Harvard in the class of 1881. When I came to Trinity in 1923 he had been pastor of the Old South Church for thirty-nine years, and there he preached to an overflowing congregation every Sunday. He was a large man with an impressive head and carriage. Possessed of a splendid voice, when he said with his Scotch accent, "the eternal," it seemed, if possible, more than "the eternal." He was a philosopher, a theologian of unusual distinction, a thoroughgoing individualist, and a strong Congregationalist of the old school.
I would be working at my desk in the rectory when suddenly there would be a hard knock on the windowpane. There would be George Gordon with his cane in his hand, calling, "Come out and walk." Sometimes we would walk, and at other times he would come in and bring a benediction to us all. To remember him is to recall his strong convictions, which he expressed with such vigor. Once he said, "A clergyman in New York had the effrontery to stand in a so-called Christian pulpit and say, I am an atheist; I am a materialist.' " Dr. Gordon added, with a magnificent sweep of his fist, "I told my congregation last Sunday that he should have added a third characteristic, 'I am a damn fool.' "
Dr. Gordon had an amusing ability to achieve his own way. Once we had, together, at Trinity the funeral service of a distinguished Bostonian, a veteran of the Civil War. In the robing room before the service, Dr. Gordon asked if I expected him to deliver a eulogy. I replied, "No, it is not the custom in the Episcopal Church, and I would hesitate to make an exception." There was a moment's silence; then he said, "Do you mind if I give a prayer?" I replied, "Of course not." Again a silence. "My voice at my age is not strong. May I go into the pulpit to make the prayer?" "All right." So he delivered his eulogy as a prayer: "O Lord, we thank thee for this man who went into the army in 1861. . ."
With some diffidence I quote from a letter of fourteen pages that I received from him in the summer of 1929. It is revealing of his generous friendship, and of his bountiful encouragement, which was such a sustaining force in my life when I needed it.
DEAR HENRY:
This is a dull day here in Kennebunkport and I presume it is the same in Manchester where you are. I thank you for your most friendly letter which has given me a great deal of pleasure and has made me feel as if Mrs. Gordon and I had been making a call upon Barbara and you in the Rectory and as if I had seen your two splendid boys. . . .
We are unusually well. I have every day with two possible exceptions walked five miles each day. After the forenoon is over we take an automobile drive of about two hours, then we come home to reading in the evening. It is a comfort to be assured of your own splendid loyalty. I have always been confident that it has been one of the chief sources of the happiness of the closing years of my life. A more friendly or a more gallant neighbor I have never had and another delightful interest with me has been to watch you in the steady development of your ministry. You have gladdened many hearts besides mine by the fruitfulness and the good deeds of your ministry and by the sympathy of your own personality. Your opportunity of usefulness is without assignable limit and you are as happy in your work as any human being has a right to look forward to and wish to be. Go on ever more, prosper in the sacred work of your hands and bring the teachings of the great Master to all the many heavy laden and to all the sons of men in the sure, but heroic struggle to rest at length in the ideal ends. My affectionate good wishes and appreciation are with you every day of the week, every Sunday and all the time. Sometime I hope to see you all again, but till that day shall come let us rest in the fine old friendship of the years that are gone. I do not wonder that you were concerned about the piles under Trinity Church and that you had certain anxieties in the matter, but rejoice to know that physically as well as spiritually the foundation of Trinity is strong and unshaken. . . .
Ever affectionately,
GEORGE A. GORDON
Faith is not the sort of thing you can place in a safe-deposit box and then forget. If it is alive, it must be nurtured, and many times it must be fought for. I remember one day reading a book the purpose of which was to destroy the foundations of the Christian faith. As I finished the book, I wondered if I had invested my life in a cause which was not true. Just then George Gordon was walking along across Clarendon Street with head erect, cane swinging. Just the sight of him and the thought of his intellectual ability, his long ministry, rekindled the spark within. That is what the fellowship in the church does again and again.
WITHIN our family a great deal had been transpiring. In June of 1923, Barbara, Harry, and I moved into the Trinity rectory, which seemed filled with the presence of Phillips Brooks. The house, designed by Mr. Richardson, originally had three stories, a bedroom and a guest room comprising the second floor. Later the roof had been lifted and an entire floor inserted. We slept on the third floor, having a parlor and a guest room on the second, using a large center space as a living room. We were made happy by the arrival May 23, 1925, of Edmund Knox Sherrill, our second son. Barbara met the new situation of a larger parish with her usual gentleness and poise. One morning I came home to find an elderly dowager watching Barbara give the children a bath. In the evening I said, "How in the world did Mrs.—— get upstairs?"
"Well," replied Barbara, "when she called I told her that I had to take care of the children. If she wished, she could join me." The old lady was charmed.
Much to our joy, my brother Goldthwaite transferred his business to Boston from New York in 1923. He and my mother lived around the corner from us on Marlborough Street. We had always been a closely knit family; I am indebted to Barbara for many things, but for none more so than the fact that she made such a perfect fourth in our group. My last call in the afternoon was on my mother. When Goldthwaite returned from work, Barbara often would join us, and we would share in the events of the day. Goldthwaite bought a summer home on Coolidge Point in Manchester, and Barbara, the children, and I spent ten summers there with him and my mother.
Mrs. Thomas Jefferson Coolidge on the Point became a dear friend to us all, and it was she who introduced me to Charles P. Curtis, Sr. For years he and I were to play golf together, and once a week we spent a day together deep-sea fishing. Mr. Curtis was an experienced sailor who enjoyed everything to do with the outdoors. Once in Manchester Harbor we fouled the propeller in a mooring rope. I leaned too far over the side to locate the trouble and fell in. Mr. Curtis held me by the belt while I crawled under the stern and cut the rope. The next day, as I was rowing out to my boat, I passed another boat in which sat one of our Trinity ushers. He asked me if I was the man who fell in the day before. When I said, "Yes," he began shouting to another man, "He is, he is." When I asked him what that meant, he said, "That man over there told me that he saw a man foul a rope and fall in. He said, 'He must have been a clergyman, because he didn't swear once.' " A minister is never off duty!
The diocese of Massachusetts elected me as a clerical delegate to the general conventions of 1925 and 1928, held in New Orleans and Washington, U. C. The New Orleans convention took place in terrific heat. The opening service was held in a large park, and my chief comfort was that I sat on the edge of a large fountain. I felt that if I were overcome, I would at least fall into the water. The bishops sat on a stand; opposite them, at the end of an avenue, was the monkey cage. Bishop Brent remarked that there were primates at both ends. It was after this service that Bishop Irving Johnson is said to have telegraphed his wife: "SOS BVD'S PDQ, COD."
This meeting was my first experience in the national work of our church. The convention was in a reactionary mood. The bishops had issued a pastoral letter which attempted to define the faith of the church. This pastoral had been severely criticized by many, including the faculty of the Episcopal Theological School, as being restrictive and legalistic. The result was that it was stated in some quarters that no graduate of the school would ever be elected to the episcopate again, hardly an accurate prophecy.
One of the important matters before the convention was the continuing revision of the Book of Common Prayer. This demanded careful scrutiny, and there were constant roll calls on the most minute matters. There was a number of great addresses. I recall two especially, one by Dr. Frank Nelson, the great rector of Christ Church, Cincinnati, on the Creed, and another by George Wharton Pepper, on the service of the Holy Communion. There were all sorts of proposals. One, as I recall it, was that in the service of the Holy Communion there should be added after the Old Testament Commandments the New Testament interpretation. For example, "Remember that thou keep holy the Sabbath day" would be followed by "the Sabbath was made for man, not man for the Sabbath." The proposer weakened somewhat in his interpolation of "Thou shalt not steal" by adding, "Let him that stole, steal no more." He broke down completely on the Tenth Commandment, "Thou shalt not covet thy neighbor's wife, nor his servant, nor his maid, nor his ox, nor his ass, nor anything that is his," by suggesting as a New Testament alternative, "Seek ye first the Kingdom of God and all these things shall be added unto you."
The convention in its reactionary mood was not in favor of joining the Federal Council of Churches, greatly to the disappointment of Bishop Brent, who was a leader in the field of church cooperation and unity. I was told that some bishop dismissed Bishop Brent's argument by saying that he was a poet and therefore was not to be taken too seriously, to which Bishop Brent was said to have replied, "I do not claim to be a poet; only something of a spiritual adventurer."
I HAD begun to take on a number of activities outside of the parish and the diocese. For several years I held classes in pastoral care and in homiletics at the Episcopal Theological School. It was a joy to have this regular contact with my friends at the school, I tried to bring to the students insight into the life of a parish as I met actual problems in my own ministry. I also gave a brief course in pastoral care at the Boston University School of Theology. Through the years, I have enjoyed meeting Methodist clergymen who were in that class. I served for a number of years on the Board of Preachers of Harvard University, preaching several Sundays a year and taking several weeks of weekday services. This brought me into contact with President Lowell, who never seemed to miss a chapel service. In 1928 I became a trustee of the Massachusetts General Hospital.
For several years I was president of the Greater Boston Council of Churches, which reminds me of my friendship with Rabbi Harry Levi of Temple Israel. Before I was rector of Trinity, we had a meeting of the executive committee of the council shortly after the death of Pope Benedict XV. The secretary had sent a message of condolence to Cardinal O'Connell. To my surprise, a majority objected, and a vote of censure of the secretary was passed. Happily, I believe this could not happen today. Rabbi Levi was a member of the council in those early days, and he and I voted to uphold the secretary. United in this cause, we continued to be friends as long as he lived. He was a sincere religious leader of his people, with a wide interest and influence throughout the whole community.
Human nature is infinitely complex. Today, in the terrible revelations of human cruelty and depravity we are apt to forget the spiritual heights which, with the help of God, man can reach. I had a parishioner, a man greatly distinguished in his profession, who was very popular because of his charm and gaiety. One morning after church he came into the robing room and said that he wished to talk with me. When we reached the rectory, I was astonished to have him say, "I have only six months to live, for I have just learned that I have an inoperable cancer." We talked for some time, and he added, "I have only one desire: to die as a Christian and to be the greatest strength to my wife and family. I should like to bring my wife to see you now." So she came; we talked and prayed. We walked to the car with tears in our eyes. As they left, I said, "I am proud to have such parishioners." Within a week he had died.
It never does for a clergyman to forget his primary purpose. Another parishioner was a Bostonian of the old school, outwardly reserved, at times even gruff. When death struck in his family, I went at once to see him. He began, "I have always been the family undertaker. I know just how I wish every detail." The talk continued on this line. Before I left I said, "I am going to say a prayer that the Peace of God rest upon this family." He straightened up. When I finished, tears filled his eyes. Afterward I had a most beautiful letter from him. We became warm friends because I had been privileged to pierce that wall of reserve.
So I often think of nights of sitting by the bedside of dying parishioners, of trying to be of help at the time of serious operations. One elderly woman of our parish died who had great strapping sons in the police and fire departments. They were utterly at a loss without their mother, and I spent a large part of a Sunday afternoon with them. I tell these incidents not because they are unusual, since every clergyman constantly has such experiences; I relate them because they are illustrations of the opportunity of the clergyman to share the lives of his people.
So THE years at Trinity passed strenuously and happily. I was looking forward to the continued building up of the parish when, after a short illness, Bishop Slattery died on March 12, 1930. While I had known for a few days that he was seriously ill, the news came as a great shock.
Bishop Slattery had been bishop of the diocese for a little less than three years. He had worn himself out in the work. Not physically strong, he had said several times in my hearing that his episcopate was destined to be short. He constantly drove himself: writing books, articles, and letters in his own hand, in addition to his responsibilities in the diocese, the community, and the general church. He was essentially a great pastor and beyond doubt missed the friends of his former parish, Grace Church, New York.
The convention of the diocese of Massachusetts was scheduled to meet in the first week in May, 1930, when the election of the new bishop would take place. During the inevitable discussion within the diocese, several of my friends spoke to me of the possibility of my being nominated. No one asked me if I would accept if elected; I appreciated their consideration because it was impossible to consider all the factors until the election had taken place. That, I felt, depended on the events and the spirit of the convention. My entire ministry had been spent in the diocese with the exception of the years in France. I was tied by deep bonds of affection to Bishop Lawrence and to a great number of clergy and laity of the diocese.
The Sunday afternoon before the convention, Bishop Lawrence and I conducted a funeral service together. As we were waiting for the hour of the service, I said, "Bishop, I presume that I am to be nominated on Wednesday. I wish to ask you two questions: one, should I attend the convention; and, two, if elected, would I be expected to make any response?" The bishop replied, "Go to the early service of the Holy Communion at the convention and then return home. If elected, I would not go to the convention."
Accordingly, I attended the early service and then went home. The Right Reverend Samuel G. Babcock, suffragan bishop, presided. I was told that he made a fine statement explaining that because of his age he did not wish to be considered. He then called for nominations. The Reverend Edward T. Sullivan, D.D., the rector of Trinity Church, Newton Centre, placed my name in nomination, and it was seconded by Judge Philip S. Parker, warden of the Church of Our Saviour in Brookline. Bishop Babcock asked for further nominations, and there was silence. After a brief period, to be sure that the convention knew its mind, Professor Beale of the Harvard Law School moved that the convention proceed to ballot. The first word I had of the proceedings was a telephone call from Daniel Magruder, my classmate at the seminary, telling me that I was the only nominee. Shortly after there was a second call from Dean Sturgis of St. Paul's telling me of my election, and he added, "A committee is coming to notify you and to bring you to the cathedral." I said, "Bishop Lawrence told me not to go." To which the reply came, "He is chairman of the committee."
Bishop Lawrence had evidently changed his mind. He was attending a meeting of the Harvard Corporation when he was told of my election and that he was chairman of the Committee of Notification. So Bishop Lawrence and the committee arrived at Trinity rectory, informed me of the action of the convention, and escorted me to St. Paul's Cathedral, where I was to accept my election. Since Bishop Lawrence had not expected to attend the convention, he was dressed in a gray suit, turned-down collar, and a rather bright tie. As we walked through the long corridor to reach the cathedral chancel, he put his hand to his tie and with a twinkle in his eye said, "Not much of a costume for the occasion."