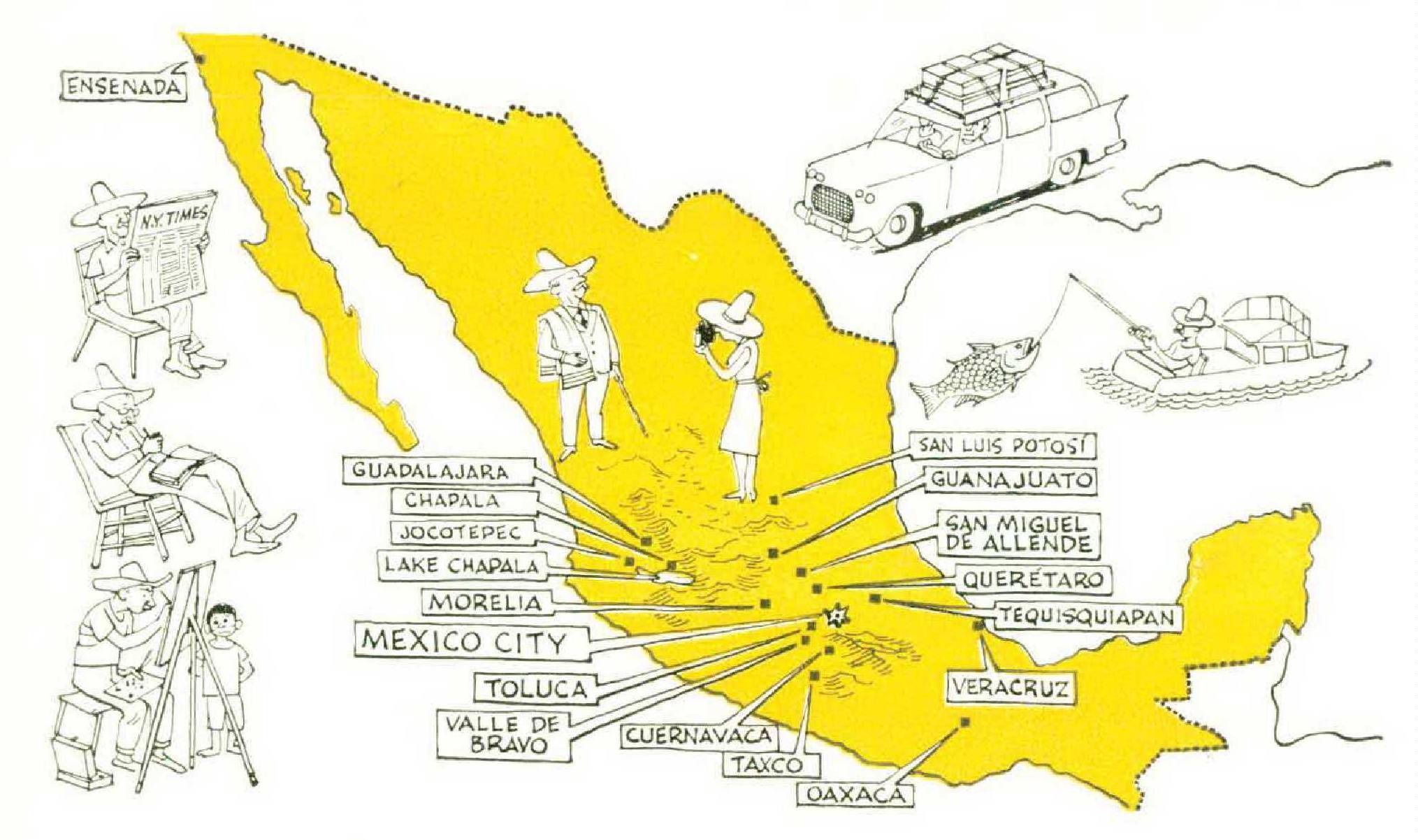 The same sunshine, warmth, and lower living costs which over the past decade prompted mass migration of the newly retired to Florida have led some of the more venturesome to experiment with retirement in Mexico. Today, at least six Mexican resort towns are home to colonies of several hundred Americans; and on the plateau of Mexico, hardly a colonial village is without at least the nucleus of a new colony.
Excluding a small proportion of the retired who have realigned their values in terms of Bacardi at $3.60 a gallon, and a somewhat larger group who found the adjustment too severe and left, the majority appear to have discovered an eminently satisfactory way of life, rich in values which north of the border have long been absent from the scene.
To mention a few: efficient fulltime maids at $12 a month; gardeners at 50 cents a day; new home construction at $4 to $5 per square foot; modern private hospital rooms at $4 to $6 a day; king-size filter cigarettes at 8 to 16 cents a pack; pasteurized milk at 12 cents a quart; twenty-five bottles of excellent beer for $1.80; a haircut, shave, and shoeshine for 56 cents; high-grade stocks, bonds, and mortgages which yield an average tax-free 10 percent; and custommade clothes, shoes, and furniture for less than their machine-made counterparts in the United States.
Such prices, which remind us of the 1930s, actually represent a far greater step back in time. Despite certain modern conveniences — medical care, automobile repair, and supermarkets which are thoroughly up-to-date — contemporary life in Mexico actually lags behind that of the United States by some seventyfive years. Fundamentally, then, retiring in Mexico means transferring the buying power of incomes geared to fast-paced, laborsaving, twentieth-century living to a leisurely paced nineteenth-century life in which it is cheaper to hire a laundress than to own a washing machine.
The result means complete freedom from all household and garden chores, thus providing a maximum of free time in which to enjoy the retirement years. To this challenge of time, Mexico offers a magnificent opportunity to discover one's latent talents and an entirely new life of stimulating interests and hobbies.
For those able to gain contentment through their own inner resources, the problem is not that of finding a hobby but of choosing from the bewildering list available. Almost all the familiar pursuits — painting, photography, bird-watching, and so on — may be followed in new and inspiring settings, while, for such new pastimes as collectingartifacts, colonial furniture, and antiques, or studying archaeology, anthropology, and colonial architecture, the entire country is a living museum of conquest and preconquest history. First-rate opera and ballet are available in Mexico City and, on tour, in such popular retirement cities as Guadalajara. A good seat costs less than one dollar.
For many, however, the lack of ability to enjoy this extra leisure time, and not to kill it, marks the demarcation between success and failure. As elsewhere, the most successful retirees are those who have capitalized on and made the best of what the country offers.
Item: Two American ladies were shopping in a supermarket. One, unable to read Spanish labels, chose familiar imported American-brand goods at twice U.S. prices. The other, knowing Spanish, bought Mexican-brand goods of fairly equal quality at 20 percent below U.S. prices.
Item: Two American couples built two-bedroom homes of equal size. One couple, using a modern functional Mexican plan designed for outdoor living and built of concrete, paid $4700. The other, using an American design and unfamiliar American-type materials, ended up with a boxlike house for $6800.
Item: One American, unable to watch familiar TV programs, became a chronic alcoholic. Another, also a former TV enthusiast, became interested in colonial architecture and decorated his home with beautifully glazed antique tile, roughhewn beams, and Indian-motif stonework bought from housewreckers for next to nothing.
Invited to lunch with a retired couple from Arizona, this writer was met at the door by the host, who was wearing a Mexican-tailored suit of finest Cots wold worsted and custom-made shoes. The home, a renovated colonial-era Mexican house with a central patio, looked inward on a charming garden open to the sky. Open walls turned rooms into an extension of the garden. Rooms were lofty and spacious, with tiled floors and heavily timbered ceilings. Exuberant folk art covered the rough-textured walls. Each room had a fireplace. Leased for ten years, this home cost the couple $35 a month plus $1000 spent on modernization.
Lunch was served at an enormous refectory table set with local weavings and buff-colored Tlaquepaque tableware. Starting out with oyster cocktail, the meal passed on to delicious caldo de pollo (broth) followed by red snapper Veracruz style, charcoal-broiled filete with guacamole (salad), and a dessert of mangoes and cheese — all capped with strong unblended Mexican coffee and the truly superb Kahlua liqueur. Over afterdinner Dorado cigars, the host disclosed that the lunch had cost slightly over one dollar per head. On the same retirement income in Arizona, the couple had had to live quite modestly in a small house.
The easiest, best, and cheapest way of retiring to Mexico is simply to sell one's furniture, enter Mexico on a three-dollar 180-day tourist card, buy appropriate furniture of Mexican design and fabrics, and rent an unfurnished house or apartment. Typical rent for a spacious, modern two-bedroom home is $35 to $50 monthly in smaller places and $45 to $60 in larger cities, excluding Mexico City and very fashionable resorts. (Older homes cost less.) To furnish such a house in high-quality, contemporary Mexican styles would, with gas range and refrigerator, probably cost less than $1500.
As a tourist-card holder, one must return to the border twice annually for a renewal. The trip takes three or four days by car, bus, or train and more than pays for itself when one uses the opportunity to purchase the few items, such as ready-made underwear, which are comparatively more expensive in Mexico. Upon entering as a tourist, one may import duty-free a car, trailer, boat, portable typewriter, and an astonishing variety of portable personal possessions. One is not required to show proof of financial capability or to possess any minimum fixed income. By the same token, a tourist may not seek employment or purchase real estate in his own name. To own property legally involves a cumbersome, expensive procedure which few Americans consider worth the trouble.
The reader contemplating Mexican retirement would do well first to spend a vacation touring the dozen or so most popular retirement locales. With two or three exceptions, all lie on the southern plateau of Mexico, a high tableland in which the climate is a compromise between the eternal summer of the tropics and the eternal winter of high mountains in short, eternal springtime. Here, soon alter the conquest, the Spaniards built their colonial cities in the most ideal locations. Perhaps nowhere else on earth is there such a concentration of fascinating towns in a climate so admirably suited for retirement.
For example, this writer's desk is located on a latitude of 20 degrees north, which is slightly south of Honolulu and well south of such notoriously hot cities as Hong Kong, Calcutta, and Cairo. Yet a temperature of 70 degrees in mid afternoon in July is not unusual here. The elevation of five thousand feet is responsible. In January, the thermometer will read a balmy 61 degrees. From October until June, the skies are clear and sunny, and the relative humidity, a low 60 percent. From mid-June until September, short, sharp evening thundershowers keep temperatures at invigorating levels.
This uniformly ideal climate is found only in the south central plateau of Mexico in a rough triangle formed by the cities of Tepic, Pachuca, and Oaxaca and measuring approximately six hundred miles along the base. This relative compactness allows the area to be toured by car or by comfortable first-class buses in about twenty-one days.
As in the United States, each town has its own personality. Places like San Miguel de Allende and Taxco attract the industrious hobbyist; others, like do-nothing Ajijic, are better suited for rest and relaxation.
Armed with a good travel guide, the motorist will find driving most enjoyable. Highways are generally good; traffic, light. There are plenty of hotels, motels, and restaurants in all price brackets, gas stations, and repair shops in every city; and the scenery is magnificent. The bus traveler may duplicate a motorist's itinerary with the aid of the Guia de Transportes Aereos y Autotransportes de Mexico, a complete bus timetable on hand in most Mexican hotels and travel agencies.
En route from the border to pick up the circular retirement tour outlined below, the motorist should, if traveling Mexico's Highway 57, pause to look over such potential retirement towns as Saltillo and San Luis Potosi, both within easy reach of the border. If following Highway 45, he should visit the health resort of Durango and the neat spa town of Aguascaliemes; or if on Highway 15, the refurbished colonial town of Alamos and spick-and-span Tepic. Starting from Guadalajara and proceeding by main roads in a clockwise circle, he would then encounter the following popular retirement towns, in the order given.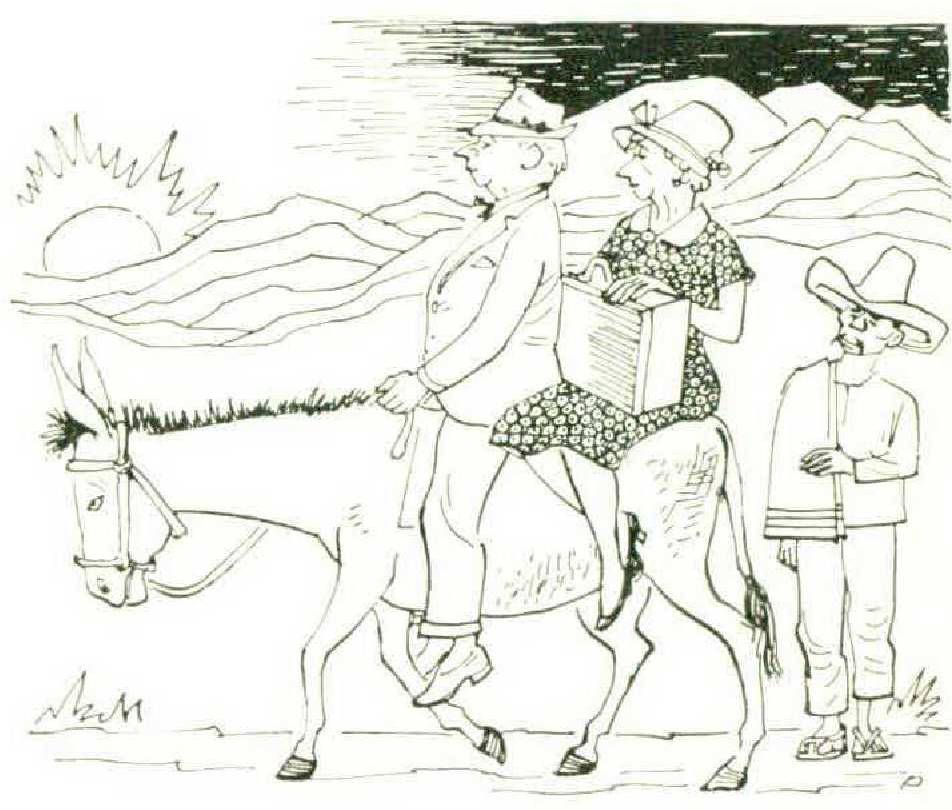 Guadalajara: Mexico's second largest city, a thriving, dignified metropolis with every modern convenience, a large expatriate colony, and quite reasonable prices. Guanajuato: a spotless and delightful colonial town tucked away in a deep Sierra gorge; it has a small retirement colony and is not very expensive. Querétaro: a pleasant colonial state capital almost unknown to retiring Americans, and with resultant low costs. San Miguel de Allende: so purely colonial it has been declared a national monument; the home of a large American-run school of fine arts and a correspondingly large Yankee colony; costs are nonetheless moderate. Tequisquiapan: a small, neat, clean health spa with a small colony and low costs. Mexico City: in most people̵s opinions, too high, cool, and expensive for retirement, but it has splendid cultural entertainment within easy reach of nearby retirement towns. Oaxaca: reached by a 345-mile side trip from Mexico City; a green-hued colonial town in southern Mexico with low costs and a well-established retirement colony.
Cuernavaca: a busy, fashionable international resort within an hour of Mexico City; it has a large foreign colony, and correspondingly high prices; within a few miles are the atmospheric Aztec village of Tepoztlán and the spa of Cuautla, both with lower costs. Taxco: a picturesque hillside silver-crafts village, rather touristy, but with an ideal climate, an art colony and school, and medium prices. Valle de Bravo: west of Toluca; a cool, tranquil, high lakeside resort that resembles Scotland and is home to a small colony of English, Americans, and Swiss. Morelia: an old refined Castilian city well known for its music and cultural activities; it has a small American-Canadian colony and reasonable costs.
Uruapan: a semitropical garden town with a small American colony and extremely reasonable prices. Jocotepec: a quaint Indian village on Lake Chapala with an American colony and fairly reasonable prices. Ajijic: a slightly raffish and bohemian Lake Chapala retirement village with an American colony of over three hundred and medium prices. Chapala: a bright, musical Lake Chapala resort with green plaza benches like those Saint Petersburg used to have, an extensive retirement colony, and medium costs. Guadalajara lies an easy forty-minute drive north of Chapala.
Although the same pattern of climate exists throughout the Mexican plateau, one may literally choose one's temperature by selecting a lower or higher altitude. For example, the average temperature at San Miguel de Allende (elevation 6157 feet) is 63 degrees; that at Cuautla (4271 feet) is 72 degrees. At 5000 feet, elevation of the average plateau city, the climate is mild all year, and the altitude considered safe for all but those with the most serious type of heart disorder, degenerative disease, or extreme nervousness. Sufferers from these ailments should, therefore, consult their physicians before deciding to live on the Mexican plateau.
For those to whom sea-level living is essential, the ideal area lies around Ensenada, which is just south of San Diego, California, and shares that city's delightful Mediterranean climate. Here, proximity to the border raises costs. But if a tropical climate is no obstruction, there are attractive coastal towns such as colonial Veracruz and Manzanillo and the charming fishing village of Puerto Vallarta — all having a climate similar to south Florida — where one may live quite regally on comparatively little.