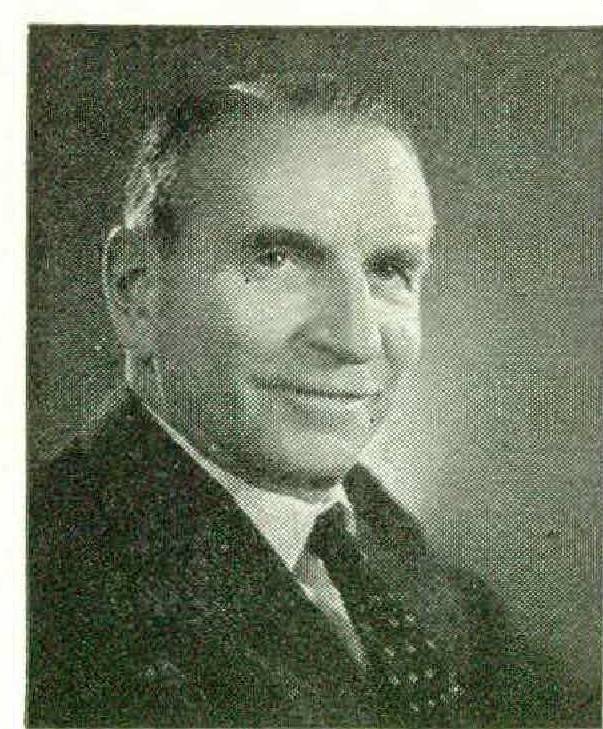 EDWARD WEEKS
THIS is the time of year when college seniors begin winding up their affairs. In Harvard of my time, the early 1920s, we prepared for Class Day exercises and the spreads that went with Commencement. It was also traditional that, garbed in white overalls, we should go off to some idyllic spot for a Senior Picnic.
Whoever was in charge of the party — may he rest in peace — had planned that we should spend the day at Lake Suntaug in Lynnfield and that we should be driven out in trucks leaving the Harvard Yard promptly at 9:30 A.M. He also made it indubitably clear that there would be no hard liquor available at Suntaug at any price. This posed the class with the problem of drinking at breakfast — an experience rather new to us — for, though a certain amount of alcoholic content could be, and indeed was, taken on while we were inscribing the overalls with our nicknames and mottoes the night before, we all knew that we should have to have a real skinful if we were to get the most out of those hours at the lake.
There was something about what we drank during Prohibition that made it easier for the beverage to go down in a softly shaded light rather than in the cool dawn, and this wasn't a cool dawn. The sun came up hot and brassy, and the day got hotter by the minute.
I remember some of the concoctions I sampled in Hollis. There were fruit punches with a lethal base of pure grain alcohol. There were orange blossoms, and a tin cup of gin mixed with canned grapefruit juice which went down like a steel file. Peirce Romaine was the bartender for the top floor of Hollis, and he had just learned how to mix silver fizzes. So Bill Whitman and Bob Hopkins, Peirce and I took aboard our bathtub gin all frothed up with the whites of eggs and God-knowswhat. After that someone gave me a stirrup cup of New Jersey applejack. By 9:00 things were growing a little hazy. Les Crockett told me that he and his gang had breakfasted at the Stylus, where they poured port wine on shredded wheat. Ted Parks's recipe was to mix grain alcohol fiftyfifty with non-alcoholic Virginia Dare wine, and he dared me to try it, and I did. On the ground floor of Hollis, Porky Bryant had put together equal amounts of alcohol and water in a gallon jug, thus achieving 100-proof result, and to this he added the peel of two or three oranges. They imparted a noticeable orange bouquet to what came out of the jug, and as Porky was serving it with ginger ale, it didn't really matter. But I seem to remember that when that jug was empty, the orange peel came out; in an incredibly short time the peel had achieved the consistency of a potato chip, and for an instant there were qualms about the possible effect of all this upon our innards,
The trucks left in procession at exactly 9:45. They were open trucks with no seats, so we simply stood up, swaying and holding onto the sides or each other. The sun blazed down, and if you think this is the best way to treat a skinful, you are mistaken.
When we reached the Revere Beach Parkway, some joker in the second truck bribed the driver to race with the one in the lead. The two trucks drew even, and with a narrow gap between, they ground along at 35 mph. At this point Tom Fry thought it would be fun to jump from the second to the first. It wasn't, for he missed; fell between, fractured his ankle, and had to be taken to the Lynn Hospital by some strangers who were following in a car.
We arrived at last at Suntaug, hot and sweating, and I, for one, inwardly disturbed. The lake was the most inviting thing we saw, and even though the water looked low and a little murky, there was a rush to get into bathing suits. Dennet Withington was one of the first out, and I remember he sprinted down the dock and took off in a lovely dive, ending feet up with his head and shoulders wedged tight in the soft muck of the bottom. The water at the dock's end was a foot and a half deep. Later we ate luncheon on wooden trestles with the sun beating down at 88 degrees. It was a light affair of frankfurters, pickles, potato salad strongly laced with onions, and milk. Potato salad with onions has always disagreed with me, and after my second forkful I became a cuckoo clock, burping regularly at five-minute intervals for the rest of the afternoon.
Now we were beginning to turn red, with the lovely long afternoon still stretching before us. I remember Alex Steinert saying in an undertone, "Ted, do you think there's any possible way of getting out of this?"
"Well," I said, "let's ask Bill." Bill Whitman was engaged to Marjorie Warren, and maybe she would respond to our SOS. "Bill," I said, "for God's sake, do you think Pargie would come out in her car and get us? Tell her that we'll leave through the bushes and meet her on the corner by the turnpike."
We did, and that's how we got home, and that's enough. This was the picnic to end all picnics. The seniors never had another.
SOLACE IN DOING
PEARL BUCK is one of those rare Americans who knows the Orient as well as she knows her homeland. She has lived through three careers and is now actively engaged in a fourth. As a child of missionary parents, she learned to speak Chinese and to love her foster country. After college, her first marriage to her missionary husband brought her back to China but not to happiness: their eldest daughter was retarded; the home ties were disrupted; and China itself became increasingly hostile. Back in the United States, struggling to find her feet as a writer, she came under the sympathetic editorship of Tom Walsh. She was determined not to commit herself emotionally, and she turned him down again and again, but when they were married and set up their home together in Pennsylvania, she entered a third career of more than two decades which was to bring her the triumph of the Nobel Prize and a companionship beatific, marred only by Tom's long last illness. The doctors finally held out no hope. It is against this background that Mrs. Buck has written her new, compassionate book, A BRIDGE FOR PASSING (John Day, $4.50).
She first passes over the bridge on her way to Tokyo, where she is to assist a Japanese company in the filming of her book The Big Wave. This is her first sight of Japan in twenty-five years, and although she had been here often in her girlhood, she is unprepared for the startling changes that have occurred since the American occupation. She gets on famously with the burly Japanese producer who is strenuously turning out a new picture every week; she joins in the casting and in the search for the sets that are needed, including a fishing village, a live volcano, and a tidal wave. Then comes the long-distance telephone call telling her of Tom's death, and back over the bridge she hurries. When she is released from the shock, she returns to Japan a different woman, lonelier, more given to reverie and to walking by herself. By day she is a buffer in the tense struggle between the Japanese producer and the American director; by night in the empty hotel room she finds consolation in reliving her happiness with her editor. At all times she is observing and judging the Japanese character, and these findings fill some of the most fascinating pages in the book.
"The Japanese woman," says Mrs. Buck, "has always been stronger than the Japanese man, for, like the Chinese woman, she has been given no favors." Mrs. Buck notes the effect of American courtship, of intermarriage between Japanese girls and American soldiers, and of the orphans who are cared for in organizations run by her friend Miki. She cites the courage of these people living on their dangerous islands, where there is an average of four earthquakes or tremors a day; and she remarks the combination "of delicacy and strength, of tenderness and cruelty . . . usual in the work of Japanese writers." This book will be a touchstone for those made desolate by sorrow, and in writing it Mrs. Buck lifts our spirits as she revives her own.
THE BEST OF JOYCE CAREY
JOYCE CAREY, of Anglo-Irish stock, joined the Nigerian political service in 1913. He fought in the Nigerian regiment during World War I, was wounded, and on his return, as a magistrate and executive officer, his ill health made it unsafe for him to continue in tropical Africa, and he went home to write. His first novel, Aissa Saved, was published in 1930, and his most exciting and probably his best book, THE AFRICAN WITCH, has just been reissued (Harper, $3.95). In his preface he tells us that he began making sketches for The African Witch in the mid-twenties, using as his model an African nationalist of extraordinary violence. He brooded over the story for close to a decade, and when the novel appeared in 1936, it was, he says, "at once treated, even by serious officials, as an attack on their administration; by street corner politicians, as a work on the colourbar," and he adds, "political ideas and political arguments were a good deal more innocent than they are to-day."
The novel opens at the Rimi races in Nigeria, attended by great crowds of natives and sometimes as many as thirty whites, including the Resident. The Emir of Rimi is wise enough to stay away, although his three chief officers, wearing large blue turbans, are usually to be seen near the starting post. On this occasion the private ground of the enclosure is profaned by two Negroes in European dress, the taller a local revivalist and agitator called Coker, and with him the young claimant to the Rimi throne, Louis Aladai, the first of the Rimi to attend Oxford, from which he has just returned.
This is the story of conflicting emotions within the tight little British community as Aladai, a charming young man with more than a little common sense, presses for their recognition, for their help in preparing for the education of the Rimi, and for their support in his claim for the emirat. Out of jealousy the Emir has forbidden the young man free access to the town, and his case is still further jeopardized by his sister Elizabeth, who operates a juju house in the third ward of Rimi Town with such cruelty and secrecy that she has become a priestess of almost unchallenged power. The only liberal among the British is a crackpot, but the three who respond to Aladai's dilemma are young and attractive: Captain Rackman, the Irish centaur, with his keen wit and short temper, whose reactions one suspects arc pretty much those of Joyce Carey himself; and, with Rackman, the two Englishwomen who dote on him, his fiancée, Miss Judy Coote, a bluestocking who knew Aladai in Oxford and stands up for him now, and Miss Honeywood, the beauty who is drawn into the fracas against her better judgment and because of her adoration of Rackman.
It is a tense and at times a cruel situation, revelatory of the ignorance which then prevailed on both sides. Even Judy, who occasionally ventures to talk about the world-state in which there would be no distinction of color, is hardly a radical. "I shouldn't think there'll be much intermarriage," she remarks. "But at present I think you've got to consider the political situation. The blacks out here are not fit to run their own show, and it will be a long time before they learn." Aladai, of course, is the first to have gone through the training process, "one in a million," as he likes to think, and it is a fair measure of Mr. Carey's skill and restraint that Aladai's exuberance, his eagerness and naïveté are conveyed with such sympathy against the uncompromising decrees of the 1930s. In its staging the book is occasionally disconnected, but it is a fine and graphic story, authentic in its setting, and revealing, in its comparison with today, the slow headway that has been made in tropical Africa.