Anything written about the effect of money on life in the United States ought to be in the past tense. There was a time, that is, when money really meant something. A dollar was not an infinitesimal sum; neither was a nickel. One recalls a reverseEnglish witticism, "It's only money," which was mentioned when a price seemed exorbitant, and which might even get a laugh from those who hadn't heard it before. But nowadays, the same line would be played straight, and all within hearing would amiably concur: it's only money, and what it will buy is very little indeed.
To begin thinking about prices as, for example, they stood at the beginning of World War I is to be overwhelmed by reminders of what a dollar used to do for its owner. Many daily papers cost a cent, and a nickel on Sunday, and home delivery to the subscriber was a matter of about $5.00 a year for what costs today just nine times as much. As a schoolboy I used to lodge at the McAlpin when I was hard up, in a comfortable room, well kept, for $2.00 a day, and when in funds, at the Waldorf, a block away, for $3.50. The Ritz-Carlton was a little too steep for me at $4.00 to $5.00, and I still regard the Thirty-fourth Street Waldorf as the most glamorous and exciting hotel in my experience.
The treat for a schoolboy at the Waldorf was a pot of chocolate in the Men's Café; the portion consisted, simply, of a large silver pot of rich bittersweet chocolate, a large silver pot of scalded milk, and a long silver dish piled with heavy whipped cream – all grouped on a silver tray at a tariff of thirty-five cents. As a generous tipper, appreciative of good service, one gave a waiter or bellboy a quarter. There were no hotel maids; at any rate, they worked when no one was around and without demanding cash in advance for straightening up a room.
To return briefly to the nickel: it would buy, in packages of ten, Hassan or Mecca cigarettes, with a colored photograph thrown in of a celebrated ballplayer or prizefighter of the time; a variety of domestic cigars (when Havana cigars were about three for a half-dollar); a ride in the subway; and much of the contents of what was, in all truth, the five-and-ten-cent store. The hottest competition at this price was among the saloons, most of which boasted of putting out the biggest five-cent schooner of beer in town.
The real competition by saloons lay in the nickel beer and equally in the quality and variety of the free lunch offered with it. A certain amount of etiquette, no doubt, governed how heartily one might feed on the basis of a single schooner without a lift of the bartender's eyebrow, yet the free lunch in a firstclass saloon was a vast assortment of cold dishes, possibly a hot delicacy or two like melted cheese on toast, but often flanked by a standing roast of beef and a ham, both of towering dimensions.
In a Chicago bar called Righeimer's, the free lunch was a ham or roast beef sandwich of extraordinary quality, prepared by an elderly Negro who used a slicing knife in each hand and turned out elegantly thin sandwiches without handling them, offering them to the customer on the extended blade of a knife; the style and dexterity in this operation were as attractive as the sandwich itself.
Theater tickets, for the thirty or forty attractions available of a winter evening in New York, were somewhere around $2.00 to $2.50 for the best seats and considerably less in the balconies. After the theater one went not to a nightclub but to a cabaret such as Shanley's, Churchill's, or perhaps – a few years later – the Midnight Frolic on the New Amsterdam roof. For two or three dollars a head, one found not only first-rate entertainment in these places but also notably good food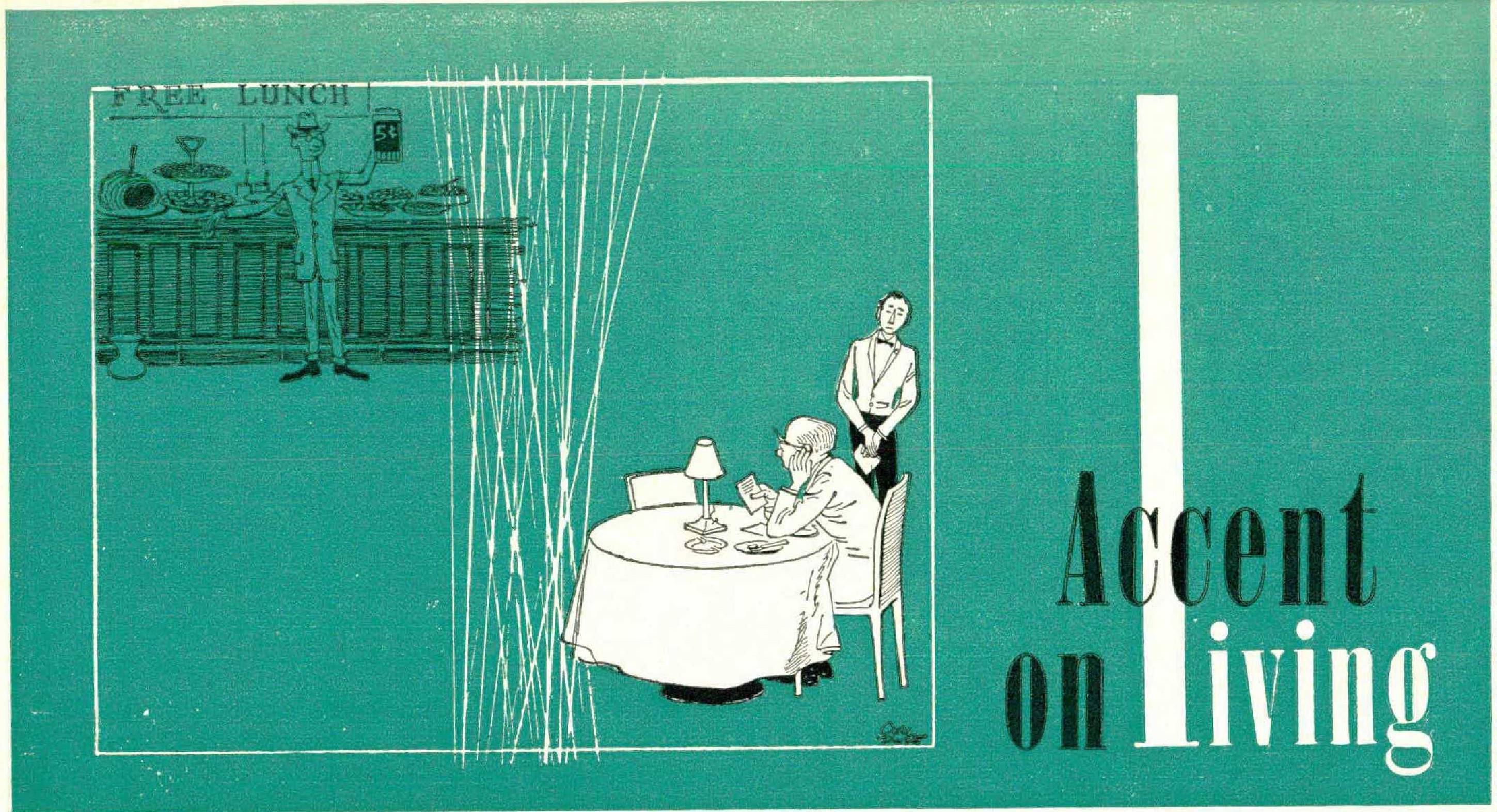 and drink; the competition among their kitchens was just as serious as that among the good restaurants. One other quip of that period points up what a dollar would do: the man who was complaining to the waiter about being charged a dollar for an order of corned beef and cabbage and who said, "You couldn't lift a dollar's worth of corned beef and cabbage."