The Cost of Vanity
In 1962, a member of The Atlantic's editorial staff submitted herself to the full treatment of New York's most famous beauty salon. She emerged refreshed and impressed, with this story to tell.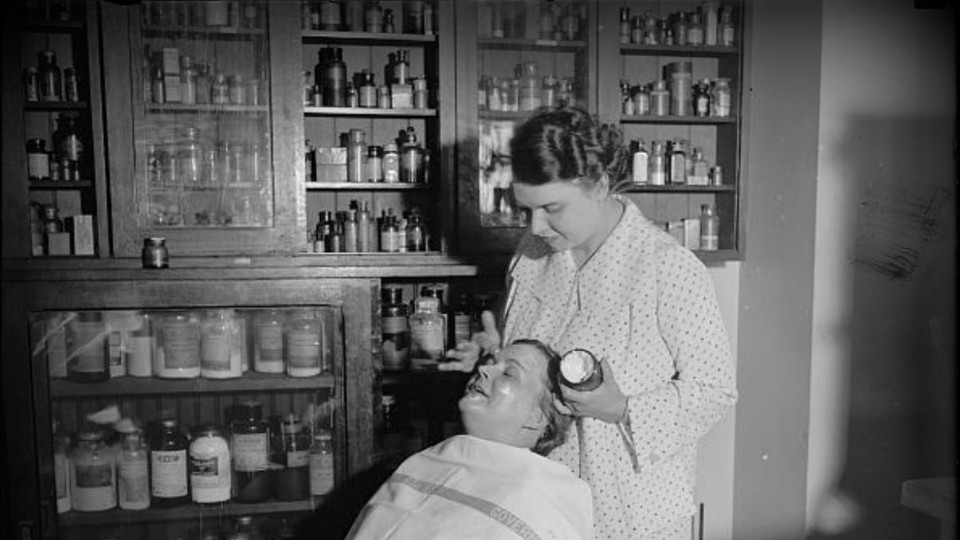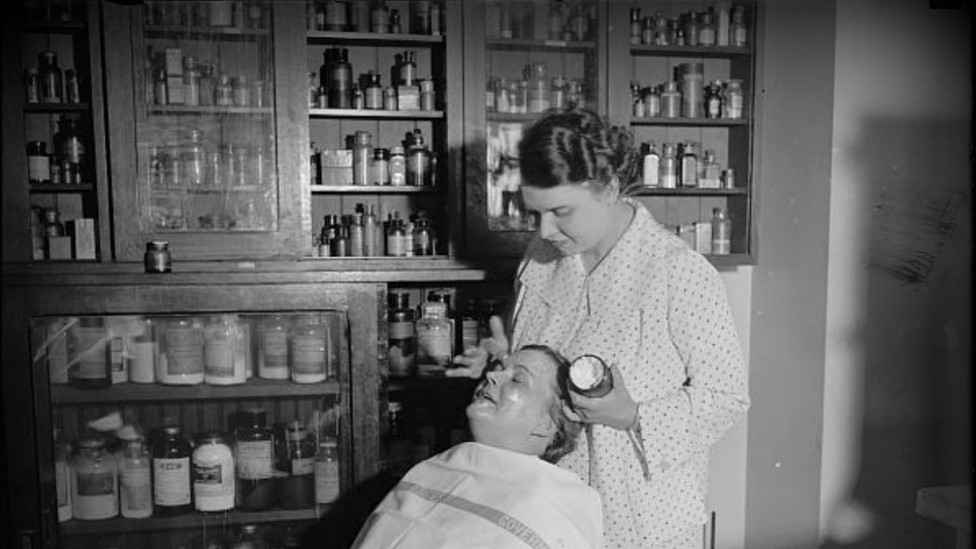 Despite variations in locality, price, and the shape of the chairs there are only two kinds of beauty parlors. Type A assumes, and openly proclaims, that Madam is a wreck scarcely worth the trouble of salvage. It caters to those who feel guilty at spending money on vanity or who enjoy being abused. Since a masochistic puritan who also wishes to be beautiful is a contradiction beyond the scope of ordinary reason, these places can be disregarded. They are not beauty parlors at all, but temples of an esoteric and inexplicable cult.
The true beauty parlor, type B, holds that Madam is a splendid specimen, sadly mishandled by other, less perceptive establishments. The management is happy to correct the errors of its predecessors, for a fee that can range from the trivial to the titanic. What the customer gets for her money, at either end of the price scale, is a noticeable surface improvement plus satisfaction that doesn't necessarily have any connection with her appearance. She buys a solid brilliantly colored portable dream.
The woman who rather fancies herself as Madame Pompadour can support the notion in a twentieth-century adaptation of the eighteenth-century impression of the baths of Caracalla. This gilded villa is laid out around an inner courtyard which is only a trifle hampered by the presence of a ceiling and is ornamented with a pretty little pool containing a fountain, artificial water lilies, and an occasional myopic client.
Outside those mirrored walls, the customer may be a harried mother of six, a neglected wife, an overworked secretary, a bullied clerk, or merely a woman bored to the screaming point, but within them, she becomes a royal heroine. Her word is law, although she may have to explain it now and then. "Let me get this straight," growls the hairdresser, a young man in well-tailored banker's gray with a no-nonsense accent. "You want a big roller in front and a small one behind it. Like this? Well, how, then? At an angle. OK. So then what? Pin curls in front of the ears. In front of the ears? But, Madam, where do we go with the rest of it?" There is a pause full of feminine mutterings. The hairdresser's voice rises again, resonant with scholarly outrage. "I'll do anything you wish, Madam, but we don't usually follow Miami. They normally follow us. I doubt, myself, that it will stay up."
After this momentary protest from the loyal opposition, Madam gets her rollers and pin curls, and thanks to pride of craft or underestimation of Miami, it does stay up. Everything stays up.
A girl whose hair has the texture of cotton candy and is colored an impossible but becoming pink is having it combed. There seems to be a great deal of it, and it swoops out behind her head in a twist that must surely be cantilevered. The last lock, which the hairdresser stands back to consider, is three inches wide and ten inches long. It stands alone, rising straight up from her forehead like the horn of a unicorn. Once it is flattened into place, the whole astonishing confection is set until the next morning, when the owner will come in to have it combed all over again. She works in the neighborhood. Presumably the hairdo is a business necessity, but it is constructed with a pantomime of leisurely admiration and courtly concern worthy of the old regime.
Washing, cutting, setting, drying, and combing out her hair will cost the customer about fifteen dollars. Rinses casually alleged to accomplish various unlikely wonders will add two or three dollars to the bill, and a permanent wave, coloring, or pattern bleaching will send it skyrocketing. Technically, the work will be excellent, and in the course of it the customer will be given several compliments and all the coffee she can drink.
There is a considerable difference between the carnival-barker claims of cosmetic advertising and the underplaying of the Caracalla staff. Advice is rarely offered unless it is requested, and, when given, includes no mention of the company's products. The woman who spends forty-five minutes massaging the customer, which seems a lot of effort for ten dollars, allows that her work can ultimately improve the shape but will not decrease the weight by more than a few ounces. The facial, involving another ten dollars and four or five unguents, removes everything superfluous from the customer's face, including, probably, the top layer of skin. The results are spectacular, but no attempt is made to peddle the lotions, nor are there any promises of easy rejuvenation via powdered plankton or cream of ant's eggs.
Even the pedicurist, buffing away at corns and callouses with an electric contrivance that purrs like a dentist's drill, offers no advice that can lead to commerce. She also says nothing unkind about he customer's feet. It is impossible to judge how much of her seven-dollar fee goes for self-restraint, but a manicure comes cheaper.
All these kindly ministrations to the customer's person, soothing to the nerves and stimulating to the circulation, have a decided effect. She never felt cleaner in her life, and she looks it. Nevertheless the house offers one hilariously frippy specialty: a bath which has absolutely no practical use at all. In an immense sunken tub of what appears to be marble, flanked by gilded pillars and overhung by a Puvis de Chavannes and water mural of Neptune with his back turned, the customer splashes in eighteen inches of perfumed violet water with a foot of bubbles on top. A concealed pump creates whirlpools and tidal waves, sea monsters spout, a uniformed maid stands by with towels and conversation. A fur rug is provided for the feet, and a golden chair for Madam to dry off on. The chair is probably permanent, but there must be quite a turnover in rugs. This whole affair costs seven dollars and a half, and it is, in one way or another, worth every cent of it.
What with all these maneuvers, plus eyebrow plucking, leg waxing, and a final expert painting of her face, the customer has got through five or six hours and better than a hundred dollars. The charming results will last from a day to a week, depending the nature of the hairdo and the customer's own skill in applying cosmetics.
A shocking piece of extravagance, says the practical citizen, who knows that all these adornments, with the exception of the marble tub, can be had for less money elsewhere. But consider what the customer got in addition to the polish she carries home. For five hours she was a combination of princess and movie star, flattered, waited upon, the glittering center of a theatrical production with ten scene changes and a cast of forty. It was a highly successful production, too, since she was applauded by both her colleagues and her mirror audience. Nobody can buy that kind of hit on Broadway for any amount of money.