Katherine Anne Porter: The Making of a Novel
Novelist and critic whose first novel, THE GRANDMOTHERS, won the Harper Prize of 1927 and commanded the instant liking of readers and reviewers, GLENWAY WESCOTT has been a close friend of Katherine Anne Porter's since 1932. Miss Porter's novel SHIP OF FOOLS is the April selection of the Book-of-the-Month Club, and in the appreciation which follows, Mr. Wescott has amplified the critique which he originally prepared for its subscribers.
BY QLENWAY WESCOTT
HAVING had the pleasure of a long friendship with Miss Porter, I find it irksome to call her "Miss Porter." It has been mainly a comradeship of the literary life, and on that account perhaps, in conversation and in correspondence, I often address her as "Porter." A host of her fellow writers and others speak of her and to her as "Katherine Anne," with or without a basis of intimacy. Somewhat like Jane Austen, or like Colette, she has an unassuming sort of celebrity that invites or inspires friendliness. Let me now also take the fond informal tone, to celebrate the publication of her novel Ship of Fools, twenty years in the making.
First, some facts: She was born on May 15, 1890, in Texas, in "soft blackland farming country, full of fruits and flowers and birds," on the banks of a branch of the Colorado River denominated Indian Creek, small and clear, unimportant but unforgettable. She went to a convent school, perhaps more than one, and was an uneven student: A in history and composition and other subjects having to do with literature, but, she admits, "D in everything else, including deportment, which sometimes went down to E and stopped there."
She spent an important part of her girlhood in New Orleans, and afterward lived in New York City, Mexico City, Paris, Baton Rouge, Louisiana, and in more recent years, in upper New York state, southern California, Connecticut, and Washington, D. C. Prior to Ship of Fools, she published five short novels or nouvelles, and approximately twenty short stories (my count), and several dozen essays and criticisms and historical studies; quality always instead of quantity. She is an incomparable letter writer, sparkling, poignant, and abundant, and a famous conversationalist.
Now let me try to describe her: like many women accustomed to being loved, she dreads and disapproves of photographers, although in fact usually she has lent herself well to their techniques, and they have been on her side. I remember one of her diatribes, some years ago, against a photographer and an interviewer, sent by one of the news weeklies, who, she said, had caught her unawares and committed a misrepresentation of her. In the photograph in question, when it appeared, she looked to me like Marie Antoinette young, her hair perfectly coiffed and powderedlooking, playing her typewriter as though it were a spinet. And it amazed me to note how skillfully she had been able to simplify the record of her life for the interviewer, also.
She has a lovely face, of the utmost distinction in the Southern way; moonflower-pale, never sunburned, perhaps not burnable. She is a small woman, with a fine figure still; sometimes very slender, sometimes not. Her eyes are large, dark, and lustrous, and they are apt to give one fond glances, or teasing merry looks, or occasionally great flashes of conviction or indignation. Her voice is sweet, a little velvety or husky. In recent years she has familiarized a great number of appreciative fellow Americans with it, by means of reading and speaking engagements and phonograph recordings.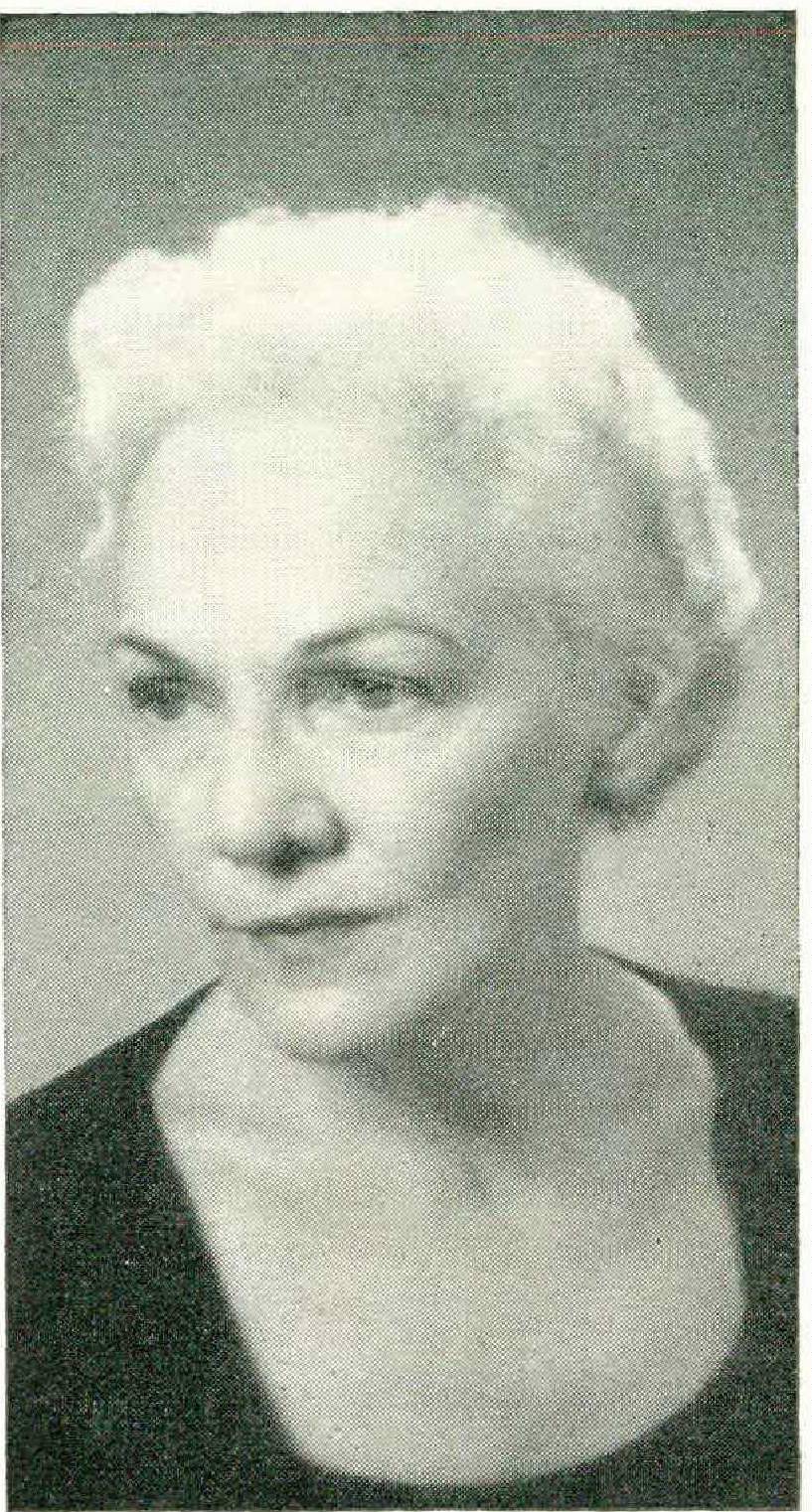 THE three years on the hilltop in Connecticut appear to have been the crucial period in the composition of Ship of Fools. In a letter dated April 26, 1958, she described her life there: "I need to keep submerged in the same mood and state of mind for weeks at a time, very hard to explain to people who need a change and recreation every day, and sometimes several times a day. Of course I do a little baking, and I water the plants, and walk in the meadow, and even read a little now and then, mostly poetry, but I have stopped listening to music. I must keep silence."
Literary critics and historians have often remarked the mighty contributions of the female sex to literature. For the most part those who have done the contributing have been spinsters, nuns, courtesans, invalids, a little exempt from the more distracting, exhausting aspects of womanhood as such. Katherine Anne, throughout her youth and middle age, led a maximum life concomitantly with her perfect, even perfectionist story writing. As I have remarked, she seems to like to simplify a part of the record of her existence for any sort of questioner. In fact, except for essentially private matters of love and marriage and ill health and economics, it really has been simple. And therefore I (and other friends), instead of concentrating on ascertaining all the realities, the dates and the names and the locations and so on, have always interested myself in what might be called story material about her, somehow more characteristic than the mere biography.
For example, when she was a girl, somewhere in the South, she had to spend months and months in a sanatorium with a grave pulmonary illness, diagnosed as one of the baffling, uncommon forms of tuberculosis. She was too ill to have visitors. Letters also evidently were overstimulating and exhausting. Even books seemed not good for her; her reading had to be rationed, just a few pages at a time. Then it was discovered that the intense restlessness of her bright eyes, gazing at the ceiling, examining and re-examining the furniture, staring at the solitude, gave her a temperature. Her doctor therefore prescribed that a green baize cloth be placed over her face for an hour or two every morning and every afternoon, as one covers the cage of a canary bird when one doesn't want it to sing. I feel convinced that if anything of the sort were done to me, I should give up the ghost, on account of the autosuggestion and the discouragement. Not Katherine Anne! That was only the beginning of a lifetime of delicate health and indomitable strength.
All this balance of physiology in her case, strong constitution, poor health, has mystified those who care for her. Perhaps the physicians whom she happened on here and there — "the pulse-takers, the stethoscope-wielders, the order-givers," as she has called them — have been mystifiers in some measure. One of them, in upstate New York, told her that her trouble was all a matter of allergies and when she inquired, "What allergies?", his answer was, "You're allergic to the air you breathe."
Another, in California, site wrote me, "set out to change my chemistry, which made him say tst, tst, after a very thorough going-over, and he aims to supply all my lacks and to suppress all my internal enemies. There is about the whole project something so blithely Californian that I cannot but fall in with it."
Still another, a young one in Connecticut, pleased her by practicing "real materia medica," and not saying anything at all about her state of mind or her nervous condition. She has always objected to having strangers, even specialists, kissing around in her psychology, comparing them to the most disrespectful, disrupting type of cleaning woman. "They mess the place up; they don't know where things belong or what goes with what."
One year at Christmastime, when she had been felled for ten days by some form of influenza and had been taking one of the sulfa drugs, she got up out of bed, though in mortal weakness, took a look at herself – prettily dressed, with "her hair in a curl or two," with an expression on her face which she could not quite make out, "distinctly remote, disengaged, full of mental reservations" — and then, in a longish letter, undertook to make clear to me her whole view of life. But it was unclarifiable, inexplicable, she had to admit, even to herself as she was living it, "because its truth or falseness cannot be known until the end."
Therefore, instead, she concluded that letter with an account of the medicines she had been taking: "a fantastic row of apothecary's powders, pills, and potions, all of them in the most poisonously brilliant colors, amethyst and sapphire and emerald and purple, each with its own mission of soothing or elevating the spirits, calming the heart or stimulating it, loosening the phlegm and tightening the nerves, stopping the cough and lowering the fever.
"As for the sulfa, I have had to take a tablet every four hours for two nights and two days, and never once did my mind fail to wake me at the right hour, on the hour, like a little radio station. Once I slept stubbornly, and was waked by a sharp rapping at my door. It was four in the morning; the whole house was asleep and quiet. I sat up in bed, knowing Who had done it."
It is hard to read this slight incident rightly, with its capitalized Who, suggestive of the commissioning of Mozart's never-finished Requiem by Whoever-that-was, a being never seen again, and of other such myths. But, stop and think, if that rapper at Katherine Anne's door at four in the morning had been Death, He would have stayed his hand and let her sleep and skip the sulfa. That was in 1943; it is pleasant to think that the greater part of Ship of Fools was written on time borrowed from Him.
No doubt about it, there are warring forces in Katherine Anne. Is it that her physique wearies of having to house a spirit so strenuous and emotional, and now and then tries to expel it or to snuff it out? Or is it instinctive in her soul to keep punishing her body for not being superhuman, for not being ideal, for not being immortal? Neither has ever prevailed over the other; both have been invincible. Nothing has come of the great dichotomy; or, to be exact, literature has come of it.
"Every force of instinct and every psychic evil in us," she once wrote, "fight the mind as their mortal enemy; but in this as in everything else, I have known from the beginning which side I am on, and I am perfectly willing to abide by my first choice until death; indeed I can't do otherwise. For death it must be in the end, so far as the flesh is concerned; but what lives on afterward can be honorable." To wit, twenty-six works of fiction of different lengths, honorable and, I am sure, durable, and more to come.
She lived in Mexico for a good while when she was young, and a number of the men who revolutionized that intense and artistic though primitive nation were her friends. She personally publicized the art of Diego Rivera and Covarrubias in New York and brought what may have been, as she remembers it, the first exhibition of Mexican-Indian crafts north of the border. One of the revolutionaries wrote a song about her, "La Pelerina," which, I have heard tell, has become a folk song; little companies of boy singers, like boy scouts in a dream, sing it in the streets. Several stories in her first volume, Flowering Judas, softly resound with vocal music.
Some years later, in Paris, she wrote another Mexican tale, a nouvelle in memoir form, Hacienda. It is a rarity in her lifework, in that it is all aà clef; mainly a portrait of the great Russian film maker, Eisenstein, with others of note, helpers and hinderers of his work in Mexico, clustered around. It has a singularity of style also, somehow an outdoor style, leafy and tendrilous, seeming to weave itself into a fabric without her usual touch; soft breezy sentences, with a warmth and animation unlike her earlier writing.
Certainly it points toward Ship of Fools. For some mysterious reason, perhaps nothing but the timing in her life, her recollection of Mexico evidently has lapsed less for her, subsided less, than that of other places she has lived. Flowering Judas had an odd, almost painful dreaminess, with only present-tense verbs; and in the first twenty pages of Ship of Fools, when the passengers are assembling and waiting to sail, as in "a little purgatory between land and sea," the half-Indian world seems to reach out after them, and it haunts the entire volume, across the ocean, though its subject matter is mainly German and American.
Now, to turn to another area of the legendry of Katherine Anne's life, one which she has not perpetuated in any of her fiction: it used to be said that at an early age she had been in the movies as a Mack Sennett bathing girl, along with Gloria Swanson and Mabel Normand et al. Certainly she was as good-looking as they, whether or not she could have performed as funnily. For some reason I never like to question or cross-question her about things; but I once ventured to do so about this. It was a matter of journalism, she explained, not show business. Commissioned to write an article for some newspaper or magazine, she pretended briefly to be a comedienne for the sake of the realistic detail and local color.
Not so long ago, she had a try at earning her living by script writing. Her first Hollywood assignment was not so much to write as to be attached in an Egeria-like or muselike capacity to a famous producer, now dead. For a while this amused her; at least she sent back to the Eastern seaboard amusing reports of it. "One or the other of us," she reported — the producer had another salaried writer also at his beck and call, perhaps more than one — "tosses a tiny shred of an idea at him. He seizes it out of the air and without stopping for breath constructs a whole scene. He then asks us what we think of it, and as we open our mouths to answer, he says, 'It's a wonderful scene. Now what else have you got in mind?' And the thing is repeated; sometimes we just sit there for two hours." What he had in mind, or perhaps I should say, in the works, was a film about Queen Elizabeth.
Presently she began to feel like "a fox with his leg in a trap," gnawing away at it; and by the end of the thirteen-week stint contracted for in the first place, she had persuaded her famous man that she was not the inspirer he needed. A part of their maladjustment, she sensed, was the fact that he was a Christian Scientist, whereas she had been brought up a Roman Catholic. During the thirteen weeks he had seemed deeply disapproving of the large salary that he or his studio had been paying her; but at the last, suddenly, she wrote, he "began to worry about my future. What on earth was I going to do now? where was I going? did I have any money? I was happy to be able to tell him that I was relatively rich and wasn't going anywhere."
In fact, she was relatively poor; apparently they had been paying her in Confederate money or fool's gold or something. Not seeing any other solution for her practical problems just then, she transferred her talents to another studio, where she was put to work on a film about Madame SansGêne.
All her life, Katherine Anne has been bewitched by the hope of ceasing to be homeless, of settling somewhere and getting her books and manuscripts and notebooks out of storage and within reach, on shelves and in filing cabinets and in ring binders. With the evanescent Western money she bought a small segment of mountain for a building site, but could not keep it. One day, as she sat peacefully writing in a rented ranch cabin in the Mojave Desert, a western wind arose and tore out a window frame over her desk and slightly fractured her skull; as you might say, the furies! But, never forget, the furies sometimes are on the side of the angels. She did not properly belong out West, at least not then.
In subsequent years, at intervals she lhas had to depend on the universities and colleges for her livelihood. As a rule, at the beginning of her various stints or bouts on campuses, she has been persuaded by the literature-loving educators who have arranged things, or she has persuaded herself, that not much actual pedagogy would be required of her. Usually, however, they seem to have got the harness on her in some way. I remember a letter from a very great university indeed, in the Middle West, specifying her teaching schedule: only five hours a week actually behind the microphone in the classroom (so specified in her contract), and only about eighty term papers to be read and graded. But she also had to examine the manuscripts of the more creative young persons on campus and to advise them in hour-long sessions; about fourteen of these a week. Also, once a week she had to give a spontaneous hour-long lecture to some special class or group or club. I imagine that no trained and experienced professor would find this schedule at all onerous or unfair. To Katherine Anne, as a mature woman of genius in delicate health, perhaps somewhat proud and euphoric, with so much creative work of her own not only in mind but partly on paper and covered by publishers' contracts, it seemed hard; and all too often her university engagements were terminated by illness.
SHE and I became friends in Paris in 1932 and began our correspondence upon my return to this country in the autumn of 1933, and it has been continuous ever since. I have been rereading all her letters to me and another precious collection lent by a friend of hers and mine; and now that much of the circumstantial detail in them has ceased to be of interest, and therefore the main elements and outlines of her mind and her life appear more impressively, as it were, a range of hills which the autumn has stripped of leaves, I am struck by something about them that may have conditioned her, even benefited her, in her art of fiction.
It is that they are extraordinarily, uniquely subjective — self-judging and explanatory and disciplinary, and self-defending, with matchless detail and finesse in all these mirrorings of the heart and the mind, shifting and shining and, in a way, hypnotizing — whereas in fiction she has been free from herself. In fiction she has maintained the oddest impersonality, a disengagement from any sort of autobiographical point of view, a distinctness between her own ego, her sensitivenesses and compulsions and illusions, and those of all the alter egos that she writes about, and an abstention from fantasy and lyricism and rhetoric of which most novelists — indeed, many journalists and historians — are incapable.
It is almost startling to compare her with other famous twentieth-century women in this respect: Virginia Woolf; Colette! As for the writing of our more extreme, compendious, sociological novelists, it is a sort of concavity, which almost teases one to deduce what they themselves are, convexly; rather like the shapes of ancient Pompeians in the awful layers of ashes from Vesuvius.
Katherine Anne is not like that at all. The objectivity of her narrative art, if I may apply to her Coleridge's famous formula (only Shakespeare really filled the bill, he thought), is a matter of sending herself out of herself; of thinking herself into "the thoughts and feelings of beings in circumstances wholly and strangely different" from her own: hic labor, hoc opus.
I believe that her vast self-expressive and confidential first-person communication to her friends, freshly inspired or provoked each time, swiftly produced on the typewriter and not rewritten, scarcely reread, has served to purify her mind of a good deal of that pride and willfulness and narcissism and excitability by which the lifework of fiction writers has often been beclouded, enfeebled, inflated, blemished. Of course, her letter writing must have shortened her working days and used up incalculable energy, thus reducing the amount of her production of the more public forms of literature.
It always pleases me to note how little continuousness, impingement, or repetition there is between one of Katherine Anne's stories and another. In the case of most specialists in short fiction, as in that of painters of easel pictures and composers of chamber music, one finds some new order of artistry every few years; and in between, only variants of the same inspiration or the same method, efforts to perfect, or indeed a copying of themselves without much effort. Katherine Anne, when not hitting high spots, really has preferred not to hit anything at all, at least not anything fictitious. She just keeps turning the pages of her mind until she comes to one that is untouched, to which she then applies a new pen, silvery and needle-sharp. Line the stories up: "Flowering Judas," "He," "Noon Wine," "The Cracked Looking Glass," "The Grave"; each advances a separate proposition in morals or psychology, solves an unfamiliar problem of form.
No theme except the given theme, one feels, could develop itself properly or transpire effectively in that particular setting and in those circumstances. And yet she never lorces the connection and congruity between the scene and the event. There is a minimum of anthropomorphism in her landscapes and changes of weather. Shapes and inanimate objects in her portrayal of the world are never geometrical or surrealistic or modernistic. Things are what they are; and what people do directly results from what they are. Everything is for the portraiture, inner portraiture mainly, and for the philosophy, which is almost entirely unspoken, and for the tale, the tale!
Her latest collection of stories was published in 1944. Recently four admirable short narratives, not portions of Ship of Fools, have appeared in magazines; one of them, "St Augustine and the Bullfights," is a masterpiece, in a strange new form, a hybrid of essay and tale, of which I expect her to make further use. Also, occasionally she has produced valuable pieces of expository prose. In every type of short work she is a ready writer, given a green light and a little removal from other people and certain facilities in the way of board and keep.
But never a ready novelist! All that time, a third of a lifetime, her struggle with Ship of Fools has been going on. With the everlasting problem of her delicate health and the other difficulties and jeopardies that I have tried to describe without making a melodrama and a sentimentality of her life, certainly she has not worked at the novel uninterruptedly; but she has kept up her dedication of herself to it, only it, and staked her reputation and her self-respect on it. "Even when I was a little child," she once said to me, "I knew that youth was not for me" — a sentence wonderfully expressive of her particular lifelong uneasiness, responsive to her fate up ahead, and great patience from start to finish, knowing or sensing that she was going to grow old at the appointed, self-appointed task.
One cannot evaluate the experience of a literary genius unless and until one has perused all that has resulted from it. Obviously, a great deal ol heartbreak and travail have been Katherine Anne's lot. But, let us remind ourselves, no fortunate and facile youthful, or even middle-aged, person could have written Ship of Fools, it has required the better part of a lifetime of unshrinking participation in life and unshirking endeavor, of hardheadedness and heat of heart and almost fanaticism, and now we have the result; and surely it must seem to her, in her weariness and pride, cheap at the price.
SHIP OF FOOLS began with a sea voyage that she herself took in 1931, and specifically, she says, with an account of that sea voyage in a letter to a friend, a fellow writer. Ten years later she began putting it in fiction form, and gradually, perhaps somewhat unintentionally, it ceased to be a reminiscence and a tale and became a true and full-length novel. The ship Vera — that is to say, Truth, but with no abstraction other than that, no symbolism — is on a voyage from Veracruz, in Mexico, to Bremerhaven, in Germany, via four intermediate ports of call, a voyage only twentysix days long in the narrated fact, but in the art of the telling, with reference to many of the passengers, lifelong, in that something of their past and something of their future are included in it all along, by means of great flashbacks and mirrorings of motive and fate, by means of a prophetic understanding of the patterns of their lives still to be lived. About three dozen of the characters are clearly delineated and memorable, some unforgettable: a lot of Germans and a Swede and three Swiss and four Americans, and certain Mexicans and Cubans and Spaniards (plus a vague pitiful collectivity of hundreds of the poorest Spaniards, deportees, in steerage); of every age-group; aristocrats and professional men and artists and various bourgeois and riffraff and merchant mariners (and that shadowy Spanish proletariat) diversely involved in love and lust and mortal illness and craziness and chauvinism and cruel intolerance and religiosity, actively engaged in brilliant incidents with hallucinating dialogue; all things motivating one another, all things illuminating one another.
Ship of Fools is a phenomenal, rich, and delectable book. Though I had read a good many parts of it in typescript and in serial publication from time to time, its qualities as they appear in book form far exceed my expectations: the specificity; the supreme and constant meaningfulness of everything; the bewitchment of the story as such, or, to be exact, the stories interwoven; and a continual sense of cause and effect, both in the mind and in external circumstances, amounting to suspense but at the same time inspiring confidence in the judgment and truthfulness of the novelist; the main generalizations of psychology and morality as plain and acceptable as the face of a clock, the minute hand seeming to cause the hours, the hour hand the days, and subsequently the weeks and months and years, and, in retrospect and prospect, entire lifetimes. A good many readers are going to regret having been given snatches of this novel in magazines. An analogy in terms of music occurs to me: the themes best suited to large-scale polyphonic compositions do not make the shapeliest sonatas or the most moving songs.
I think that reviewers may be tempted to describe Ship of Fools as a grand-hotel novel, making a customary and convenient use of the title of a best seller of some years back: a contrivance of heterogeneous humanity cheek by jowl, a matching and contrasting of little plots, with a measure of general involvement, as it were, by chance, ring around a rosy; all of which one does find in caravansaries and sometimes in great country houses and in hospitals and, indeed, on board ship.
But in Katherine Anne's novel, this is only the superficial aspect and the rough outline. Essentially it is a theme novel, with great themes. Shall I undertake to list them? Femaleness and the basic coercive and submissive (not to say sadomasochistic) relations of males and females, middle age, neuroticism, and predestining historic matters — the influential mentality of American expatriates, egocentric but sensitive; the pre-Nazi mentality of otherwise quite ordinary middle-class and lower-middle class Germans, with their wild conceit backed up by fanatic laboriousness and cooperativeness within the group; the cold and sickening ferment of ideas like anti-Semitism. What the twentieth century has had to read in the newspapers is often worse than what Calvin found in the Bible.
It seems to me that she now paints her vision of evil with a more varied palette, although there is less pathos about it than when she was young.
Now no one is entirely blameless — even one of the children on the S.A. Vera is hopeless, and the other two are fiends — but on the other hand, she never disregards or belittles anyone. On the whole, I should say that all the qualities in her previous fiction — the grasp of lamentable evil predestination, and the dead seriousness in general, the objectivity, the knack of verisimilitudinous portraiture (often like Frans Hals, sometimes like Goya), the natural-seeming style, the manner always responsive to, adjusted to, the matter, and suspense throughout, well regulated, but with no trickiness — all are still praiseworthy in Ship of Fools.
It is a vast portrait gallery, with portraits of all sizes hung here and there on the wall, high and low; and some of the portrayed ones seem to dance down out of their frames, some tumble out, some fight their way out, with fearful vitality. I can think of only one possible reason for anyone's not liking this book; just at the start the characters are almost too strong, one shrinks from them a little. No, you may say, I do not wish to spend another page with this smug glutton, or this hypochondriac drunkard, or this lachrymose widow; no, not another word out of that girl in the green dress! But presently, having read a certain number of pages, you feel a grudging sympathy with one and all, or a rueful empathy, or at least solidarity, as a fellow human.
I told Katherine Anne this one day on the telephone, and she said, "I promised myself solemnly: in this book I will not load the dice. We all do it, even you have done it; and so have I in my day, as you well know. But this time, I resolved, everyone was to have his say. I would not take sides. I was on everyone's side."
At that time I had reached only about page 100, and I replied to her, "Yes, my dear, but it might also be said that you are on no one's side."
This evidently surprised her a bit, but she took it kindly. I wanted to go on and turn it into a great compliment. For, truly, this is one of the magic effects of the art of fiction at its very best, when the reader, knowing nothing in the world about a set of characters except what the writer has written for him, suddenly says to himself, Oh, I understand these poor people better than this literary person seems to; he or she lacks compassion or profundity or sociology or political sense or something. Thus each and every character is given a separate life. The umbilical cord is cut; the matrix cleared away. But Katherine Anne talks as brilliantly on the phone as in person; she interrupted me and distracted me. Anyway, who am I to lecture this woman of genius about her techniques, her spells?
Having delivered the entire final script of Ship of Fools, Katherine Anne confessed to her editor that she had scarcely been able to read it as reading matter; it remained work in progress for her even at that point. "Has it a form, a shape, as a whole?" she wanted to know.
"Yes," he answered, "it is like a great wave."
And so it is. It rises rather slowly and coldly at first, with an effect of distance, of remoteness from the reader's mind, indeed, of smallness of scale. Gradually one is impressed, gradually one is enthralled, then lifted higher and higher and submerged deeper and deeper, almost drowned. The wave breaks with, let us say, the burial at sea, and the procession of whales, fountaining in the distance. But by that time, our responsiveness, intentness, and ravishment are like a wide shelving shore, a flat and curving beach. And for almost two hundred pages after the breaking of the wave, up it comes still, in long breakers or combers, some with subsidiary crests of great brilliance and violence.
Yes, like a wave. Incidentally. I note this peculiarity of Katherine Anne's style: she almost never indulges in figures of speech. The other evening in my family circle I read the first thirty pages aloud, and only one simile caught my eye: little greenish-pale Hans has freckles "like spots of iodine." No one since Stendhal has written so plainly, so glass-clearly, and my author carries about three times as much evidence of the senses as the author of Le Rouge et le Noir ever did and is less inclined to infatuation and spite and eccentric argument than he was.
Now, to give a recapitulation and a close to this rambling study of my friend's lifework, let me quote another of her letters, somber once more, but blended with some of her malicious spirit; showing also her great virtue of steadfastness. It was written in Liege, Belgium, where she had been given a Fulbright fellowship to teach at the university. In a letter to her 1 had vexed her with a weak reference of some sort to my age. and she chose to take it personally and struck back with an expression of some pathos and acerbity.
"When you and others younger than I, by I forget how many years, but a good number, complain of getting old, I think with dismay: What must they be thinking of me?
"I have had such a struggle to survive," she wrote, "so many illnesses that nearly crippled me when 1 was young, so many intimations of mortality before my time; I felt more decrepit at twentyfour than I have since; and now I do not have a proper sense of time, ft docs not chop itself like stove wood into decades convenient for burning. It is a vast drift in which I float, eddying back and forth, spinning round now and then, moving always towards no fixed point; which one day will dissolve and drop me into the abyss."
In any case, she went on to say, she could never trust other people's eyes or judgments in the matter. "When I was sixteen, a woman of middle age, when told my age, said 'Ha, she'll never see eighteen again!' And when I was twenty-eight, a man, not at all malicious, guessed my age to be forty. Oddly enough, when I was fifty, another man, who loved me, also thought me forty; and I told him about the other guess, and wondered if I was never to escape from that particular decade."
Why, she asked me, should she worry about her visible years when others were so happy to do that worrying for her? Though she did not blame me for my worrisomeness, this sentence struck home.
She then told me her favorite story about age. She was lunching in Hollywood with Charles Brackett, the screenwriter, and two important film directors, and a few tables away sat the then famous child actress, Margaret O'Brien, with her mother, her governess, her director, and someone else. "And the three men at my table looked her over as though she were a pony they were thinking of buying, and one of them said, 'How old is she now?' and another answered, 'Six years old,' and there was a pause, and then Charlie said, 'She looks older than that.' There was a kind of nodaround among them and the moment passed."
The concluding paragraph of this letter is a kind of prose poem:
"It is five o'clock, I am in a dowdy furnished apartment where the keys don't turn, the gas cocks stick, the bathroom gadgets work hall' way, the neighborhood is tout-petit bourgeois, the furnishings are from the Belgian branch of Sears Roebuck, the place is suburban, the wild yellow leaves are flying in a high bitter wind under a smoky sky, and I have come to world's end, and what was my errand here? There is nothing I wish to say to anyone here; does anybody want to listen? But it does look as if here again, with all the unlikeliness, the place and the time had met for me to sit at this table, three and one half feet square, and write something more of my own."
Amen to that, says her perennially grateful reader. She did not, in fact, write much in Liége. The autumn weather in that part of the world and the Fulbright schedule of lectures proved too much, and she had to come home. Not long afterward she settled herself in Connecticut and began to see daylight as to her novel writing.
In that same letter of the dark night of her soul in Belgium, or, to be precise, teatime of her soul in Belgium, she declared that the only disturbing thing about the passage of time, for her, was the fact that she had four books all clearly conceived and partly begun and waiting to be finished. Now, three to go! And now perhaps not many of us will care to bet against her.