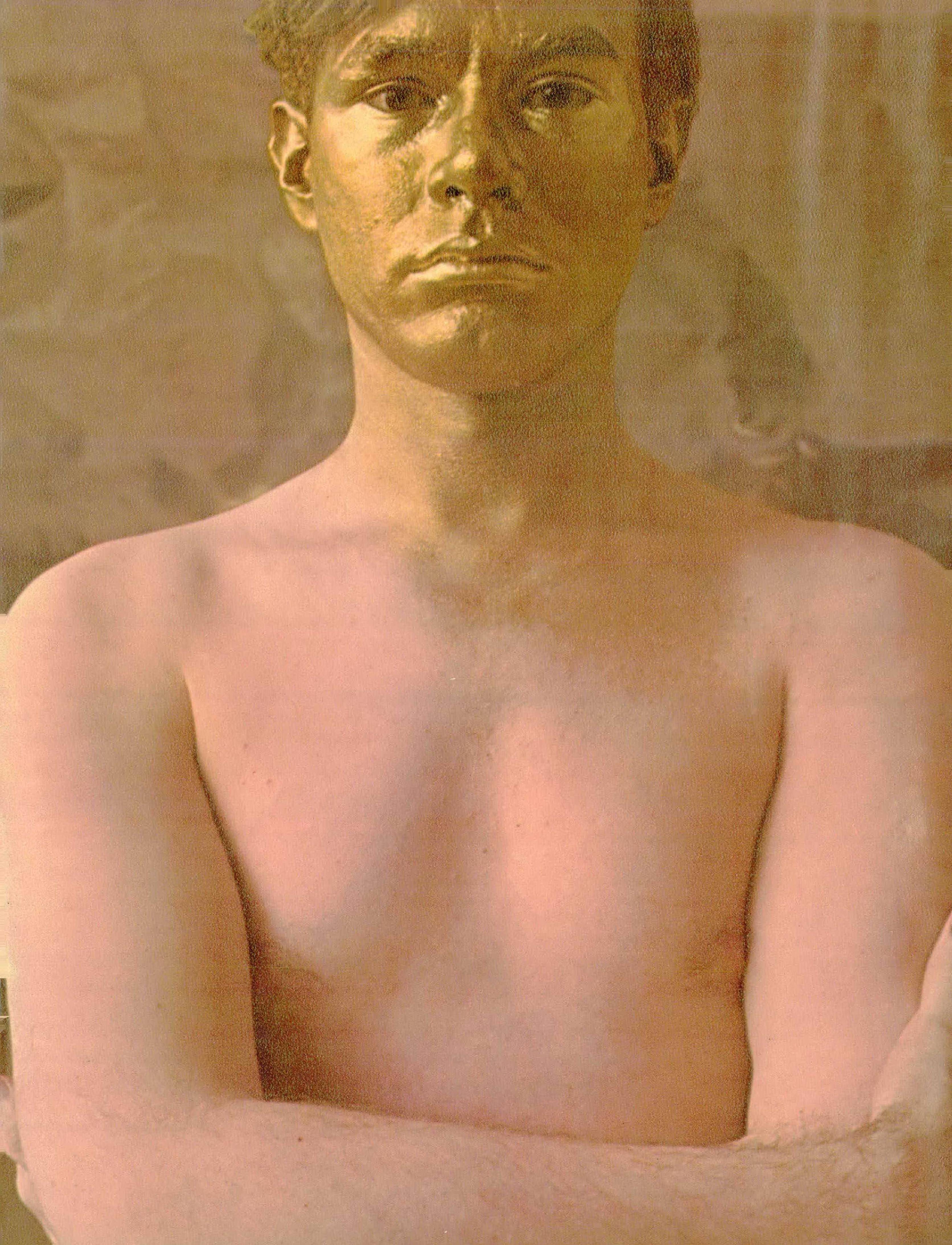 "Andy Warhol is no 20th century stainless steel, antibiotic, blast-off personality. I think of Andy as a Greek from the 4th century B.C. He's as classic as the gold paint he prefers to use. And first I thought of photographing him as a gold head. But as the gold make-up at the neckline met the skintone of his chest, I saw the whole Andy revealed. Here, stands Andy, a Greek sculpture, an ancient in an atomic world."
I think of Art Kane as being strong, say, like a pumpkin sun in a blue sky. Like the sun, Art beams his eye straight at his subject, and what he sees, he pictures—and it's usually a dramatic interpretation of personality. And so, I decided to draw his face with directness because Art himself is so direct. But instead of making a giant face, or even just a bigface, I thought it would be marvelous, just for fun, to make a smaller face."
Through photography, Art Kane has revealed the true spirit of Andy Warhol. With illustration, Warhol has captured an image of Kane. And here, both works are faithfully reproduced in thought and style on Champion Papers Wedgwood® Coated Offset Embossed.
Wedgwood's crisp brightness and high opacity form a spotlighted stage for the presentation of fine works. Every detail in a photograph or in artwork takes its rightful place when the work is printed on this superior offset paper. And its superbly coated surface takes color seriously, typography with 20-20 clarity.
For annual reports, brochures, books, catalogs, and of course, inserts, Wedgwood Embossed, in text and cover weights, does you proud. It's one of many outstanding Champion papers.
Facing pages:
Champion Papers Wedgwood Coated Offset Lynnfield Embossed, 80 lb.
Center leaf:
Champion Papers Wedgwood Coated Offset, 70 lb.
CHAMPION PAPERS
KNIGHTSBRIDGE/HAMILTON, OHIO