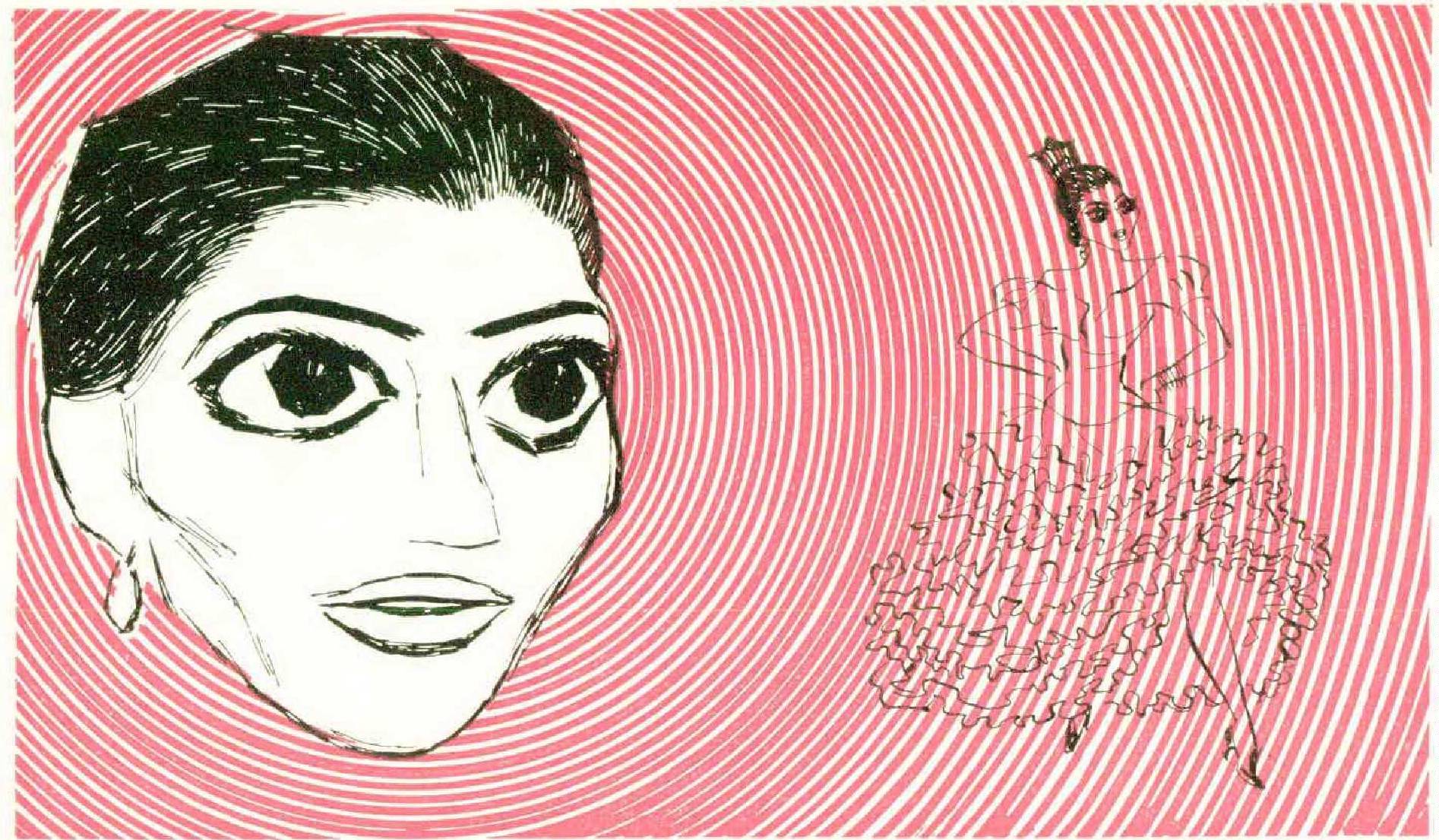 When will Maria Callas record a complete Carmen? That is the intriguing question that has been raised by Angel's release of a record of French opera arias sung by Callas. Two of the arias are from Carmen — the "Habanera" and the "Seguidilla" — and Callas' musically vivid and dramatically vibrant performances of them raise a strong suspicion that she would make the most spectacular recorded Carmen since the fabulous Conchita Supervia.
Naturally, this prospect is sufficient to excite the interest, not to say the cupidity, of more than one record company, and at least three of them will admit guardedly that the idea is "under consideration." It seems likely that the intricate mating dance that precedes such an important undertaking has already begun, that overtures have been made, if not yet played, and that the principal questions now remaining are: how soon, and by whom?
Carmen can use Callas, and Callas can use Carmen. Her high soprano register, those "native wood-notes wild" that enlivened so many mad scenes and sad scenes, is no longer all it might be; indeed, there are even those who say it never was. But as a mezzo, which is what Carmen is, Callas shows all the signs of a vocal munificence to match the dramatic strength and insight into character that have always been her hallmarks as an opera singer. Nor is it entirely a matter of replacing mere power and brilliance with guiie and craft, as happened when Lefty Grove lost his fast ball, to take an example from an earlier generation and another art. The highest reaches of the scale apart, Callas today has plenty of voice, and it remains as expressive as it is ample.
Her new record, which bears the title Maria Callas Sings Great Arias From French Opera (Angel S-35882, stereo; 35882, monaural), offers a revealing guide to what this remarkable singer can and cannot do nowadays. Her " J' ai perdu mon Fury dice" from Gluck's Orphée et Eurydice, which also lies within the mezzo range, is a model of controlled intensity. Someone once remarked sardonically that this smoothly contoured aria might just as easily have been entitled "J'ai trouvé mon Eurydice," but Callas, with the utmost simplicity and restraint, leaves no doubt of the emotion she is experiencing. In Chimène's aria "Pleurez, mes yeux" from Massenet's long-retired Le Cid, she demonstrates her ability to make unfamiliar music seem unjustly neglected. It is only in two coloratura arias, the Waltz from Gounod's Roméo et Juliette and the Polonaise from Thomas's Mignon, that Callas' rasping and unsteady high notes trouble both her and the listener; it is hard to say which one is troubled more.
What makes Callas' excursion into French repertory so promising is her stunning success with the Carmen arias and, to a similar extent, with two numbers from Saint-Saens's Samson et Dalila, "Printemps qui commence" and "Amour! viens aider ma faiblesse." In these, high notes are no longer a factor, and the ability to create and project a musical personality is more important than ever. To sing Carmen without hooting or booming, pouting or posing is an unusual feat, but Callas neither overacts nor oversings. Moreover, her French is clear and distinct; she pays as much attention to the words as to the music, which may explain why both come through so convincingly. No one has ever challenged Callas' pre-eminence in the art of creating great musical characters with the voice, and when the voice itself ripens as it deepens, a whole new musical world may be opening up for her to conquer.
French opera could certainly use an infusion of fresh talent and new recording activity. Although the staples of the repertory have been covered, many of the recordings are old and most of them are undistinguished. There is less selectivity than in practically any comparable branch of recordings. Gounod's Faust, once the world's most popular opera, but now almost totally out of fashion, is represented by only one stereo recording, and not a very good one, while there are three of Ponchielli's La Gioconda, which is at least equally far from being a masterpiece. And in a list of operatic obscurities that ranges from Aniara by Blomdahl to Die Jauhergeige by Egk, there isn't room for a single work by Meyerbeer.
It used to be a basic rule, not to mention the saving grace, of the record industry that when the big companies left a vacuum, the small ones rushed in to fill it. Nowadays, most small companies are more prudent and parsimonious, and content to leave costly operatic productions to the big fellows. Nevertheless, a new label called Da Vinci Records has just taken a stab — and that, unfortunately, is the only word for it — at recording Jacques Halévy's once-famous opera La Juive.
If any nineteenth-century French grand opera has a chance of coming off the shelf and succeeding on today's stage, it might well be La Juive, which has flickered to life sporadically at the Metropolitan, the last time in 1935. It offers a richly atmospheric Passover scene, a famous tenor aria, ''Rachel, quand du Seigneur," several effective ensembles, and some lively stage effects—its heroine dies by being dropped into a vat of boiling oil during an autoda-fé. Most important of all, perhaps, is its allure for great singers. Its tenor role was Caruso s last, and such renowned singers as Ponselle, Rcthberg, Martinelli, and Pinza have sung in it. One of the most entrancing rumors last year in the record world was that Columbia, whose operatic activities are all but nil, was planning to record La Juive, with Eileen Farrell and Richard Tucker, two singers who seem eminently qualified. But the plans, if any, have apparently been shelved, with the result that the new Da Vinci recording (Da Vinci 100/2, monaural; S/100/2, stereo) has the field to itself.
It is a curious kind of recording. Its listed cast includes Frances Yeend, soprano; Miklos Gafni, tenor; and William Wilderman, bass; with the Maggio Musicaie Fiorentino Orchestra, conducted by Erasmo Ghiglia. Some of these are respected names, but the performance is rough, tentative, and badly coordinated; at times the singers and orchestra are so far apart that they almost sound as if they were separately recorded. Furthermore, scenes and sections have been slashed from the score; voices are unbalanced in the ensembles and inadequate in the solos; the singers' language is tainted by every accent except French. It is obvious that La Juive will have to wait for some other attempt to resuscitate it on records.
The decline of French opera on American recordings has its parallel on American stages. One is tempted to ascribe this to the failure of French opera to travel well; like certain wines, certain music is at its best on its home grounds. And yet, half a century ago. when the operatic fare was not terribly different from today's, Oscar Hammerstein built his Manhattan Opera House largely on French operas and opera singers, and all but put the Metropolitan out of business.
This season, by contrast, the Met's French repertory is confined to two Offenbach works, Les Contes d'Hqffmann and La Périchole, with the latter sung in English translation. Only one French singer is listed on the roster, a Parisicnne with the unlikely name of Jane Rhodes, who has been engaged this year not to sing French roles but to perform in Richard Strauss's Salome. When the Metropolitan last presented Gounod's Faust, it did so with a Spanish soprano, a Swedish tenor, and an American bass.
The Met gives two reasons for its lack of French singers; they are not of star caliber, and they lack versatility.
"They simply can't sing anything except French parts," says one Metropolitan executive, "and in our kind of operation it's difficult to bring singers over for one or two roles. A tenor who can sing the lead in Faust or Carmen surely ought to be counted on for the Duke in Rigoletto. But it doesn't work out that way."
Its doubts notwithstanding, next season the Metropolitan plans to commemorate the hundredth anniversary of the birth of Debussy with a revival of Pelléas ef Mélisande, with Ernest Ansermet conducting. But the staples of French repertory, Carmen and Faust and Manon, can be expected to continue leading an awkward and apologetic existence.
Is the outlook for French opera on records similarly unpromising? It may be, unless singers of star quality in French roles emerge to encourage producers. The market in this country, most manufacturers insist, is too limited to promise commercial success for recordings of the idiomatic, authentic, competent type of production put on in Paris today by singers of purely local renown. Two years ago an American importer brought over large quantities of Pa the recordings from Paris; among them were complete operas from the Aix-en-Provence Festival, vocal reissues of great French singers of the past, and a delightful series of operettas by Offenbach, Planquette, Messager, and others. Despite their high quality, their sales were insufficient, and the venture failed.
Similarly, Columbia no longer maintains in its catalogue what to at least one listener was the most authentic and enjoyable complete Carmen ever recorded — a Paris Opera-Comique production of 1949, with Solange Michel in the title role, which used the original spoken dialogue, rather than the recitatives that were added after Bizet's death by another composer and are now almost universally employed.
So far as complete performances are concerned, Carmen has not had a very happy life on records, although individual practitioners of the role are liberally represented. In point of total sales (the main point to manufacturers), the most popular Carmen album ever released in the United States is the Victor set starring Risë Stevens, Jan Peerce, and Robert Merrill; it is a faithful replica of a Metropolitan performance, but a long way from the quintessence of Mediterraneanism that Nietzsche saw in Carmen.
The most recent attempt to achieve a satisfactory complete Carmen was Capitol's set of 1960 with Sir Thomas Beecham conducting, Victoria de los Angeles singing the lead, and a French orchestra, chorus, and supporting cast providing an authentic and solid base. It took Beecham longer to record Carmen than it took Bizet to write it, for the sessions, plagued by temperamental disputes, delays, and interruptions, went on for a year, and the recording is reputed to be the most costly ever made.
The end result is a Carmen rich in sound and revealing in detail, but low-charged in dramatic tension and reserved in musical characterization — an interesting Carmen rather than an exciting one. Victoria de los Angeles is too much of an artist to be a bad Carmen, and too much of a lady to be a good one.
Which, in a way, brings us back to Maria Callas. One would not say that she alone can imbue Carmen with new life and originality, or single-handedly perk up the French operatic catalogue. Two arias do not make a Carmen, although when they are the "Habanera" and the "Seguidilla," one is off to a reasonable start. But the thought persists that Callas, because of what she has shown in her new record, merits a chance to do well what so many singers have done indifferently. As Carmen herself observes at a strategic point, "Il n'est pas défendu de penser."
Record Reviews
Berg: Lulu, Four Symphonic Excerpts; Lyric Suite, Three Movements for String Orchestra; Der Wei n; Seven Early Songs; Chamber Concerto for \iolin. Piano, and Thirteen Winds
Robert Craft conducting the Columbia Symphony Orchestra, with Bethany Beardslee, soprano; Israel Baker, violin; and Pearl Kaufman, piano; Columbia M2S-620 (stereo) and M2L-271: two records
No album containing so much music by Alban Berg, played with so much devotion, skill, and authority, can escape being designated as important. Is its purpose to expose some of his least-heard music (such as the early songs or the orchestrated Lyric Suite movements, written originally for quartet), or to provide a sampling of some of his most notable achievements (such as Lulu), or to set forth his acerbic lyricism? Any given listener's response is likely to depend upon his responsiveness to twelve-tone music in general. But Berg's setting of Der lVein, a lengthy three-part song for soprano with orchestral accompaniment based on Baudelaire's poem L'Ame du Vin, is filled with music that is almost pictorial in its sly and graphic touches. And the Lyric Suite merits its name, for all its brooding, brusqueness, and occasional eeriness. Somewhat more forbidding is the Chamber Concerto for Violin, Piano, and Winds, an intricate musical celebration of the number "three." The performances are not likely to be surpassed.
Brahms: Sevtet in B-Uat Major for Strings, Opus 18
The A ew York String Sextet (Renato Bonacini and Kees h ooper, violins; Paul Doktor and Clifford Richter, violas; Benar Heifetz and Janos Sc hoi z, cellos); 20th Century Fox 1008 and S1008 (stereo)
A band of string players devoted to sextet literature is not the commonest sight, or sound, in music, and in practice this group finds itself playing quintets, too. But this lengthy, songful piece by the twentyseven-year-old Brahms enables them to pool their six-sided talent, and an impressive display it is. The music, obviously, is early Brahms, and not especially typical, but it is spirited, lyrical, expertly blended, and abundant in good melodies and charming moments, such as the all-pizzicato closing of the first movement. A change of pace in chamber music.
Donizetti: Lucia di Lammermoor
Joan Sutherland, soprano; Renato Cioni, tenor; Robert Merrill, baritone; Cesare Siepi, bass; with Chorus and Orchestra of L'Accademia di Santa Cecelia, Rome, conducted by John Pritchard; London OS A-1327 (stereo) and A-4355: three records
Since Joan Sutherland's name dwarfs all others on the album cover, including that of the unfortunate Bride of Lammermoor herself, it would be beside the point to dilate upon other virtues to be found herein, such as crystal-clear sound, sure-handed conducting, and the restoration of admirable musical passages normally excised from performances. So, hurrying on to the performance of Australia's most fabulous vocal export since Nellie Melba, one finds the expectations justified and the challenge surmounted. Sutherland s voice is a trifle cool, perhaps, but immensely agile and, when need be, altitudinous. One of the musical restorations is a little trio interposed in the midst of the Mad Scene; it provides a norm, a point of reference, that makes the ensuing soprano pyrotechnics seem more inhuman than ever. The rest of the cast is solid; Merrill sings one of the best Enrico Ashtons on records. Only the Sextet seems tame, but it often does on records.
Mendelssohn: Symphony No. 4 in A Major, "Italian"; Symphony No. 5 in D Major, "Reformation"
Lorin Maazel conducting Berlin Philharmonic Orchestra; Deutsche Grammophon 18684 and 138684 (stereo)
The first few seconds of this Italian symphony are pure magic — woodwinds burbling rhythmically and happily together while strings enter over them with the swift and lilting opening theme. Few performances of this cheerful symphony begin more captivatingly, and what comes after is no letdown. The oft-despised Reformation symphony also manages to hold the ear and the mind. Lorin Maazel, who began his career as a child-prodigy conductor, nowadays, at age thirty-one, conducts manfully and musically. Here the Berlin Philharmonic makes some lovely sounds for him, and the engineers have captured them admirably.
Thomson: The Plow That Broke the Plains; T he River
Leopold Stokowski conducting Symphony of the Air; Vanguard 2095 (stereo) and 1071
One of the things that identifies Virgil Thomson's music as American is his fondness for quoting snatches of familiar folk, popular, and hymn lunes. Another is his ability to express himself directly and straightforwardly. Both characteristics help to shape these orchestral suites taken from Thomson's music for two Pare Lorentz motion pictures of the 1 930s, one dealing with the Southwest dust bowl, the other with the Mississippi Valley. Presented as symphonic entities, both compositions cease being documentary film scores and become nostalgic musical expressions of two regions of America. They are richly and sonorously played by the Symphony of the Air.
The Immortal Victor Herbert
Robert Shaw Chorale and Orchestra conducted by Robert Shaw; with Saramae Endich, soprano; Florence Kopleff, contralto; Mallory Walker, tenor; and Calvin Marsh, baritone; RCA Victor LSC2515 (stereo) and LM-2515
No doubt, the immortal Victor gets sticky after a while. But a record like this, abounding in tunes from The Red Mill, Orange Blossoms, Naughty Marietta, and so forth, leaves most current Broadway show albums in another world. Mr. Shaw's Chorale has gusto and resonance, and four young singers handle the solos agreeably — nay, enchantingly.
Oh, Freedom! and Other Spirituals
Leon Bibb, folk singer, accompanied by Tanya Gould, piano, and Walter Raim, guitar; Washington 701
Leon Bibb is a rarity among folk singers, an artist with an excellent voice and a keen sense of musicianship. He demonstrates here that these qualities are applied as beneficially to Negro spirituals as to any other form of music. Presented with such sensitivity and sincerity, both the ecstatic songs and the emotional ones take on new dramatic and musical dimensions — which is a ponderous way of saying they are made to seem fresh and interesting. Among the seventeen songs are Joshua Fit the Battle of Jericho; Honor, Honor; and Swing Low, Sweet Chariot the last sung unaccompanied, with a simple directness that puts to shame a dozen fancy arrangements.