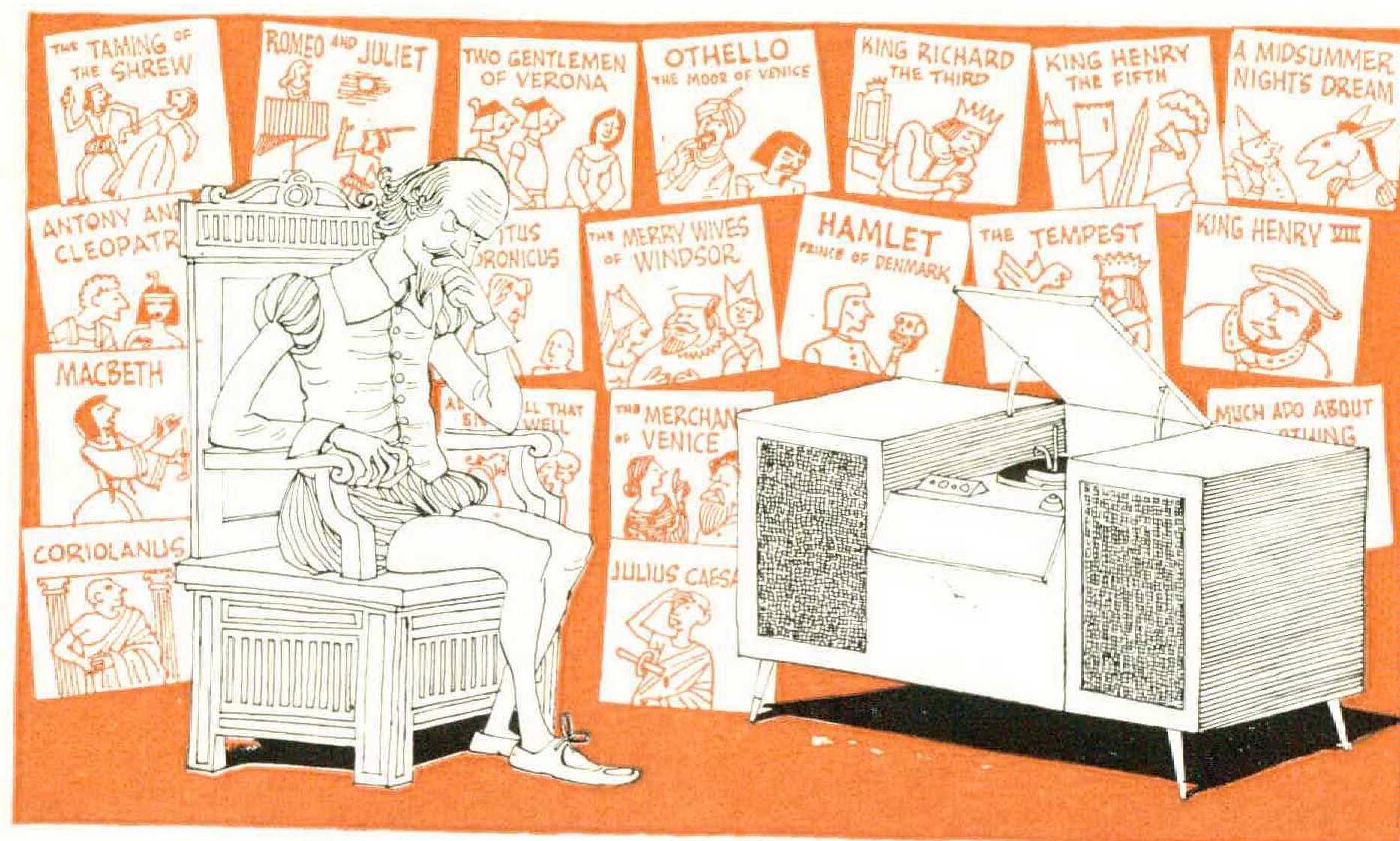 In 1964 the world will celebrate provided it is celebrating anything at all — the four-hundredth anniversary of the birth of William Shakespeare. Whatever gilded monuments may be erected during the Quatercentenary Year, few are likely to be more imposing or enduring than a memorial built of sound. Hv 1964 the works of Shakespeare will have been recorded in their entirety for the first time — every play, every poem, every word. Moreover, this marvel will have come to pass not once but thrice, for no fewer than three companies are committed to putting out a complete Shakespeare, and all of them have the work well under way. London has already issued twenty-one albums, The Spoken Word, Inc., fourteen, and the Shakespeare Recording Society, eleven.
Shakespeare#8217;s history on records reaches back into the days of handwinder phonographs. E. H. Sothern and Julia Marlowe made Shakespeare recordings before 1920, competing (not very successfully) for public interest with Caruso and McCormack records. John Barrymore turned out several Shakespeare recordings in the late twenties. and one of these, a recitation of Hamlet's soliloquy "O, what a rogue and peasant slave am I." is durable enough to have been re-released by Victor only a few weeks ago as part of a series of LPs called "60 Years of Music America Loves Best."
Extended recordings of Shakespeare plays seem to date from 1938, when Orson Welles's Mercury Theater version of Julius Caesar came out on eleven 78-rpm discs. The first long-playing Shakespeare album was Othello. starring Paul Robeson and José Ferrer, which appeared in 1948 and is still available. Victor has recorded several Old Vic productions in their entirety, and many labels have issued single discs of excerpts. One of these, Columbia's Ages of Man, a collection of passages recited by John Gielgud, achieved bestseller status three years ago.
But there has not been until now a systematic and determined effort to create a spoken Shakespeare library that will be complete, scholarly, and authoritative. Yet that is what the three competing record companies are seeking to accomplish, each along a different path and each with a different type of acting company. The Shakespeare Recording Society, which is a subdivision of Caedmon, pioneer and leader in the spokenrecordings field, uses specially assembled star casts, including Dame Edith Evans, Dame Peggy Ashcroft, Claire Bloom, Siobhan McKenna, Sir John Gielgud, Sir Michael Redgrave, Anthony Quayle, and Stanley Holloway. The Spoken Word, Inc., has entrusted the job to a wellknown Irish company, the Dublin Gate Theatre, headed by Hilton Edwards and Micheal MacLiammoir. London Records, in contrast to the others, prefers to leave its performers in complete anonymity, revealing only that they are members of the Marlowe Society of Cambridge, an undergraduate theater group, supplemented by "professional players."
Although all three record companies describe their performances as "complete." the use of the word is somewhat reminiscent of the famous dictum in George Orwell's Animal Farm: "All animals are equal, but some animals are more equal than others." Some of these complete recordings are more complete than others, with those of Caedmon's Shakespeare Recording Society being "complete stage versions" — that is, with traditional cuts observed in some plays. In the case of Caedmon's 7anting of the Shrew, the entire Induction scene is omitted, and with it the character of Christopher Sly.
Caedmon was founded in 1952 by two girls fresh out of Hunter College in New York who thought that spoken records were being neglected by the big companies. Starting with a reading by the Welsh poet Dylan Thomas, they became one of the wonders of the record industry by building up a $500,000 business in seven years. The Shakespeare Recording Society is their most ambitious venture to date, with its releases available on a club plan as well as in record shops. One of Caedmon's co-owners, Barbara Holdridge, says that the Shakespeare Recording Society concept is to present the plays as "a dramatic entity, not a scholarly reading." Caedmon is proud of the famous names in its casts, makes all its recordings in England, and takes care to dress them up in attractive albums, which include a printed text of the play.
The Spoken Word is a smaller company than Caedmon, operating out of a minuscule Manhattan office. Its prime success to date has been a four-record album of Chaucer"s Canterbury Tales, which, according to its president, George E. Probst, has met a healthy response in American colleges and schools, Mr. Probst, who ran the University of Chicago Roundtable on the radio for twelve years, and who currently is executive director of the Thomas A. Edison Foundation, which fosters science education, says that the Spoken Word's Shakespeare releases have thus far been aimed primarily at the educational market. But they also are handled by a few large record shops, and overall sales have been satisfactory enough to encourage the company to think about recording the classic Greek plays in English.
Unlike the specially assembled Caedmon casts, Spoken Word's Dublin Gate players are members of a repertory company and regularly work together. Their closest approximation to a big name, American style, is Micheal MacLiammoir, who was here recently in a one-man show about Oscar Wilde called The Importance of Being Oscar, which drew excellent notices but only moderate audiences. The Spoken Word album decorations are strictly utilitarian, and there is no booklet — the producers evidently feel, with some reason, that anyone who spends SI5 or $20 for a Shakespeare recording is likely to own a Complete Works.
Of the Shakespeare series now under way, the most unusual in its production method and — at least to one listener — the most successful in its results is London's, which began in 1957 when a Welshman named Harley Usill decided, much as Probst of Spoken Word did, to produce records aimed principally at universities. At the time, Usill ran a small record company called Argo, and it was on that label that the plays began to appear, under the auspices of the British Council, the cultural arm of the British government. But Argo encountered financial difficulties and was taken over by British Decca, which markets its products in the United States on the London label.
The Marlowe Society of Cambridge University, which performs the plays uncut for London, is an acting group founded in 1907 by Rupert Brooke and devoted to Elizabethan drama. Although it technically is an amateur company, there is nothing in the least amateurish about these Shakespeare productions. In the first place, the recording casts have been judiciously strengthened by well-known professionals, who evidently do not find that appearances with the Marlowe amateurs impair either their dignity or artistic standards. Since the Society's performances traditionally observe a rule of anonymity, no names are listed in the albums. But it is possible to recognize a voice occasionally, and it is also possible, with only a slight amount of arm-twisting, to elicit a few identifications from observers at the sessions. Thus, Paul Scofield plays Hotspur in Henry IV, Part I; Miles Malleson is Polonius in Hamlet, Trinculo in The Tempest, and Peter Quince in A Midsummer Night's Dream; and Irene Worth, who starred in Toys in the Attic on Broadway, plays the feminine leads in Troilus and Cressida, Macbeth, Coriolanus, and Richard II. George Rylands, the British producer and Shakespeare authority who directs the series, himself performs a variety of roles, most of them small.
Some of the outstanding performances, interestingly, come from the Cambridge undergraduates. Such crucial parts as Coriolanus, Mark Antony, Mercutio, and Hamlet are entrusted to a remarkable young actor named Tony White, who brings to them not only the unmistakable accents of youth but a sensitivity for language and line that turns, for instance, the Queen Mab monologue in Romeo and Juliet into spoken music.
Basically, it is the soundness of London's concept rather than the competence of its casts that sets its Shakespeare above the competition. The directors and players have divined the basic truth that playing Shakespeare on records is a different matter from playing it on the stage. The Marlowe Society recordings, more consistently than the others, achieve a balance between acting and reading that recalls Hamlet's famous advice to the players:
Speak the speech, I pray you, as I pronounc'd it to you, trippingly on the tongue. But if you mouth it, as many of our players do, I had as live the town crier spoke my lines. Nor do not saw the air too much with your hand, thus, but use all gently; for in the very torrent, tempest, and (as I may say) whirlwind of your passion, you must acquire and beget a temperance that may give it smoothness. O, it offends me to the soul to hear a robustious periwigpated fellow tear a passion to tatters, to very rags, to split the ears of the groundlings. . . .
In London's Shakespeare, all is used gently, and the ears of the groundlings are never split, not even when the records come out — as they have been doing lately — in stereo. There is no dearth of dramatic life or characterization, but meticulous care is taken to reveal Shakespeare as a consummate poet as well as a master playwright. The Marlowe performers underplay rather than overplay, and in the quiet of one's living room seem all the more lifelike and close at hand for that reason. The sound effects are successful because of their very sparsity, as when Richard II, after his downfall, dashes his mirror to the ground, or when young Arthur in King John thuds to the earth from the walls of his prison, or when the clashing of Hamlet's and Laertes' swords tells of the fury of their duel. Music is used only when called for. Acts are introduced and scenes separated by a few trumpet flourishes. One knows what the Elizabethan stage direction "a tucket sounds" means after listening to a few of these recordings.
Not all of London's plays are equally successful. Its Romeo and Juliet has dull stretches; its Henry IV has a thin-sounding Falstaff; and its Merchant of Venice is keyed too low. Caedmon has released a much more strongly performed Merchant, with Michael Redgrave as Shylock. Many of Caedmon's other releases are studded with brilliant passages, but their dramatic impact sometimes seems scaled to stage performance rather than living-room listening.
The Spoken Word series has more than one stirring moment, too, although its casts are a bit uneven and its sound effects palpably mechanical. Plays in which Hilton Edwards and Michcal MacLiammoir appear, such as As You Like It and Twelfth Night, triumph over these shortcomings; those from which they are missing, such as Julius Caesar and King Lear, are less imposing. For some reason, Anew McMaster's Spoken Word reading of the Sonnets — all 154 of them — imbues them with more beauty and emotion than does a whole team from the Marlowe Society, working in relays.
Both London and Spoken Word acknowledge that record buyers in the United States are not exactly falling over themselves in their eagerness to acquire complete Shakespeare libraries. "The public still isn't responding as we could wish," says Terry McEwen, the manager of London's classical division. "But the schools and colleges are, and the response certainly is sufficient to make us continue. Our first big seller was Julius Caesar, which sold eleven or twelve thousand sets. You have to remember that several of our operas have gone over 100,000, and we hope to do even better with our new Lucia di Lammermoor. But in England the Shakespeare albums make good money — and on the Continent, too." As for Caedmon, whose star-name productions have a larger budget than its competitors' series, sales through club memberships are "very good," while store traffic runs more slowly.
Will the response increase as 1964 and its celebrations draw near and as more people become aware of the magnitude of the three recording projects? Naturally, the producers are hopeful. Record collectors may discover that the same joys of revelation and recognition which one encounters in a Beethoven quartet or a Bach cantata or a Mozart opera are also waiting to be found in these 400-year-old masterpieces. Shakespeare needs no encomiums at this late date. I would only depose that his works on records offer rapt and satisfying listening.
Record Reviews
Dvořák: Symphony No. 2 in D Minor
Pierre Monteux conducting the London Symphony Orchestra: RCA Victor LSC2489 (stereo) and LM-2489 Dvořák's Second does not lead any list of the ten greatest symphonies, and its weaknesses are readily apparent — length, diffuseness, and mixture of styles. But it also has the nostalgic lyricism tinged with sadness that is characteristic of Dvořák and that gives so much of his music vitality and emotion. Under the direction of Pierre Monteux, it seems to radiate warmth and color and enchanting sounds. The "No. 2" is deceptive; actually this was the seventh symphony Dvořák composed, and he was a mature forty-three when he wrote it. Monteux, it might be added, was a youthful eighty-five when he recorded it.
Franck: Sonata in A Major for Violin and Piano
Mozart: Sonata in E-flat Major for Violin and Piano, K. 481
Erica Morini, violin, and Rudolf Firkusny, piano; Decca 710038 (stereo) and 10038
Music is a science in which one plus one do not always equal two, which is to say that one pre-eminent solo artist added to another in an ensemble sometimes makes for a total rather less than that expected. In this case, however, the sum is not only equal to the parts but greater. Morini and Firkusny, who can shine brightly enough singly, are simply dazzling as a combination. The Franck and Mozart sonatas are not exactly blood brothers, but they seem to share a companionship of the soul in these strong, suave, sensitive performances.
Handel: Royal Fireworks Music (original instrumentation)
Roller! Woodcock: Concerto for Recorder in C Major: Concerto for Oboe in E Minor
Richard Schulze conducting the Telemann Society Orchestra and Band; Vox STDL500750 (stereo) and DL-750 The road to Handel is paved with good intentions. In his labors to produce what he regards as an authentic recording of the Fireworks Music, Mr. Richard Schulze has obtained from the Casadesus Collection of Ancient Instruments in Boston and from other sources such quaint devices as eighteenth-century valveless trumpets and hunting horns, oboes and bassoons with old French reeds, a military serpent, and so forth. Even more difficult, he assembled a group of musicians to play these always treacherous and now obsolete instruments. The one trouble with the record is that it sounds awful. By modern standards the players seem hopelessly out of tune, off pitch, and discordant. The suggestion is made that modern audiences may grow more reconciled, not to say receptive, to this type of performance with rehearing. In at least one case, this did not prove to be so. Either this record is wide of the mark in its research or execution. or the glories of music in Handel's day have been exaggerated. Robert Woodcock, incidentally, was a British contemporary of Handel's. Two of his concertos are set forward ably and straightforwardly by the Telemann Society Orchestra, with Richard and Theodora Schulze as recorder and oboe soloists, respectively. And very nice music it is. Lovely, in fact.
More Piaf of Paris
Edith Piaf, chanteuse, with orchestra conducted by Robert Chauvigny; Capitol ST-10283 (stereo) and T-10283 The musical travails of Edith Piaf find their parallels in her own life. In addition to several celebrated chagrins d' amour, the diminutive French singer has been plagued by a succession of illnesses and accidents, and recently endured a long spell of inactivity. Is it merely imagination to think that this, her first record in many months, shows a deepening of an art which was always marked by unique qualities of sincerity and conviction? In any case, she has never sounded more passionately involved in her songs. The passage of the years leaves her power to move the listener unimpaired.
The Voice of Joseph Schmidt
Joseph Schmidt, tenor, with the Berlin Philharmonic and State Opera Orchestras conducted by Selmar Meyrowitz; Telefunken 97007 (monaural)
"Wouldst thou hear what man can say. In a little? Reader, stay," wrote Ben Jonson in a poetic epitaph. With like poignancy this record sums up a brief and tragic career. Joseph Schmidt was born in Romania in 1904 and died in Switzerland in 1942, a refugee from Nazi Germany. He possessed one of the most fluent, flexible, and sweet-sounding tenor voices of his generation. But he stood only four feet, ten inches high, and, despite several desperate attempts, a stage career was impossible for him. Radio appearances made him popular in Germany until 1933, when, as a Jew, he was barred from activity; and he also made movies and recordings. This collection is his best-sounding representation on LP records, with the 1929, 1930, and 1931 originals coming through with surprising clarity and warmth. Mostly Schmidt worked in the German language, so we have "Ach, Hires Auges Zauberbliek" from La Traviata, this being better known as "De' miei bollenti spiriti," and "End es blitzen die Sterne" from Tosca. otherwise "E Lucevan le stelle.738221; But there are two arias in Italian. "Questa o quella" and "Una furtiva lagrima," and selections from Mozart, Halevy, and Smetana, all sung with freshness and ardor by a young singer who had had only a taste of the blows fate had in store for him. The record is part of a series of Telefunken reissues sold here by London Records at $1.98.