New York in the Twenties
SIR OSBERT SITWELL'Sfive volumes of reminiscences, which were published in this country under the AtlanticLittle, Brown imprint, stand as a unique monument to Victorian and Edwardian England. Recently he has been at work on a new book, about his father, TALES MY FATHER TAUGHT ME. In the following essay he gives us a glimpse of what New york was like in the late twenties, before the Depression cast its shadow.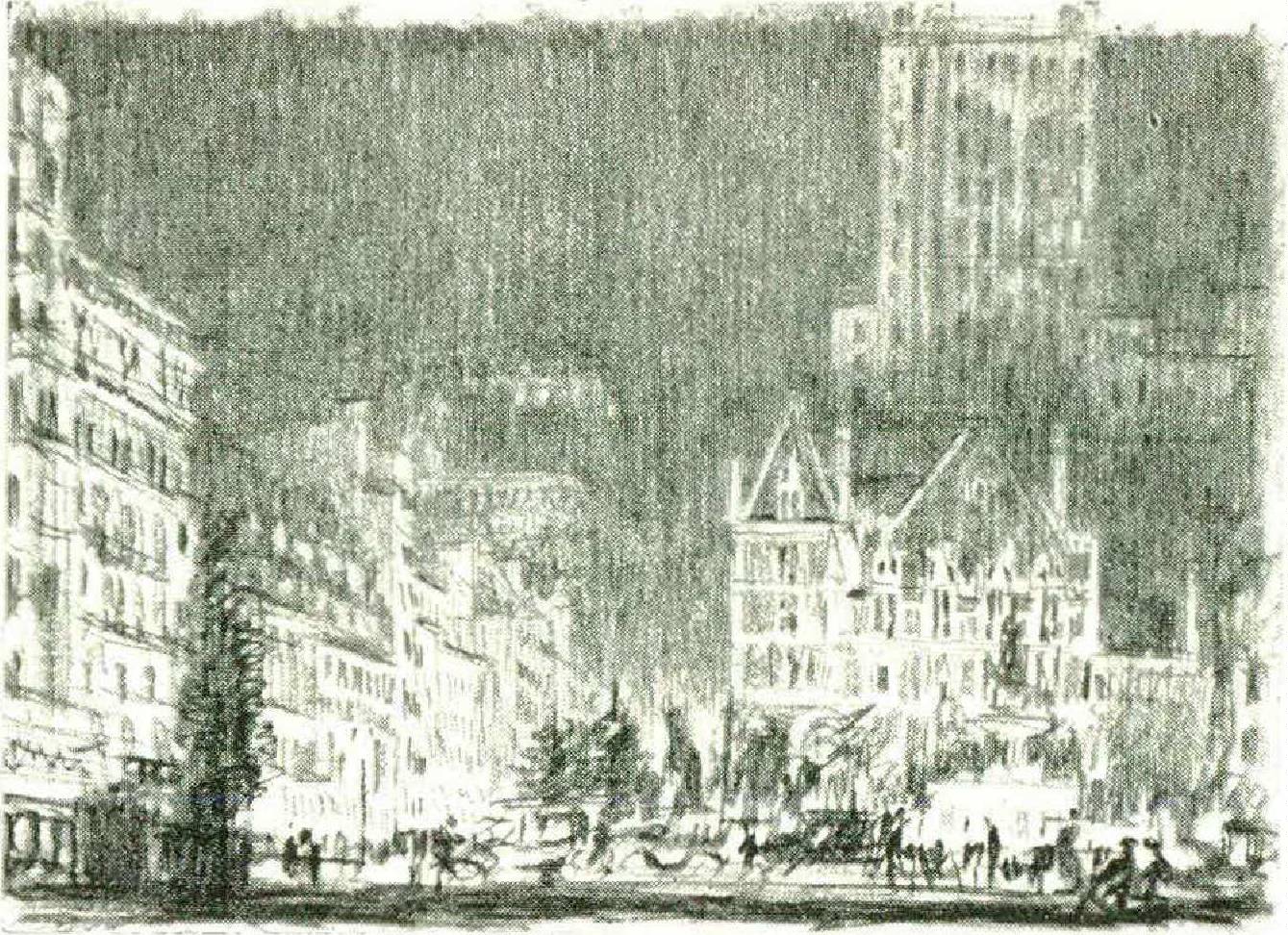 IT WAS in November, 1926, that I set off to discover America for myself emdash; though, in fact, in the end I only explored New York. My visit coincided not only with the full tide of Prohibition but with the full height of the great Wall Street Beano. Never had so many rich people been crowded together in so minute a space, for the island of Manhattan is small and has therefore been obliged to develop vertically rather than horizontally. What follows in this essay relates to New York before the Slump, when, as one looks back upon it, the city was as innocent as Adam and Eve before the Fall. Sophistication showed already in individuals but not in whole sections of the people, as it does today. America had not yet grown used to her position as a great power.
To give an example of life in New York at that time, let me here record that in the Ambassador Hotel, where I was staying, lived a friend of mine, a professional photographer, but, by the standards of the time, not a rich man. Except for getting up in the late afternoon to take a single photograph for an immense fee, he stayed in bed all day, telephoning to Wall Street to buy shares on margin, and invariably got up in the evening in time for dinner — at which he always ate oyster-crabs Newburg, a specialty of New York — a much richer man on paper than when he had gone to bed the night before. Alas, this state of affairs was drawing to a close, but nobody knew it. People then presumed that it would last forever.
When we arrived in New York, we found a day of extreme brilliance. It would be impossible ever to forget the first sight of the groups of slender towers that form the skyline of New York City, chanting hosannas to an autumn sky. English people who have not been there always presume that New York has a very dry climate, but, to the contrary, it must be one of the most humid cities in the world, though also that with the most changeable climate. In the two or three months I stayed there. I grew to know all the varieties of weather possible, except extreme heat, because every day I would go for a long walk, whatever the weather, stepping out fast beneath the clifflike buildings. I used, for example, to walk from my hotel to Wall Street, or to the Battery. I would make my way through the Italian and Chinese enclaves and examine them at my leisure. Whenever I saw a bookshop I stopped and entered it and looked round, and I visited many picture galleries and museums. Thus I saw New York when it rained so hard that the water splashed back from the pavement. I saw it under snow, when, until the dust from buildings that were being destroyed took possession of it — and in New York gigantic edifices are always being destroyed and re-created — it was as white and clean as the North Pole. I have seen it when the wind whistles knifelike round street corners, and I have heard the lion-mouthed thunder redoubled by stone and cement drown the bootings of the great liners, but I have never known a day more beautiful than this first one, dry and crackling, and it enabled me to make a discovery of which no one had spoken beforehand: that in New York you receive a harmless electric shock when you ring the elevator bell. But if I asked lor an explanation, there would always be the same murmurs about "static electricity."
The first night I spent in New York I was taken to an immense dinner party given by a great picture collector and his charming and discerning wife. They were very kind to me, and after dinner my hostess led me up to a chair, a cross between a campstool and a shooting stick, but made of wood, and said: "This is our Dante Chair."
"You mean Dante sat in it?" I inquired.
"No, he was asked to, but refused," she replied, "and that is why we call it our Dante Chair. I want you to sit in it on this, the night of your arrival in New York."
Accordingly, I sat in it, and, as I did so, it crumbled into dust — albeit "crumbled" is not the word to describe this process, since it carries no sense of immediacy, while this disintegration was instantaneous. When I had recovered from the shock - and I may say that my hostess was extremely kind about the incident, though I could not expect her to enjoy it I found myself engaged in conversation with a fanciful lady of massive frame, elaborately upholstered in green and yellow brocade.
"Let's talk about you," she was saying. "You Englishmen all wear armor."
To which I countered: "No. Let us keep it to yourself."
She replied: "I'm just a wild Irish thing, just a li'l leprechaun."
My first novel, Before the Bombardment, was about to be published in America, and George Doran, its publisher, gave a dinner in my honor for some twenty persons. Even at so comparatively small a party the American passion for oratory made after-dinner speeches compulsory. Among those present whom I recall were William Rose Benét, Frank Swinnerton, F. P. Adams, and the biographer of George Washington, W. E. Woodward, a banker turned debunking but genial author. In the middle of dinner he hissed into my car: "I have read your book, and I know you won't be taken in by this Dollar Business." I reassured him. In addition, I received a warning from a friend who was present at it that I should leave the party punctually at twelve, since the first alcoholic rows were likely to break out at that hour.
Liquor under Prohibition had become a national obsession. Love of liberty made it almost a duty to drink more than was wise. In this respect, intellectuals vied with socialites. At the end of a ball it was not an uncommon spectacle to see smart young men who had, in the phrase of the time, "passed out" stacked in the hall ready for delivery at home by taxicab. At any literary gathering there would be almost equally relaxed behavior, because most festivities depended on supplies of synthetic gin and whiskey, and the strength of them was formidable.
To show the ingenuity of purveyors: I remember Dick Wyndham ordered some champagne for a party he was giving he had taken a studio at the Berkeley — and the next morning, while he was still in bed, the door was unlocked and a French couple entered with their luggage. There seemed a great deal of it. Dick kept explaining to them that this was his room and that he was in bed in it. They appeared to be deaf and paid no attention until all the luggage had been collected. They then bolted the door, threw open their trunks, produced the champagne, received their money, and left.
Prohibition had some other curious, opposite consequences. For example, at the Ambassador Hotel, which had large and magnificent public rooms, it was impossible in any of them, except the dining room, to obtain a glass of water, since no beverage of any sort was allowed to be served.
Another result of the current boom was a new development in the domestic bird world. Rich old ladies bequeathed large legacies to their parrots, but so many of the human heirs were reluctant to take on the job of looking after these spoiled birds that a Parrots' Home, it was said, had been founded for accommodating only privileged, moneyed parrots, cockatoos, and macaws, who were lodged and fed according to social position and income. Accent and way of talking were taken into account. The parrots who had inherited $10,000 a year and cultivated a Fifth Avenue voice would be given a better perch than the $3000-ayear birds and would be entitled to more and lessmildewed grapes. What happened to these birds when the Great Slump came I never heard.
What I did discover was the existence of a completely unknown set of alternative literary figures, writers whose names were familiar to everyone in literary circles in America but of whom nobody had ever heard in England, and vice versa. Until I arrived in New York, I did not know the names of Hey wood Broun, then at the height of his fame as a critic, of his wife Ruth Hale, of F. P. A., and of many others. What seemed more extraordinary still was that English novels — romans ά clef — were in the United States fitted out with an entirely different and local personnel. If, for example, Desmond MacCarthy had been said to figure in an English book, in America this same character would be attributed to Heywood Broun, and that of a woman writer, say Rose Macaulay, to Ruth Hale, and similarly on through the whole volume, in short, there were two sets of figures, but if you explained that one of them was not an American but an Englishman, your statement would be received with incredulity.
One of my most pleasant memories of that time was my first meeting with Marianne Moore, to whom I took a letter of introduction from my friend Mrs. Bryher. Marianne Moore was then living with her mother in a trim red-brick house in a trim street in or near the Village. When i arrived punctually at four — and punctuality with me always means at least ten minutes beforehand (I have wasted as much time by this fault as another man loses by being late) — Miss Moore had not yet returned from the office of the Dial, and I was received by her mother. Mrs. Moore, like myself, greatly admired Dickens, and site talked to me of his tour in the States and told me of the towns where he had delivered his readings. After a little time Miss Moore arrived, a charming and very unpretentious young woman with the same quiet elegance and the same strong but merciful personality that have so finely developed throughout her life. In spite of her apparent simplicity, it was easy to discern a very definite, delicate, and poetical nature. Though shy, she was able to take refuge behind an appealing and almost apologetic smile, but she was as full of character, both individual and national, as a swarm is full of bees.
AMONG the friends who gave parties for me when I arrived in New York, one of the first was Muriel Draper. I remember with what amusement she told me, apropos of this party, that when she had sent a card with "To Meet Captain Osbert Sitwell" on it to Ford Madox Ford, he had replied: "You can't ask Colonel Ford to meet Captain Sitwell." (I had invented for him the name of Freud Madox Fraud.) The party took place during her Gurdjieff period before she became a Communist, when she was still an interior decorator. There was much talk in her studio of furniture made of metal and glass, but this occurred before the nightmare became true and culminated in the metal and chromium-plated tubes and uncured leather seats slung on three rods of steel that were to be the fashion. When I had been introduced to her in England some years before we had immediately become friends. Much of her character is still visible in her book Music at Midnight, and thus can be recaptured, but her amazing gift of life and her entirely individual appearance are more difficult to record. I had first seen her remarkable head in the stalls of Covent Garden before the war. She seemed a realization of the American spirit and might well have been the figurehead of a new race. To talk to her was enchanting, for she combined frankness with the most extraordinary powers of minute observation. Everybody who knew her either loved or hated her. There was no middle way.
I also attended a party given by George Moore, the genial American financier who had previously shared a large house in London with Lord French of Ypres and who loved to provide amusement for his friends. He was now entertaining equally lavishly in New York. This was a noisy evening, with Cossacks giving toasts and singing and jumping over their swords. It was impossible to hear a single word your neighbor said. so, as I wanted to talk with Muriel Draper, who was sitting next to me, I proposed we should slip under the large supper table and in that refuge finish our conversation. an idea which we put into practice. It seemed very quiet.
One of the people I liked most in the New York of that time was Alexander Woollcott, who was friendly and witty. The most valuable personal quality with which nature had endowed him was his obvious love of life, and he showed no sign of the insolence with which his personality has been invested. I first met Woollcott, who was not then as famous as he became later, at Miss Elizabeth Marburv's; I have heard him be so funny in conversation that the taxi driver who was taking us to a theater had to pull up at the side of the road because he was laughing so helplessly. Miss Marbury was, mentally and physically, one of the remarkable Figures of the time in New York. To write that she was large is an understatement. She was of such enormous size that it was always difficult for her to get in or out of an automobile, but this disability in no way discouraged her from going about and usually caused her to laugh uproariously. Everywhere she went people were delighted to see her. Somerset Maugham had kindly given me a letter of introduction to her, and I met her frequently just after I arrived in New York. On each occasion she watched and listened to me carefully, with a frightening look of acumen.
After this had happened four or five times and she had summed me up in her mind, she said to me: "I should like to act as agent for you" — an honor which I fully appreciated.
I used to visit the château on Fifth Avenue of Mrs. Cornelius Vanderbilt, whom I had oiten met before in England. Indeed, on one occasion, at Polesden Lacey, I had said to her: "What a lovely color your dress is, Mrs. Vanderbilt," to which she had replied in her happy innocence: "Yes, I love blue; that is why in New York I am known as the Kingfisher."
Her house was the social center of New York. It was not lovely but what was called, in advertisements of houses to be let or sold, "well-appointed." large and luxurious, full of Louis Quinze furniture and of footmen, already a rarity in New York. When the time came for me to say good-bye before leaving for England, I asked if I could do anything for her when I reached London. She replied: "Only to give my love to the dear boys."
I knew immediately whom she meant: His Royal Highness, the Prince of Wales, and Their Royal Highnesses, the Dukes of York, Gloucester, and Kent.
At this time, one would have said, certainly, that Mrs. Vanderbilt was one of the most conventional people alive. Even her clothes, her invariable bandeau, and her gray hair were a cliche, but as she grew older her conventionality faded, as I was to find out many years later when I sat next to her at luncheon in the house of a friend in New York. She suddenly said to me, pointing to a well-known general who was sitting at the other side of the table talking in an extremely loud voice: "That man is too noisy. I shall scream."
Before I had time to reply, she had let out a yell, loud and fierce enough to have done credit to an American Indian out for a day's scalping. Undeterred by the sudden quiet that ensued, she said to me: "Shall I scream again?", but this time I was able to dissuade her. It is related that when Mrs. Vanderbilt met the Soviet Ambassador for the first time, she began the conversation by saying to him: "I was devoted to your Czar."
There was much entertaining going on, and the descendants of the statesmen who had signed the Declaration of Independence still formed a society of their own. They constituted a kind of Domesday Book society, and, however poor some of the members of these families Had become in the interval, they were always invited to and invariably attended the dinner parties of their richer fellows.
THE tornado of prosperity swept on. Colored people offered hospitality as much as white, and one of the most memorable parties I attended was a ball given by Madam Walker, the heiress of Anti-kink, for two young nieces who were on this occasion to make their first appearance in Black Society. Madam Walker, who must have been a very rich woman, lived in one house and reserved another for party giving. The room where she received us was a tent room, carried out in the Parisian style of the Second Empire. She stood attended by a niece on each side and by Dr. X. who was known as the Negro Lenin, but I did not have time to find out whether this was a correct description. One curious feature was that on arriving no one would shake hands until he or she knew exactly where you had come from, and when my name was called out. they gave me a searching glance until I added, "from England." Then they shook hands warmly.
Our hostess, a very large woman, was wearing an elephant-gray tight Greek ball dress, and braiding her hair was a Greek fillet in gold. When the time came for the dance to begin, Madam Walker asked me to go upstairs with her and talk. Downstairs we could hear the band start to play. Alleged Scotch whiskey was the drink supplied below, but upstairs Madam Walker produced two bottles of champagne, which she opened, and then proceeded to reveal to me her trouble: "Twenty years ago," she announced, "my feet spoiled my honeymoon — and tonight they're hurting me again, something crook"
There was then no talk of integration. Downstairs, one of the nieces, who was very sure of herself, was saying to Dick Wyndham: "Excuse my asking, but are you high-class?"
He did not know what to reply. If he said no, he might be asked to leave; if yes, he would probably be stamped by conceit, but in the end he judged it better to say yes, to which his dancing partner replied: "I am so glad, because I have no color prejudice, but I do think the classes oughtn't to mingle."
The dancing was the greatest pleasure to watch. It was the year in which the Charleston took the city by storm, and most of the guests danced it beautifully. I sat there, interested and happy, until I grew very tired, and suddenly realized that I had become the victim of an inverted snobbishness that was causing me to stay up longer than I wanted because this was a party given by colored people. I knew then that it was time to go.
Harlem in 1926 was no hostile fortress, as it is today, but a part of New York City, where colored people welcomed the white. It was an enchanting place to go at night. Whenever there was an occasion, Carl Van Vechten was always the white master of the colored revels. I remember one ridiculous incident. It had been announced that a hitherto unknown colored singer, a mistress of exotic and nostalgic song, would make her debut shortly in New York at a well-known nightclub. Excitement had mounted for weeks, and on the night in question the particular nightclub was crowded with people, standing as well as sitting. The artiste was very late in arriving, and when she did appear she had obviously swallowed more strong liquor than was good for her. However, when at last she stepped onto the stage, an expectant silence fell on the audience, but, alas, she began to sing in a lachrymose, ululant manner the whole of Auld Lang Syne, the words interspersed with her own hiccups and gusts of laughter from below.
I recall also with delight a comment made by a well-known Negro singer, Taylor Gordon, on John Webster, as we will call him, a contemporary English author and friend of mine. Webster always wore rather loose, shaggy clothes and wore his tie inside a ring. Muriel Draper had said to me: "When you see Taylor Gordon, ask him about his meeting with John Webster."
A few days later I saw him and accordingly said: "I hear you met Mr. Webster. How did you get on with him?", to which he replied: "Mr. Sitwell, when I think that that man comes from the capital of the world's tailoring!"
THE New York theater was in a state of great activity and vigor compared with its London equivalent. For example, the play Broadway was there to compete with the suburban comedies then to be seen in London. It was easy to decide which was the more interesting. I found much pleasure and made many friends in the theatrical world.
Clare Eames wrote to me a fan letter about Before the Bombardment and asked me to have supper with her and her husband, the playwright Sidney Howard. We became great friends. They lived in a small house — even then a rare possession — and I often went there after the theater and ate chicken fried by an excellent colored cook at two o'clock in the morning. Clare Eames came of a famous theatrical family and was a niece of the well-known Madam Clara Eames. Clare Eames would, I think, if she had lived, have become a great actress. Feeling for the stage was instinct in her every movement and expression, but she was the least affected person you could imagine. I saw her in her wonderful rendering of Katya in the dramatized version of The Brothers Karamazov. Alas, she died in London a few years later, and Sidney Howard died also before his time. It was during this visit, too, that I became friendly with Charles Brackett, a friendship which happily still survives, as I found in Hollywood many years later.
In several directions American ways seemed to me to be old-fashioned. Thus, I noticed that every time George Doran entered his enormous office full of people, the whole personnel would stand up until he had crossed the floor to his own glass pen. This procedure, I reflected, must have wasted an unconscionable amount of time — say five minutes for one hundred people, which equals five hundred minutes, which equals eight man-hours and twenty minutes — but may have constituted one of the reasons why there was no unemployment in America at that time.
What I discovered in New York was a completely new range of friends and the most wonderful collection of pictures, both old and new. The Americans had been the first foreign patrons of the great impressionist and post-impressionist masters who were now beginning to come into their own, but I noticed a tendency to treat the patrons who owned such works of art as if they had painted them, a tendency which continues today and resembles the flattering regard in which scientists are Held, as if they had themselves made the beneficent phenomena they reveal. All the same, the early American patrons deserve the greatest credit for their discernment and for having presented pictures of these schools to public galleries. The most scintillatingly beautiful of all pictures by these painters, La Grande Jatte by Seurat — a large canvas wherein top-hatted men and bustled women promenade by the shimmering water's edge in an eternity of light — was bought by an American patron and presented to the Institute of Fine Arts in Chicago. There is in France today no work by this great master to compare with it. Indeed, perhaps the only picture of his that is of equal importance is La Baignade in the Fate Gallery.
Out of the welter of galleries and museums to which I submitted myself, a few stand out with a particular clarity, notably the Frick Collection with its individuality and splendor (the most beautiful Bellini in the world, for example — Saint Francis; a room of Fragonards, surely one of the most wonderful decorative rooms that has ever been painted; The Polish Cavalier; and so many other treasures of the finest quality, in a perfect setting, a spacious and lovely house instead of an impersonal gallery) and the Spanish Museum, today not defunct but much changed. The chief memory of all is human rather than aesthetic, a tragic experience which yet brought its own lesson of courage. I was taken by a friend to visit the apartment of a great collector — mainly of Italian primitives — who had gone blind and whose chief pleasure it was to take people round his pictures, pointing out to them the particular beauties and subtleties of color and detail. So well had he known them, so much had he loved them while he still retained his sight that he never made a mistake; in this manner he kept alive and constantly renewed his memories.
I went home from my voyage of discovery by the southern route, from New York to Naples, sailing on a great Italian liner, its interior designed and heavily furnished in the dark late-Renaissance style prevalent in the most expensive Italian hotels. You entered Italy the moment you set foot on board. The Italian voice, so beautifully modulated and so beautifully produced by the Italian people — though often strident and shrill, equally among the rich and the members of the old ruling class —formed an animated background. The ship was celebrated for its parties, and I recall that one lady from Boston had brought with her a gray silk dress that had belonged to her grandmother, which she was determined to wear when she presented the prizes at a Fancy Dress Ball. An instance of such an unsophisticated enthusiasm for fun of a modest kind would not be easy to find today; but it must be admitted that in this costume she looked very well, after the manner, no doubt, of the simple-souled Quaker lady for whom it had been made.
We sailed through the Azores, with its mists and under them, its hills covered with hydrangeas, and stopped for a day and a night at Funchal, the capital of Madeira, that lovely island, a single mountaintop rising from a great depth in the middle of the Atlantic; an island full of fine nineteenth-century villas with their entrancing gardens of semitropical Regency and early-Victorian style, gardens in which orchids flourish as easily as Dorothy Perkins grows in England, and solandra with their white buds so huge, several times the size of the flowers of a magnolia grandiflora, that if you pop them, as you might a fuchsia bud, they make a sound like an old-fashioned motor horn, and large paulownia and jacaranda trees that can only blossom with profusion in such a climate. All this floral exuberance rises on the foundation of the fortunes made from the wine that bears the name of the island.
Perpetual early summer seems to reign here. We left the island and sailed through estival seas, sportive with dolphin and porpoise nosing and jumping out of the Atlantic rollers, and with flying fish sequining the green-blue lanes between them. We disembarked at Naples, and a few days later, I met in the street a very shrewd American lawyer to whom I had talked on the boat. It was his first visit to Europe, and he observed to me: "One thing I notice particularly; the people you pass in the streets here have a different expression in their eyes from what they have at home."
What did he see in those magic mirrors, affording clues to the past and the future, I wonder: in the past, the European triumphs of every sort, but specially in the arts, for century after century; the age-old dusty poverty, aggravated by war, of Naples, the last great classical city surviving to our own day; or in the future, hints of the Civil War in Spain, that short rehearsal for the wicked war which was waiting for us round the corner, or the revival of the torture chambers and the introduction of gas ovens in Germany? And what did he see in the eyes of his own countrymen when he returned to New York? What I saw in the eyes of a generation ago was infinite kindness and credulity, and the boundless confidence which enabled a great people to grasp the leadership of the civilized world, and then not know what to do with it.
CONTINGENCIES
by LYNNE LAWNER
Windows spangled with sun
And all the air a great, unfolding rose;
Tracery of trees on stone,
Debris on water.
Lost in deceptive spaces of contingencies
My hair turns chestnut,
Burns,
Smoking in the early evening of your eyes.