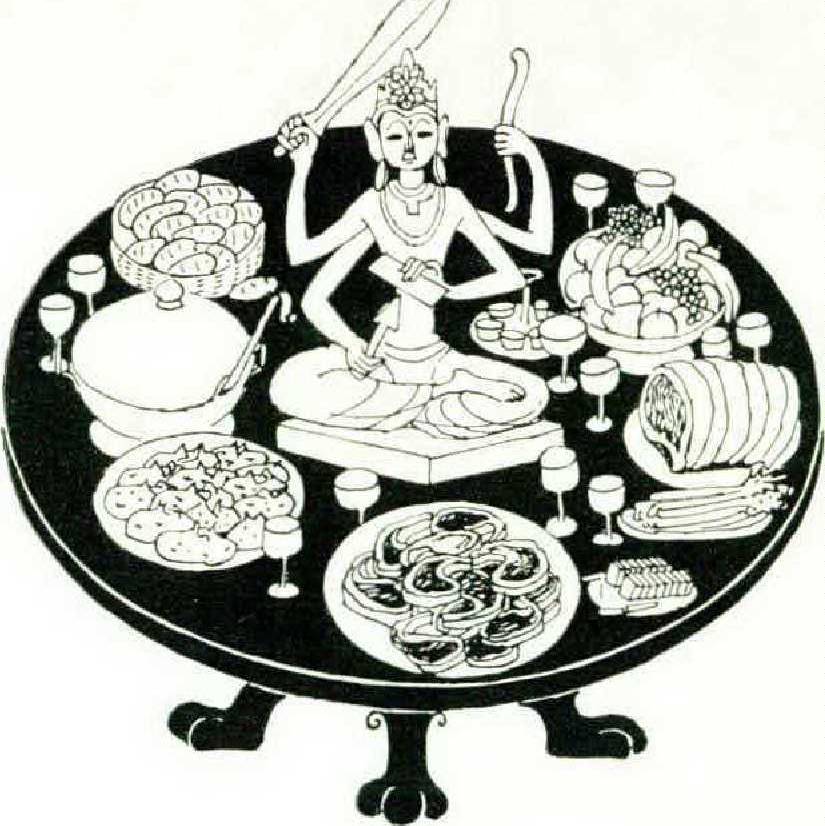 Not long ago, I found myself in Amritsar, the capital of East Punjab and site of the Golden Temple, the Sikh holy of holies. It has a closepacked population of about 400,000, is an important rail center, and was, in the days of the British raj, a bigmilitary base.
Nowadays few signs of the erstwhile British presence remain. Only an occasional street name still provides a Kiplingesque echo, but it was in one of these streets, Cantonment Road, that I came across a stronghold of the dimming past.
The chatty pilot of the Indian Airlines plane on which I had flown from New Delhi had directed me to it. The hotels of Amritsar, he had intimated, were scarcely up to snuff, and I would therefore be well advised to go instead to the establishment of Mrs. Bhandari.
This proved to be a red-brick house of most formidable proportions and impeccable maintenance. In the fierce heat — it was in the upper nineties throughout my stay, with humidity to match — the interior of the house remained in a permanent state of almost complete darkness. Blinds, shutters, and curtains were drawn in every room, while from the ceilings there hung lazily revolving electric fans.
When my eyes had adjusted themselves to the crepuscular conditions, I was able to make out fumed-oak paneling of Victorian style in the living rooms; ponderous furniture of great solidity; and on the enormous mahogany sideboard in the dining room, a floridly handsome set of solid silver, including splendid plates, trays, chafing dishes, teapots, sauceboats, and jugs. All these properties, and much else besides, had, it developed, been imported at considerable expense from Britain in the 1930s by the late Mr. Bhandari.
"No expense spared !" cried Mrs. Bhandari, as I peered respectfully about me. "All first-class materials and stuff. Those were the days. Utterly top-hole!"
Mrs. Bhandari is a Parsi lady, the possessor of one of the most dynamic personalities that I have ever encountered. Photographs of her as a young woman suggest that she was once remarkably handsome. Today her figure has assumed ample proportions, but the spirit remains unquenched. Her powers of conversation, especially her speed of delivery, volume, and persistence, are aweinspiring, She has a voice that carries, and it was to be heard, now close at hand, now in the distance, all day long, exhorting, denouncing, and commanding the large staff which does her bidding.
"You think this is a big lot of servants?" she ejaculated. "Great Lord, no — we're down to a dozen or so now. In the thirties we had over a hundred, and they only got a few annas a day each. They worked hard, too — up early and to bed late. This lazy crew doesn't know the meaning of hard work."
The house stands in a large and superbly groomed garden. The green lawns would do credit to an Oxford college. The trees burgeon with outsize fruit. The rows of evergreen bushes are trim; the paths, immaculate. Exotic birds dart about, emitting teasing calls.
Once, during my stay, the garden was inundated, as the lurid meteorological conditions produced a storm of terrific intensity. Looking out between the drawn curtains, I was startled to perceive a line of women, seven or eight of them, squatting shoulder to shoulder, stolidly, heedlessly weeding the lawn in the lashing downpour. They had on only their ordinary, rather wispy cotton clothing.
"Really," I said to Mrs. Bhandari, who was passing, "ought those women to be allowed to stay out there while it's so wet?"
She shrugged gaily. "Well, they're so wet already that they can't get any wetter. They'll be all right — as right as rain, ha, ha!"
Mrs. Bhandari herself always wears the dress of the region, a lightweight tunic, or khamsul, and baggy trousers. In these she bustles about her nonstop business, keeping a sharp eye on all activities. Her knowledge of English, although good up to a point, is a trifle off beam and anachronistic as regards slang and sentence formation, which is frequently the case when Indians essay the intricacies of English.
"I give him a hell," she once remarked to me with gusto, as she reminisced about an occasion when she had been baled into court over some alleged, contravention of the regulations — a prosecution from which Mrs. Bhandari extricated herself in triumphant acquittal, after having predictably conducted her own defense. The luckless man who received "a hell" at her hands was the prosecuting attorney.
One afternoon she greeted me genially with, "Would you care for some spots of tea? Nothing like tea to eliminate the cobwebs from the nut, I always say."
It might be supposed that this out-of-the-way place, not far from the northwest frontier, might nowadays go short of guests. Not so. The sahibs still swarm to Mrs. Bhandari's, but instead of the former British polo players and military types, her resort is today almost invariably filled to bursting with American travelers, sometimes, at moments of extreme pressure, sleeping in tents in the garden. For, by a quirk of circumstance, Amritsar (which means, by the way, "Pool of Nectar") is, in this age of fast communications, a way stop for members of the many American missions from Kabul, the capita! of Afghanistan, 350 miles to the northwest, who are on their way out on leave, by air or road, to the Vale of Kashmir, or farther afield.
Mrs. Bhandari's has in fact become a recognized staging point for American officials plunging thankfully away from one of the conspicuously less attractive areas of the Cold War. One night I totted up the company as best I could, and it worked out as: one retired Canadian schoolteacher going round the world "for fun," as she said; the French consul general in Kabul, who had to sleep on a sofa in the drawing room; a middle-aged American official temporarily escaping from Kabul, together with his wife and four teen-aged children; three young American ladies attached to different U.S. missions in Afghanistan, and going on leave; and a lady photographer from Life magazine who had come to Amritsar, as I had, to cover the start of the "fast unto death" of Master Tara Singh, the 76-year-old Sikh leader, who was thereby registering his protest against Nehru's Punjab policies.
When I say that I mentally listed my fellow guests as best I could, it is because at Mrs. Bhandari's it was rarely easy to be quite sure just how many people there were about the place, and how they were to be identified. For one thing, there was this pervading darkness. For another, no doors downstairs were ever closed, and knots of people eddied about from room to room like wraiths. Another confusing factor was the servants. In spite of Mrs. Bhandari's protestations that changing times had left her with a bare dozen domestics, my impression was of a far greater establishment, of which the members were constantly on the drift hither and yon.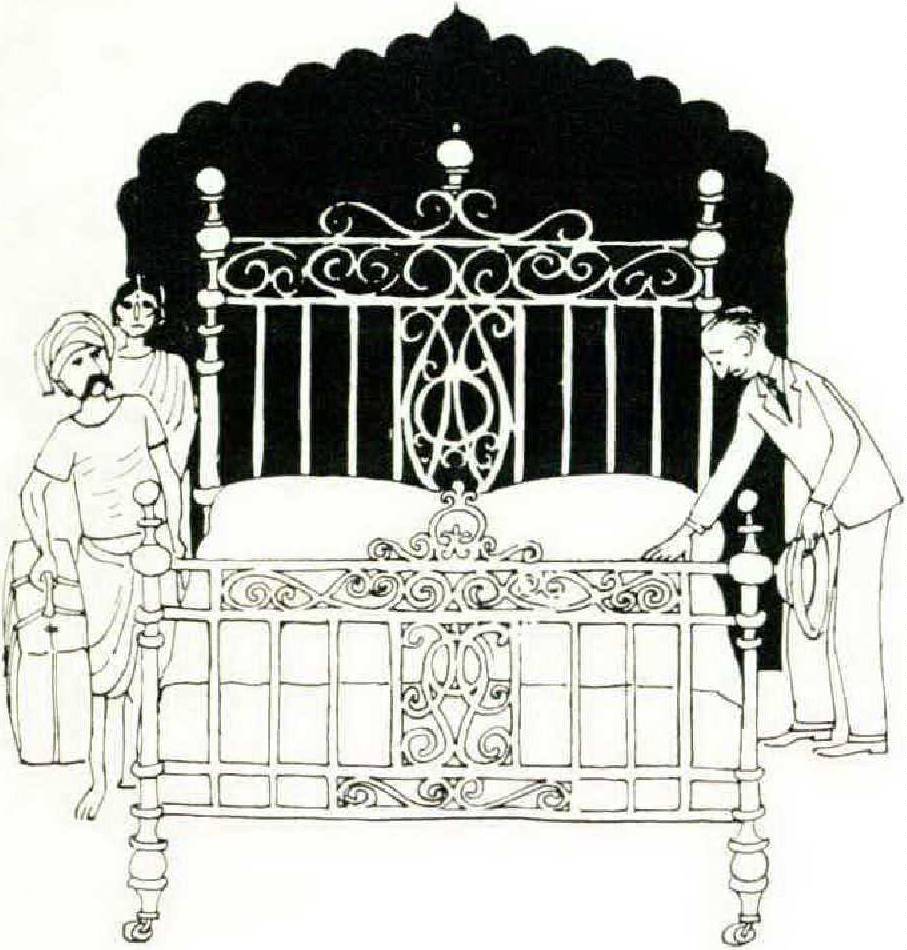 There was a perpetual coming and going. People would appear for a moment in a doorway, then vanish — sometimes never to be glimpsed again. It was like the second act of a carelessly written play, with dialogue only sketched in, and motivation hopelessly confused.
Young female member of educational mission in Kabul (fretfully): " Trouble with those Afghans is that they don t want to learn. They think they know it all already."
Mrs. B. (appearing in one of several doorways): "Mr. MacColl, you look shamefully warm. Why not give yourself a shower bath, and then relax in a jolly nice short-sleeved sporting shirt?"
Man from Kabul mission: "Well, sir, we drove down the Khyber Pass, and then through Peshawar and Rawalpindi. Roads pretty good."
Elderly lady guest: "Shall we go to the Golden Temple tonight, Edna?"
Edna: "Well, I'm told you have to take off your shoes and stockings first. The Sikhs arc very strict."
Teen-ager: "Mom, can I go look at the parade tonight?"
Parent: "It's not a parade, dear. It's a religious procession."
Mrs. B. (reappearing in another doorway): "They say he's fasting to death, but don't you believe it. He's getting wizard helpings of chicken broth to keep him comfy whenever he feels like it."
A voice: "May we have a call at 6 o'clock tomorrow morning, please?"
Mrs. B. (graciously): "Bob is your uncle, sir."
Dinner at Mrs. Bhandari's was the climax of the day. The lights would be switched on at last in the diningroom, and the full effect of the paneling, the furniture, and the silver would stand revealed. The meals were enormous. There were never fewer than five courses, and, beginning with piping-hot soup, something like oxtail, they would consist — in the 90-degree temperatures of such offerings as rissoles, shepherd's pie, sausages and bacon, fish cakes, curried meat, banana fritters, tinned peaches on rice, and bread-andbutter pudding. These dishes were accompanied by generous dishes of potatoes and cabbage and salad, while bottles of manufactured sauce and spice stood at hand, in the best British tradition. The American guests accepted these gargantuan repasts with stoicism.
There were no small tables. All sat down together around the massive dining-room table, doggedly tackling the generous provender, making polite inquiries as to where their fellows were headed, and sipping from glasses of orangeade or lemon squash, for the Punjab, like most of the rest of modern India, has stringent liquor laws, and no wine or beer may legally be served.
Mrs. Bhandari is a woman whom I esteem. There is about her a touch of magnificence, a hint of the attitude of Marie Antoinette.
When I left for the airport, she exuberantly saw me off. "Be good!" she cried. "And if you can't be good, then kindly be cautious."