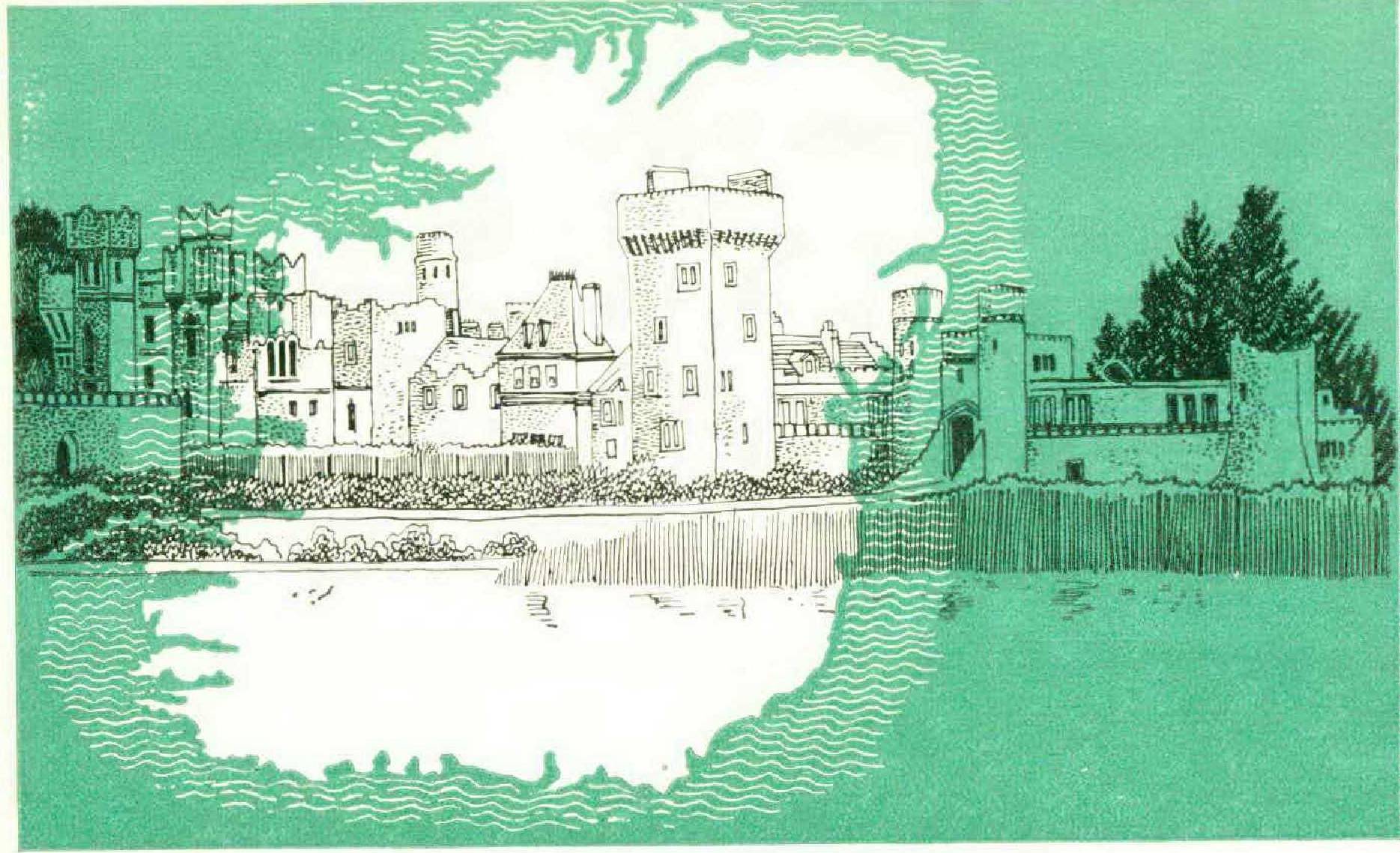 Out-of-season Ireland has had such a bad press that nearly everyone believes the worst about it, especially about the winter. It is a bit chilly, and it rains rather often. But all winter the grass is green. In December there are carolers on the street corners, and in January, flower vendors sell tulips, hyacinths, daffodils, and violets. Robins strut in Saint Stephen's Green; and in Parknasilla, palm trees sway. Hardly anybody knows that there are palm trees in Ireland, that the temperature in the southwest seldom falls below 55, and that rhubarb grows all winter.
"Ireland out of season," my friends said, "is a ghastly place. The weather is terrible, and the hotels will be freezing. When the tourists leave and the French chefs go home, restaurants serve kippers and prateys. The trains are taken off—"
In the face of these dire warnings, I bought a hot-water bottle and a granny nightgown and boarded the Irish plane with some trepidation. It was an uneventful crossing, ensured perhaps by the Irish priest who read his breviary and the old man who told his beads from Idlewild to Dublin. We spent an hour at Shannon Airport and then flew to Dublin, where I had reservations at the Shelbourne.
There are first-class hotels in most Irish cities and, scattered throughout the country, numbers of castle, resort, commercial, and sporting hotels. "Commercial" hotels are for traveling men; "sporting" hotels, for hunters who ride with foxhounds, people who shoot game birds, and fishermen. The sporting hotels are patronized mostly by English tourists and visitors from the Six Counties. At many of them, board and room cost as little as an Irish pound ($2.80) a day.
In the course of my travels, I stayed at Ashford Castle — its oldest building is 650 years old—the grandest hotel in Ireland. Almost touching its ancient turrets is Lough Corrib, where, the Irish gillies say, "there's more salmon than there are angels in the Kingdom of Heaven." The Castle, in county Mayo, has its own farm, dairy, and slaughterhouse, fishery and salmonsmoking plant. For $7.14 a day I had a charming room with bath, three wonderful meals, and a delicious High tea.
Another romantic castle hotel is Dromoland, at Newmarket-on-Fergus, a magnificent 1700-acre estate, a few minutes' drive from Shannon Airport. There are stables, and hunting can be arranged with the Limerick Foxhounds, the Galway Blazers, and the Clare Harriers.
In January I spent a luxurious weekend at Aclare House in Drumconrath, county Meath, forty miles from Dublin. Royal Meath of the Kings is one of Ireland's richest and loveliest counties, where the ancient High Kings had their palaces. I had a beautiful room with a fireplace, wall-to-wall carpeting, and an enormous bath. For sportsmen, there is hunting, fishing, shooting, and goil; for lazy women, sightseeing in a particularly fascinating countryside. Bed and breakfast were $5.60.
The Glenbeigh Hotel on Dingle Bay is a hospitable old house which, first as a tavern, then as an inn, has welcomed travelers from all over the world for more than 150 years. It is, I believe, one of the most delightful hotels in the world. Bed and breakfast cost $3.50.
In summer, it is said to be light in Ireland until eleven at night. But in winter, day ends abruptly, and on a day when I was driving to Rosapenna, darkness fell with a bang. Having no wish to get lost in the Highlands, I decided to spend the night at a commercial hotel in Buncrana.
The Bradleys, who own the hotel, have seven beautiful children — enough to keep a woman busy. But Mrs. Bradley, a handsome and hospitable woman, found time to devote herself to my comfort. My bed was made up with fine linen, handwoven blankets, pillows and puff ol down. In an upstairs sitting room, sweet with the smell of burning turf,
I had tea (chicken and ham with hot biscuits). In the morning, a maid fanned the whispering flame of peat, and I had breakfast in front of the fire. My bill was $4.28.
Ireland is the only country left in Europe where you can take a proper motoring holiday. Roads, even in remote areas, are excellent and never crowded, and are bordered in the west by miles of wonderful stone walls for which the dispossessed Irish mixed mortar with ox blood and laid stones for a penny a day. The roads are empty out of season, save for occasional cows, goats, and jaunting cars — and without a single advertisement for gasoline or soft drinks.
In Dublin I hired a Humber Hawk from John Purcell, who has a fleet of smart cars and whose drivers are well-educated men with considerable knowledge of Irish history and matters of tourist interest. The cost of renting a car, which is reasonable at all times, is cut almost in half in the winter.
If one does not wish to hire a car, the next best way to see Ireland — and for considerably less money — is in a G. I. E. glass-roofed coach, in a nice armchair beside a big window. C. I. E. (the Gaelic of it, Coras Iompair Eireann) is "Ireland's Transport Company."
C. I. E. owns railroads and ships, transportation and sightseeing buses, and seven big hotels. C. I. E. also offers a number of tours at prices so reasonable as to seem scarcely possible; but then, everything is cheaper in Ireland.
I booked a tour by train, because motor coaches do not run in the winter, from Dublin to Killarney for the Christmas holidays, and returned to Dublin via Cork, and from Cork took a cab to Blarney Castle to kiss the Blarney Stone. The cost of the entire trip (some 500 miles) - round-trip, first-class fare, meals with wine on the train, and three nights and four days at C. I. E.'s Great Southern Hotel in Killarney — came to about $60.
I arrived at the Great Southern Hotel on Christmas Eve. Five generations, from all over the world, have taken their comfort in the old hotel. Victorians slept in its featherstuffed four-posters, dined gluttonously from its heroic board. Now there is a modern wing, with pale pink baths and push-button gadgets. The board is still heroic. And for Christmas, the guests all got Irish linen handkerchiefs and bottles of Irish whisky.
Ireland is a small country, about the size of the state of Maine. If the traveler is in a hurry, C. I. E. can take him the length of it in six hours. But it would be a pity to miss the romantic places the C. I. E. personnel know, the dishes they set forth, the grand people they'd like you to meet. I should mention that the great bargains come in the summer. A de luxe tour of the south — six days, rooms with baths, wines with meals — costs $101.50. Less expensive tours, priced at $6 a day, cover the entire country. Out of season, one travels by diesel train. Firstand second-class coaches, buffet and dining cars — all are as comfortable as can be.
C. I. E. has a gallant little motor vessel, Naomh Eanna, to take travelers across Galway Bay to the cliff-bound Aran Islands. Nearly everybody who goes buys a nubbly woolen sweater, knit after a pattern centuries old. Each island family has its own style by which to identify its fisherman sons if — lost at sea — their bodies should be recovered.
On the Aran Islands, where the people are desperately poor, meals are meager, but almost everywhere else they are very good indeed. Since Ireland is an agricultural country first (tourism comes second), there is plenty of home-grown food — quantities of vegetable and dairy products, good meats, and tender fowl. Corned beef and cabbage, which some Americans think is Ireland's national dish, is seldom served. I saw it on a menu only once. But there are trout and smoked salmon, lobsters, prawns from the Irish Sea, oysters with Guinness. In Dublin (site of the Guinness brewery) no one would eat oysters without a bottle of stout to bring out the flavor. At the National Stud, stallions receive two pints a day, and the grooms get one.
In Ireland you talk to everyone; everyone talks to you. The Irish are exceedingly hospitable, and it is not unusual to be invited into their homes, to sit by turf fires and make friends with strangers. One day at the hairdresser's, I met a woman from Killorglin who, never having set eyes on me before, asked me that evening for tea.
It was raining when I arrived, and there was a great wind howling. " 'Tis the wailing of Bankeentha, the banshee," said my hostess, as she drew me in from the wet.
The peat was glowing; the table laid. We had a fine tea, and afterward, sitting before the fire, talked of those presences which waylay the Irish priest when he is hurrying at night to a deathbed.
"Mind you," someone said, "there's much superstition in this part of the country, and you can't be believing all that you hear — but this have I seen with me own eyes."
"But you don't believe in them, really?" I asked.
"We do not," they affirmed stoutly. "But sure they've pestered the life out of us, thim Little People !"