At the Hemingways: My Doctor Father
The origin and upbringing of a famous writer are of permanent interest to those who admire and study his work. For his first eighteen years' Ernest Hemingway lived in the midst of a happy family, spending his winters in Oak Park, Illinois, a suburb of Chicago, where he made a name for himself in high school, and the summer holidays at the family cottage at Walloon Lake, Michigan. No one has a clearer picture of these formative years than his sister MARCELLINE HEMINGWAY SANFORD, eighteen months his senior. At the editors urging, and to hand down a true account to her children and grandchildren, she began in 1956 to record her recollections, which will be published next spring under the AtlanlicLittle, Brown imprint. In the December ATLANTIC we printed the account of the family doings at Walloon Lake, and now comes the portrait of her doctor father. A third and final installment, on the war years, will appear in the February issue.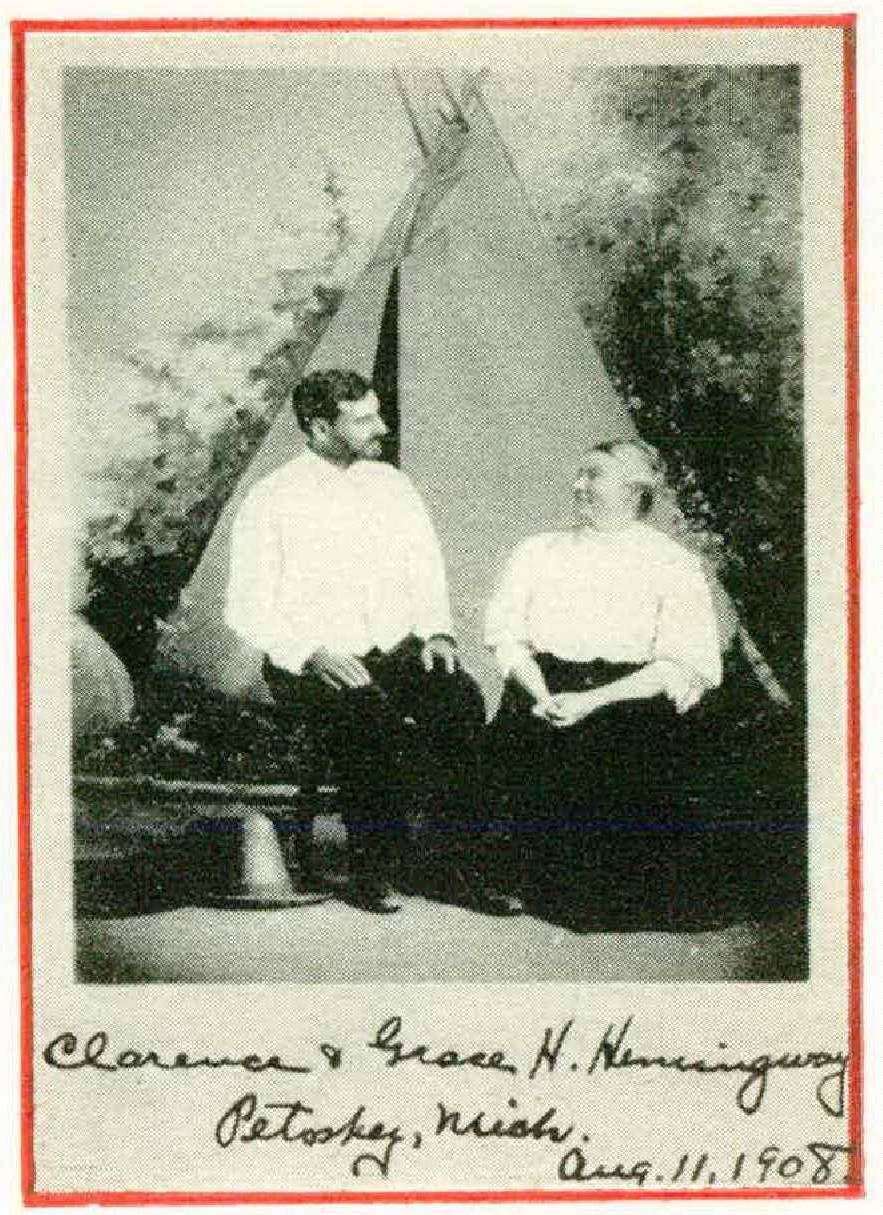 I ALWAYS felt especially close to my father, for he personally brought me into the world on January 15, 1898. I can remember my parents telling me the story every year on my birthday from the time I was three.
"It was a cold, snowy day," Daddy would begin, "and I was several miles away, in my office."
Then Mother would add, "It was the worst snowstorm of the winter, and I sent Sophie on the Chicago Avenue streetcar to get your father and tell him to hurry back quickly. I knew you were going to be born very soon. We didn't have a telephone then."
"I sent Sophie right back to your mother," broke in Daddy, "while I picked up Dr. Lewis, who was to take care of you and Mama."
Daddy had promised Mother that she would feel no pain, so he administered chloroform to her in her bedroom while Dr. Lewis readied himself for the delivery. But before it was completed, Dr. Lewis had a sudden heart attack and lost consciousness. My young father, tense enough with worry over his wife, had to lift the old doctor out of the way and administer first aid to him, keep the necessary anesthesia going for my mother, and then perform a high forceps delivery. There was no nurse present, only Sophie singing at the top of her voice in the kitchen so as not to hear anything that was happening on the second floor. The cumulative effect of this repeated tale gave me a sympathetic feeling for my mother, who was so frightened of being left alone or in pain, for poor lovable old Dr. Lewis, who was sick, and for my father, who had performed under such tense circumstances.
"Marshmallow," Daddy would say as he gave me a whiskery birthday kiss, "nobody's known you any longer than I have. I gave you the spank that made you breathe your first breath, and you've been makin' a big noise ever since, haven't you?" And Daddy would give me a pretend spank, one for each year of my age, and one to grow on. We both understood that these were love pats.
Daddy's father, Anson Tyler Hemingway, was born in Plymouth, Connecticut. His parents moved to Chicago when he was a child, and there his father, Allen Hemingway, as a representative of Seth Thomas, opened his first wholesale clock business in that area. A. T. Hemingway was a serious man, deeply religious, rather formal in manner, extremely fastidious about niceties of dress and deportment. I remember his manicured fingernails, his neat gray beard, and his dainty way of holding his fork or his butter knife at the table. Grandfather Hemingway was bald and always wore a black silk skullcap in his bedroom and, of course, a hat on the street. He swung a cane on his daily walks.
Grandfather was proud of his descent from Jacob Hemingway, who fought in the Revolution; he told Ernest and me that the first Hemingway in America was named Ralph and that he came from England in 1634 and settled in Duxbury, Massachusetts. Grandfather believed that the first student at Yale was a Hemingway.
The ancestors of Grandmother Adelaide Edmonds Hemingway also went back to the Revolution. John Plum, from whom she was descended, received a grant of land from the government and a veteran's pension after the Colonies were free. He moved west, and his Edmonds descendants settled on a farm along the Rock River in Illinois, where Adelaide Edmonds was born. Her father, John Wesley Edmonds, was named for John Plum as well as for the founder of Methodism.
Grandmother was a pretty girl with dark hair and flashing brown eyes. She was one of a large family of children on the Edmonds farm, and, as was natural a hundred years ago, the boys had first chance at an education. But Adelaide and one of her sisters, Cordelia, saved enough to enter Wheaton College, Illinois. Twice Adelaide had to drop out of college and teach school to earn money for her education. It took her nearly six years to get her degree.
Grandmother Hemingway had specialized in botany and astronomy. She taught her oldest son, Clarence Edmonds, and her other children the names of trees and plants and showed my father the stars when he was a very small child. It was no wonder that Father should have a tremendous love of nature.
Though my father was needed to help his mother and his older sister, Nettie, at home, he still found time to look for many of the wild plants, both edible and medicinal, which he pointed out to us years later when he took us on hikes along the river. From the time he was a small boy, my father's emotions were touched by the need of any wounded bird or animal, and he used to put splints on a wounded creature's leg or wing. Often he would feed a tiny, orphaned animal, trying to help it into healthy, independent adult life. When he was very small, he thought he might like to be a doctor for animals, but by the time he was in high school, he knew that being a doctor of medicine and a surgeon was the one thing he must do in life. To this end he took all the science courses possible in high school, and at Oberlin College he specialized in premedical work.
He attended Rush Medical College in Chicago, later to be known as the College of Medicine of the University of Chicago, and he was helped in his entrance to professional life in Oak Park by his older friend and mentor, Dr. William R. Lewis. It was Dr. Lewis who suggested, shortly after Daddy's graduation, that he disguise his apparent inexperience by growing a mustache and Vandyke beard. Whiskers and medical knowledge were practically synonymous in the mind of the public at that time.
BEFORE he entered medical school, my father had one delightful last fling with adventure while he was still a student at Oberlin. He was invited to go on a geological expedition to the Great Smoky Mountains, then a largely unexplored area of the South. Ed Hemingway wasn't a geologist, but he did know how to cook, and that is why the geologists wanted him. The four young men from Oberlin started for North Carolina, their belongings carried in packs on their backs, and with them they took fishing equipment, guns, and tents. Until this first official expedition from Oberlin, the Smoky Mountains were well known only to a few mountaineers and to the Cherokee Indians, whose land this had been. The expedition lasted most of that summer, and the stories of my father's experiences were the delight of our childhood.
Over and over Daddy told us about the time he was alone in the camp while the three geologists were off on their scientific explorations. Daddy heard a slight rustling and looked up to see a giant mountain lion, or puma, crouching in a tree crotch just over his head. Ed Hemingway pretended he did not see the animal and, gently edging his way to the tent, was able to reach inside, grab his trusty rifle named "Old Ed," and shoot the creature just as it sprang toward him. He always ended the tale with the phrase, "Pretty good, eh?"
Another tale we loved to hear was the one about the surprise dinner Ed Hemingway fixed for his three friends on that same trip. The young men had stayed in the mountains longer than they had first expected to do, and their store-bought supplies were running low. They had made a few friends among the shy, clannish mountaineers, but these people had mighty little surplus food to sell. Father was determined to give his companions a good meal that night, and he went out with his gun to find some game for supper. Luckily, he roused and killed some partridge, and then shot a few squirrels. He was on his way back to camp when he saw bees flying in a straight line toward a hollow tree. Ed Hemingway suspected this meant a store of honey was nearby, but how to get it was the problem. He wet his felt hat, lined it with leaves dampened in a nearby creek, then piled dry grass and small twigs on top of the leaves, lit this dry mass with a match, and threw other damp leaves over the top. Holding up his hat, full of this burning, smoldering mass from which black smoke poured out, Ed approached the bee tree and thrust the smudge on a branch close to the opening.
The device worked. Soon he could see the bees dropping, inert, and the combs of wet honey were near enough to the opening so that he could grab a few handfuls and stick the combs in the front of his shirt, which he pulled out from under his belt to make a little bag. With his game bag and gun in one hand and his other hand supporting the sticky mass of honey in his shirt, he told us, he ran like Hades to get to camp before the bees woke up from their stupor, or before the honey leaked through his shirt front and ran down his legs.
He reached camp in time to surprise his friends. He dressed out the game and cut up the partridge and squirrels into pieces for frying. He made biscuits and baked them in the reflected heat of the bent sheet iron next to the campfire. He dipped the meat in corn meal and fried it in bacon drippings. When the game was done, he laid the brown pieces aside to keep warm, near the biscuits, and finally, he cooked a blackberry pie. His hungry friends ate every bit of the biscuits and meat, and then, as the crowning touch, he produced the pie. It was crusty brown on top and dripping with purple juice.
"How in blazes did you ever make a real pie?" they asked.
Ed was smug. "Well," he said, "I picked the blackberries this morning. I got the honey from a bee's nest."
"But how did you make crust that looks like this?" one of the boys asked.
My father always grinned as he told this part of the story.
"Oh, it was easy," he said. "I just rolled out the dough on a log, and I used a beer bottle for a rolling pin."
His friends shouted with laughter.
"Imagine our Ed using a beer bottle,"they said. "What did you do with the last of the beer?"
"I poured it out on the ground," said my father, primly. "All I wanted to use was the bottle." He was then a teetotaler.
THINKING back to my childhood, I can see my father with his dark beard and mustache, and his eyes twinkling when he was in good humor. He was tanned and powerful — he had played football at OBerlin — and he seemed to be always rushing to or from an appointment, in from or out to the back yard to feed his chickens, or down to the basement, two steps at a time, to put coal on the fire. We knew when he had finished, for he slammed the furnace door, dashed up to his office, grabbed his black leather medical bag and his hat, and tore out the front door, closing it with a slam, to leap into his buggy, cluck to the horse, slap the reins up and down, and start him at a fast trot down the street.
Daddy had little patience with anyone who merely sat down in a room. He understood that you had to rest if you were sick, and he believed in getting to bed early at night; but he could never understand how any of his children, or even the maids, could just sit down in a chair with nothing to do. Many times, if he came into the living room from his office in the front of the house and saw me, or any of my brothers and sisters, leaning back in a chair, looking at a magazine, or just stretched out on a davenport reading or thinking, he would stop abruptly in the doorway, saying, "Haven't you children got anything to do? Haven't you any studying or mending? Well, if you have all that done, why don't you ask your mother what you can do to help her?" Sometimes we just longed to sit for a few minutes.
For us children, our bedrooms were a haven. It wasn't possible to read or concentrate in the living room. Mother had her music room, where she could lock the door and do her composing or writing. Daddy often did analyses in the small lavatory built behind his home office, and, of course, he was busy with his patients in his office hours, or keeping his records. But when he was free, he liked to be with his family, and he always had one or another of us, and frequently several, with him in the back yard, or helping him in the workroom where he stored and chopped the wood for the fireplace, or in the basement laundry, where he showed us how to can fruit or how to mold bullets or make candles in an old candle frame. His love for physical activity was one of my father s most charming attributes. He was always ready to go somewhere and do something. "He s got a self-starter," he once remarked in describing a family friend, but the phrase applied even more to my father.
In Daddy's office were many nonmedical things he valued highly and often showed to us. In his cupboards he had collections he had worked on for years. One was his collection of ancient coins. Another was his stamps, which included some rare issues of the early colonial period and sheets of valuable uncanceled stamps, which, he told us, might one day help to put us through college. Another was his collection of Indian arrowheads, flints, and other Indian artifacts he had found along the Des Plaines River, where the Potawatomi tribes had once lived. He also had a box of beautifully beaded moccasins, a bowie knife in its case, and articles of decorated deerskin and baskets worked in quills and sweet grass. Many of these had come from the Dakotas, where Aunt Mary Williams Hemingway's twin sisters taught in an Indian mission school.
One special item he showed to us meant more to him than any of these relics of an older time. This was a pair of shiny steel forceps he had invented himself. They were called laparotomy forceps, and we were told they were the first of their kind.
Not too many years before he first showed them to us, young Dr. Hemingway, age twenty-three, had sat in the audience of seniors at the June, 1894, Rush Medical College graduation. Dr. Nicholas Senn of the faculty was addressing the graduates upon "The Progress and Needs of Medicine." After he had mentioned improvements that had taken place while these young men were studying, he touched on the many continuing needs of the profession. He mentioned particularly adequate surgical tools, which he felt must be invented to make more delicate spinal surgery possible.
"We can't go on with this crude hammer-andchisel business much longer," Dr. Senn told the young graduates. "Maybe one of you men sitting here will be the person to invent an instrument to replace this primitive technique. We must have new and better surgical instruments. We must have better anesthetics."
One day when my father was sitting on a grassy bank beside the Des Plaines River, suddenly a design for the spinal forceps flashed into his mind. Taking a pencil and an old envelope out of his pocket, he sketched the outline of what was to be the laparotomy forceps. He presented his design to Sharp and Smith, the instrument makers in Chicago, who were immediately interested in the possibilities of this new instrument, shaped somewhat like a pair of stork scissors with a hinged cutting surface on the lower part of the beak.
Using his sketch, they made up a model of the forceps, and my father tried them and slightly modified his design. Sharp and Smith began manufacturing the laparotomy forceps just as young Dr. Hemingway designed them, and the Rush Medical School faculty was delighted with them. Though the instrument company suggested that my father patent his design, he indignantly refused to do so, in the belief that anything that was for the good of humanity should be available to all.
My father's desire to help was expressed in many ways. He taught nature lore to boys' clubs. He had a Sunday-school class for young men at the Third Congregational Church. He did a great deal of charitable medical work in Oak Park and surrounding communities of the Chicago area. He not only took care of his parents and other relatives, including some of his wife's relatives, without charge, but he sent no bills to many of his patients who were in strained financial circumstances. For years and years he took care of two widows and their children in the Forest Park area, each of whom used to do laundry for our family in return for his kindness to them. He did plastic surgery operations on several babies born with facial deformities. I remember one time that he constructed a nose for a baby born without one, when the family was too poor to afford an operation. Another time he made a chin for a new baby and fixed its protruding ears.
He gave his services to Hepzibah Home, an Oak Park orphanage, where he and other local doctors took turns taking care of the children, without fee. Father took his month of assigned time at the home very seriously. He dropped in daily to see the children, and often had his pockets full of peppermints or suckers or balloons for the little orphans. The Hepzibah staff knew they could call him at any hour of the day or night. They never had to worry about his being annoyed if he found a child's condition not as serious as those in charge had believed it to be. No one could be more gentle than my father or more considerate of a patient. Many a time he sat all night watching a serious case at the hospital or in a patient's own home. For him, it was not a question of being paid; he really cared for the person. Patients confided in him. He carried their personal troubles on his mind.
BUT MY father had another side to him. With his own children, he was by turns indulgent and a strict disciplinarian. In our youth, he would make no compromise between what he considered right and wrong. He believed in physical punishment. I remember that Ernest and I and the other children were soundly spanked whenever we had infringed upon some rule of conduct my father considered essential. He kept a razor strap in his closet, which he used on us on some occasions. But he was never cruel. He and Mother did what they felt was best for us. Mother often disciplined us, but the hairbrush was her instrument. My father's dimpled cheeks and charming smile could change in an instant to the stern, taut mouth and piercing look which were his disciplinary self. Sometimes we would be sitting on his lap, laughing and talking, and a minute or so later, because of something we had said or done, or some neglected duty of ours he suddenly thought about, we would be ordered to our rooms and perhaps made to go without supper. Sometimes we were spanked hard across his knee. But always, after punishment, we were told to kneel down and ask God to forgive us.
My father was insistent upon our being on time. He was punctual himself, and he expected everyone else to be. It did not occur to us to be late getting home for meals or after school, and if we were, we knew we could expect the inevitable punishment.
Years before the word "vitamins" came into use, my father had his own theories about food. Before we were six months old, he led all of us fresh vegetables, orange pieces and orange juice, cut-up tomatoes, and shredded meat in gravy and broth. Mother wrote down in my baby book how annoyed she was that my father brought the new baby to her to nurse "with onion on her breath."
We all did our teething on celery stalks instead of teething rings. We chewed on carrots and green onions, and when Mother used to protest and say that nobody else's children had such primitive food and that all the neighbors were kind enough to cook the food for their children, her husband replied that he was going to prevent rickets if he possibly could and that there was something in fresh tomatoes and oranges and vegetables that he felt sure made bones grow straight and kept babies healthy. Even mother's milk isn't enough for a strong body, he said.
Daddy also believed that large quantities of meat and fish and eggs were needed by small babies. His theories were shocking to his contemporaries in the medical profession. I remember, when I was six or seven, a fellow physician whom Daddy and I encountered at a local drugstore in Oak Park called out gaily, in a crude attempt at humor, "Well, Doctor, are you still killing babies with steak and tomatoes?"
My father bristled. It wasn't funny to him. "Just look at my patients six years from now," he answered. "If you can find a case of rickets among them, I'll eat my hat. Someday you'll be prescribing the same thing." The other doctor laughed derisively and walked off. Daddy turned to me and said, "No children that I take care of are going to grow up with pigeon breasts and bowlegs if I can help it."
My father wanted us to eat all kinds of foods and enjoy them. Whenever he introduced a new food to us, some of us disliked the new taste intensely, but there was no escaping it. Each of us had at least to try each food, and though we might not like it the first time, Dad had a theory that eating it in a small quantity educated one's taste buds to the point where, the fourth time, one began to enjoy it. We were not allowed to get emotional over food. No fuss was made about our eating it; we were just expected to finish what we were served at the table. Usually this was no problem at all, for we had healthy appetites. But on the rare occasions when, for instance, I turned up my nose at one of the family's favorite Saturday night dishes, a homemade vegetable soup, boiled with a meat bone and lots of pieces of meat in it, my parents would merely say, in a casual tone, "Oh, don't you care for our good food, Marcelline? Then, apparently you are not hungry, and we'll save it for you for breakfast." I was then excused from the table. Cold vegetable soup was much less attractive the next morning, so I quickly learned to "like" it.
Daddy always wanted a good supply of food on hand; the kitchen shelves and our basement fruit room bulged to overflowing. Neither our own family nor our friends were ever denied afterschool snacks. We would descend on the kitchen for bread and butter and peanut butter or brown sugar, or we took our guests with us down to the bricked-in fruit room in the basement, where they could help themselves from the barrels full of apples my father always kept on hand.
The fruit-room shelves were laden with jars of crisp pickles, jelly, and jam. Much of our winter supply of preserves my father and our cook put up during the long summers from June to September when we were at Walloon Lake. But the pineapple he cooked in Oak Park. Every spring Dad brought home a crate or two of fresh pineapple from the South Water Street Market in Chicago, and often he got up early the next morning and peeled, cut up, cooked, and canned the fruit before breakfast. Then he would lead us all to the basement to admire the dozens of gleaming quart jars of golden cubed pineapple lined up on the laundry table.
INTERESTING and kindly as my father was in most ways, he had certain rules in his own mind of what was right and what was wrong. With him it was black and white, with very little gray between. As a young man he had been taught, and had come to believe at Oberlin, that social dancing, card playing, and gambling were wrong. Smoking he disapproved of, and the drinking of alcoholic beverages was not only forbidden but looked down upon with scorn by my father. We all knew Mother did not entirely agree with Daddy on all these matters. She was as strict as lie as to what was right or wrong, but her interpretation of which items belonged in the "wrong" category was much more lenient than his.
To Mother a lie was wrong, but dancing was just healthy exercise. Cards were a pleasant pastime and not wrong in themselves. She only disapproved when cards were played for money. Mother liked games, and we all played dominoes and checkers after dinner in the living room. Even Daddy enjoyed dominoes, and Granduncle Tyley Hancock was the family expert. Mother used to tell me that Daddy's idea of dancing's being a bad thing came from what he referred to as "dancehall girls." Who these persons were, or where my father had known them, I had never heard.
My father's abhorrence of playing cards prompted him to destroy a pack he found in the room of one of the maids we had at one time. I believe it was a cook named Mary Beck, who liked to play. Daddy had another reason to disapprove of Mary Beck. She liked a wee drop on her day off. She was Irish, black-haired, pink-cheeked, with a loud jolly laugh, and she was a good cook too. She had a great fondness for Ernest and was always bringing him special presents or giving him some extra tidbit in the kitchen.
On one occasion she came home late after her day off, rang the bell at midnight, waking Daddy from sound sleep to let her in, and stumbled up the third-floor stairs, singing loudly. We all woke up at the noise, and when we asked Daddy what was happening, he just told us to go back to sleep. We never knew exactly what happened, but I remember that my father rushed out into the second-floor hallway, and after the noises subsided, there was a strong smell of coffee in the air. Mary stayed in her room the next morning, but by afternoon she was back at work, a little pale and rather quiet as she stood by the sink, fixing the vegetables for dinner. We did not ask any questions. There was no more trouble for several weeks. But the second time Mary came home singing with whisky on her breath, she left our house abruptly, and a gift she had brought to my brother was packed in her bag and left our house with her. She got no chance to give it to Ernest. My father could not compromise.
If he was stern with others, our father was fully as disciplined with himself. He had great courage, not only where moral issues were concerned but in enduring physical pain.
One time Daddy was on a fishing trip in the early spring near Horton Bay, Michigan. In some way I think through a fish hook's being caught in his arm — my father developed blood poisoning in his left arm while on that trip. He had no medical bag with him, and the fishing camp where Daddy and young Wesley Dilworth, the blacksmith's son, and some other men were staying was at least a day's trip from a town or any medical help. The infected arm had bothered my father, he told us later, but he thought that hot compresses would reduce the swelling and make it possible for him to slay with the others until their fishing jaunt was over. But the night they were to leave the camp to return to Horton Bay, his arm was not only red and swollen but became hard and began to throb. He was too good a doctor not to recognize these symptoms of danger. He knew an operation to drain the arm was necessary. He knew just what to do, but he wondered if he would have the physical stamina and endurance to plunge a sharp knife into his own extremely painful arm. He decided there was only one way to find out, and that was to do it. As he described the scene, we could almost see the kerosene lamp burning, lighting up the plain kitchen table, and the sharp hunting knife, red-hot from the fire, sterilized and ready. Daddy admitted it was the hardest thing he ever had to do. He instructed Wesley and the other men to hold him tightly and keep his left arm on the table. With his good right hand he raised the knife and plunged it into his own arm.
"It's a good thing the boys were holding me,"he told us when he returned to Oak Park later. "I screamed bloody murder. I couldn't help it, and the spurt of pus hit the ceiling. The boys had to duck. I was mighty glad the knife was red-hot, because it cauterized the incision, and I couldn't have stood it to have to do anything else to that arm just then. I'm not ashamed to say it, Gracie," he told my mother, as all of us children listened too, "I cried like a baby when it was over, but I knew if I let it go another day I might lose the arm."
"Oh, Clarence, how awful! I am so glad you are all right. Don't tell any more." My mother almost moaned. "I just can't bear to think of anybody's being hurt like that."
"Well, it was no picnic, I can tell you," said my father, "and now" — and here Daddy changed his tone of voice — "come and see what I've brought you." He opened his satchel and said, "We'll have brook trout for dinner."
"Brook trout!" said Mother. "How could you bring trout to Illinois? I thought it was illegal to take them out of Michigan."
"Sh-sh-sh" said Daddy. "Don't say a word. They are all packed inside my bedroom slippers." And sure enough, he brought out his newspaperwrapped slippers from his suitcase. Ferns were sticking out of the brown leather edges, and inside of each slipper were nestled half a dozen brook trout, all gutted but with their heads and tails still attached. We had them fried in butter that night, and somehow my admiration for my father's courage in the operation combined with my memories of Horton Bay to make the fish taste better than trout ever tasted before.