Letters to and From the Editor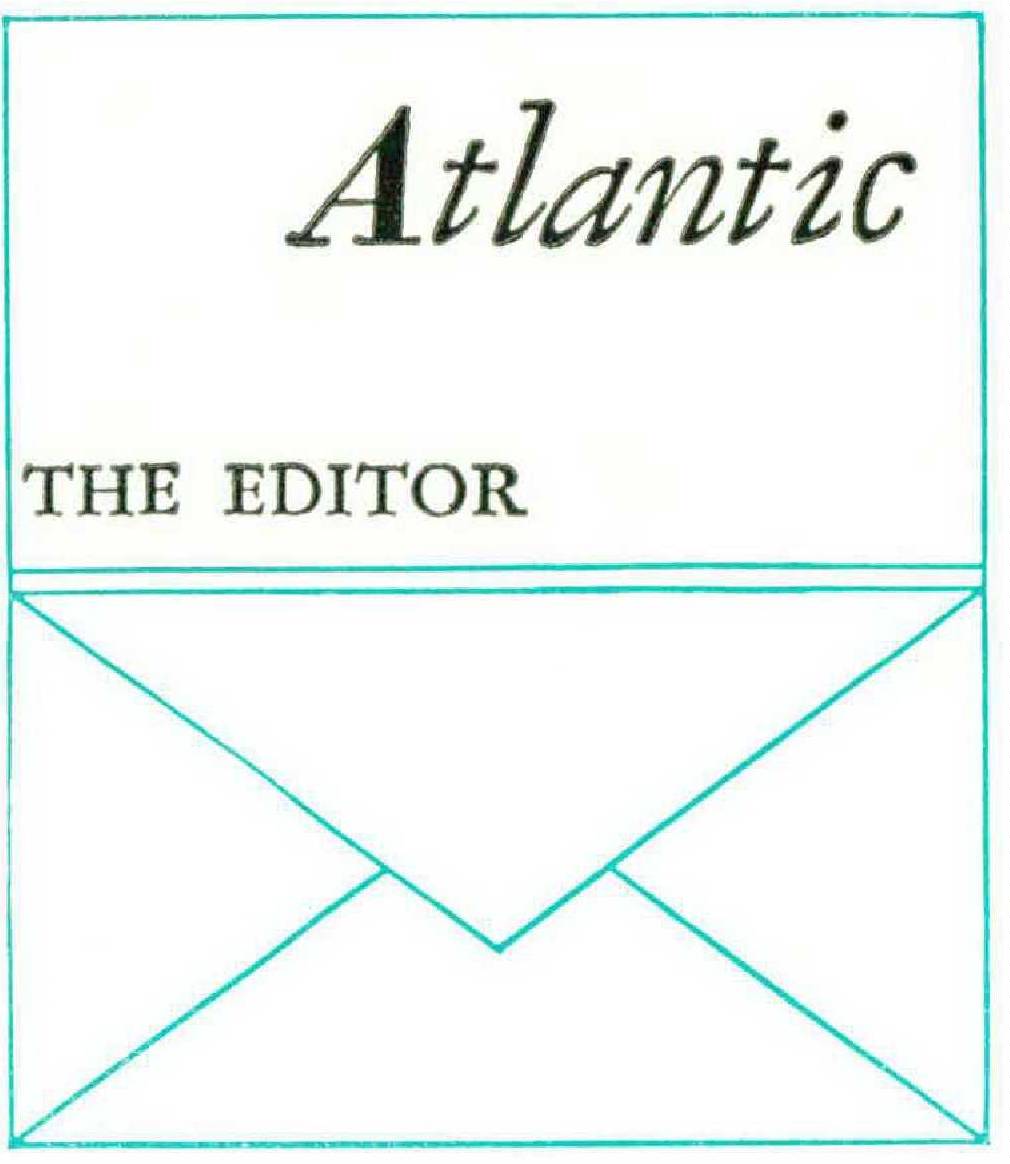 Psychiatry in American life
SIR:
The Atlantic is to be congratulated for the special supplement on "Psychiatry in American Life" in the July issue. The magazine is always worth far more than its newsstand price.
JAMES R. CYPHERSan José, Calif.
SIR :
Psychiatry is still one of the most underrated and misunderstood shapers of our culture. Efforts such as the Atlantic put forth in its special supplement are both greatly needed and appreciated by all Americans interested in understanding America and its present tendencies. Thanks to all concerned for this stimulating issue.
PVT. ROGER C. WINGERT20th Md. Hospital Station
APO 696, New York City
SIR :
Although only an undergraduate in college, I have been interested in psychiatry as a profession for a number of years. I was, therefore, especially pleased to read your illuminating supplement.
The article by Dr. Robert Coles, "A Young Psychiatrist Looks at His Profession," was, I feel, the most valuable for prospective psychiatrists. Although there is a wealth of information available for expert and layman alike on psychiatric principles and advancements, there is a saddening dearth of information concerning the psychiatric profession itself. Dr. Coles is therefore to be complimented for his straightforward evaluation of his own profession, its foibles as well as its glories. It gives those planning to enter this field an opportunity to contemplate and reevaluate their goals.
BARRY LISKOWCincinnati, Ohio
SIR :
As a Catholic, a major in psychology in college, and a participant in both group and private therapy as part of my training, I found the supplement on psychiatry exceedingly interesting.
Thanks for the most interesting and thought-provoking Sunday afternoon I've had in a long, long time.
ANNE S. CONKLINSpringfield, Mass.
SIR:
How can you present "Psychiatry and Religion" by O. Hobart Mowrer in discharge of that segment of "Psychiatry in American Life"?
He writes off Catholic pastoral theology at the Reformation. He condemns Calvin's directions. He is against Freud's doctrines.
The article is a poor representation of psychiatry and religion. No wonder it is difficult for the two disciplines to talk together.
REVEREND ROBERT BLACKChurch of the Good Shepherd
Houlton, Me.
SIR :
The article by O. Hobart Mowrer on "Psychiatry and Religion" is the sharpest evaluation of Calvinism I have ever read. His point that it delivers the individual from personal responsibility is well taken. But I cannot agree with his main argument that this is the "Protestant ethic." It is not accurate to imply that all Protestants believe that man can do nothing for himself and is utterly dependent upon the grace of God.
As a Methodist, I submit the claim that many of us would side with Arminius and others who have insisted that human freedom is real and God acts both with grace and with judgment. We insist stoutly that behavior has consequences, personally and socially. We do not shrink from saying, "If you do this, you are guilty."
REVEREND J. EDWARD CAROTHERSThe First Methodist Church
Schenectady, N. Y.
SIR:
I am now sure that Alfred Kazin is the wisest man of letters writing in America today. "The Language of Pundits" is a simple statement of what many intelligent people have long suspected but have never been able to say clearly about the dismal condition of most of what we read nowadays.
AL BOCKSacramento, Calif.
SIR : Your entire supplement on the subject of "Psychiatry in American Life" is excellent.
I am employed as a social worker in a large state mental hospital. So many of the problems discussed in the supplement are real. Mental illness is confusing, unpleasant, embarrassing to all — patients, families, hospital staff, community. Too often, unfortunately, one forgets the person and remembers only the technical diagnosis, or forgets the meaning of life and remembers only the red tape wrapped around each specific duty. Much can be done to educate people without speaking in professional jargon. More down-toearth articles, such as those included in the supplement, are certainly needed.
MRS. ELIZABETH ESLINGERStaunton, Va.
SIR : I hope soon to hear that the supplement has been expanded and made into a book; it deserves permanence. One rarely encounters such intellectual honesty and lack of distortion in writing about psychiatry.
ALICE ANN BIVINSJacksonville, Fla.
SIR: The supplement on psychiatry was fine, but the poems by John Nash and Carl Binger gave far more insight and truth than all the articles put together.
MRS. ROBERT D. BELLGroveport, Ohio
SIR:
"Psychiatry in American Life" is the finest and most informative series of articles ever published on this continent concerning the field of psychiatry.
J. M. GRAHAMDetroit, Mich.
SIR:
Allow me to correct one phrase in the biographical material at the head of my article in the July Atlantic: "and now teaches sociology and psychiatry at the University of Toronto." I am on the full-time faculty at York University, and my connection with Toronto's Department ot Psychiatry is now a rather attenuated one, as an associate in sociology.
JOHN R. SEELEYToronto, Ont.
Correction
We regret that the Washington Report in the July ATLANTIC erroneously attributed to Prince William County in Virginia the closing of public schools in the segregation controversy. The schools in Prince William County have not been closed, and the reference should have been to Prince Edward County, where all public schools are shut down.
—THE EDITOR