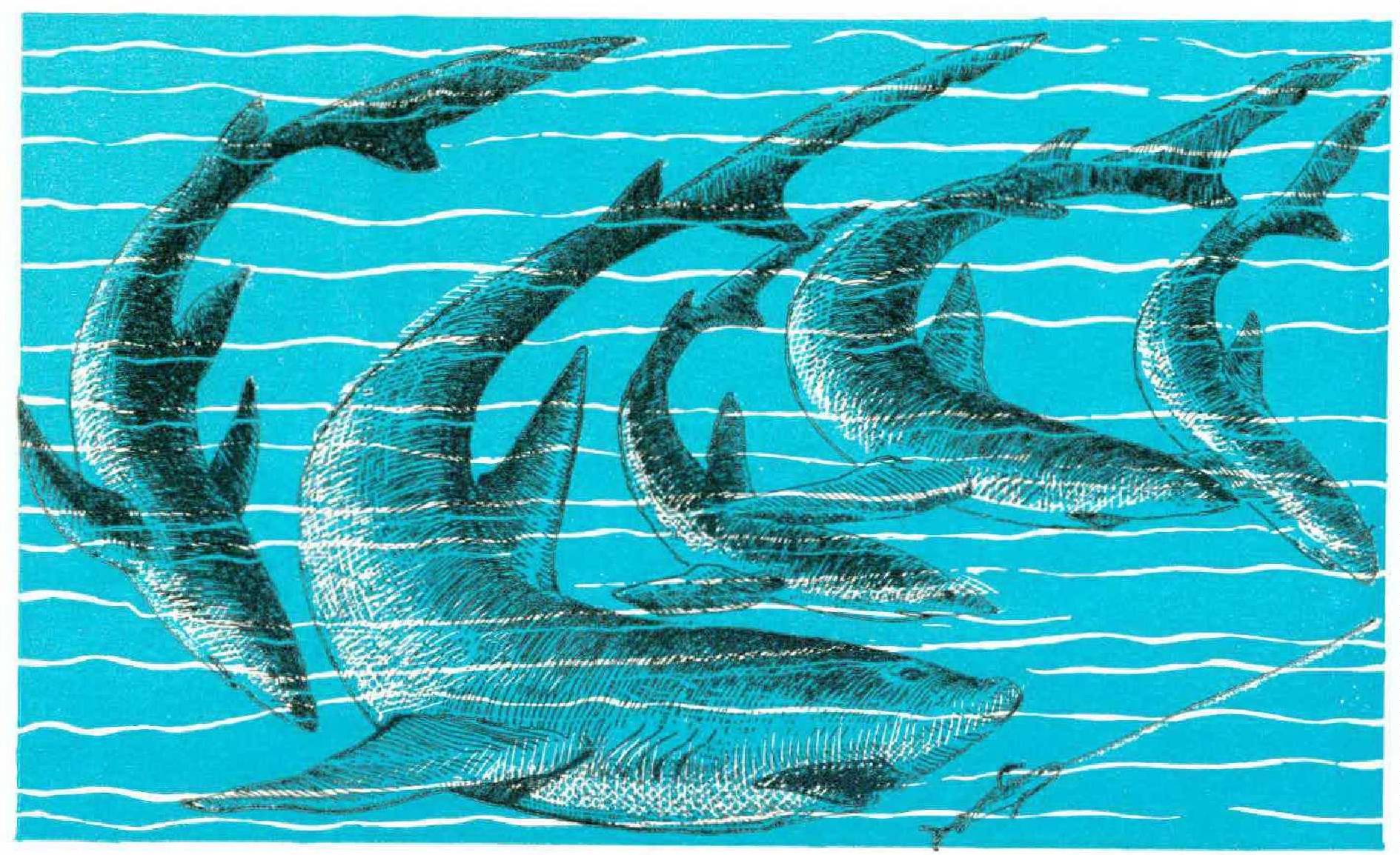 Montauk Point: Dawn. The charter boats, white paint and polished woods, their afterdecks elegantly littered with chromium barbershop chairs, are ready for marlin, swordfish, tuna. Further up the dock humble bottom-fishing boats, each weighted down with half a busload of excursion anglers from New York, are casting off for Cox's Ledge and smaller fry.
We four leave our car behind the hamburg stand and walk down a ramp under a sign: "Monster Fishing." Nailed to the dock rail is the great smelly tail of a three-thousand-pound man-eating white shark caught offshore a few weeks ago.
The man who harpooned it lands lightly on the dock beside us, tall, tanned, thirtyish, wearing khaki denims and a duck-billed cap, more baseball player than boat skipper.
"Morning, gennulmen. You the party for shark?"
"Yes, captain."
We go aboard. The Cricket II, less handsome than the other charter boats, is rakish, seaworthy, scarred. A long harpoon ramp stretches far out on her prow. The mate comes aboard and begins to take on gas. He is young and taciturn. He has only one eye. We, neophyte fishermen and monster innocents, stand uneasy on deck, drinking coffee, wondering where to store our beer.
At seven we have put the Montauk fishing docks behind us and are under a great blue hat of summer sky, moving far from the shore line, past the lighthouse and Coast Guard installations on the tip of Long Island. Shortly after nine the engine is shut off and Cricket II drifts beside a marker, four miles offshore in choppy ocean. Captain and mate haul up from the sea a great wire and wood cage filled with the decaying white pulp of fish corpses. The lid is sprung and a fresh mess, mixed with fish blood, is dumped inside. The line is let down. The cage sinks under water. Small pieces of fish flesh float like bread crumbs on the choppy waves. The captain sets the boat adrift, then issues us light rods. Obedient, we bottom-fish and within minutes are bringing up whiting as bait.
Boring stuff. An anticlimax for those who have paid twenty-five dollars a man to meet with monsters, The mate places a small stool at the boat's side, and, methodically, each thirty seconds, he dips a small cup into a bucket of fish blood and chums it over the side. Blood attracts sharks. An hour passes; our pail is filled with whiting. Far out on the horizon other boats hunt for swordfish and marlin. In shark ground, we drift alone.
At ten thirty the captain, having eaten a large jammy sandwich and drunk two Cokes, comes up from the cabin to explain our mission. Sharks cannot be fought from a fishing chair, as they tend to swim under the boat. Belts with pole sockets are issued and light tackle rods fitted with a thousand feet of line. The shark must not be struck until he has had time to taste the bait, roll it in his mouth, swallow it. No more than two men can fish at one time. We draw lots. Whiting are baited to two rods. The captain takes one; one is placed in a guard. The mate continues his patient, constant chumming of blood.
At eleven fifteen the captain suddenly takes his rod in both hands and shows interest. A moment later, he signals to the winner of the draw, hands him the rod, sticking the pole in his bandoleer.
"OK. That's it. Strike him. You got a shark there, now let him run, each time he eases off, take it in a little, don't strain it, you can't winch him, he's too big, easy now, let her down, then reel her up, that's it, now you got it."
The rest of us, excited as boys, go monkey-fast up the mast for a look. The line is far out; we see nothing. But suddenly, the shock of recognition. Only a dozen yards from the boat, noses up to the blood chum, two great white bellies weave in and out under water like long paper streamers; a flash of mouths, a great blue swish as they round the boat, and then a lone fin two hundred yards away.
Our fisherman, straining, has brought his catch close to the boat, but as the captain moves aft to pick up the gaff, the end of the rod makes a sudden deep obeisance to the waves, the reel hums, the shark goes out again, down deep, far away. Our captain, coaching the angler, makes him move around the boat, as the shark, returning, dives under us. The captain's voice is harsh, his rough jokes gone, his instructions laced with warning. It is my turn next, according to the draw. I feel as though I were back in school.
"Easy now, soon as he slacks off take him in, little bit, wait for him, there you are, little bit more —"; and again we crowd the side; the shark is near, visible below us, coming up to the wire. The mate's gaff flashes. A tail strikes the boat's side with a noise like a giant heartheat.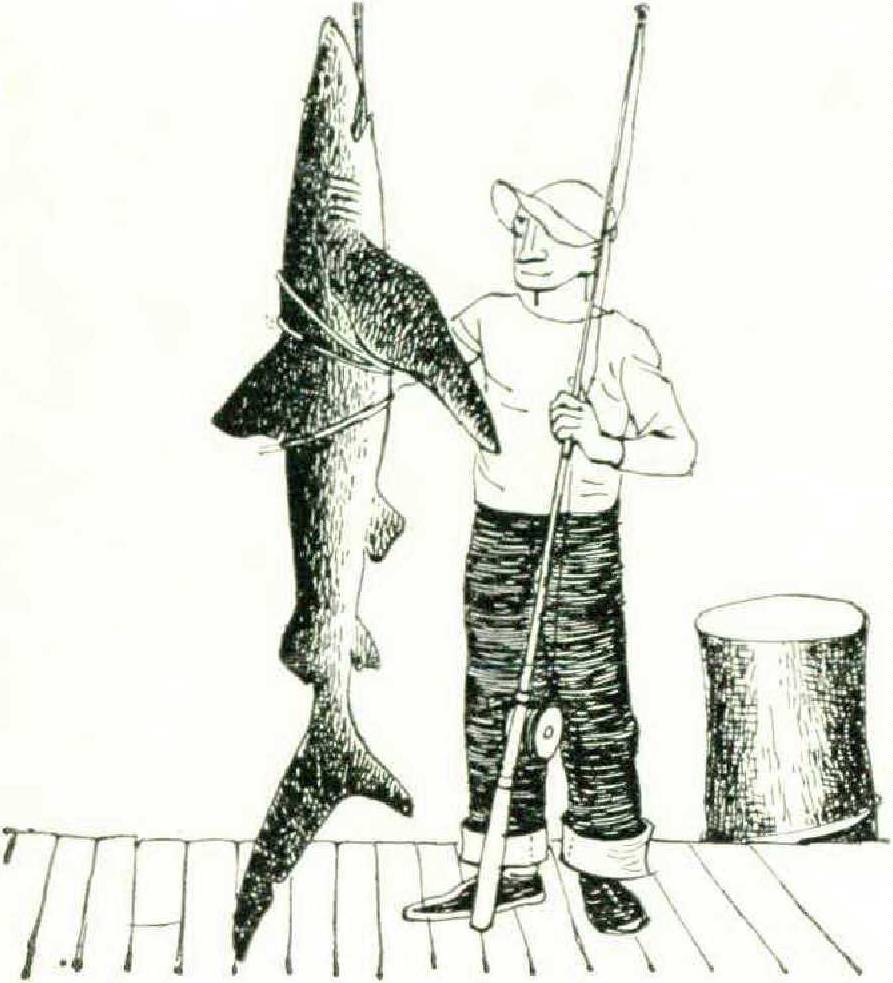 The tail rises in the air, a rope is slipped over it, the wire is cut, the fisherman staggers back. The captain runs to his winch. Out of the deep, its hide marvelously blue, comes a seven-foot shark.
"Blue shark," the captain tells us as they haul it forward, securing it to the side. An enormous blubbery tongue slides slowly from its fanged, sick-grinning mouth.
"Look at that tongue."
"That's not his tongue; it's his stomach," the captain says. "Stomach is loose inside them, so it comes out. Come on, now, next man up."
I am no fisherman. I buckle on the belt and wait. I feel a few gentle tugs as the shark takes the whiting, examining it in its jaws. Another tug.
"Strike him."
I tighten the reel, and then with a ski-tow jerk I feel him go down, down into the deep. For fifteen minutes I remember nothing but the captain's nasal coaching as I reel in, let down, wait for him to tire, reel again. At last he is at the wire. I am sure now that I have a monster. But, gaffed and up, he is only four feet long, weighing about eighty pounds. Meanwhile, the sharks, made reckless by the blood, swim around our boat, thrusting strange blunt noses out of the waves the instant each cupful of blood goes over the side. I he mate winks, reaches out, and with his gloved hand smacks a shark's snout. While the captain coaches the third member of our party, we who have had our turn sit up top by the wheel, watching the thrust of blue shapes, the sharks circling in great scimitar slashes as though they, not we, were the hunters.
In three hours we have boated ten sharks, one of them a twelvefoot, 290-pound monster, which gave the oldest member of our party fifty-five minutes of backbreaking heaving and reeling as it rushed the boat a dozen times, plunged deep, came almost to gaff, and then, with desperate strength, went out eight hundred feet of screaming line. "And those wise guys back at Gosman's Dock will tell you sharks don't fight," the captain says. "They call it piano moving, those wise guys."
But they are right. When I got my big one, seven feet and 150 pounds of him, it was piano moving. Unlike mako sharks, which are recognized as game fish, blue sharks do not leap out of the water; they go down and away, producing in their captor backache, weak shoulders, trembling wrists. When it is over, there is dull exhaustion. The shark, winched up, slowly loses its marvelous blueness, its skin drying gray as ash, its sea sheen dead.
At four we came into Montauk, beer cans in our hands, shark on deck and shark alongside, bringing a clamor of Kodak-snapping tourists down to the dock.
"Look at those enormous tongues hanging out," said a pretty girl spectator, as we posed for the traditional fish picture.
I turned, a monster veteran. "No," I said. "That's the stomach."