BY JOHN M. CONLY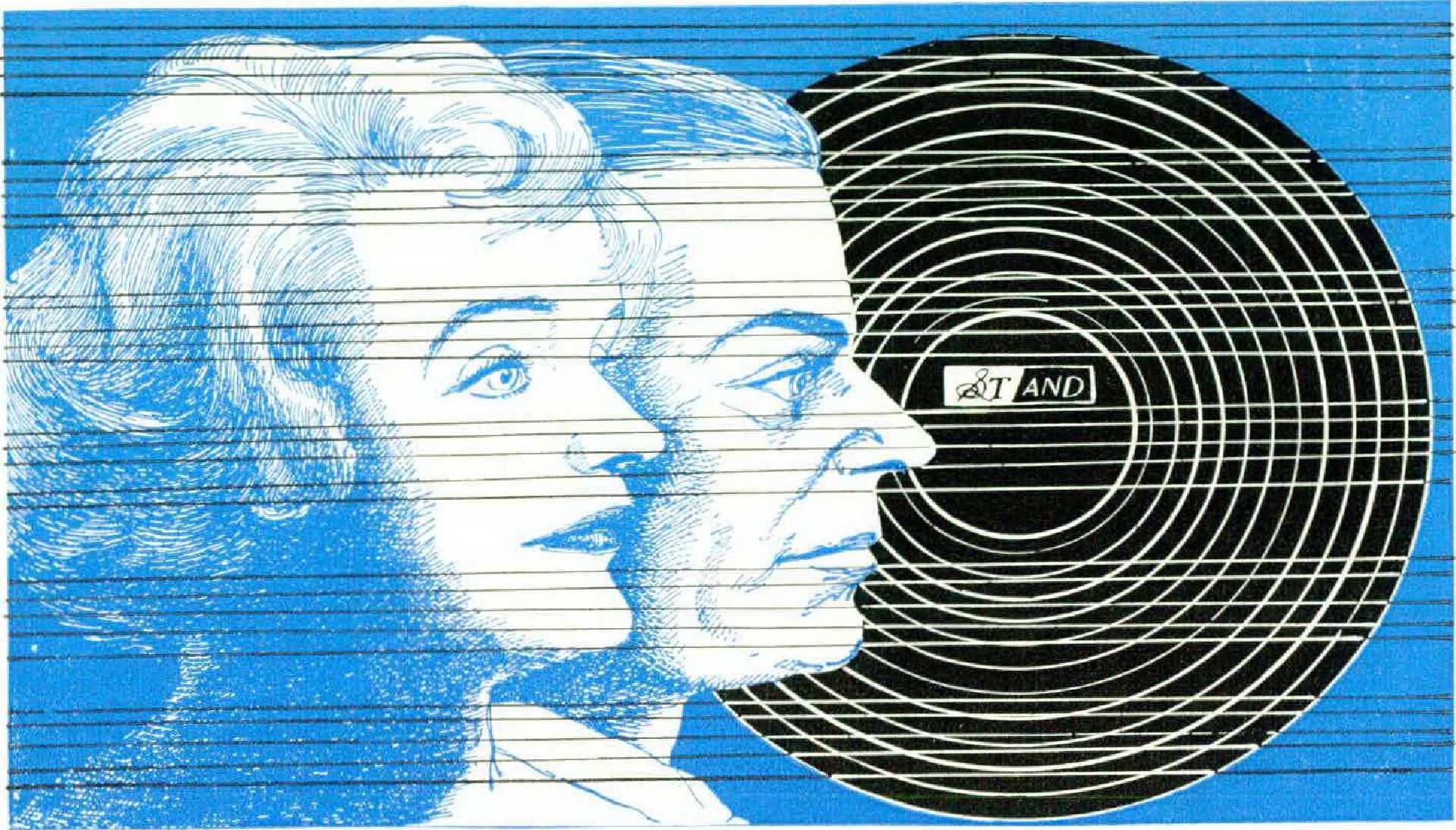 When I went visiting in midMarch the two proprietors of St/And Records, a new independent company, they were both in festive mood, and quite naturally so.
They are Lieutenant Colonel and Mrs. Gordon Andrews, and their place of business is on West Fifty-fifth Street in Manhattan. (This is also their city residence, a domicile marked by appealing taste and adorned with beauty.) The reasons for the festive mood were three. The Colonel was being processed out of the United States Army after twenty years of vigorous service. Their fourth wedding anniversary was the next day. Their fifth record was about to come out. approximately on schedule, in a handsome jacket; and its predecessors had all made money.
It is a considerable privilege, as well as a pleasure, to visit the owners of St/And, because Mrs. Andrews is a very busy lady, indeed. She was, at the time, in the midst of rehearsing to sing the feminine lead in Alban Berg's opera Wozzeck at the Metropolitan. Mrs. Andrews is Eleanor Steber, one of the great sopranos of our time, and this tale is about how she got into the record business.
What distinguishes Eleanor Steber from other divas of the lyric stage, and what makes her a good record company executive, is that she has patently a good supply of brains and an interest in matters other than the roles she sings and the tones she makes. For one thing, she is a musician as well as a singer. Her talent for the art showed first when she was a small child, in Wheeling, West Virginia. Her perceptive parents sent her in her teens to the New England Conservatory, but to study piano, not singing. It was Professor William L. Whitney, there, who discovered her voice and persuaded her to exercise it. Later he transferred her to Paul Althouse, the Wagnerian tenor. She entered the Metropolitan Auditions and won handily. Her first role was Sophia in Rosenkavalier.
What endeared her specially to the music lovers among operagoers (and the two genres should not be confused) was her participation in the Mozart group at the Met in the late thirties and early forties. Some readers will remember those exciting days, when The Marriage of Figaro began to compete in popularity with Traviata, Tosca, and Lohengrin. In some part, surely, credit must go to the singers who learned and loved the parts: Pinza, Brownlee, Steber, Sayao, Novotna. They sang Mozart as if it were musical drama, not exercise. For many a listener and viewer, the Countess Almaviva is, and always will be, Eleanor Steber.
Her husband and partner is a sturdy, dark, brisk man with a keen musical taste, perfect pitch (though he says it is beginning to flag now), and a knack for audio engineering, which he discovered only lately. Fie has studied singing and was a passable violinist. His own career has been a product of accident and talent, and he says he never could have imagined himself finally becoming a recording impresario.
Born in Orange, New Jersey, he went to Columbia and came forth into a job with Marshall Field, as a merchandise designer in the New York office. He was assured from all sides that he had a great future in this craft, and he retains his aptitude for it. Many of the pleased gasps which have greeted Miss Steber at her appearances on concert stages are owing to dresses designed by Lieutenant Colonel Gordon Andrews, U.S.A. (Ret.).
From merchandise designing he entered the Army as an infantry officer. Serving mainly with the Ninth Division, he made landings under fire in Africa, in Sicily, and on the Italian mainland. At war's end he transferred to public relations, where he served for fifteen years, principally in and around New York, though at one point he was assigned to the military mission at Saigon. It was there he met Miss Steber, who was on a world tour.
The recording business began fortuitously. Miss Steber was asked by the Magnecord company to try, and then, if willing, endorse one of its tape recorders. These were then by all odds the best of the home tape recorders, so this was no burden on her conscience, and Andrews took to the Magnecorder with immediate affection. Miss Steber had a recital scheduled at Carnegie Hall, and Andrews, employing the authority which officers learn, set up the machine to tape the concert.
Although he had no time to experiment, the balance came out exactly right. St/And 401 is Mozart and Strauss, and no one would take it lor an amateur recording. The audience was almost supernaturally quiet, except when it applauded. I think Colonel Andrews is almost prouder of the applause than of the performance, and, indeed, the Magnecorder captured the sound marvelously.
At any rate, they brought the tape home, listened to it, and decided, in just a few moments' conversation, that they would be a recording company.
"We took our St/And," says the Colonel. Incidentally, they rather bemused people in Albany trying to copyright a trademark with a slash through its middle, which never had been done before: but the authorities finally decided it would be legitimate.
Colonel Andrews, being both very intelligent and completely ignorant of the hazards of tire record-sales business, marketed the first disc directly to dealers, and it made money. He then had one of the best ideas that ever occurred to anyone in a small record business. (It was not, be it noted, inspired by any desire for cash.) Both Anclrewses are Christian Scientists, and no one had recorded the hymns of Mary Baker Eddy. Accordingly, Andrews approached the Mother Church in Boston with the suggestion that a selection of these hymns be recorded by Eleanor Steber, with organ accompaniment. The church promptly commissioned one record in English, then asked for another in German, and is now putting forth a French version. The church paid for them, of course, so there has been a dual benison. The St/And company could use the money, and the church could use the hymns, sung by one of the finest concert hymn singers there ever has been.
As proof of this statement I offer St/And 404. entitled Eleanor Steber Sings Sacred Solos. It is a breathtaking experience to hear what someone like Eleanor Steber can do with Abide With Me, or Rock of Ages, or How Lovely Are Thy Dwellings. These old tunes and words are not often sung with artistry, and even the artistry is not the whole effect. There has to be an intelligent and simple godliness behind it, and here it is.
Another Eleanor Steber record on the St/And list is No. 406, Eleanor Steber Sings Mozart, not yet issued at this writing. However, St/And has no notion of devoting itself to the singing of one of its owners. Colonel Andrews says, "We agree heartily with the big recording companies as concerns what they can or cannot afford to record. We can work a little differently, without so much regard to how many copies a record sells and what it brings in. There are a lot of young artists and contemporary composers who deserve a hearing. Some of them we can help to be heard, and we are sure there are listeners tor them."
Among the young artists St/And is introducing are a soprano named Polyna Savridi, singing Greek folk and contemporary songs, and a violin-piano team, Felix Eyle and Augustin Anievis, who are making a Schubert album. Anievis also has completed a Liszt disc, which includes the B-Minor Sonata. (In the tape of this, Miss Steber detected a speed fluctuation which everyone else missed, proving that she is not merely a stand-by partner.) In the offing is a new record — stereo, naturally — of Steber singing the delightful and nostalgic Knoxville, Summer 1915. which she herself commissioned from Samuel Barber nearly a decade ago. There will be more, now that Colonel Andrews is a civilian.
Record Reviews
Beethoven: Wellington's victory
Antal Dorati conducting London Symphony Orchestra, three period cannons. French and British muskets; Mercury 9000 (stereo) and 5000
Without the slightest repentance, I will claim a good deal of the guilt for this record. I bulldozed Miss Wilma Cozart, Mercury's classical vice president, into making it. simply because I enjoy Beethoven writingwar music, however corny, and because I am a former artilleryman who likes gunfire. This has got it: brown Besses from the right, Charlevilles from the left, howitzers in the middle; and apparently none of them blew up. Furthermore, the battle and triumph music is much fierier than Tchaikovsky or William Walton could manage. You know the story: Beethoven and Johann Maelzel planned to celebrate Wellington's epic defeat of the French at Vitoria, in 1813, with a tone poem by Beethoven played on a giant, fortyseven-instrument calliope built by Maelzel. The composition is a great piece of male childishness, and I love it from start to end. Mercury's people loved making it, too. With the stereo version they furnish little stand-up flags, one for each loudspeaker. On tire overside of the record are the Prometheus and Leonore No. 3 overtures, and nicely played, too. The recorded sound beggars description.
Bizet : Symphony in C Lalo: Symphony in G Minor
Sir Thomas Beecham conducting French National Radio Orchestra: Capitol SG7237 (stereo) and G-7237
No one could ever deduce that Bizet wrote his solitary symphony when he was seventeen. It is very seldom played, but it shows with fullness the melodic knack and suspenseful meters that were later to make Carmen the world's favorite opera; still it is Schubertian in its classic gaiety. It was one of Beech arms favorite works, and no one played it so well as he — except the Frenchmen following his baton here. The Lalo was another of his pets. If less immediately winning than the Bizet, it stands up as well, speaking sturdily for the era between Schumann and Saint-Saëns. Capitol's engineers have abetted the Baronet's efforts nobly.
Schubert: Symphonies No. 5, No. 8, No. 9
Bruno Walter conducting New York Philharmonic and Columbia Symphony orchestras; Columbia M2S-618 (stereo) and M2L-269: two records
Bruno Walter, early in LP days, put upon discs a Schubert Ninth Symphony that was superlative and remained so. Then he was challenged by a wonderful, if different, interpretation from Josef Krips, in better sound (London). We have been waiting lor a new Walter version. It is here, and it is magnificent. Krips has repeated also, and with matching merit (London again). Neither man can be beaten at this majestic and entrancing work; it is like the fight in Le Marie d'Arthur between Lancelot and Tristram, I'll take Krips; there is a little sunniness in his solemnity that Walter (probably purposely) leaves out. Walter brings out the fatefulness. Both are beyond reproach. This is not the end of the story, though. Also in this Columbia package is the most profoundly moving Unfinished I have ever heard. I think the Philharmonic made a labor of love out of this; so much careful beauty is seldom met with. The Fifth is a pleasant, bounding little Viennese masterpiece, and everyone had a fine time with it. The recorded sound is beyond cavil. The whole thing is a treasure.
Soler: Six Concertos for Two Organs
E. Power Biggs and Daniel Pinkham, organs: Columbia MS-6208 (stereo ) and ML-5608
Rarely am I peremptory about records that must be bought, but this is one. Especially for stereo listeners, it is an enchantment, the treasure of the year. Mr. Biggs, America's greatest organist, and Mr. Pinkham, who first gave us Purcell's The Fairy Queen on records, sat themselves at two organs in the Busch-Reisingcr Museum in Cambridge. Biggs's was the Flentrop Baroque reconstruction he had brought from Holland two years before. Pinkham's was a borrowed Hess instrument, made circa 1750. The Flentrop is beautiful. The Hess is impudent. And the two brilliant and genial performers patently were bent on having the time of their lives. They are discoverers, too. I never knew Padre Antonio Soler (1729-1783) wrote anything like these delights. There is in them every little tune you whistled in Maytime twilight when you were ten years old and the world was full of magic. Fellow magicians have been the Columbia engineers. You are almost present in person for this performance, and nothing nicer could happen to anyone.
Aksel Schiotz: Lieder Recital
Aksel Schiotz, baritone; Paul Ulanowsky, piano: Richard Dyer-Bennet, guitar: Dyer-Bennet Records DYBX-S2 (stereo) and DTBX-2
It happens that I had something to do with the production of this record, and in part because I was for so long a time an admirer of Aksel Schiotz. Reprints of Schiotz. records still sell very well; new as well as old listeners sense his almost unmatched mastery of art-song styling. He suffered a paralysis after World War II and resumed singing slowly. In the interval he lost his "top" (as singers say), so now he is a high baritone, not a tenor. But the insight into Brahms, Schubert, and Wolf is still there; you will not hear a better Nightingale than his. The novelty of the record is a set of songs by Carl Mikael Bellman, a Swedish folk-art composer of much charm, in which Schiotz is accompanied by Dyer-Bennet both as guitarist and as coach horn, hooting through his fist. I like it; I shall not say more.