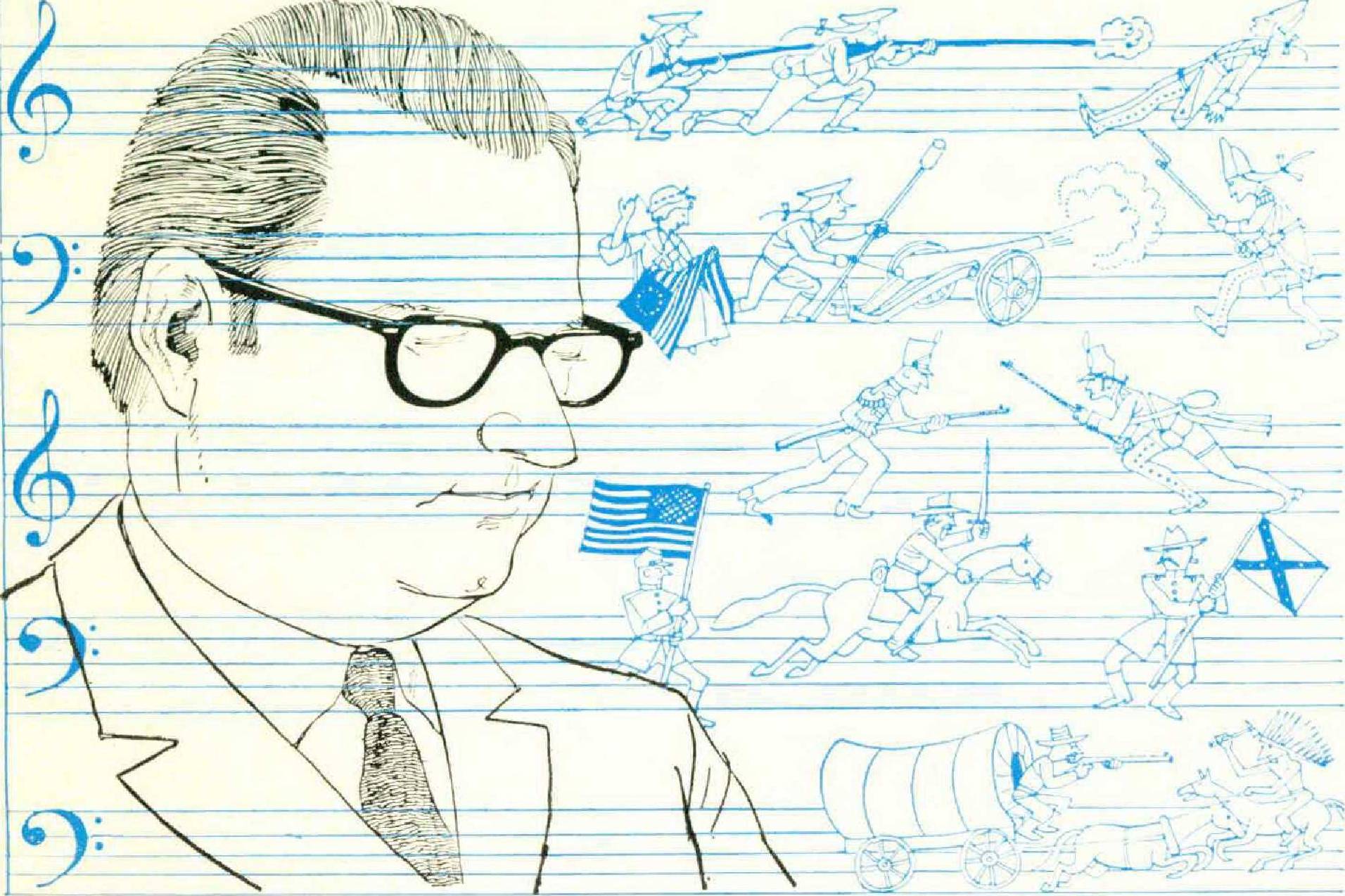 Alexandria, Virginia, west across the Potomac from Washington, is not what it used to be. Along ways where once sauntered the first President and Mr. Justice Marshall and elegant John Randolph, now there are establishments that advertise frozen goodies and automotive fuels. Yet the town in its better parts retains a certain atmosphere. You know it's been there quite a while. It was, perhaps, where Southerner and Yankee first really met — the District of Columbia was still a mud hole being carved into a capital by the tireless French city planner, Major L'Enfant. It is a pleasant place to haunt, because the ghosts are such good company. It is also a good place to be born in, which is what happened to Richard Bales.
Richard Bales is a tall and stalwart Virginian in his middle forties who runs the musical activities at the National Gallery of Art, the enormous and beautiful museum born of the Mellon endowment. More to the point here, he is the leading composer of American history in terms of its own music. The most recent evidence of his prowess in this field is a Columbia record called The American Revolution, which succeeds two predecessors called, respectively, The Confederacy and The Union, presented in 1955 and 1957. Actually The Revolution was written between the two Civil War pieces, as part of a longer work entitled The Republic, which covered the whole period from the Stamp Act to the Battle of New Orleans. It was a clumsy length for a record, however, so the younger davs of Cousin Sam — not yet Uncle — were taken out. Without much doubt, they will comprise a fourth recording, perhaps called The Young Republic. When I say "without much doubt," it is because the original Republic ended with the best arrangement of the Star-Spangled Banner I've ever heard, and if Goddard Lieberson at Columbia has not got an option on this, all his competitors will be very much surprised.
Talking with Mr. Bales, whom I have long known, I referred to his three recorded works as patriotic cantatas, and he seemed to think the description apt. In The Confederacy, for instance, Bales seasoned the stanzas of Dixie, most effectively, with orchestral passages of The Day of Jubilo, and ended the whole thing with an authentic Rebel yell. In The Revolution, General Washington's Quickstep appears briefly in the instruments between the second and third verses of Yankee Doodle, right where it should be, before:
And there was Captain Washington,
Upon a slapping stallion,
A-giving orders to his men,
I guess there was a million. . . .
What I am trying to make clear is that these works really are compositions, not merely song collections. James Hewitt's The Battle of Trenton came to Bales's hands as a score for the instrument called the pianoforte — still rather new in 1797. Bales did the abridgment and orchestration. The latter was a special joy, because, as he says, not many a modern composer has had a perfectly good reason to orchestrate just as Haydn and Mozart did.
The albums themselves are pretty special, which should be pointed out, lest people be surprised at their tendollar price. They look rather like gala issues of American Heritage and contain commentaries by such notable historians as Allan Nevins, Arthur Schlesinger, Jr., and Bruce Catton, together with very handsome artwork. The Union, which is longest, runs to sixty pages. In each instance there is just one LP record, and only The Revolution is in stereo, but Bales has adroitly fitted an epoch apiece into his separate single hours of microgroove. In The Union, incidentally, there is the wheezy crash of a Manassas cannon, and The Revolution begins and ends with a ringing of the Liberty Bell.
Bales was born and reared in Alexandria; he now lives out of town in the green and pleasant Fairfax countryside. For the record, his wife, Betty, a Texan, is an accomplished pianist; his twelve-year-old daughter, Mary Starley, is nicknamed Star; and their chocolatehued poodle is, naturally, called Rebel. Bales studied at both of America's leading conservatories, Eastman and Juilliard. At the latter he encountered Albert Stoessel, who persuaded him to take composition seriously. (In music schools basic composition is taught as English composition is in liberal arts colleges, which is to say, you learn how it is done rather than how to do it.) However, apart from a string quartet and some songs, Bales did not do much writing until he went to work at the National Gallery. (The year before that he had worked for the British War Office in Washington, a quite unmusical organization.) He got his job at the gallery as a conductor — he had been in Koussevitzky's first conducting class at Tanglewood — and was really the organizer of the Gallery orchestra, now one of the nation's few topnotch chamber ensembles.
He discovered repertory problems and went about solving them. He was one of the first conductors in America to play, and the first to record, the Handel Water Music in its original shape and in its entirety, and he also made the first microgroove record of a Charles Ives symphony (the Third), for instructions about which he went to visit the great Yankee polyphonic pioneer in New England. I may point out here that Bales is not a complete Southerner; his two grandfathers fought in different armies throughout the Civil War, and his family comes from both sides of the Mason-Dixon line.
His avocation has been history; mostly, but not wholly, American history. And now, in some part, this has become his vocation as well. For the Sunday concerts at the Gallery, so popular that seat seekers arrive two hours early, he had to find music with a national flavor. It is astonishingly scanty. When Bales sought a good choral-orchestral arrangement of Dixie, he could uncover none. So he pitched in and wrote one himself. It was a resounding success, and this was the start of what became the cantata The Confederacy.
The project came to the attention of Goddard Lieberson at Columbia Records (now president of the company), who is British born but about as American as a man can get to be in one lifetime. The two talked to each other about a series, and so it came into being. Lieberson has titled it "The Legacy Series," and it may encompass, of course, material other than Bales cantatas; its range is not confined.
Bales's range isn't confined either. Lately he has written (but not yet recorded) an Episcopal Communion service. Initially this was to celebrate the bicentennial of St. Paul's Church in Alexandria, but it sounds a little bigger than the occasion requires. He is a great admirer of Henry Purcell, and he took considerable delight in writing a service for choir, string orchestra, trumpets, woodwinds, and drums after the style of the mighty English master. I have a notion that we will get to hear this. "There is something some present composers have forgotten," Bales savs. "The music's got to sound!"
Bales's music does sound, and it betokens lively effort in its making. Perhaps some antiquarians will object, for example, to his choral arrangement of Chester, the wonderful war anthem of the valiant Boston tanner and music maker William Billings, where the words of the brave tune are given alternately, verse by verse, to separate choirs. I don't think Billings would have been monotonous in exact repetition, but I do think Bales has lent him a new excitement (and I hope Bales will make more Billings).
The Liberty Bell, like the Bull Run howitzer, is somewhat low-fi, but, after all, historical verisimilitude deserves from us all a certain exercise of imagination.
Record Reviews
Bartók: Music for Strings, Percussion, and Celesta
Beethoven: Creat Fugue
Ernest Ansermet conducting Orchestra of the Suisse Romande; London CS-6159 (stereo)
This is a showpiece for eggheads who own good stereo systems. The Bartók work is a sort of exercise in space, with the xylophone at the left talking to the kettledrums at the right, and the violins and violas doing likewise. It is very brilliant and witty music anyway, and in stereo it is just plain fascinating. There is nothing in the least forbidding about it, either, even though it begins with a fugue. There is something forbidding about the Beethoven quartet movement, here played by a whole string band. It sounds like a chess problem set to music, and I, for one, have never yet figured out the moves, though I don't stop listening once I have started. Here, too, stereo is a clarification, especially the kind of up-close explicit stereo Mr. Ansermet demands from the engineers.
Beethoven: Quintet, Opus 16
Mozart: Divertimento No. 1
Walter Panhoffer, piano; wind players of the Vienna Octet; London CS-6063 (stereo)
Mozart was a man when he was a boy, as is plainly evident in the Divertimento written at the age of fifteen. There is mature eloquence in its dancing elegance, and if it has small depth, that was part of its purpose. It endears; this is all. Beethoven, contrariwise, was a boy long after he became a man. Even the starting theme of the great Eroica Symphony is a boy's whistling tune, which grows heroic, as boys' dreams grow heroic, unsullied by cautions. There is another boy's dream in this quintet, but of a different kind. It is mostly in the second movement, breathed by the French horn, and sensed as simply as sunlight is sensed from a lazy place in the grass. Viennese feel and render this kind of sense better than any other people on earth, and they do not fail us now. Neither do London's engineers.
Purcell: Anthems and Church Music
Elsie Morison, Richard Lewis, Richard Standen, other soloists; Ambrosian Singers and Goldsbrough Orchestra, Arnold Goldsbrough conducting; His Master's Voice ALP-1766
Last time I recommended a foreign record, the exclusive importing agency went out of business before the review was in print — an embarrassment. I am assured that HMVs can be imported. My only risk is that this recording may be duplicated here by Capitol or Angel. So do not be hasty, but keep it in mind. Purcell wrote as lovely and as moving church music as any man who ever lived, gentler than Handel's, warmer than Bach's. I think he thought of himself as a sinner and was tired of being one (O, I'm Sick of Life: Side 1, Band 1). In a way he has always seemed to me the musical counterpart of John Donne. There is the same fountaining of love and live symmetry of beauty in both, and yet how simply conveyed ! The disc I received was labeled "Mono," which I take to mean that there is also a stereo version. The sound on my review record has a fine British restraint to it — rich, not gaudy.
Shakespeare: Romeo and Juliet
The Marlowe Society Players; LondonArgo OSA-1407 (stereo): four records The London-Argo complete Shakespeare project already has been discussed in these pages; the mention now is simply of the first release in stereo. It is as good as I thought it would be. When Mercutio and Tybalt clash, you can almost see the swords. Enough said, perhaps?