The Boy and Man From Sauk Centre
Last summer, Sauk Centre, Minnesota, the birthplace of Sinclair Lewis, celebrated the fortieth anniversary of the publication of MAIN STREET.TO the pageant went DOROTHY THOMPSON, Mr. Lewis' second wife. It was her first visit to the little town, and one which gave her, as she now gives us, a fresh insight into the writer who was the first American to win the Nobel Prize for Literature.
THE ATLANTIC

BY DOROTHY THOMPSON
THERE are three graves in a row marked by simple, identical stones set equidistantly, and flat, in the greensward. Each has the briefest of inscriptions. At the right lies Edwin J. Lewis, 1848-1926; at the left, Emma Kermott Lewis, 1848-1891; and between them one of their three sons, Sinclair Lewis, 1885-1951, "Author of Main Street." The world-renowned writer holds the honored place between his parents. But the mother, who died when he was six after a long illness with tuberculosis spent in sanatoriums far from home, he barely knew, and he was not his father's favorite son. Behind them is the Lewis monument marking the family lot, lugubrious, of dark granite, underneath the mournful draperies of the stone.
There is no mention of other books on the marker, nor of the Nobel Prize for Literature, of which he was the first American recipient. For to Sauk Centre, which most of the Western world knew as Gopher Prairie shortly after Main Street appeared forty years ago, the book which started Sinclair Lewis' national and international fame is the only one worth memorializing.
Today Sauk Centre, once the "butter capital of America," is all Sinclair Lewis. The Main Street that Lewis, in the introduction to the novel, said would tell the same story "in Ohio or Montana, in Kansas or Kentucky or Illinois" and "not very differently Up York State or in the Carolina hills" is now christened "The Original Main Street." Third Avenue, where the house of his father, Doc Lewis, still stands, is now Sinclair Lewis Avenue. The City Park, lovely with superb oaks and elms and its front on the Sauk Lane, is now Sinclair Lewis Park.
The library, from which the child and youth Harry withdrew so many books that finally "I'll bet he read every one of 'em," now houses in its basement a Sinclair Lewis museum, in which are gradually being collected memorabilia and such manuscripts or copies of them as have not gone, under the terms of his will and along with his library and the Nobel Prize medal, to Yale.
There are plans to purchase the old home and restore it, as far as possible, as it was when he lived there and to open a seminar and establish scholarships for creative writers. It is hoped that money will be found to erect a statue of him as a boy, but the sculptor is put to it to find anything to go on. There seems to be no existing photograph of him after early childhood. I have one taken at the age of three or four, before the characteristic features had developed. There are apparently none taken subsequently until after he left Yale.
Governor Orville Freeman proclaimed 1960 as Sinclair Lewis Year in Minnesota. The first weekends in July, August, and September were given over to a Lewis festival. Nineteen sixty would have been the year of his seventy-fifth birthday, and is the fortieth anniversary of the publication of Main Street, the thirtieth of his winning the Nobel Prize.
I HAD never before been in Sauk Centre. In the thirteen years that I was married to Sinclair Lewis, he had never urged me to visit the town or proposed taking me. His father and stepmother were dead before we met; only his older brother Fred and Fred's family had never left Sauk Centre, and to them Sinclair Lewis was indifferent; and I do not believe that he visited the town himself during our marriage, except en route to somewhere else.
What drew me there now, to attend this festival in his honor? Some desire to pay tribute to him as an artist? Some appeal to a humorous sense of curiosity about how the satirizer of all boosters might now be celebrated by the same? Specifically so that his two only grandsons, John Paul Sinclair Lewis, aged six, and Gregory Claude, aged three, sons of Michael Lewis, Sinclair's only surviving son, might visit the childhood haunts of the grandfather who died before they were born? Or was there not another reason, wholly unconscious, when I made the decision to take the long and uncomfortable trip from Vermont in what promised to be broiling weather? Was it not a desire to learn, if I could, more about the man who for a few years had been the center of my existence, had fathered my only child, had caused me more grief than joy, but whom, after more than twenty years of total separation, I could never put out of my mind?
My daughter-in-law Bernadette, her three-yearold son Gregory, and I (John Paul had come down with measles in Chicago and had been left in Minneapolis with his nurse) now stood before the three stones.
Why, I wondered, had the writer wished to be buried in Sauk Centre beside his father? His brother, Dr. Claude B. Lewis of nearby St. Cloud, had expressed surprise at the news and concluded, "He must have loved the old town." But was that the reason?
The questions that flashed through my mind at the grave were to be pondered all the while I was in Sauk Centre, and afterward.
Sauk Centre had furnished him with the material for his first great literary success, and the legendary "Zenith," an up-and-coming city of the same Middle West, was the scene of two later superior and successful novels, Babbitt and Dodsworth. The genesis of his literary insights was here and in this vicinity. It was artistically fitting that his ashes should finally rest here. But why, as he expressly commanded, next to those of his father?
The body of his stepmother, Isabel Warner Lewis, is interred in the family lot, but not next to the husband she loved and served so long, nor next to the famous son, whom she understood and protected more than the father ever did.
There was a certain filial piety in Sinclair Lewis. During his father's lifetime he wrote home regularly. But although he begot two sons, he had no lather-son relationship with either of them. Continually separated from both children, he seldom wrote to cither, and when living in the same house with one or both of them, wished to see them only briefly, the younger never at meals and only when on his best behavior. He was not affectionate with them. Both children — I had occasion to see much of his older son, Wells, in our home, and eventually in my own, from the time he was eleven until he went away to war never to return again — were afraid of him. If he bantered with them, it was with an irony too far over their young heads to grasp, and it humiliated them.
Wells, sophisticated and humorous, once he got away from his father and was mature, affected and doubtless really felt considerable affection for "the old bastard." When, at twenty-one, Wells published his first and, for his age, distinctly promising novel, They Still Say No, his father, who had read the manuscript and picked the title, was excited and proud.
Michael, when he passed babyhood, had toward his father a resentment and fear that he never overcame. At seven he remarked, after a reverie, "When I grow up I think I shall probably kill my father." At thirteen, he said solemnly, "All my life I have felt like a bastard." When he was invited by his father to join him, before and after our final separation and divorce, he looked forward to the event with a combination of hope and anxiety. When a schoolmate asked him about his famous father he replied morosely, "I hardly know the man."
On a very few occasions, his father had invited him to visit, but always arranged some activity for Michael that would remove the boy from his presence and even from his house — a fishing trip with someone else, or a motor tour.
their last encounter had been catastrophic. Michael was twenty and completing his work at the Royal Academy of Dramatic Art in London, when his father invited him to spend the Christmas holidays with him in Rome. Sinclair Lewis was then very ill. Rumors had reached me from friends and acquaintances who had seen him that his poor head was as emaciated as a skeleton's, and his hands shook with an uncontrollable palsy. The father had invited the son to lunch with him promptly at one the day after his arrival. Michael had spent the night on the town, getting to bed in the hotel where his father had sent him — was there no room in the large apartment? — at dawn. He overslept and was very late for lunch. His father, in a fury of rage, demanded that he return immediately to London and, in effect, said, "Never darken my door again."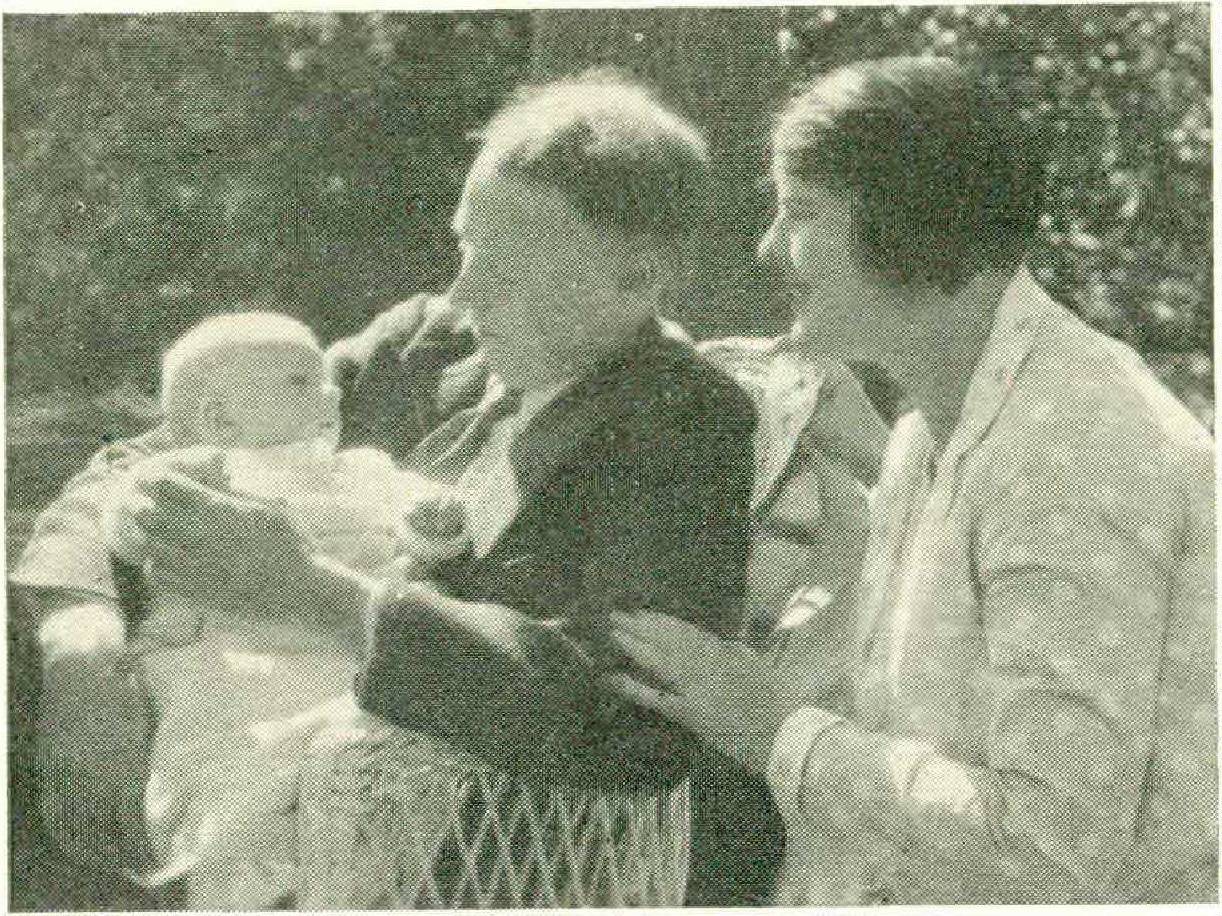 Michael returned to London, took his diploma, and then came home only a day or two before his father died and only some two weeks after he had taken his wretched, humiliating, though not undeserved, dismissal.
Sinclair Lewis had received the news of his older son's death in the fall of 1944 in a manner that seemed utterly feelingless. He was on a lecture tour en route to Chicago when the news came over the radio that Lieutenant Wells Lewis had been shot in Alsace by a sniper and killed instantly while studying a map with General Dahlquist, to whom he was aide-de-camp.
My gentle, sensitive sister, who was devoted to Sinclair Lewis and to Wells and of whom Lewis was fond, felt that the news which he might not have heard should be broken to him lovingly and went to the railroad station but missed him. He had scheduled a party for the evening, to which my sister and her husband had been invited. They phoned the Palmer House, where he was staying, thinking it might have been called off. Lewis had already left for the party, and they went. There they found him in the liveliest possible mood. No one mentioned the death of Wells, but my brother-in-law, finding himself, for a moment, apart with "Red," quietly and simply expressed his sympathy and sorrow.
Sinclair Lewis flew into a biting rage. "People just love to be bearers of bad news." He snarled at Hal (Harrison) Smith, who had telephoned or telegraphed his friendship and sympathy. He attacked me because I had canceled my radio program when I heard of Wells's death a few minutes before I was scheduled to leave for it. "Dorothy's just putting on an act. She wasn't his mother. It's all self-dramatization."
Fanny Butcher, longtime literary critic of the Chicago Tribune, was there, and Lloyd Lewis, the newspaperman and historical writer, with his wife. Sinclair Lewis admired Lloyd and had collaborated with him on the play Jayhawker, which had not been a success. When I ran into Fanny some months later, she was still shocked at Lewis' conduct that evening. Lewis bragged that he had heard the news just before he went to lecture and had never "been better in my life."
My sister, defending Hal Smith, said, "He is one of your oldest friends. He didn't want to bear bad news, but to offer you sympathy and comfort. And you know that what you say about Dorothy is not true. She loved Wells deeply, and he loved her. She was prostrated."
This reproof Sinclair Lewis took in silence. But my sister was not shocked. She was sorry. She knew only too well that Lewis' reaction to frustrations and griefs was to hit out at those who cared most for him, and often at those for whom he cared most. That was always the trouble: never knowing whether he really cared at all, for anybody or anything except his work.
Neither was I shocked when I heard the story some time later. I commented only that he must have felt perfectly dreadful. He repressed his emotions to a point unbearable for those who wished to share them and had the pride of Lucifer in doing so. But how many great writers have ever been good family men? In recalling biographies, one finds that their number is minuscule.
SINCLAIR LEWIS was not a good father. When young he had been a docile, dutiful son of a father who had inspired admiration, often fear, but never, I had gathered, intimacy or warmth of feeling.
So it could hardly be a feeling of family solidarity that led him to wish to be buried here, I pondered. After his father's death he had maintained fairly close ties with only one member of the family, his brother Claude. Theirs was a real friendship that lasted until Sinclair Lewis' death and extended even to Claude's family, with whom he was more at case than with his own. Claude and his family had visited us several times in New York and in Vermont. The two brothers looked very much alike, except that "Harry" (as Claude continued to call him) was much taller than Claude.
I never heard Sinclair Lewis consistently express as much admiration for any other man as he did for Claude. Nearly six years younger than Claude, Harry had in his boyhood perpetually tagged after his brother and was proud of him as a physician, a surgeon, and a man. Claude had the mind of a scientist, and the author, in keeping with his times, elevated the scientific mind above all others.
Claude was not a country doctor, as his father had been. Like his father he had received his medical training at Rush Medical College in Chicago, a highly reputed school which since 1942 has been incorporated in the University of Chicago, and like his father he chose northern Minnesota for his home and work. But he had lived and practiced in St. Cloud, a town ten times as large as Sauk Centre, comely, prosperous, the seat of the Minnesota State Teachers College and of a splendid Catholic hospital of whose staff he was a member. He had studied internal medicine, was an excellent diagnostician and a skillful surgeon. He had exuberant health. His habits were temperate as to food, drink, and sleep; he loved the outdoors of the northern woods, lakes, and streams, was a first-rate shot and an exceptionally skillful fisherman. And, as laconic in speech as his writer brother was garrulous, he was the very soul of ineffusive kindness.
Sinclair Lewis once remarked to me, "The only people I ever wanted to impress were my father and brother Claude. I never succeeded."
I do not know about the father, who had died before I met his genius son. But impressed or not impressed, Claude had a deep affection and highly protective feeling for his brother. Claude was not, by nature, a reformer (nor, except in his younger days, was his writer brother). He accepted people as they were, when they were beyond the powers of medicine to heal. Sinclair Lewis thought psychiatry a form of quackery. Claude was conscious of its limited power to cure unhappy personalities. But he had respect for modern psychological analysis. "Harry had a huge inferiority complex," he once remarked. "Had it as a kid."
"Aus meinen grossen Schmerzen mach' ich die kleine Lieder," wrote Heine, who made most of his own Schmerzen for himself. Claude probably comprehended this generality. But he was a doctor and was outraged by his brother's way of life. When I telephoned him upon receiving the news of Sinclair Lewis' death, he answered in his clipped way: "Doesn't surprise me; doesn't surprise me a bit. Lewises are long-lived. He was basically healthy. Should have lived another ten years at least. But couldn't, the way he behaved. Drink's affected his central nervous system. But why didn't that secretary telephone me? If I'd known of his condition, I'd have taken the next plane to Rome. Wonder who was taking care of him." (He meant what doctor, with a strong implication of doubt about Italian medicine.)
Pitiable as he was, Sinclair Lewis could not endure or give pity. Nor was Claude a dispenser of it. Perhaps the only person in the world whom Sinclair Lewis would have welcomed then would have been Claude — gruff, unsentimental, and competent.
But Claude, who lived to be seventy-eight, is not buried in Sauk Centre. Sinclair Lewis' ashes are not beside those of his most enduring friend in the family.
PERHAPS he wanted, I thought, to rest here from a sense of tradition, in the traditional family burying ground. For the iconoclast of contemporary mores had, like his fellow iconoclast H. L. Mencken, a deep feeling for tradition. If, like Mencken, he had little use for the commercial middle classes (the booboisie), and especially their promoters, boosters, retailers, salesmen, and ad men, it was not because of a keen social consciousness about the exploited workers or the oppressed minorities.
He admired the independent entrepreneur industrialist (Dodsworth), and hated the corporation empires; he felt sorry for the dirt farmers, "Svenska" (Scandinavian) and "Dutch" (German), so many of whom were his father's patients in his boyhood and whom he saw being squeezed by land dealers, loan sharks, middlemen, and later by bureaucratic policies and regulations. He did not think highly of Jews, in general, because of their predominant economic activities, though he admired Jewish scientists, doctors, and a few writers. (Gottlieb, in Arrowsmith, is surely one of his most sympathetic creations.) He thought most lawyers were crooks, adept at circumventing the purpose of the law, and politicians, almost without exception, rogues, promising all things to all men, with the single aim of being elected.
He was basically apolitical, but insofar as his social ideas were articulate and consistent, he was an old-fashioned populist American radical.
He attempted over a number of years to write a novel about labor, studied the scene with his usual thoroughness, had long talks with many labor leaders, and finally threw the manuscript away with the dictum that few labor leaders were really concerned with helping the rank and file; rather, they were concerned with feathering their own nests and grabbing power. I went with him to an AFL convention in Canada, and he railed at its leaders all the way back.
Toward American Negroes he had a genuinely warm feeling, and in them a real interest. He left part of his estate to the NAACP and the Urban League. But his interest was more seignorial than egalitarian. He was more against the white South than for the black. " The mountainwhites of the south — purest Anglo-Saxon stock in America — are awful: filthy, inbred, shiftless."
I remembered the remark when Kingsblood Royal was published.
His yearnings, if not his tastes as expressed in his way of living, were more aristocratic than democratic. He hankered after the old and long established. He fled to Europe as a cure for all his woes, and always, by preference, to England, France, and Italy, with their long continuity of culture. He disliked urban Germany, even before Hitler, because of its energy, technology, modernism, and Babbittry.
His attraction was to the medieval; he was as versed as an art historian in twelfth, thirteenth, and fourteenth century cathedrals, churches, abbeys, and castles; although, to the end of his life, as far as I know, he was indifferent to pictures and sculpture except as part of architecture. Those that adorned his walls were usually prints, and all conventional.
He discovered music only in his fifties, and then went in for it with the intensity with which he did everything. He left an enormous collection of records, all of them of classical music.
IF TRADITION influenced his desire to be interred beside his lather in Sauk Centre, it was not because of the civilized traditions embodied there. When he was born, as I learned there last summer, Sauk Centre had only recently emerged as a settled village. The first white child to be born there had preceded Sinclair Lewis by less than twentyfive years. The Indians, because of the lakes, had been fishermen and loggers, and logging first attracted the small number of white settlers, who lived in stockades. The loggers cut down the trees, so that the earliest picture of Sauk Centre is of a village bleak and treeless. Yet it must earlier have been heavily wooded. Oak, elm, birch, and poplar flourish there, and today its heavily shaded streets, neat lawns, the Sauk Lake, and the incomparable skies are its only claim to beauty. Its buildings and homes have none of the classic grace of the old New England towns and villages that rank among the loveliest in the Western world.
Many of the Sauk Centre homes of Lewis' boyhood, as well as his father's, still stand. They are comfortable, reasonably spacious, gabled, replete with screened porches front and back, but lacking in any architectural design whatsoever. By the time Sauk Centre came into being, the great fireplaces of the earlier-settled East had given way to more practical stoves and hot-air furnaces, burning wood or coal. There is nothing there one would wash to restore.
The physical description of Gopher Prairie, as seen through the eyes of Carol Kennicott in Main Street, is not very different to this day. Of course, there are new buildings and new homes, mostly of the ranch type, some of them of attractive design, but few are in the village proper.
One recalls Carol's dream of having it all rebuilt in Georgian brick with shuttered windows and white trim and her efforts to get the only possible village Maecenas to do it. The dream was grandiose, but Carol never did anything about even smaller dreams. Except for refurnishing her husband's home, which is recognizably the old E. J. Lewis place, Carol was a great improver only in her own mind.
The novelist's stepmother, Isabel Warner Lewis, did do something. Like Carol, who in the novel had been a librarian in St, Paul, she was relatively urban. Dr. E. J. Lewis brought her as his second wife from Wilmette, a suburb of Chicago. She was a leader in the Gradatim Ladies Club (in the novel, the Thanatopsis) and among the few movers to create the City Park, which adds greatly to the town. She was also a mover in providing the first village rest room for the wives of the German and Swedish farmers from the surrounding countryside, who brought their wives into town along with their products, the wives to do the week's shopping with nowhere to wash, relax, and be sheltered from the village heat or cold. She was an early clubwoman type devoted to improvement. Isabel appears in the novel as Will Kennicott's widowed mother, who had given over her Gopher Prairie home to the bridal pair and lived elsewhere, but nearby. She has little role in the story, but is sympathetically depicted.
The history of the Lewis family, on both sides, was pioneer. Of British stock, the paternal family was — if the legend is true, and in Sauk Centre I saw it stated with fair evidence in the family Bible — descended from Peregrine White, the first child born to the Mayflower Pilgrims in America. The Lewises were American a hundred and fifty years before there was a United States.
The mother's origins were more obscure. The novelist had told me that the family was "French Canuck," but this, I found from the family annals in the possession of his brother Fred's widow, is not true. The Kermotts came from the Isle of Wight, and the family reached America through a fourteen-year-old boy who apprenticed himself to a ship's captain, trading between Great Britain and Canada. In Canada, the Kermott lad, having had a row with the captain, jumped the ship, and thereafter he and the family he founded remained in British Canada. There is a rumor that the name was not Kermott, but that this name was adopted later, probably by the boy, who jumped the ship and wished to conceal his identity. Emma Kermott's father — none of the family still living in Sauk Centre seems to know when or how — came to the United States and became, or already was, a veterinarian. E. J. Lewis married Emma in 1873. He was then living in and beginning his medical practice in Ironton, Wisconsin, where she was teaching school.
Apparently the ancestral Lewises moved very early from Massachusetts to Connecticut and farmed in the vicinity of Westville. Then, during the Gold Rush of the 1840s, the family sold the farm, pulled up stakes, and went to California. Like many thousands of others, they found no gold and started working their way eastward, getting as far as Pennsylvania, where the author's father was born in Lebanon. From Lebanon, the family moved to Elysian, Minnesota, tracking westward again. E. J. Lewis, after a spell of teaching school in Redwood Falls, Minnesota, went to Rush Medical College in Chicago. He practiced first in Ironton, Wisconsin, where both his oldest son, Fred, and the second son, Claude, were born. The third son, Harry Sinclair Lewis, ten years younger than the oldest, was the first Lewis to be born in Sauk Centre.
The New England tradition persisted in the family's religion. Unlike the Lutheran Scandinavians who, with predominantly Catholic Germans, settled the farms surrounding Sauk Centre, the Lewises were Congregationalists, whose church descends from the Puritans. The well-to-do Protestant Anglo-Saxons in Sauk Centre built and attended the Episcopal Church. The present church existed in Sinclair Lewis' childhood. Designed by Cass Gilbert and built of stone in the Tudor style, covered with ivy and well placed in pleasantly landscaped grounds, it was and is the most distinguished building in town.
The villages and towns of the northwest pioneer territory and their outlying farms were greatly in need of physicians. The Sauk Centre of 1920, when Main Street was published, had a population of 3000. It has some 3500 today. In Sinclair Lewis' childhood it was, I heard, under 2000. Yet Dr. E. J. Lewis prospered, and although the family did not rank in the top economic class along with the banker, the commission merchant, and those who had made substantial fortunes in real-estate deals, it was economically not so far from the top. Dr. E. J. Lewis could afford to send both younger sons penuriously to college — Fred, the oldest, never cared about a higher education — and although, among the gilded youth of Yale, a rich man's college, Harry Lewis was too poor, and too eccentric, to belong to the upper crust and too proud to join its outcasts, he never had to tend furnaces or otherwise work his way through. He did do some newspaper work for pittances. When the doctor died in 1926, he left some sixty thousand dollars, mostly in farm mortgages. That was a great deal more then than it is now, and considerable for a country doctor to amass.
So, perhaps for social reasons, the Lewis family might have joined the Episcopal Church. Certainly never the Methodist or Baptist, with at that time their hell-fire revivalism which Sinclair Lewis the writer was so bitingly to satirize.
But, except for Sinclair Lewis' adolescent conversion (while preparing for Yale in Oberlin and from which he soon recovered), there is no indication of any particular religious feeling in the Lewis family, father or sons, beyond the purely formal. The father thought the church a good thing for the community, and the family regularly attended morning service together, unless the father were on an emergency call, and the boys also attended Sunday School. The father believed in and practiced the sterner and more puritanical virtues, pre-eminent among them duty, and especially the duties of his healing profession. No storm nor time of night would prevent him from answering a call, and the operation performed on a farmhouse kitchen table by Dr. Will Kennicott in Main Street, with Carol, his young wife, giving the ether in the presence of an open flame of light, occurred in Sinclair Lewis' life when he was thirteen, when he, there being no one else, performed the same service for his father at the risk of both their lives. The father fulfilled his duties to his patients, his family, and the community. He did not attempt to collect fees from those who were indigent through no fault of their own, from the widow with children whom she could barely feed or clothe, or from the struggling farmer whose crops and year's work had been destroyed by drought. His ledgers, preserved by Fred's family, which I saw in Sauk Centre in his widow's home, carry laconic comments — "Can't pay."
But he had neither charity nor patience for "ne'er-do-wells," who shifted off onto others responsibilities which, by hard work, they would have been able to bear. The ledgers occasionally carry in red ink in the margins the words "Dead beat," or "No good." One remarks, "Skipped the country with a niece leaving a wife and four children. S.O.B."
How many characteristics of his father the author son displayed ! Sinclair Lewis had the same sense of duty toward his work, though it was often interrupted by breakdowns. And how often did I hear him cry, "I'm so tired, so tired!" He never drank while he was actually working, but spent regular uninterrupted hours at his writing table. When he had come to a stalemate in a novel, he would go on a drinking bout, leaving home with a secretary or any companion he might pick up, disappearing for days or weeks; and such a breakdown invariably occurred, during my life with him, at the end of every novel and lasted until another idea for a novel miraculously was born in his fevered mind.
His work was always ordered. He wrote his novels from precise and copious outlines of the characters, their professions or trades, and their haunts, building the structure of the book as an architect designs a house. Characters and incidents developed as he wrote, but they moved within the framework. With the tools of his work he was as scrupulous as his father was with his surgical instruments. Sharpened pencils, notebooks, paper, carbon were always in the same place. His writing table was never littered, and what he had written was neatly stacked each day.
In his home he demanded an orderliness that sometimes drove me to exasperation. He smoked continuously but could not endure a half-filled ash tray. But he also could not endure an ash tray, or anything else, that was not exactly where it should be, nor a meal that was not served punctually to a second. He always hung his clothes on exactly the proper hangers, and his bureau drawers might have been kept by the best-trained valet.
He was scrupulous about paying bills and collecting debts, and, like his father, had no use for dead beats or for the shiftless and lazy, although he might cultivate them briefly out of a writer's curiosity. He was hell on servants, thinking nothing of their hours or recreations — yet they were invariably devoted to him. But he would fire them out of hand for even a slightly unsatisfactory performance of a task, for any familiarity, or for what he might consider an overreaching of a long tacitly granted privilege.
Are such characteristics the result of early environment, even though one rebels against it, or are they congenital?
At any rate, "Like father, like son" was not suspended in the Lewis case. Perhaps the dust did call to dust.
BUT was it not all much simpler? Where else could he have been buried? Where else had he ever had a home? Where had he spent anything like the seventeen years of his life that he had lived in Sauk Centre before he went away to college?
He had had many homes, but never, until his marriage to me, owned one with the intention of keeping it for the rest of his life. That one was Twin Farms, in Barnard, Vermont. We spent only long summers here (where I am writing this), and although he was often away, it was his home for eight years, and during that time he was certainly happier and more creative here than he was anywhere else.
And this home was also his simplest. In 1933 he bought a large Tudor-style house in Bronxville, New York, as a wedding anniversary present to me. I did not want him to do it. I could not imagine him, or myself, happy in the suburbs. Thereafter, following our separation and eventual divorce, he rented and furnished an enormous New York penthouse, with a living room sixty feet long and views from its windows of every bridge in New York — the specifications he had given to a real-estate agent. Apart from his books, which lined the great room from floor to ceiling, it was as conventionally furnished as if designed by an expensive but not at all imaginative interior decorator.
He kept it for a short time, and then bought a house in Duluth, having decided to return to Minnesota. Again, the house was immense, pretentious, and ugly, a German-style Mid-Victorian castle, looming in the most prominent position in the city — a white elephant, Duluth people said, with a bowling alley and billiard table in the recreation room in the basement. He wrote Cass Timberlane and discovered that he was tired of Duluth, traveled again, and bought a large estate near Williamstown, Massachusetts, again in New England. Here the land and view were beautiful, but the large house was nondescript and conventional, such as might have been built for a prosperous executive. That, which held all his household possessions, including his books, and was kept by a caretaker, was in his ownership when he died. Both these houses were sold to Catholic orders, ironic for an owner who had despised all organized religions.
He left Williamstown to lease a huge Neofasciststyle villa in Florence, lived there a year or two, did not renew the lease, and after traveling again all over Europe by motor, with his secretary, during which trip he suffered a very serious breakdown in Zurich, drove to Rome and took the furnished apartment there. He had never been rooted anywhere, except in his childhood and youth in Sauk Centre. Nor had he made many real or permanent friends. In England he had had a few friends who were more than admirers of his work. But most of them had predeceased him.
On the European continent he made few, if any, close friends, even among writers, although initially he was much sought after, because his work had been translated into every European language and was a best seller in many countries. So gregarious that he could not bear to be alone except while at work, he sought temporary companions rather than friends.
He was never in the least Europeanized. Although he had spoken German from boyhood, picking up a "schoenste Langewitch" version from the German-speaking people of Minnesota, and had studied it in high school, aided by a Catholic priest as tutor, and in Oberlin, and could write it correctly, even literately, his accent was bad, and speaking it torrentially, he forgot grammar. His French was limited and abominable. He had many times started studying Italian systematically, but how well he eventually came to speak and write it, ! do not know.
His erudition in English and American literature was phenomenal, but with Continental literature he was only superficially familiar. Of the works of Flaubert he spoke only, during our life together, of Madame Bovary. He had certainly read Balzac but never in my remembrance returned to him, as he repeatedly did to Dickens. When, after our marriage, we started together to collect a library, the German and Russian classics were added by me.
On the Continent he drifted toward Americans: journalists, foreign service people, or Europeans with American wives. He was as American as ham and eggs and strawberry shortcake, and always distinguishably so. Although he had written Babbitt in England and Rome and most of Dodsworth in Naples, there was no fitting resting place for him anywhere in Europe.
In Rome, he died alone, and only his secretary — a strange man of undistinguishable nationality, whom he had engaged in Florence — accompanied his poor body to the crematorium, though his death was front-page news in every American and European newspaper.
No one, as far as I could learn from the secretary, when I saw him in Rome a year or so later, visited him in the hospital to which he had been delivered delirious in a state of total physical and nervous collapse. He emerged only briefly from the coma in which he soon died, and his last words at the hospital are said to have been, "God bless you, Sister," to the attendant nun.
Now, standing before his grave, I saw him, as when I met him for the first time in the foreign office in Berlin, July 8, 1927. "Knick" (H. R. Knickerbocker, the Hearst correspondent in Berlin) had brought him to the regular Friday afternoon tea party at which the then foreign minister, Gustav Stresemann, regularly received the foreign correspondents and answered their questions, for the most part off the record.
He seemed to bring in with him a disturbing atmospheric tension such as that which precedes an electric storm. I saw a narrow, ravaged face, roughened, red, and scarred by repeated radium and electric needle burnings, less of the face below the hawkish nose than above it, where it broadened into a massive frontal skull, crossed by horizontal lines; reddish but almost colorless eyebrows above round, cavernously set, remarkably brilliant eyes, transparent as aquamarines and in them a strange, shy, imploring look; red-blond hair, already retreating, very fine and silky; a small and narrow mouth, almost lipless, drawn away from the long teeth by repeated burnings, and which in the course of a few minutes could smile a dozen ways. The face of a man who had walked through flame throwers. An elegance about the figure, slim, narrow, long boned, very tall, with the tallness all in the legs that seemed to have forgotten where to stop; long and narrow hands and feet. Very well dressed in clothes obviously from Savile Row.
And an immediate aura of greatness, large, torrential, tortured, and palpitatingly sensitive. I felt that if one but touched him with the softest finger tip, he would recoil. My instantaneous reaction was, God, what a lonely, unhappy, helpless man! Somebody must love and take care of him! And, of course, I was fascinated.
I did not imagine myself in the role. I did not fall in love with him then, nor really, ever. It was something deeper than that which can happen so many times in anyone's life. I married him a year later in London after a courtship pursued in Berlin, Vienna, Russia, and Italy. What moved me was a compelling sense of his need. Yet neither I nor any other woman who had come into his life before or was to come afterward could fill whatever that need might be. He was autonomous, an elementary force in himself, driving and driven, yearning and resistant. In the end all women left him, driven away perhaps by the impossibility of penetrating the curtain that screened him from any real intimacy; or he left them, forever disappointed.
I remember other things, of course: the incandescence of his conversation, more often than not a monologue; his hilarious gift for mimicry, usually of his own characters or those being created in his mind; and his continuation of a monologue until the listeners were exhausted or bored; his incredible power to ad-lib verse in the manner of any English-writing poet from Shakespeare to Vachel Lindsay or T. S. Eliot, as fast as he could talk, with never a fault of meter or of style; the game we played together and with others, of which of us could most quickly compose a sonnet containing a line usually meaningless — he always won, doing it as fast as he could write. His mind was as swift as light. I remember, too, our playing anagrams, and his fishing words out of never-never land. Challenged, they were always in the dictionary.
His intimates remember his flaring and often cruel temper, at any slight, real or imagined, during which his nostrils would expand like those of a horse, and his unspoken contrition afterward, expressed in introverted sulkiness. They remember the penetrating acidity of his remarks on public figures and on everything that he considered puffed up and overblown. Yet he was himself, as a man and writer, overblown. And one remembers, also, his generous encouragement to other writers, especially young ones, and his ineffable charm.
But he was really happy only in his work. When it was going well, he would often chuckle at his typewriter and tear out a page to read to me. He took special delight, it seemed, in his more monstrous and ridiculous characters. He wrote most of It Can't Happen Here in Vermont, and excerpts from the speeches of the preposterous Berzilius Windrip, which head so many chapters, were often composed or recited at table, with gusty relish, with the happy comment, "What a bastard!"
If the child is father to the man, what kind of lad was Harry Lewis in Sauk Centre?
There are still many people there who remember him, a few who went to school with him, and I saw a number of them. Their picture is of a lonely boy, eager to be one of the gang (one of the Club, of which his brother Claude was the mischievous ringleader) but forever repulsed. In a small town, then as now, physical skills are highly admired by other boys and their elders. They fish, hunt, build secret refuges for themselves in the woods, retrieve and patch up discarded wagons and machinery, and earn money by picking berries, mowing lawns, and doing small handyman jobs for the neighbors.
Harry was good at none of these things. He was too nervous and impatient to be a good fisherman, had no pride in killing rabbits and game birds, and, as f knew him, was singularly helpless at anything requiring the concentration and control of his hands or limbs. With his long legs and natural swiftness of movement, he should have been proficient at some games. Theoretically he liked tennis, but although for a time we had the only tennis court in our Vermont township, he rarely appeared on it and was as bad a shot with a ball as with a bullet. His mechanical competence extended to the ability to change a typewriter ribbon, and slopped there.
His exercise was walking, and he walked untiringly until, in his trampings, he had explored an area. Then he was bored with the paths through the woods, ever-changing as they always are. He was not interested in the minutiae of nature. He preferred to walk in Europe, where every village and county is different — in Cornwall from Land's End to Tintagel; clean across Shropshire; along the Main from Mainz to Frankfurt; from Innsbruck through the Alps to Venice. These tours I took with him. He never would make reservations. We stopped overnight at the first inn that appeared when we were tired.
His knapsack was always heavy with books. If, at rest in the evenings, he could not read, he was frantic. He enjoyed conversation only with a group, though he would stop to talk with wayfarers about their lives and occupations, or linger in cemeteries, fascinated by names on tombstones and noting some in a book.
Everyone with whom I talked in Sauk Centre who had known him as a boy remarked that he always had his nose in a book; one recalled him reading on the Lewis lawn with the lawn mower nearby and only a few rows cut. I tried to find out from his contemporaries what he had read and got the impression that it was mostly romantic novels (Scott was repeatedly mentioned) and a great deal of poetry. Later, when a successful writer, he professed to despise poetry — "People write poetry who can't write prose" — and his insistence on this was once the cause of a heated quarrel between us, but he may not have meant it. He had started his literary career with writing poetry — better described as verse — and his knowledge and memory of the English and American poets were prodigious. He had a photographic memory of any printed page. A Harvard don, English teacher, and poet who was once visiting us started to quote from a poem by John Donne. We were sitting before the fire in the big room at Twin Farms, and Lewis had rudely retired behind a newspaper. Our guest halted in his recitation, groping for the next lines. Sinclair Lewis put down his paper — he had been listening all the time — and finished the whole passage.
Probably the boy who was forever reading found in books an escape from an environment which was not uncongenial but whose demands he could not meet.
He met its demands as a student in the Sauk Centre grade and high school. The education, then, was less inclusive, but in the subjects taught, more rigorous and demanding. For some reason or other, he kept many of his report cards and school essays. Even in mathematics he was very good, and some of the essays were quite astonishing for his age. He told me that he had graduated at sixteen, fifth in a class of seventeen.
Mrs. Kells, who as Laura Thomason had been through high school with him, though a class ahead, denied this. "There were nine in his class, and he should have been graduated at the top. He was easily the brightest scholar in all subjects, though he was best, of course, in English and literature. Early in high school he had something published in Scribner's, and I remember how excited everybody was in school. But some of the teachers didn't like him; he was too odd and had ideas of his own." In defense of his prejudiced teachers, it must be noted that his marks in deportment were bad. His awkward, show-off antics perpetually disturbed the classroom.
She recalled also that his power of observation of human behavior showed itself very early. "When he was thirteen, the first cream separator was demonstrated in town, and many of us youngsters went to see it. Harry watched with a superior air and said on the way home, 'The machine's all right, and the principal words of the operator are me, myself, and I.' "
Mrs. Ben DuBois, formerly Cecelia Gallagher, and younger than Harry, lived next door to the Lewis place and remembers only that he had remarked to her, "I don't like cotton tops." Her husband remembers when Harry ate grass. "I eat grass," he had remarked ostentatiously, and promptly illustrated it by cropping the lawn on knees and elbows. This desire to call attention to himself as a compensation for normal inabilities persisted all his life. He would drag the Nobel Prize into the conversation in a most embarrassing way. He was conscious and self-critical of his showing off, but he seemed unable to help it.
Sauk Centre remembers that he walked ten miles to Melrose to get a train to Minneapolis to enlist in the Spanish-American War as a drummer boy. He was then thirteen. The stationmaster, after establishing his identity, telephoned his father, who came in a two-horse rig to drive him back home. The story has it that Harry bragged to the stationmaster that he would undoubtedly be the youngest drummer boy in the army and intended to become another Richard Harding Davis. But the self-confident pose was quickly abandoned with the arrival of his irate father (who had to pay two dollars for the buggy), and as he drove through Sauk Centre he was good-naturedly greeted by the jeers of his contemporaries, yelling "Doodle" and whistling Yankee Doodle. No one in Sauk Centre recalled his ever getting into a fist fight, yet there is no record that he ever had but one close boyhood friend.
The committee that thought up and managed the festival, the museum, the restoration of the old home, and a scholarship fund for creative writers is not the Chamber of Commerce primarily bent on boosting the town. The driving spirit has been the editor of the Sauk Centre Herald, Gary Sukow, twenty-four years old and an atomic phenomenon of energy. He wants to be a creative writer, "though none of us today could write like Sinclair Lewis or any of those writers of the twenties and thirties. They might pan the hell out of America, but they hadn't any doubt about it. At base they were all optimists. We aren't sure whether anything will survive our own lifetimes."
Another member of the committee is Don Hipschman, author of the pageant A Man from Main Street. He is assistant editor of the Independent Banker, published in Long Prairie, twenty miles from Sauk Centre. Others are an attorney and his wife, an investment counselor, a restaurant owner, a chain-store manager, the Episcopalian rector, and housewives with a literary interest.
Mr. Hipschman's pageant of Sinclair Lewis' life is faithful and written with talent. It was acted on the fairgrounds after dark on a lighted stage, in a series of scenes. With a nice attention to unity, it begins and ends in the graveyard with the burial of the author's ashes, and throughout his ghost carries on a commentary on himself, his times, and his contemporaries, most of which is taken from what he himself had written or said.
It revives the incident to which eyewitnesses at the interment testify. The January day was the coldest in the year, 22° below zero and blustery. Dr. Claude Lewis, in pouring the ashes into his brother's grave, spilled some over its side, and a snowy gust blew them away. "He couldn't be quiet even in his grave. He's scattered all over Stearns County."
But what does it matter where a handful of ashes lies? What was once Sinclair Lewis is buried in no ground. Even in life he was fully alive only in his writing. He lives in public libraries from Maine to California, in worn copies in the bookshelves of women from small towns who, in their girlhood, imagined themselves as Carol Kennicotts, and of medical men who, as youths, were inspired by Martin Arrowsmith and his associates. He survives in every college and university library. He does not live as do those few stupendous novelists revealing the human condition for all places and all times. He never really penetrated the soul. He was not a poet of either verse or prose.
But he is an ineradicable part of American cultural history in the twenties and thirties, and no one seeking to recapture and record the habits, frames of mind, social movements, speech, aspirations, admirations, radicalisms, reactions, crusades, and Gargantuan absurdities of the American demos during those twenty years will be able to do without him.
I did not go back to the grave.