My Older Brother
This month marks the one hundredth anniversary of the birth of Bliss Perry, who taught at Willams, Princeton, and Harvard, and who was, for nearly a decade, the seventh editor of the ATLANTIC. We turn to his younger brother, LEWIS PERRY,formerly principal of Phillips Exeter Academy, for this informal and happy portrait.
LEWIS PERRY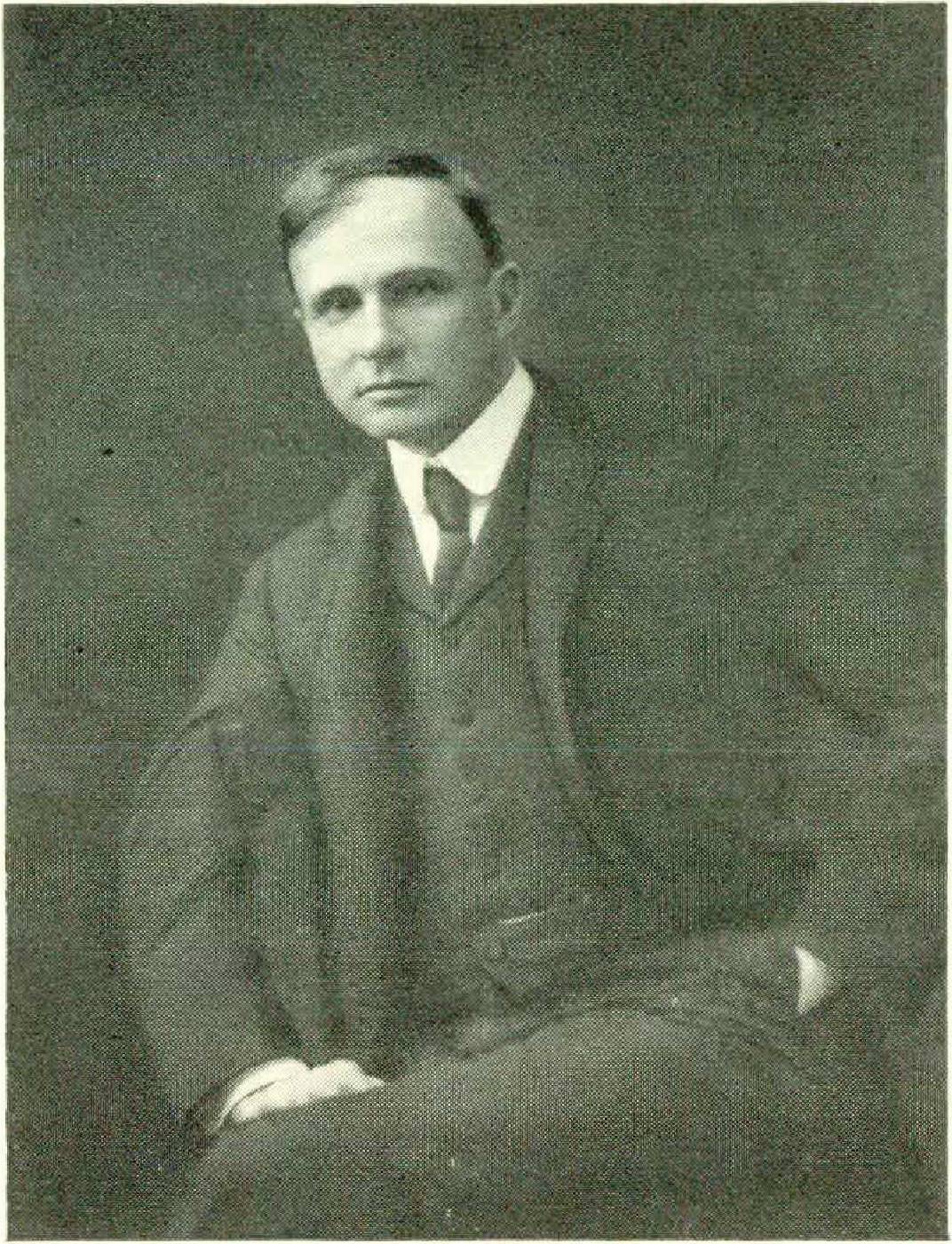 To MOST people there will be a touch of humor in the thought that a man of more than eighty should be writing about his "older brother." Bliss Perry was born in November, 1860, just a hundred years ago. I am not talking about him as a former editor of the Atlantic, but as my older brother.
First, I must say something of our family. My father was a well-known political economist who taught at Williams College for thirty-eight years and brought up his family in the lovely village of Williamstown, Massachusetts. There were six of us, five boys and a girl. My sister was the oldest, then came Bliss. I was the youngest, sixteen years younger than Bliss, so you will understand my attitude of hero worship.
President Garfield, who was a Williams alumnus, was coming to the Williams commencement in 1881 when he was assassinated. That was the year Bliss graduated, and almost my first memory is of that commencement. (I was four years old.) Bliss went on to teach elocution at Williams, and at the same time took courses in writing and in English literature leading toward his master's degree. Although Bliss played on the Williams baseball team, I do not recall ever seeing him play; but I do remember him as a young teacher at Williams. At the first faculty meeting Bliss attended, Dr. Carter, the president of the college, asked his opinion about some discussion which had come up between the undergraduates and the faculty. When Bliss had given his answer, my father remarked, "What my son Bliss has just said doesn't mean anything." This was my brother's academic start. But within the family it was different. We were a boisterous family, all talking at once. My father would hold up his hand when everybody was talking and say: "Quiet! Bliss is speaking." This seemed very unfair to the other members of the family.
At this time Bliss was a tall, rather handsome young man of very studious habits. He worked hard in the evenings on Old English and AngloSaxon, which he had never had in college, and this ambition for learning made a great impression on me. Soon, like all young scholars in the eighteen eighties, he felt that he should study in Germany, so for two years he worked abroad in order to get a background for his future teaching. I remember his return to Williamstown; it was a beautiful moonlight night in July, and I can see now the haycocks in my father's field. How thrilled I was that my big brother had come back to us!
At this point he made a start in his writing, and you can imagine the excitement in the family when his short stories began to appear in Scribner's magazine and when his first novel, The Broughton House, was published. The book was about life in Ashfield, Massachusetts, where my uncle, John Wadhams, was the minister of the Congregational Church. Bliss knew all the streams around Ashheld, for early in life he had become an ardent trout fisherman. Some of his most charming bits of writing, including his later book Pools and Ripples, were about fishing. Bliss seemed to sense my athletic interest in tennis and baseball but never asked me to go fishing with him. Perhaps if I had gone, we would not have been so intimate.
I am coming to a period now when my hero worship was more mature. After Bliss's return from abroad, he married Annie Bliss of New Haven, who was the daughter of our parents' closest friends. Soon Bliss bought some land from my father and built a house.
My father retired from teaching in 1892, and for the rest of his life lived each day thinking mostly about free trade and his sons. In his judgment we all could have been valedictorians if we had put our minds to it. My father was a scholar, Bliss was a scholar, but the rest of us, I fear, were not. Bliss was making a great impression with his teaching and had become an influence in the town and the college. President Carter of Williams and my father were never sympathetic toward one another. I remember my father saying once at the table, "President Carter is a very poor judge of men, but he thinks a great deal of you, Bliss!"
Then came the unexpected call to Princeton. At that time, I was a schoolboy at Lawrenceville and I thought it would be wonderful to have my big brother near me in New Jersey, but Father did not approve of Bliss's leaving Williamstown. "You have just been elected a deacon in the Congregational Church," said father; but Bliss slowly made up his mind to go, and it was a wise decision.
Princeton in the years 1893 to 1900 was as near a collegiate paradise as one could find, and in many ways this was the happiest period of Bliss's life. He built a home there and had a family of two daughters and a son. In the beginning of his tenure there, I was at Lawrenceville, only four miles away, and Bliss and his wife did everything possible to make a boy feel he belonged to a pretty nice family. There was much more social life there than at Williamstown, and he and his wife enjoyed going out to dinner and to the Sunday teas. Grover Cleveland came to Princeton to live in 1897, upon completion of his term of office as President; Woodrow Wilson was a young professor about Bliss's age; John Hibben and his wife were very congenial; and there were many others. Mr. Cleveland seemed to have a particular liking for Bliss — perhaps because Bliss was a Democrat, perhaps because he was a fisherman. New York and Philadelphia were close by. There was a relaxed atmosphere. Many people had books and articles published, seemingly without strain. Bliss had the feeling that his courses were going well, and he enjoyed the congeniality of the place, especially in the spring, which reached its climax when everyone gathered out under the trees for the Senior Sing. At Princeton, in those days, everybody seemed to like everybody else. It may sound naïve, but that is the Princeton I remember.
I GRADUATED from Williams in 1898, and Bliss and his wife asked me to spend a year with them in Princeton while I was studying for my M.A. Could anything have been more wonderful for an enthusiastic young man than to have as his two teachers Woodrow Wilson and Bliss? Were there ever two better lecturers anywhere? I doubt it. Bliss was first of all a teacher. He demonstrated this at Williams, at Princeton, and at Harvard. His gift was such that if he referred to a certain book in a lecture, at the end of the hour you went to the library and got that book. I saw this happen over and over again.
One of my most delightful experiences at Princeton was Sunday supper with Mr. and Mrs. Cleveland. I was often invited to their home because one of my classmates at Williams was a nephew of Mr. Cleveland's. One night I said, "Tell me about Senator Murphy of New York." Mr. Cleveland said, "When I was governor of New York and running for President in 1884, Murphy called me up and told me that Benjamin Butler had some Massachusetts votes, and that he was going to be in Troy that night, and that he would get a closed carriage and bring Butler over to Albany to see him. I replied, 'What if they say that we got hold of Benjamin Butler and promised him something if I were elected?' 'In that case,' said Murphy, 'we will both of us swear that we never saw the damned old cuss!' " That was the New York senator.
The year 1898 to 1899 was a banner year for me and strengthened me in my desire to teach. I could not have had greater inspiration in the classroom, and I was living with my hero, finding him more wonderful than even I had thought. There were afternoons together on the golf links and the opportunity to read and study and to meet interesting people. One of the most characteristic qualities of Bliss was his desire to help young men in every way possible. This he did simply, modestly, and unobtrusively.
That was my case exactly in Princeton. Bliss saw what stage I was in in my intellectual development. He did not show disappointment or disapproval, nor would he give me much praise. I went along, studied hard, and did my work in the Seminar Room of the Princeton Library. The room was filled with books. There was a book called History of English, Literature in the Eighteenth Century by Thomas Sargent Perry. Eight years later in Paris, there was a party in Bill James's room. I noticed an older man who seemed to be sitting by himself. I asked who he was. "Perry," I was told. I went over and introduced myself and said, "By any chance are you the Perry who wrote History of English Literature in the Eighteenth Century?" He arose and said, "Perry, you are a damn good man. You are the only one in Europe who knows I wrote such a book." We became friendly at once, a friendship which lasted until Mr. Perry died.
My sister-in-law graciously said that Bliss laughed more that year I was with them than in any other year of his life. For that I am very grateful to Bliss and my sister-in-law. Actually, Princeton was an ideal place for a young man like myself. There was a great deal of intellectual interest even before Woodrow Wilson became president of the university in 1902. Bliss was in Princeton at a good time, before the bitterness started, which came from Wilson's desire to do things too fast. I shall ever be thankful for that year.
The following year I was teaching at Lawrenceville, and the leisurely hours of reading for background were over forever; but another great decision lay before Bliss. In 1899 he was asked to become editor of the Atlantic Monthly. To me, as a young man brought up in New England, this seemed to be a tremendous position. Bliss, however, could not leave Princeton at once, as he felt obligated to carry out his contract; so for a year he did double duty, giving three days a week, as I remember it, to the Atlantic and three days to his teaching at Princeton. It seemed to me miraculous that he could do both jobs, but fortunately the sleep lost did not bother Bliss, and I think he had a very happy and successful year. Certainly he gave that impression to his young brother, who, by the end of that period, was an instructor at Williams College.
Others must judge about my brother's success as editor of the Atlantic. In adding to the number of subscribers, he was not so successful as Ellery Sedgwick was later; but he did maintain the Atlantic Monthly at a high literary level. I think Bliss looked back on his work at the Atlantic with pleasure and with a feeling that he had not let the magazine down. My hero worship continued at this period, and I saw Bliss very often, as the distance between Williamstown and Boston was not great.
When President Eliot asked Bliss to give certain lectures at Harvard, he was very glad to comply. Later he was elected professor at Harvard and gave all his time to teaching, which, after all, was an art in which he was supreme. Bliss never went into a class unprepared. No matter how familiar he was with a lecture on Stevenson or on Kipling, he would always excuse himself after dinner, go upstairs, and put in a couple of hours of preparation. Harvard was a teaching paradise as far as Bliss was concerned. He had freedom, and he had classes which appreciated what he was trying to do and were enthusiastic about what he had to offer. During my last years of teaching at Williams and the years of my principalship at Exeter, I saw a great deal of Bliss. That was one of the great joys of being in Exeter — I was so near my brother. As far as I know, there was nothing which deterred his enjoyment of his special work. The English department at Harvard was by no means unanimous in spirit, but Bliss seemed to be friendly with such different people as Kittredge and Barrett Wendell. He had a profound admiration for Mr. Eliot and Fritz Robinson. Much as he loved Princeton, Harvard was ideal for Bliss. The social associations which he made in Boston meant more to him than those he enjoyed at Princeton.
I saw him very often at the Tavern Club, at his home, and at the Saturday Club. For the latter club he had a kind of sentimental loyalty which most of the other members lacked. He wrote fine memorial papers for the club and several articles about it. He attended meetings long after he had resigned from Harvard.
My brother had very strong views about things, and we often disagreed; but I don't remember in all my life that we had anything which was magnified into a quarrel. We disagreed on prohibition because I never believed it would work. Bliss was an idealist. Sacco and Vanzetti and William Jennings Bryan were subjects of disagreement. In 1928, Bliss voted for Al Smith. How right he was! I was very much worried at the time and was not at my best. As I look back, I think of many foolish things I said. How Bliss kept his patience I do not know, but he always seemed to understand me.
Much of what has been written about Bliss praises him as a teacher and as a writer. As a younger brother, I would say that, gifted as he was in those two respects, in character, in sympathy, and in judgment he was greater. Perhaps I am wrong, but the editor of the Atlantic wanted me to write something at this anniversary time about Bliss Perry as a man. As I get older, his picture becomes clearer and more unforgettable.