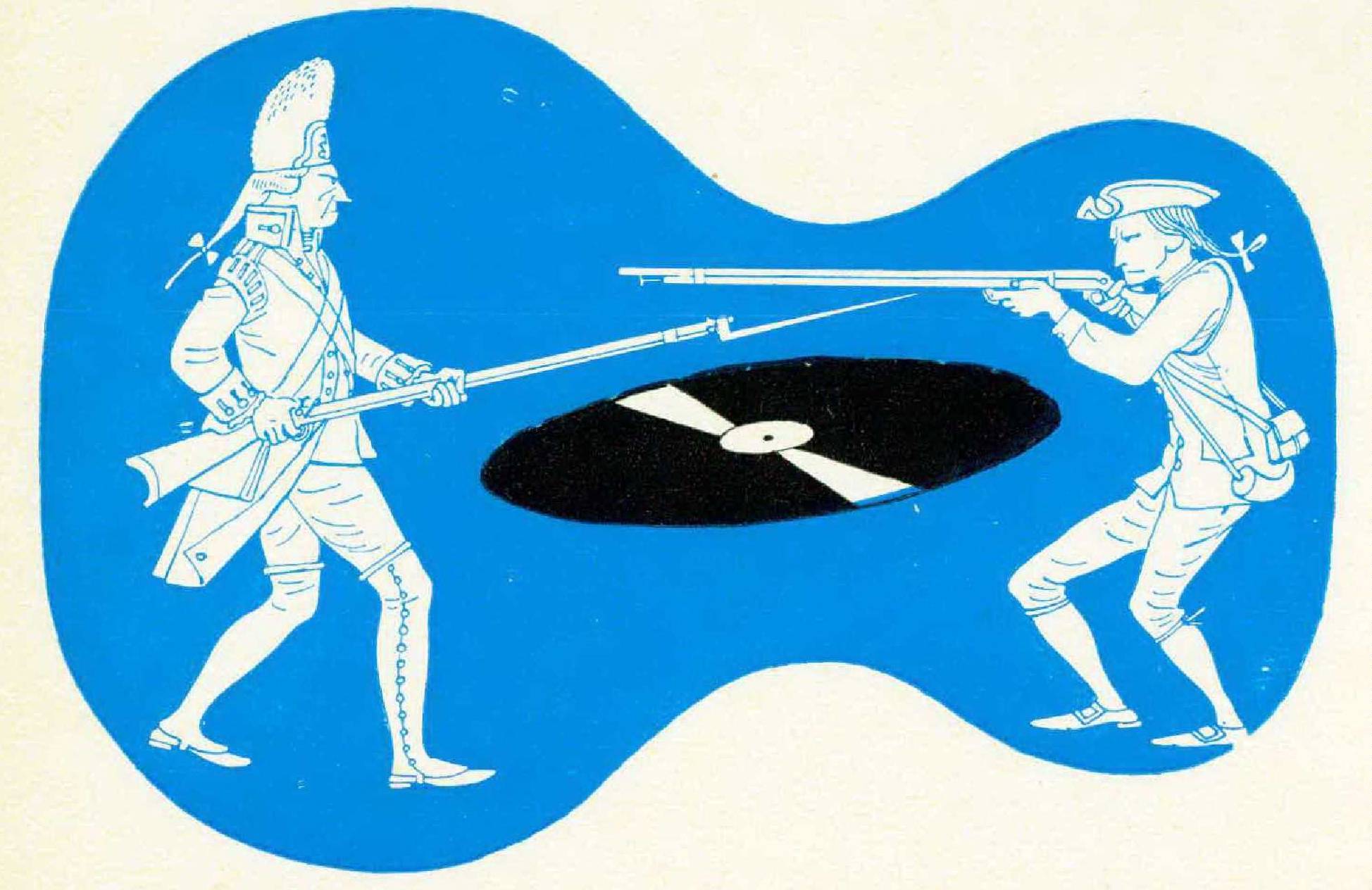 If you don't know what droll Yankees are — they are, first, Yankees who are droll, and second, the two men who run a new, small record company called Droll Yankees. These men are Alan Bemis, a meteorologist of note who pioneered in detecting storms by radar, and Peter Kilham, a retired design engineer. Both are Yankees as authentic as they are droll, and their current aim in life is to preserve the vanishing Yankee language and humor on discs. They are worth preserving.
Peter Kilham, the engineer-folklorist, is in his early fifties and is a man with a sort of fear-not look about him, and a head of gray hair over a face weathered red-brown. He was born into a family of artists and artisans of a type probably peculiar to New England. His father was a successful architect; so is his brother; and his mother and two sisters were painters. Kilham himself aspired to be a painter. He went to Harvard, which he thinks now was a mistake, but left after two years and followed painting, making his livelihood teaching here and in Italy. His idol was Leonardo da Vinci, and still is. Da Vinci to him is the master of space, form, perspective, and design. Design became Kilham's passion, so he quit painting and started, in his twenties, a factory near Boston, in which were designed modern furniture, mostly of metal, and auto bodies. His efforts did not go unnoticed. He was given a commission by no less a company than Rolls-Royce to conceive a modern body design. It came out all aluminum below and all transparent plastic above. Cautious Britons shook their heads at it. "It would have gone like the wind," Kilham says.
He switched to lighting, and again his notions caught. He was contracted for the main lighting fixtures in the Rainbow Room atop Radio City, and some in the home of Nelson Rockefeller. He was still dissatisfied, whatever the cash receipts. He thought of machine design as a fine art, and nobody else seemed to. He married and moved to Santa Fe, New Mexico. There he hired a crew of Navaho Indians, and they began making ornamental ironwork.
"The Navahos are wonderful people, unfailingly honest and born craftsmen. They love to make things beautiful," Kilham says. The ironwork sold well, but the Western idyl was short. America went to war against the Axis, and the iron supply stopped. Back east went the Kilhams, to Providence, and he to a job with a Navy contractor. There Kilham designed an aircraft gun sight, which he said performed handsomely but was too simple and inexpensive to interest the procurement people (his indictment, not mine). He also worked out a highspeed machine for bending both tubular and sheet metal without heating, and retained the rights to this.
At war's end he built a metalbending tool factory on his farm at Plainville, Massachusetts. The plant shared the acres with a steady run of crops and a herd of sheep. Kilham took care of all three with a splendid disregard of working hours and did his inventing by night and on weekends. Among his machine-tool customers were Ford, Chevrolet, Chrysler, and Pratt & Whitney. His biggest customer for shaped tubing was a doll-carriage maker; second biggest was a mail-order house selling lawn furniture.
He remained grumpy, though, because no one would recognize machinery as fine art. "People used to," he says. "One need only look at the locomotives that were made in the prime of the steam age at Taunton and Manchester. They had majesty and beauty as well as efficiency. Now all anyone wants is production." The metal parts he made were plated and polished and curved to a perfection that would no doubt have ravished da Vinci, but the buyers didn't even notice.
"Where was art? I wondered," says Kilham. "In Leonardo's time there was reason for painting, for building cathedrals. Today there is only self-expression. The result is emptiness."
All this inflicted upon him, evidently, an intolerable nostalgia, surely not unique with him in this age. And together with his association with Bemis, a friend since boyhood vacations in Tamworth, New Hampshire, it determined his change from an angry man to a droll Yankee, a pleasant change. Bemis, avocationally, in his time out from tracing hurricanes with parabolic antennas and magnetrons, had compiled an enormous lore of Down East stories and had perfected the accent of the country. Kilham owned an equal gift of mimicry and a kindred sense of humor. The result was a natural thing: they made a tape recording.
If I am not mistaken, this comprises Side 1 of Record 1 of the Droll Yankees, and its title is "Caused by Rum." It is simply an exchange of anecdotes between Kilham and Bemis, punctuated by clinkings and gurgles, and I would not be startled out of my skin to find that they really had a bottle between them. Never mind: if so, there have seldom been two men better qualified to handle it. "Droll" truly is the right word, and Yankee is the accent.
What I wonder about is whether or not Tellesford really exists. Tellesford is a man, not a place. He keeps cropping up in the stories, and if he is an actual person, he may now be hunting down our two friends with his grandfather's smoothbore. What happened the night Tellesford's friends sneaked out of the tavern before him, and saddled his horse backwards, is pretty near bound to become a coast-to-coast classic. It cannot be told here because, for one thing, it needs a Down East delivery, which cannot adequately be rendered in print.
The other side of Droll Yankees 1 is called "The Casket Sinkers," and is a gravediggers' dialogue, as gruesome as it is funny, better imagined than described. Droll Yankees 2 consists mostly of songs written by Bemis and Kilham's friend Frank Hatch, about Down East coastal characters. The songs are good enough and funny enough for a Bostonian men's club smoker; I cannot say more than that. Droll Yankees 3 is not yet made. I heard tapes of Side 1, which contain towboat tales and monologues, recorded in Narragansett Bay, the main character being one Captain Leon Nickerson. They are delightful, almost completely devoid of blasphemy or obscenity (Kilham says this is reliably and pleasantly standard among these men, who think well of God and women), but Captain Nickerson kept wandering around the wheelhouse as he went down the delta, forgetting about the microphone, so Droll Yankees 3 may be delayed a little.
It will be good when it gets out. These sailors are not unsophisticated. They love their tradition and each other's stories. Kilham says he has only to board a boat now, be it a ferry, a tug, or even a tanker, and he is at once invited into the wheelhouse. How they recognize him he doesn't know, but they do.
Singer of Legends
When Peter Kilham dropped in to visit me in midsummer, he brought with him another Yankee, less droll and not indigenous. This was William Bonyun, and he too runs a small record company. When I say "not indigenous," I mean that, whereas Kilham was born in Brookline and reared on Beacon Hill, Bonyun was born in Brooklyn, which is distinctly south of the Yankee border. But he is a very worthy stepchild of New England. If, crossing Massachusetts, you stop to view Old Sturbridge Village, you will meet him.
Old Sturbridge Village is the Massachusetts counterpart of Colonial Village at Cooperstown, New York, meaning that it is a reconstruction. It is a veritable little town of the year 1800, built around a green. In this green, between May and September, if the weather is fair, strolls Bonyun, in country clothes, with a dark curly beard and a guitar, singing the songs that chased the British out of Boston and that later accompanied Yankees moving West across the north part of our country. He gets paid for this; he is Yankee enough to make sure of that.
Bonyun is also Yankee enough to mold into usable form what he has learned to do, so that it may get into schools and households anywhere it is wanted. He could be called a singing history teacher.
Bonyun's father was a New York paint manufacturer, and a fairly prosperous one. Bill says of himself that he wasn't a very bright little boy, so they sent him to a private school. His estimate is probably modest or oblique, since he admits he never did any schoolwork and he still got into Wesleyan University in Connecticut, a college of high repute, with apparent ease. At Wesleyan he showed a vast disinterest in everything except spoken rhetoric, and specifically playwriting. A professor there, Wilbert Snow, thought he showed promise, so at the end of his sophomore year Bonyun transferred to the University of North Carolina at Chapel Hill, where he could major in playwriting, and did. After taking his degree, he tried to crack Broadway and found, like many another, how incredibly tough it is. Baffled and disgusted, he went roaming and landed in Nova Scotia, where he made his living as a fisherman. He bought an ancient 38-foot schooner for $125 and lived on it, fishing by day and writing by night.
He was no hermit, just stubborn. He rambled back home, fell in love with a charming girl (a cellist turned actress), and married her; then together they rambled north again, this time to Maine. He used a small inheritance to buy a farm at the mouth of the Kennebec River. In the vacation season he sold eggs, milk, and vegetables to summer folk; in winter he wrote — short stories, plays, a novel never published.
Since neither the Bonyuns nor any of their neighbors had much money, much of their leisure was spent at singing and storytelling. They liked Maine and were dismayed when Mrs. Bonyun, Gene, developed a back ailment and they had to abandon farming (though they still own the farm). They moved to Long Island, near where the Brookhaven nuclear laboratories are now, and Gene took a job on a local newspaper while Bill kept at the typewriter. Singing remained their hobby, and he began some research on historic folk song. He acquired a considerable local reputation and was asked by Suffolk County schoolteachers to sing Revolutionary songs for their history classes. His reception by the students was so startling a success that it had two drastic results. Bonyun applied for his G.I. privileges, went to Teachers College, Columbia, and acquired an M.A. degree and a teaching certificate. He begged, borrowed, and scraped up enough money to make an LP record, now listed as Heirloom 500, Yankee Legend. It starts with Yankee Doodle, and it got around (teachers have their mysterious channels, when there is something they like).
What happened next was a visit by a man from Sturbridge Village, selling a summer job singing on the green. And then to the green came a scholarly gentleman from American Heritage, Inc., asking if Mr. Bonyun might like to assist in their Junior Library project, with records. He would. He did.
Thus now we have also HL 502, The American Revolution, in which Bill, the guitar, and Gene are joined by the Mattatuck Drum Band and a young Anglo-American historian named Anthony Scott, who comes in handy because he can impersonate Gentleman Johnny Burgoyne and kindred Redcoat brass in the spoken interludes between the songs.
It happens that I was taught American Revolutionary history by Robert Livingston Schuyler, and tried teaching it myself in one place and another, so I know the goods when I meet them. These records are not very finished musically, perhaps, but they are some of the most delightful history I have ever heard.