Grass-Roots Politics in Manhattan
In two campaigns to overthrow boss rule in his election district, DAVID L. HURWOOD has worked with a reform group which has nominated district leaders dedicated to clean government and party reform. In the article which follows, he tells what happened. Mr. Hurwood, after several years of experience in the import business, is now directing market research for a New York-Boston agency.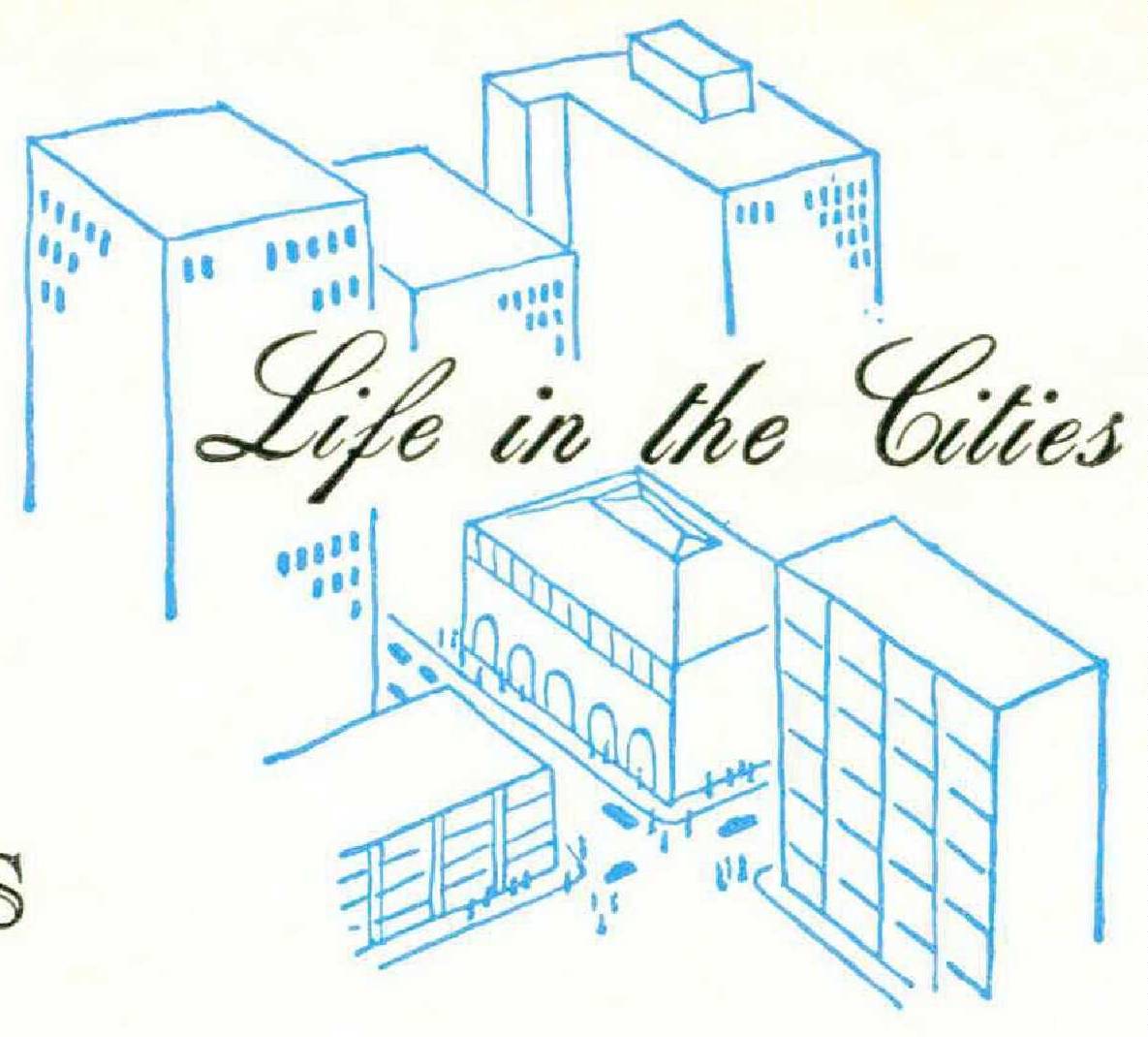 THE surrender at Yorkville in the primary election of 1959 is not likely to be recorded in history books. But it illustrates a dangerous tendency in America so well that it deserves the notice of a broader public than was immediately affected. It is, in fact, a classic example of how democracy goes awry when too many people stand on the side lines. This political aloofness imperils our vaunted democratic way of life; it is a malady which may be called "creeping non-involvement."
The Yorkville surrender took place in a strip of Manhattan's East Side running from 53rd Street in the south to 84th in the north. It goes by the name of Eighth Assembly District, Part B, or Eighth A. D. North, and together with the smaller Eighth A. D. South it elects an assemblyman to the New York state legislature. The upper two thirds takes in a good part of Yorkville, formerly a village but today a closely built city within a city, peopled with a throng of secondand thirdgeneration Europeans: Czechs, Slovaks, Hungarians, Germans, Italians, Irish, Poles, Ukrainians, Swedes, and Greeks. The traditional residents of Yorkville are plain, solid folk with a highly developed communal life, centering about the Sokols, fraternal organizations, and churches.
The Eighth A. D. North is bounded on the west by Third Avenue, on the east by the tidal East River, which flows back and forth between New York's busy harbor and Long Island Sound. To the south are the palaces of the United Nations; to the north, Carl Schurz Park and Gracie Mansion, the official home of the mayor. On York Avenue the towering New York Hospital-Cornell Medical College and the sprawling Rockefeller Institute form a great medical acropolis. Elegant town houses and pretentious apartments along Sutton Place ornament the southern part of the district.
In addition to the plain folk of Yorkville and the posh element housed on Sutton Place and up near Carl Schurz Park, a third element somewhere between the two is moving in. Sparked by the removal of the Third Avenue elevated tracks, a residential building boom is in full swing. On almost every block, tenements — many of them substantia! and well maintained — are being demolished to make way for large apartment houses. Suddenly big X's are painted on the windows, a mark of doom recalling a medieval plague ravaging a neighborhood. The tenants — respectable folk, the sturdy citizenry of the district — are thrust from their homes. Demolition follows. The scenes are reminiscent of London in the blitz.
Apartments in the new structures, large brick piles done in factory modern, rent at 370 to $100 a room, and hence are called luxury apartments. The displaced families — 15,000 in the past nine years — of course cannot afford them; they crowd into other tenements, elsewhere. The city government has turned the other way, giving carte blanche to real-estate speculators, and the result is that almost no middleor low-income housing is being built.
This need not be. If someone would assert the necessary leadership, community organizations could be mobilized into making a powerful demand for orderly development in place of the present anarchy. The trouble is that we have no such leadership. The district's population is about 86,000, which makes it comparable in size to San Bernardino; Macon; Springfield, Ohio; or Stamford, Connecticut. Just imagine a city of that size without a mayor or sonic other elected official urgently concerned with the welfare of his constituents. That is the plight of Yorkville.
The nearest thing to a mayor is the leader of the majority party in the district. Since 1949 the Democratic leader has been James J. Farley. No relation to James A. Farley, postmaster general in the Roosevelt Administration, James J. is the son and political heir of one Thomas Farley, sheriff of New York County in the Walker regime. The father was known as "Tin Box Tom," because he claimed that the money he accumulated over and above his salary came from a tin box, and he was removed from office by Governor Franklin D. Roosevelt following a hearing. He thus became the first local official removed by a New York governor because of inability "to give a reasonable or credible explanation of the sources of [his bank] deposits." This was in February, 1932.
Before the elder Farley became sheriff, he was district leader. In those days the local boss was a father bountiful to the people in his precinct. For a shivering family he bought a sack of coal or helped with the rent. For the jobless he found work. At Thanksgiving there was a basket, at Christmas a party for the children. Thomas Farley followed this pattern and even today is remembered with affection by the old-time residents.
Times have changed, however. We now have social security, unemployment insurance, welfare agencies. People are more mobile, better educated. The paternalistic functions of the local leader have become largely obsolete; today his job is to come to grips with community problems — housing, above all — and to wield a constructive influence on higher party councils.
But the typical Manhattan district leader is preoccupied with other matters: the patronage and special favors he can get tor himself and his pals. James Farley, for example, has a civilservice-exempt job on the city payroll, that of assistant commissioner of borough works in Manhattan. More than one third of the 264 Democratic and Republican district leaders and coleaders in New York City have public jobs, and so do a number of their relatives and friends.
At one time a sinecure on the public payroll was considered just reward for the district boss or ward heeler. It did not matter if he lacked qualifications or put in only a few hours a week at the job. Today this kind of patronage is anachronistic. It demoralizes worthy civil service employees, leads to waste, and opens the way to corruption. Worst of all, it warps the very purpose of the political club; instead of being a center for community and political leadership, the club degenerates into a money-making enterprise. Small wonder that communal responsibilities go by the board.
This is not all. In addition to their potential role in civic affairs, the Democratic district leaders in Manhattan have a key political role. It is these leaders (a male leader and a female co-leader from each district) who elect the head of the New York County Democratic Organization, Tammany Hall; and this organization dominates Democratic politics in the state as well as the city. Since 1949, the Tammany chief has been Carmine De Sapio, who is also national committeeman from New York and who is generally regarded as the most powerful Democratic politician in the state. This is the De Sapio whose relations with such gangsters as Frank Costello and Thomas Luchese have been investigated by the Kefauver Senate committee and the state crime commission. In fact, the Kefauver committee concluded that, more than two years after De Sapio had come to power, "Costello's influence continues . . . strong in the councils of the Democratic Party of New York County." And De Sapio's power derives from the support of the old-line machine clubs.
IN REACTION against this brand of politics, with its focus on patronage and spoils, a group of thoughtful local Democrats formed a rival organization in January, 1956. Their goals were the nomination and election of able candidates, Democratic Party reform, and community service.
In 1957 the group embarked on a campaign to dislodge the entrenched district boss. To its banner, now bearing the name Lenox Hill Club, there rallied growing numbers of reform-minded, non-bossable Democrats. The club is democratically run. It has a written constitution and functions according to strict parliamentary procedure. Women are, of course, on a par with men. All Democrats are welcome to join. Members are urged to speak up; it is they who have the ruling voice in policy and choice of candidates.
From the start, the new club addressed itself to community problems, housing especially. It would be unrealistic to hope for an abrupt end to the evictions and demolitions, but certainly not unrealistic to fight for new middle-income and low-rent housing, and this the club has done. Another community problem is the scarcity of local parks and playgrounds, a scandal in a rich city like New York. The reform club is free to agitate for city action. No conflict of interests ties its hands; no quest for patronage distracts it. But it could be far more effective were it the official Democratic organization in the district. Success in a leadership election is needed before the club can make its influence felt in city hall and party councils.
The first sortie of the new club came in the fall of 1957, when its candidates for district leader and co-leader challenged the Farley club and garnered 40 per cent of the vote. The following year brought a taste of victory. Among the offices to be filled in November was that of state assemblyman. The Lenox Hill Club nominated its first president, Paul Bragdon, a young lawyer active in party and civic affairs. In a brisk primary fight, Bragdon defeated the Farley candidate, and the elated club members launched an all-out drive to elect him in November, 1958.
His opponent, who happened to be a Republican leader in the district, had secured her nomination without the bother of being chosen by a democratically run club or of fighting a tough primary. "I nominated myself for the assembly," she jauntily announced. "That's common practice." The nonpartisan Citizens Union was unimpressed by this novel view of American democratic practice and endorsed Bragdon. Mr. Farley aided his party's cause by launching a suit to disqualify Bragdon on a technicality. On election day Bragdon. although defeated in the Rockefeller landslide, turned in a brilliant performance, running far ahead of Governor Harriman and the De Sapio candidate for the Senate.
In 1959 the district leadership contest rolled around again, and the club fell to with a will. The issues were clear-cut, the facts obvious to all who were willing, as Al Smith used to say, to "look at the record." The latter years of Farley's tenure had been disastrous years for thousands of long-time area residents. They had been frustrating years for Democrats, who saw a Republican elected to the assembly time after time. Surely new leadership was overdue. The Lenox Hill Club counted on the backing of the growing number of thinking Democrats who were disgusted at the public spectacle of the New York State Democratic Party prostituted to the political ends of Carmine De Sapio.
By secret ballot the membership nominated Harry A. LeBien and Jean A. Kemble for district leader and co-leader. Like Bragdon, both were active in civic and party affairs. LeBien was a young attorney and hard-working club member and campaigner; Jean Kemble, a staff member of the Foreign Policy Association and a member of the League of Women Voters. Both exemplified the drive for clean government and party reform that animated their club. As earnest of their intentions to serve their constituents and not themselves, they pledged neither to seek nor accept a job on the public payroll.
The campaign kicked off on June 29 with a rally at the Bohemian National Hall on East 73rd Street. The main event was a speech by former Governor and Senator Herbert H. Lehman. The evening was hot and sticky, but the vigor and sparkle of his speech made up for the discomfort. All his political life, as lieutenant governor, governor, and senator, Lehman had been a party regular, loyal to the ruling organization of his party. Now, after all these years, he had broken with it and joined the insurgents. "It is my conviction," he said, "that the most harmful thing the boss-ridden Democratic machine has done to this city and state has been to choke off the channels by which vigorous, idealistic, and dedicated young people can get into politics and the public service."
Several months before this rally, the New York Committee for Democratic Voters had been formed. Lehman was a guiding light of the organization, whose goal was to reinvigorate the party at its base and oust De Sapio. He was joined in the committee by Mrs. Eleanor Roosevelt, former Air Force Secretary Thomas Finletter, former Police Commissioner Francis Adams, and Lloyd Garrison, law partner of Adlai Stevenson. During the campaign, the committee gave strong moral support to the Lenox Hill Club and other Manhattan reform clubs.
There was plenty of work in July, such as obtaining thousands of signatures on the petitions needed to place LeBien and Kemble on the ballot, but in August and early September, the pace quickened even more. And the exasperating weather warmed up, too, which made canvassing a sticky and uncomfortable chore.
What is it like to canvass in a Manhattan assembly district in the hot summer? Your reporter accepted responsibility for campaigning in his immediate neighborhood and can speak from experience. You hurry home from the office and grab a quick supper in order to be out knocking on doors by six thirty. You pull out the index cards for the enrolled Democrats in the buildings you want to cover, scoop up an assortment of campaign literature, and take off.
In your first tenement house it is so hot and sultry that by the time you climb the third flight of stairs the sweat is rolling down your arms and your short-sleeved shirt is clinging to you. In the semidarkness you study your pack of index cards for names and apartment numbers. When you think you have matched name and dwelling, you knock on the door. (No bells in tenements.) A female voice shouts, "Who is it?"
You squint at the card again (now smudged by your sweaty fingers), and after trying to rehearse the name sotto voce call out, tentatively, "Mrs. Lojtkielewicz?"
"Yeah?"
"I'm a neighbor of yours. I'm canvassing for Harry LeBien and Jean Kemble, who are running for district leaders in the Democratic Party. Could I see you for just a minute?"
"I'm not interested."
"But the election is coming up on September fifteenth. It's an important contest, and we're trying —"
"Not interested," says the voice, definitely receding into the apartment.
"Well, I'll slide some literature under the door. Would you just look it over?"
No answer.
The next encounter starts out more auspiciously. The door opens to your knock, and a kindly middle-aged lady confronts you. "Mrs. Strcka? "
"Yes?"
"I'm a neighbor of yours —" and you go on with your story.
"Oh, don't worry about me," she interrupts. "I always vote straight Democratic."
"That's fine," you say. (It's not fine.) "But you see, this is a contest within the Democratic Party to choose the man and woman who will be leaders in our district for the next two years. "
"Don't worry. I'm a good Democrat. I always vote the straight ticket," and she gently but firmly starts to close the door.
"But please remember to vote for LeBien and Kemble on the fifteenth — poll's open three till ten — the school — Here, take this," and you hand her a leaflet just before the door shuts and you hear a final "Don't worry!"
You try another door, and a man answers. "I'm canvassing — LeBien and Kemble — district leaders — fine candidates — Lenox Hill Club —"
"Why should I vote for LeBien and Kemble?" he asks stonily.
"Because they are not looking for handouts and favors but will serve you and me, the rank-and-file Democrats of the district."
"What's your angle in this?"
"My angle?"
"Yes. You getting paid for this?"
"Why, no."
"Then what are you doing it for? "
"We're all volunteers, members of the Lenox Hill Club. We're fighting for something we believe in, the good of the district, party reform."
"Yeah?"
"Yes!"
He is not impressed.
There are some encouraging calls; some people say, "I know all about it, I've followed the campaign, and I'm for you." And there are memorable times, such as the evening Jean Kemble canvasses with you and you see people's faces light up with pleasure to think that the candidate herself should trouble to call on them. As the days wear on, you come to feel that perhaps you are getting through to the voters — convincing those who are on the fence, raising questions in the minds of those who would have automatically voted the other way. This is politics at the grass roots, an unforgettable lesson in the democratic process.
On September 14 the campaign closed. I had canvassed almost every evening during the sweltering three weeks preceding; so had my neighbor Mary Egan; and in each of the fifty-one other election districts of the Eighth A. D. North, three or four Lenox Hill Club volunteers plodded up and down stairs or slipped past forbidding doormen to bring our message to the voter. Others worked much harder than I, giving up whole weekends and even vacations to the drudgery of the campaign — writing literature, addressing, stuffing, mailing, phoning, attending to legal matters, and all the other chores.
What was the reason for this outpouring of effort? Only the desire to rid the New York party of boss rule, to restore it to the position of respect it once had in the national party, and to give the residents of the district hope for community improvement instead of community expulsion. None of us got a penny; in fact, many helped defray the costs.
Late in the evening, after final canvassing, we assembled in our First Avenue headquarters for election day instructions. Our lawyer members had drawn up a formidable mimeographed document spelling out our rights and duties at the polls, and we were going through it point by point when someone called out that Herbert Lehman had driven up, and we went outside. He spoke to us for a few minutes, and those few minutes were the high point of the campaign.
This was the Lehman who had four times been elected governor of New York, who was called "the outstanding champion of clean and efficient government in the United States." He organized UNRRA and brought life and hope to millions after the war, and then for seven years as U.S. senator fought for civil rights and foreign aid. He had served his country and his party well. He was now eighty-one, yet here he was, campaigning with us. He stood on the sidewalk and spoke into a microphone while trucks roared by and people leaned out of windows. "I have held state office and national office, and here I am back in the district. It's good to be back. For it's here, at the grass roots, that the character of a party is determined. You people have brought this fact to the voters of the district. . . . LeBien and Kemble are going to win tomorrow. You're going to win because the people want party leadership equal to the challenge of the twentieth century. You're going to win because the day of gaslight politics is over." We cheered.
NEXT day the election was held. I came home after lunch, phoned a few people to remind them that today was the day ("Oh, yes, we'll be there"), and presented myself at Public School 158 on York Avenue between 77th and 78th streets, where policemen were just hanging up the flags, setting up the voting booths, and putting out the "No electioneering" signs. I was armed with my "pull list" of favorable voters, my "graveyard list" of voters to challenge, my poll watcher's certificate, and the legal brief, which came in handy when a policeman wanted to put me outside the voting enclosure.
At three o'clock, when the polls opened, the lines of voters began to form at the voting booths. But the chief inspector at our machine had not yet arrived. Since this was a Democratic contest, she was required by law to be a member of the other party. When she finally came and set about inspecting the machine, she did something wrong and it jammed. We phoned the Board of Elections to send someone, and I tried to conciliate the voters, who were now getting a little disgusted. Some left. As the minutes dragged on, the Republican lady must have noticed me biting my lip and said, "My goodness, why are you so upset? This is such an unimportant little election." At four thirty the expert arrived, unjammed the machine, and the voting started.
If you have never thrown yourself into a campaign, urging people day after day to vote for your candidate, you can have no idea how gratifying it is to see some of them actually materialize at the polls. You say to yourself: "I had a hand in bringing these people here. I was free to persuade them to support my candidates and my principles, and here they are." It makes the word "democracy" come to life.
You also can have no idea of the letdown you feel when many of the people you were counting on do not come. Your spirits falter, the high hopes that had taken shape in the final buoyant days of campaigning begin to ebb. Where is Mr. So-andso, who said, "Don't worry, I'm with you"? Where is that lady so bitter about Tammany politics?
The club supplied me with "runners," and I began sending them out to phone or visit people on the pull list and to say, "Please come, we need your vote." At six thirty I went home for a sandwich, then phoned Mr. C—, who lives in my building and has an arterial condition which lets him walk only a few steps. "I'm ready," he said. We got a cab and drove to the school. As we arrived, a blind woman who had just voted with the help of election inspectors was led from the door. After Mr. C— had voted I took him home, then returned to the school and sent out runners again. One girl reported, "Mrs. F— says she'd like to vote, but her husband isn't home yet and she can't leave the children." I said, "You just run down to Mrs. F—'s and babysit for her while she votes."
By now, about 85 of the people on my pull list had voted, but 40 had not, and at this late hour voters were coming at the rate of one about every fifteen minutes. The Republican lady was looking at me benignly again. The fight in the Eighth A. D. North was over.
At ten o'clock the machine was locked and the count taken. A momentary thrill of victory when I saw the results: Farley and Stanek, 60; LeBien and Kemble, 100. But then a glance at some of the other machines in the school, and I knew we had lost. I was supposed to go to the club, but went home instead; wakes are not for me.
Next day the newspapers printed the returns:
Farley and Stanek, 3565
LeBien and Kemble, 3141
LeBien and Kemble received 47 per cent of the votes; the incumbents, 53 per cent. Pretty good show. We lost by only 424 votes. There are fifty-two election districts in the Eighth A. D. North, which means that if an average of only nine more supporters in each district — four couples and a single person — had voted, we would have won.
Those nine supporters existed in my election district — in fact, there were about 35 — and in each of the other districts, too. But when the time came for them to stand up and be counted, they had other things to do. In some cases, no one could question a nonappearance: illness, a death in the family, a trip. But for at least nine in each election district it was simply a matter of not taking the trouble, or not thinking it important enough to warrant a small revision in afternoon or evening plans.
And so we lost, and the district once again was Farley's. He didn't beat us; our nonvoting supporters did. We lost by default.
OURS, of course, was not the only contest fought that day. District leadership elections took place all over Manhattan, and several Tammany Humpty Dumpties were knocked off the wall. De Sapio himself won in his district by only 586 votes. His position of leadership in the state Democratic Party, heretofore almost unchallenged, was shaken. Had a long-entrenched Tammany faithful in the Eighth A. D. North been replaced by a fighting antimachine club, De Sapio would have been further weakened. Indeed, he was dealt new blows when several reform candidates won in the June primaries this year. The Lenox Hill Club's candidate for state assemblyman, Charles D, Lieber, was among the victors.
But the September, 1959, defeat remains a classic example of a crucial election lost by default. What we tried to do in the Eighth A. D. North, our little piece of America, was something we are constantly exhorted to do, starting with high school commencement: to participate in the affairs of our community, to make democracy work, to put dedicated men and women in positions of leadership, lest that leadership go by default to the self-serving and the cynical. We failed because too many people did not really consider it important to do this. Similar failures have taken place, and will take place, all over the United States for the same reason.
It was not only the nine favorable Democrats in each district who let us down. There are in the Eighth A. D. North some 2500 people who are registered to vote but not enrolled in any party. No doubt many are discriminating, thoughtful people, the very type of person to whom our cause might have appealed. But because they were not enrolled in the party, they, of course, could not vote in the primary.
Besides these 2500 independents, 57 per cent of the enrolled Democrats in the district also did not vote. Finally, there were many thousands more so uninterested in the business of democracy that they were not even registered to vote. With all these residents of the district voluntarily disfranchised, the balance of decision rested with a tiny minority.
Therein lies the significance of the episode in the Eighth A. D. North. It is a case study in how things go wrong when too many people neglect their civic responsibility out of cynicism or a feeling of noninvolvement in the process of government. A look at our voting record here in America should jolt the most complacent. Here is some of the evidence assembled by the American Heritage Foundation. In the presidential election of 1952, only 63 per cent of the adult civilian population voted; in 1956, only 60 per cent. In only 15 states did as many as 70 per cent of the people vote in 1956. Idaho and Connecticut headed the list (77.3 and 76.6 percent), followed by Utah, Massachusetts, New Hampshire, and Rhode Island. Rich, proud New York ranked a sorry twentyseventh, Pennsylvania twenty-eighth, California twenty-ninth. At the bottom were eleven Southern states, including the five poll tax states. In Texas 38 per cent voted, in Georgia 30 per cent, in Mississippi 22 per cent. This is the barometer of democracy in America.
For the person who says, "But why should I vote? What difference can my single vote make?", here is the answer:
In 1944 Senator Taft, "Mr. Republican," carried Ohio by less than one vote per precinct.
In 1948 President Truman carried California and Ohio by less than one vote per precinct and thereby won re-election to the White House.
That same year Senator Lyndon Johnson was sent to the Senate by a margin of 87 votes in the huge slate of Texas. By 87 votes!
In 1950 Governor Williams of Michigan was elected by less than one vote for every three precincts.
In 1954 Averell Harriman won the governorship of New York by about one vote per precinct.
Every vote counts!
How can we achieve greater participation in the democratic process? After September 15, we ran a drive to get people to register so they could vote in the presidential election. All they had to do was walk a few blocks to the school on York Avenue, and it was painful to see how many felt that they were doing you a favor in agreeing to go — and to learn later how many had not gone. Should we have laws which coax people into voting with some sort of tax concession, or penalize nonvoters by fining them? It is a sorry democracy whose citizens must be cajoled or bribed into voting.
Surely it is the inescapable duty of every educated person to set the example of active participation in the business of self-government — not necessarily by canvassing in tenement houses. But those who take their responsibilities seriously must somehow get into the race, where the "garland is to be run for, not without dust and heat." At the very least, this means voting always, and voting with reasoned judgment.
There will then be fewer surrenders in the Yorkvilles of America.