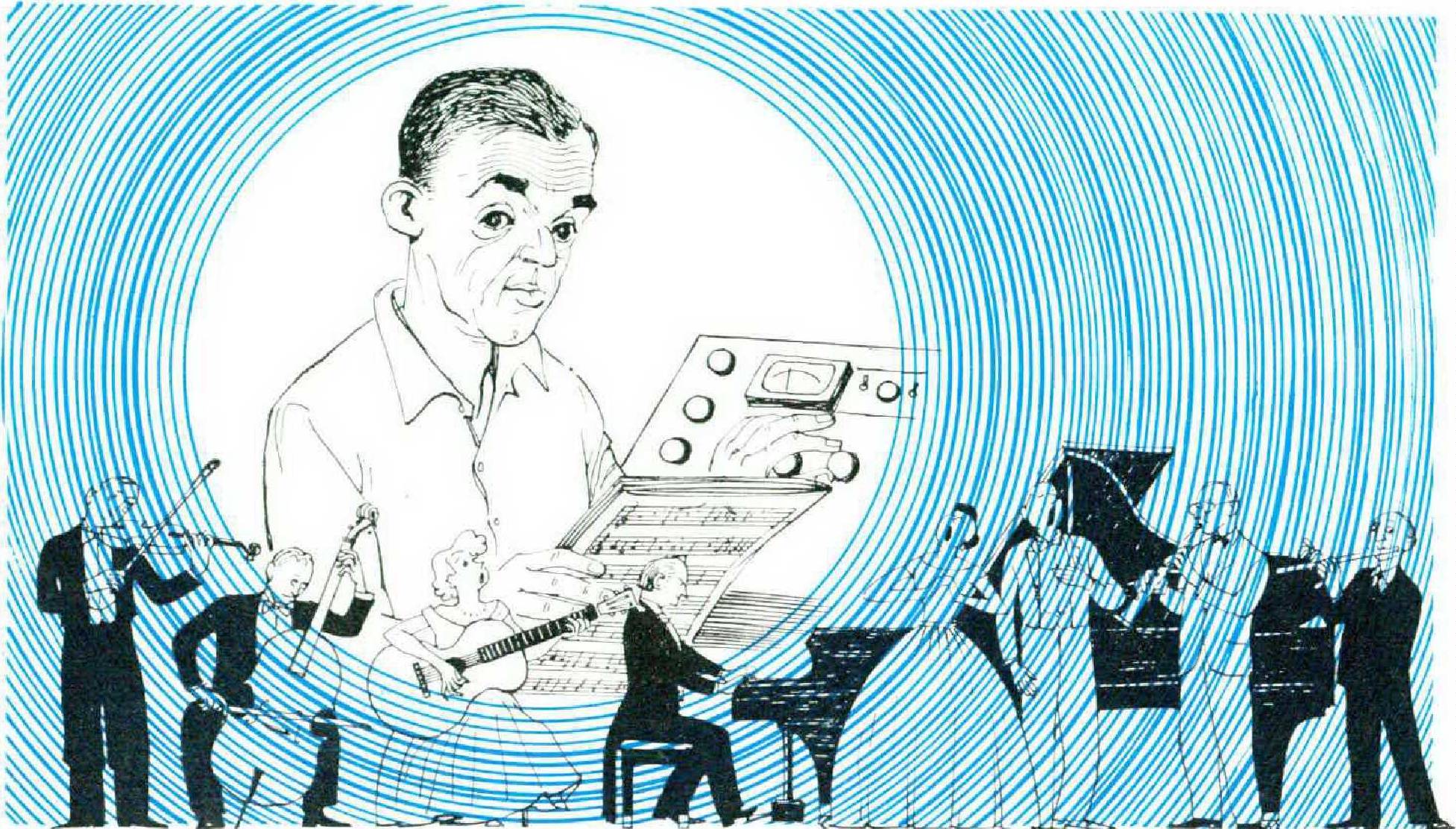 Ordinarily, it takes three sets of talents, meaning people, to produce a really good phonograph record, one that will bring music flawlessly, and with conviction, into our homes. In the production there must be someone who understands the music, someone who comprehends sonics and the vagaries of tape, and someone who has mastered the mystery of cutting prime discs.
A man with all three of these métiers in his head is a rarity, and I know of only two such men. One is Peter Bartok, of whom we will talk another time; and the other is Robert E. Blake, with whom I conversed recently and who acknowledges only Bartók as his peer. They describe themselves as free-lance recording engineers. Frankly, I consider them artists. So do artists. Come Christmas or some other happy occasion, and Leopold Stokowski sends Blake gifts of neckties and lemon trees. Something more than affable technical competence is implied.
Blake also is the man who persuaded the late Wanda Landowska that she could make records in her Connecticut home, thus yielding us great riches we should not otherwise have had.
A lean, ruddy man in his early forties, Blake lives on the Connecticut edge of Long Island Sound with a winsome wife, two lively children, and a motorboat. He also maintains a studio in mid-town Manhattan, where he can stay overnight when the New Haven Railroad fails him.
He came to be a recordist by a devious route. His mother, Dorothy Gay nor Blake, was, and is, a noted musical pedagogue, specializing in children's teaching materials.
"She could have been a concert pianist,"Blake says, "but she elected to rear a family instead. So I grew up under a piano, in Nashville first, and then St. Louis."
He himself considered a career at the piano, but decided against it, partly because his thumb joints were too stiff. He still plays respectable piano or harpsichord, however. He did become a staff writer for a bright but short-lived commentary magazine in New York called Review. Hendrik Van Loon and Fillmore Hyde were among the editors, he recalls.
Review didn't last long, and Blake drifted into photography. He found his time finally divided between motion picture film editing and commercial picture taking. "I shot so many Miss Rheingold candidates," he says, "that I almost lost my taste for beer."
After several years' shooting and clipping, he concluded that he was in a blind alley. It was at this postwar time, also, that magnetic tape (devised by the Germans) made its debut in the United States and the vinyl microgroove record became a practicality. Blake had been a record collector since boyhood. It occurred to him now that the new style of recording, tape to disc, might suit his talents and training very well. He thought he would lest this impulse, so he went to Harvey's, the New York audio emporium, and bought a Magnecord recorder, a pair of microphones, and some tape. This equipment behaved as if made for his touch. Having proved his aptitude to his own satisfaction, he presented himself at the two leadingrecord companies.
His effort was reinforced by a letter from Darius Milhaud, the French composer, for whom he had made some test recordings, so he was received by high executives. One of them gave him forty-five minutes. Blake recounts ruefully, "He saw me lor forty-five minutes, but he only heard me for two. The rest of the time he was on the telephone." Perhaps the effort was foredoomed. The major companies traditionally use three men for the job that Robert Blake, or Peter Bartok, could perform alone, and they are not pressed by economy.
Obviously Blake's abilities were best suited to small companies, of which a myriad were coming to life in the late 1940s. He decided to start one, or help start one, himself. First he went to Jack Skurnick of the Elaine Music Shop in New York. "You've been thinking of a label of your own," he told him, "and I want to be a recording engineer. Let's make records." So they did.
"Our most famous product, of course," Blake relates, "was Edgar Varèse's Ionisation, made with the Juilliard Percussion Orchestra, but we put out some other modern music, works by Hindemith and Marlinu and so forth. Also some Haydn chamber music, and a series of Schubert piano sonatas, with Webster Aitken. These still sell."
In 1950 he launched his own label, REB. He continued this after Skurnick died in 1951 and kept on putting out records, mostly of baroque music, until his custom business became so time-consuming that he had to stop.
His reputation, he says, grew mainly by word of mouth among musicians; "It gets around that here's an engineer that a musician can go in and talk to and say, 'On the fifth bar after letter "H" I blew a B flat instead of an A natural; can we do this again, or is there something you can do about it?' " Sometimes there really was something he could do about it. Tape was then still terra incognita to most musicians, and the arts of patching and editing struck them with wonder. Blake became known as a sort of miracle worker. He was a phenomenon new on the scene, the first of the virtuoso recordists. Skurnick, a generous soul, had recognized this and set a precedent by giving Blake a credit line not only on the jacket but on the label of all EMS records.
Small companies and individual entrepreneurs began to seek his services. One of the latter gave him his first foreign assignment. He was the wealthy South American husband of a pianist whom Blake describes succinctly by saying she couldn't play her way out of a paper bag. Nevertheless, he spent some hot tropical days recording her attempts. "The trip was a fiasco," he says. "I got back with exactly six dollars in my pocket. But it did apprise people that I was available to pack up and go anywhere on no notice at all."
A year later he found himself in Venice, making four operas and assorted symphonic works for Don Gabor of Remington Records. "You might be interested in some of the technical difficulties," he says reminiscently. "Most places use either 50 or 60 cycle alternating current, so I always take a converter with me. Venice, uniquely in the world, uses 42 cycles, give or take five. And the voltage varies from 125 to 160, depending on whether the tights are on or off in the Piazza San Marco. The operas — Aida, Cavalleria, Lucia, Turandot — were made on a shoestring. Only Turandot was any good. Oddly, considering the orchestra's operatic background, the non-operatic pieces came out best. We made some fairly good Beethoven and a very good tape of the Concerto for Orchestra by the American Ulysses Kay. The Italian musicians played this with real appreciation.
"We recorded in the Teatro la Fenice — the Phoenix — which is the world's most beautiful theater, bar none. It is small, acoustically perfect, and a dream of pink and gold. My control room was the royal box, reserved for the Kings of Italy, when there were Kings of Italy."
When Blake returned from this kingly pastime, he was promptly hired by the Book-of-the-Month Club, for its Music Appreciation Series. Most of the American-made items in this series featured (anonymously) the Cleveland Symphony. Some of the club's full-length records were made abroad, but all the accompanying ten-inch analysis records were made here.
"Sometimes there were a hundred illustrative examples, some only two measures long," Blake explains. " These would be separated with leader tape. Then Thomas Scherman or Leonard Bernstein or G. Wallace Woodworth would come in and read the commentary, in snatches, after which I would edit and tighten the thing down to fit a teninch LP."
Blake has since not lacked notable clients. He formed a close attachment to Landowska and to Stokowski (to the latter he refers affectionately, recalling their working relationship, as a woolly white lamb). He learned much from George Szell, and Szell from him.
Others who came to value his insight as recordist were Thor Johnson of Cincinnati, Alfred Wallenstein of Los Angeles, and Fritz Stiedry, the Gluck-Haydn conductor, whose encroaching deafness made service like Blake's of great worth and reassurance.
To his studio came Lotte Lehmann and Mary Garden, not as singers but as recorded lecturers on their art. (Madame Lehmann spent most of her time talking about Goethe and Schiller.) Lawrence Tibbett came to try himself at a song recital. Giovanni Martinelli and Salvatore Baccaloni presented themselves to sing a duet in Neapolitan dialect, for their own delectation. Leonard Bernstein came to repeat part of his Omnibus jazz program ("Six hours to record seven minutes," reports Blake,"and the tape is in limbo").
Benny Goodman sought him out to help with his classical debut on his own Goodman label, playing the Brahms and Weber clarinet quintets with the Berkshire String Quartet.
One Blake anecdote should not be left out, whether it is relevant or not. Once he recorded, in his studio, the aged German pianist Carl Fried berg, playing a Schumann sonata. At one juncture, Blake, who knew the work, came out of the control room trepidantly to tell Herr Friedbcrg that lie had hit a wrong note. Herr Friedbcrg turned to him and said, in the kindliest manner: "Clara Schumann told me I could play it that way."There was no further discussion.
Blake was, to put it moderately, a little ahead of his time, which is ! to say that, in 1948, when the rest of the world was marveling at microgroove, Blake bought a tape-recorder chassis from the Amplifier Corporation of America and rigged it with two heads. Having done so, he went across town to an assignment and recorded the entire Bach BMinor Mass in stereo. No one could hear it but him, yet he says it was worth it. He has been committed to stereo ever since, and to tripletrack stereo since 1955, when Ampcx made a tape transport adaptable to this aim.
When the stereo disc finally became a commercial fact, Blake was able to call a number of his clients and tell them that, whether they knew it or not, there were stereo tapes of most of their recent recordings on his shelves, ready for rerelease whenever they saw fit.
Incidentally, almost the only people Blake has let operate his cherished recording equipment in his absence or while he slept ("The hours they keep!" he says) have been the two bright young women partners who run Caedmon Records, Marianne Roney and Barbara Cohen. Bartók has done a major part of their recording, but several tapes have been made in the Blake studio: at least one Dylan Thomas, W. H. Auden, Noel Coward, and — most interesting to Blake — Katina Paxinou and her husband reciting ancient Greek drama. This last is not yet on the market.
When asked what makes a recording engineer, Blake cogitates. "Not just owning a hoard of equipment," he says, "but knowing it."And he invokes again his most esteemed competitor. "When Bartók's Ampcx gets sick, Bartdk fixes it."