Some Advice to Copy Writers
A combination of radio commercials and poems prompted these suggestions from MARGAKET WATKUMAN, who teaches at Western Reserve University.
I was sitting there reading with my radio turned low and the phrase from Keats resting on the back of my neck. I had just tracked down the phrase, flipped a few pages, and was rereading "The Eve of St. Agnes" when a honey-drenched commercial penetrated my consciousness."Mmm. Don't be surprised," said the lush voice that had just recommended the immediate purchase of a popular shampoo, "don't be surprised when people say 'Mmm. What gor-geous hair.'" The wintry moon had thrown gules on Madeline's fair breast. And just as the voice registered in my brain, I read, " And on her hair a glory like a saint."
Briefly, this is how I got to wondering why advertising copy writers are so slow to seek inspiration — and slogans — from English poetry. ("Ignorance, madam, pure ignorance," suggested Samuel Johnson.)
The creator of the label in the dress was not necessarily ignorant. He may have come upon the brand name by the very research method I am proposing. Or perhaps both he and Keats happened upon the phrase "for ever young." To Keats it symbolized eternal youth, the immortal wedding procession winding around the Grecian urn; to the adman it suggested the name of a new line of inexpensive dresses for not-so-young women. I like to think that, as he wrote it down, he thought of Keats — and of the occasional Size 22½ who might recall the whole line from her old schoolbook as she coaxed up the zipper of her Forever Young frock, "Forever panting, and for ever young."
I don't mean to suggest that the copy writer can hope for frequent double meanings to his triumphs.
I suggest only that he blow the dust from his old school textbooks: The Romantic Poets, Elizabethan I erse. Short Survey of English Poetry. A copy man, a book of verse, and time. If he doubts, let me cite possibilities. These slogans I produce from memory. Let him contemplate what a little planned research could do.
After the Keats episode, I naturally think first of hair preparations. And right away I recall a slogan created some years ago by Lord Byron, one of the world's greatest authorities on women: "Waves in Every Raven Tress." Someone might offer the blondes a dazzling new rinse named — by Percy Bysshe Shelley — Golden Lightning. Or he could be preparing copy for a whole line of rinses and shampoos, "The Tints That Glow." If by chance the same manufacturer put out toothpaste, the first half of Byron's line would make another slogan, "The Smiles That Win."
To the harried souls who each season must dream tip names for not really new shades of nail polish and lipstick, I especially recommend reading poetry. There's Rosebloom right along with the "glory like a saint"; and Shelley offers a tantalizing shade, Hectic Red. ft's a fall shade, I think, though I may be influenced in the decision by my familiarity with "Ode to the West Wind." Milton offers Glowing Violet, perhaps to go with an Easter outfit. And back in "St. Agnes" we find an even more exotic shade — Purple Riot. Pale Jessamine (Milton again) should appeal to those who begin to weary of white lipstick.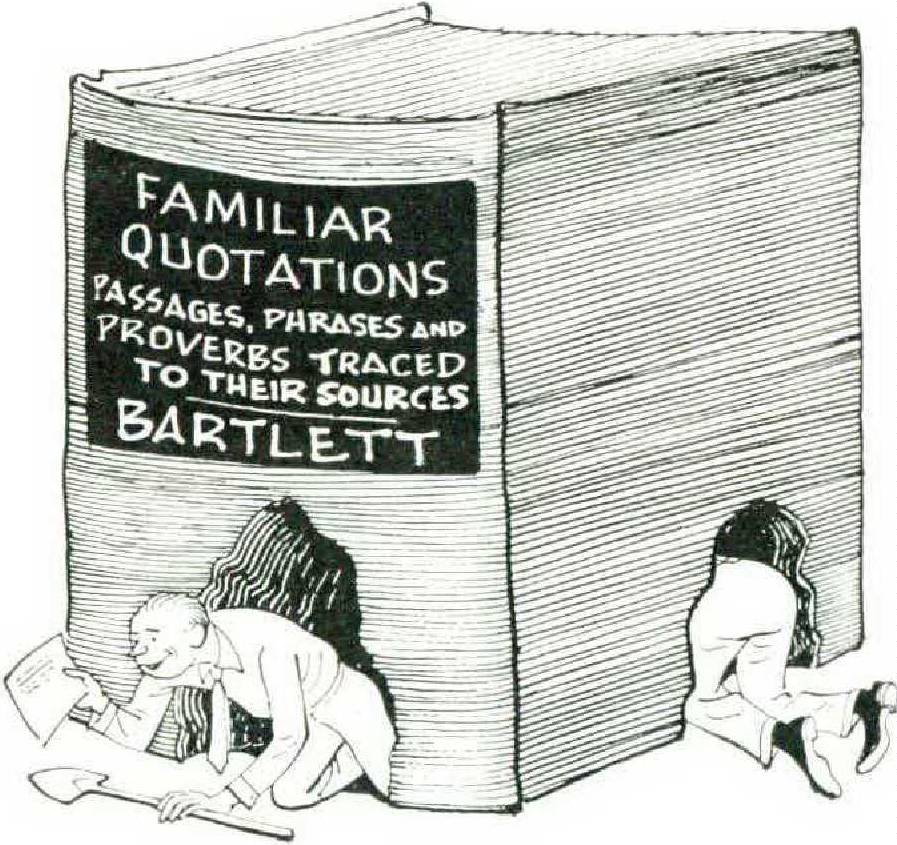 My mind is crowded with other possibilities. The product put out by the company that hits upon Surrey's "captive breast" is obvious. But Byron's "She Walks in Beauty" might appeal to manufacturers of the sheerest of nylons, the softest of kid pumps, the most elegant, uplifting foundation garments. Ad writers for reducing drugs that curb the appetites would do well to look up the old ballad "Back and Sides Go Bare." They might easily lure overfed ladies to a product with the slogan "Much Bread I Not Desire."
A few writers will find their products already named. I doubt that the makers of White Dove innerspring mattresses can do much with "the springs of Dove" beside which Wordsworth's Lucy dwelt among the untrodden ways. But a few lines further on, some adman will spot the slogan "Grace That Shall Mold the Maiden's Form." If there isn't a Grace brand brassiere, there will be. Another copy writer will seize his telephone when he comes upon Bobbie Burns's bleary-eyed Tam O'Shanter, who rode home one night "whiles holding fast his guid blue bonnet." The writer can supply the capital letters; the artist will take care of the rest —Tam on old Meg's back tearing toward the keystone of the bridge with the margarine for tomorrow's sandwiches tight in his hand. No suggestion, I think, of cast-off cutty sarks, or warlocks, or witches.
I hope that some foreigner is right now submitting a revolutionary design for a little car to a manufacturer who will put an English-reading researcher on Tennyson right away. Before very long, he is sure to come upon the perfect name in "Lancelot and Elaine," complete with slogan. The engine of this car is in some new abnormal place, and the front of the car has the kind of face one might find in the offspring of a Volkswagen which had mated with an Lclsel. But the price is low and the engine, with a voice that is still, will go on forever. So the American public will buy the Heathen. Happy Heathen owners, with no recollections of heathen that rage, will wave to us from highway billboards and double-page spreads in Life. Loud choruses will surge in commercial crescendo on Sunday evenings: "We drive the Heathen, who, some say, shall rule the land hereafter." And if the Heathen drives good, like a little car should — well, King Arthur also anticipated the potential of the little car. He spoke of it as the dusky barge bore him slowly to Avalon. "The old order changeth," he said, "yielding place to new."