ATLANTIC readers who still feel that food ought to have some flavor instead of none will find stout allies in J. Frank Dobie (page 98) and David S. Salsburg (page 79). We have all been slugged with so much propaganda from producers of the flavorless variety that we have come to regard the deficiency as our own rather than theirs. The passing years have destroyed our sense of taste, we are told, and as for those dishes so hungrily recalled from earlier days, prefreezer or prefrozen days, they must be largely our imagination.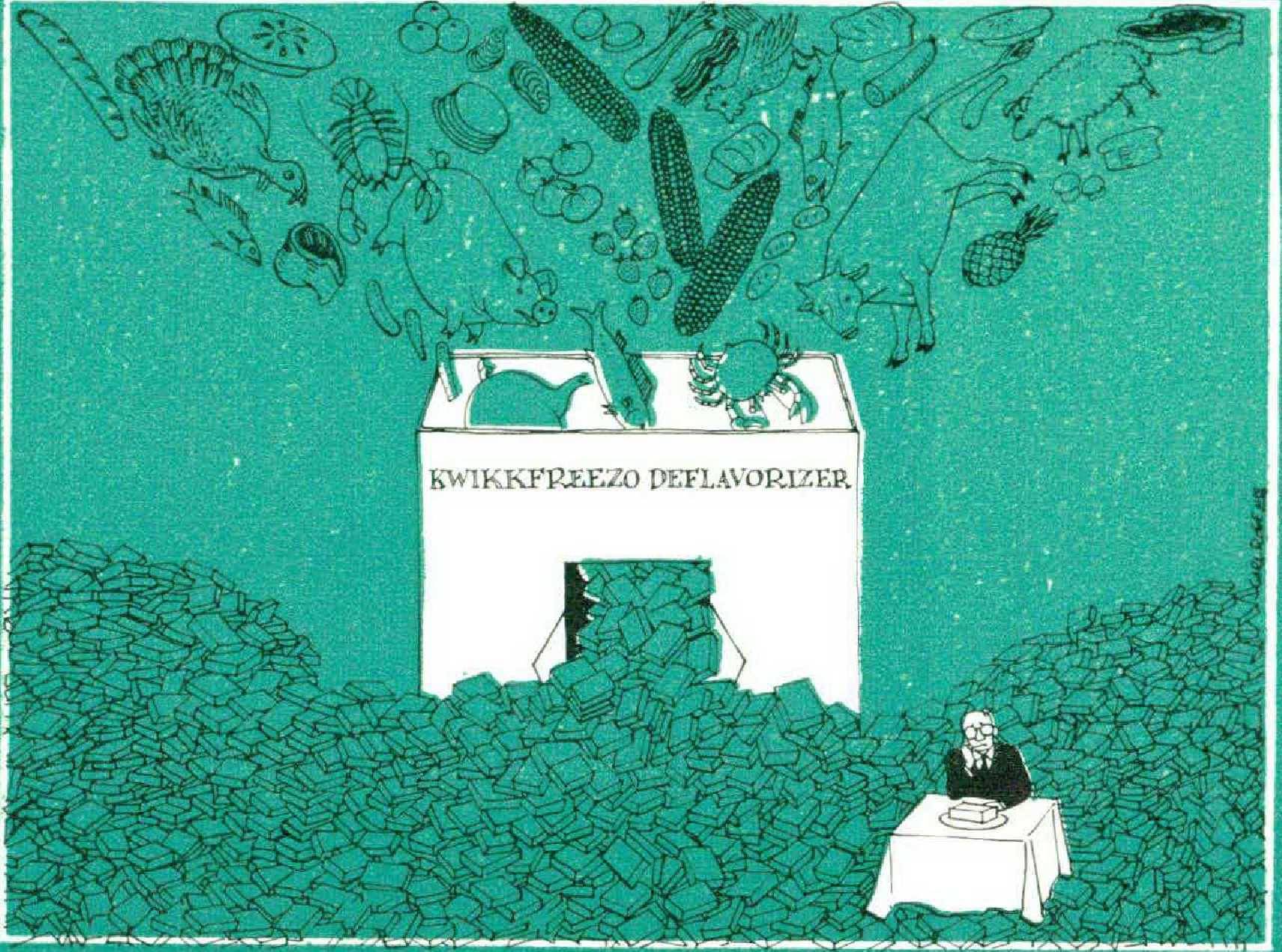 It is not hard for a man to come to believe this proposition. Guilty being that he is, aware of what decades of tobacco and general wear and tear may have done to his sense of taste, he hesitates to insist on his own point of view to the contrary, especially when all the forces of law and order, big business, and true Americanism are shouting him down.
What keeps alive the spark of rebellion is the occasional chance encounter with things to eat that are still full of flavor and wonderfully exciting and satisfying, just as one remembers them to have been. The reminder may be no more than a few stalks of freshly cut asparagus or milky sweet corn, picked within the hour. Steaks of Tuscan and Norman beef reassured me that meat can be tasteful as well as tender. Any compliment to the beef in England usually brings the apologetic explanation that not much native beef is available and that this was probably "shipped in from the Argentine." So be it: if Argentine beef tastes like that, forward Argentina! And there is beef to be had at Russell's Market, in Sandwich on Cape Cod, of which every morsel is full flavored and appetizing. Nothing is left of a Russell steak, however large, but the thoroughly scraped bone; what would be debris in cuts from other markets simply becomes part of the feast. The proprietor, in this case, picks out his beef in person at the warehouse, and he has an unfailing sense of what it ought to be.
The commission men who buy cattle on the hoof for the Omaha packing houses are acute judges of what places like Russell's Market will esteem. They know all the ranches and ranchers and, given a chance to wait for something out of the ordinary, they can select the unique best from thousands of animals. They are a quiet, friendly lot, usually identifiable by the elegant and immaculate Stetson hats of rather small shape that they like to wear, and at the end of the day they gather in one of the South Omaha saloons for whisky and easygoing talk.
An Omaha friend of mine, himself something of an expert on beef, once sat me down with a half-dozen commission men, one of whom had supplied him with a phenomenally fine side of beef of which I had been a beneficiary. I asked this commission man to give me his specifications for the ideal beef animal.
"First of all," he said, "not too young. A year is a little too young. Green, y' know." He looked around the table, and the others nodded agreement. "About eighteen or twenty months, I'd say."
General concurrence.
"Then, not too heavy." More nods. "Critter that would butcher out at around 800 pounds?" All seemed to feel this was exactly right. "That's about it," the commission man concluded.
"But how can you be sure of quality?" I asked.
"Why, anyone," the commission man replied, surprised at such a question, "anyone can tell that just by looking at them."
CHARLES W. MORTON