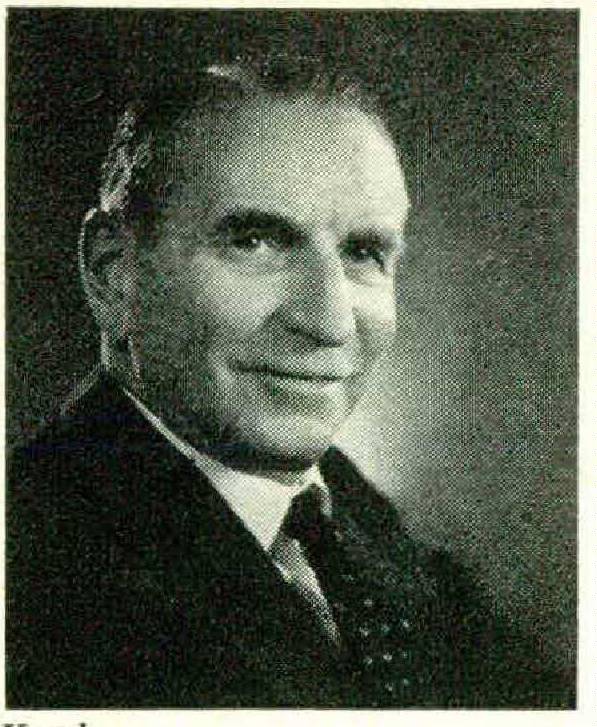 BY EDWARD WEEKS
IN THOSE far-off days before World War I, we who were growing up with the century were beginning to sampie life, sometimes in our parents' company, more often in the echoes that came to us of their high jinks. When Dad in blackface played end man in the Negro minstrels at the Country Club, with towering Harry Schenk at the other end, we heard the elders repeating their jokes until even the innuendo became clear to us. When Dad. after a good night at cards, acquired the moose head which hung in the hall, we half believed him when he said he had shot it at the Merchants Club with two Manhattans. And when Mother and Dad rose at 4:00 A.M. to drive to Long Island to watch the Vanderbilt Cup Race, we had to wait until their drowsy return to learn that Harry Grant in an Alco had won, and that he and his mechanic had changed a tire in five minutes flat!
Parents seemed decorous then, and we did our best to emulate their style. White flannels, a blue serge coat with cornflowers in the buttonhole, and immaculate white buckskin shoes with red rubber soles — that was the correct male regalia for weekend festivities. In as close a copy as I could manage, I accompanied the elders to Sea Girt on a Saturday afternoon to watch Governor Woodrow Wilson review the National Guard, and afterward we would file into the Little White House to shake his hand and gulp down the very cold lemonade. Sundays after church, the beach, and the ice cream dinner, we might be invited aboard Harry Buxton's Romp, and if there was a good westerly, that beautiful catboat could outstep anything on Barnegat Bay. The wind would drop at sunset, and by then we had passed through the Mantaloking drawbridge and were leading the van home. The crews in the half-becalmed boats would be singing, and in our cockpit Mother's clear soprano as it soared upward in The Land of the Sky-blue Water brought a lump in my throat.
People made their own music in the days before radio. I remember one scorching August night in Bay Head when it was too hot to sleep. Ben McClain, a bachelor with a lovely tenor and tons of energy, had borrowed a small piano, heaven knows where, which he and his quartet had hefted onto the wide porch of Aunt Margaret's cottage. The singing that followed, with Ben and Mother alternating in the lead, had people listening and applauding up and down East Street, with palmleaf fans waving in our direction. At 10:30 Ben produced his second surprise, a bucket of fresh peach ice cream which he had bought at Chadwick's and stowed under the porch. When the beaded cylinder was removed from the salt and ice and opened, we had an American brand of ambrosia. Even Aunt Hetty had a plateful. Aunt Hetty Pineo, who had fractured her spine in a runaway, was our gentle matriarch, unopposed in her opinions, one of which was that she could not tolerate peaches in any form. Now she spooned away with gusto, assuming, as she must have, that it was vanilla. The singing, that cool delicacy, and a sea breeze that crept ashore at midnight soothed our sleep, and Aunt Hetty, unknowing, was untroubled.
As one looks back, one remembers the innocence and the optimism. We were so blissfully unaware of the apprehensions that now surround us. My father at thirty-five could not have guessed that his cotton business had reached its peak and would never again be as rewarding. And I, as I tried to train a pompadour, could have had no premonition that only a few summers later my education would begin as an ambulance driver with the Moroccans.
THE SIMPLE LIFE
WALTER LORD has a gift for assimilating the past and for reviving the exploits and crises of only yesterday with a fresh appreciation. He works with individuals, hundreds of them, the casual bystander as well as the chief accomplice, and he is respectful of the big doers, headstrong and confident, as they are swept into the mainstream of history and sometimes beyond their depth. No detail, if it be revelatory, is too small for his mosaic. He writes with timing and tension, and we, who are familiar with the end, watch with fascination as he discloses the human fallibility and unforeseen circumstance which are present in almost every hazardous undertaking. In his first book, A Night to Remember, he depicted as if he had been there the overconfidence, negligence, and bravery of those involved in the sinking of the Titanic. In THE GOOD YEARS:From 1900 to the First World War (Harper, $4.95), he applies the same method to our age of innocence.
In the aftermath, it seems symbolic that The Good Years should open with trouble in China. The Boxer Rebellion, that fanatic uprising against colonialism, was far advanced before the Western missionaries and diplomats would take it seriously, and the pound of flesh which the Western powers eventually demanded and received provoked, as Mr. Lord perceives, a desire for revenge which is not confined to the China mainland today. The defense of the legations from the Boxer hordes was a strange mixture of white complacency and desperate grit, and one which can still be taken to heart. Equally portentous domestically was the unguarded way in which President McKinley went to his death. This genial Ohioan who loved to shake the people's hands was content to preside over a plutocracy; the vigorous, scrutinizing T .R. who succeeded him was not; and some of Mr. Lord's liveliest pages describe the Roosevelt who believed in speaking softly and carrying a big stick. He awoke the nation's conscience; he gave the government new stature in its restraint of monopoly, and when he said that he represented the third party — the public — in any dispute between management and labor, he planted an idea that has taken deep root.
The great inventions of the era are not so easily to be taped, and Mr. Lord's accounts of the development of the motorcar and of the experiments which the Wright Brothers conducted at Kitty Hawk are superficial and perhaps the least effective of his episodes. He has a nice light touch for the ostentation of the period, beginning with Mrs. Astor's ball of the winter of 1905. That gilded butterfly, James Hazen Hyde, is brought under the microscope and neatly impaled. But it is when he has to cope with disaster that Mr. Lord is at his best. The assassination of President McKinley, the long siege in Peiping, the San Francisco earthquake and fire are chronicled in very human terms, and the sense of participation is conveyed by a skillful mingling of the commonplace and the spectacular. At San Francisco, for instance, we watch the desperate effort of Engine Company No. 38 to find water for their hoses; we see Will James, the philosopher, coming in from Stanford University to take note of the panic; and an unknown clerk tapping out the following message as the big blaze approached the Postal Telegraph Building: "I'm going to get out of office, as we have had a little shake every few minutes, and it's me for the simple life."
A POET'S BEGINNING
In 1925 ELIZABETH SHEPLEY SERGEANT was commissioned by the New Republic to write a literary portrait of "a Good Greek out of New England." The subject was Robert Frost, who was then teaching at Amherst College, and in that classic New England village their friendship began. She brought with her copies of his first books, and these he annotated for her with comments such as: "In making a poem you have no right to think of anything but the subject matter; after making it no right to boast of anything but the form."
The portrait she wrote of him at that time was republished in her Fire I ndex the Andes; her friendships with Willa Cather and Amy Lowell and Louis Untermeyer kept renewing her interest in the poet; and in the midsummer of 1949 she began to write her full-length and intimate volume, ROBERT FROST:The Trial by Existence (Holt, Rinehart and Winston, $6.00). This book is charged with affection and alive with all of the homely quizzical details which she could coax out of the poet or quote from his friends. To those of us who have known Robert Frost, heard him read, and hold our own imaginative picture of his heritage, this volume is a delight.
The youth of every great artist is a period of fascinating conjecture, and this is certainly true of Robert Frost: Frost's father, the brilliant Harvard student who wanted to run off to join the Confederacy and who compromised by drinking and driving himself to death as a journalist in San Francisco; Frost's mother, with her Scotch hardihood, who staved off poverty by teaching and prompted her son to do likewise; Rob's early devotion to Greek and his attempts to conform to college, first at Dartmouth, then at Harvard, each ending in disappointment to himself and to his grandfather, who had backed him; and happily, at last, his almost penniless marriage to Elinor White, with whom he had fallen in love in his second year at Lawrence High. They made their retreat to a rundown farm in Derry, New Hampshire; they lived unto themselves — not invited out to a single meal in their first eight years — and here he found his voice. The biographer has skillfully assembled in bits and pieces these early years, which reach a climax in Frost's gamble to go to England, where he found recognition, his dearest friend in life, Edward Thomas, and the prickly, discerning encouragement of Ezra Pound.
The note of reverence recurs too insistently in the years of renown which follow, and the biographer is not so successful in her endeavor to interpret explicitly a poet who is as slippery as slippery elm. She does catch his charm and his wit and the acuteness of his ear for true New England speech; she enjoys his teasing but does not stress his rough strength, revealed in that remarkable letter describing his sister's insanity, in which he writes, "It is a coarse brutal world, unendurably coarse and brutal, for anyone who hasn't the least dash of coarseness or brutality in his own nature to enjoy it with." And she must have realized, long before she finished, the impossibility of trying to pin down, biographically, this poet to his poems.
THE UNORTHODOX CHARLES
Charles II, who has generally been regarded as weak and indolent, emerges in HESKETH PEARSON'S deft prose as a man who was wise, temperate, peace-loving, and "perhaps the only king in English history who would have charmed everyone as a commoner." MERRY MONARCH: The Life and Likeness of Charles II (Harper, $5.00) is a short, colorful biography, cutting sharply across prejudice and red tape to give us, often in his own words, this unorthodox picture of a Stuart who was civilized beyond his age and singularly articulate. Charles, Pearson tells us, was tall, lean, dark, a tireless athlete who could outwalk and outhunt any of his subjects. The religious intolerance which he suffered at the hands of his mother and as a captive of the Scottish Covenanters had bred in him an unshakable tolerance, just as the defeats he had suffered in trying to regain his kingdom made him loathe war. His fondness for dogs, as for women, says Mr. Pearson, implies a search for a love he never had as a child. Loyalty he prized, and his devotion to Hyde and to his youngest sister, Minette, are two of the brightest threads in this gay book.
Since he was a grandson of Henry of Navarre, it is easy to see where he inherited his common sense and his sensuality. It took courage and prudence to reorganize the country after Cromwell; Charles had both. He dealt with his ministers sagely, and the good nature and wit with which he faced the country enormously increased his popularity. This is a nimble and attractive book about a man whose character was shaped more by adversity than by success.