Last summer my wife and I took a camping outfit in our small car as we wandered in and out of Germany, Switzerland, Austria, Italy, Spain, France, Belgium, and the Netherlands. Miraculously we squeezed all of the camping gear into a portable canvas case, 12 by 14 by 24 inches. The equipment consisted of two air mattresses and sleeping bags, a mountain tent, an ax, a hunting knife, a compact gas stove, a small kettle, utensils, and a jar of instant coffee. We were pleased that we had not included elaborate cooking gear, for finding suitable places to eat was no problem and our cooking was usually limited to coffee making.
Most of the campgrounds we visited were at well-chosen sites, often in areas with spectacular scenery. Those along the Rhine and Moselle Rivers in Germany were sometimes in the shadows of massive hills and castle ruins. At the campground in Burgen we watched kayaks flitting on the Moselle and hikers as they ascended through the vineyards to a castle citadel. A gentleman known as "Onkel Oskar" managed this colony and a nearby restaurant. The camping fee of forty cents per day was a little more than usual. From here to the Luxembourg border, a distance of about 85 miles, we counted five campgrounds.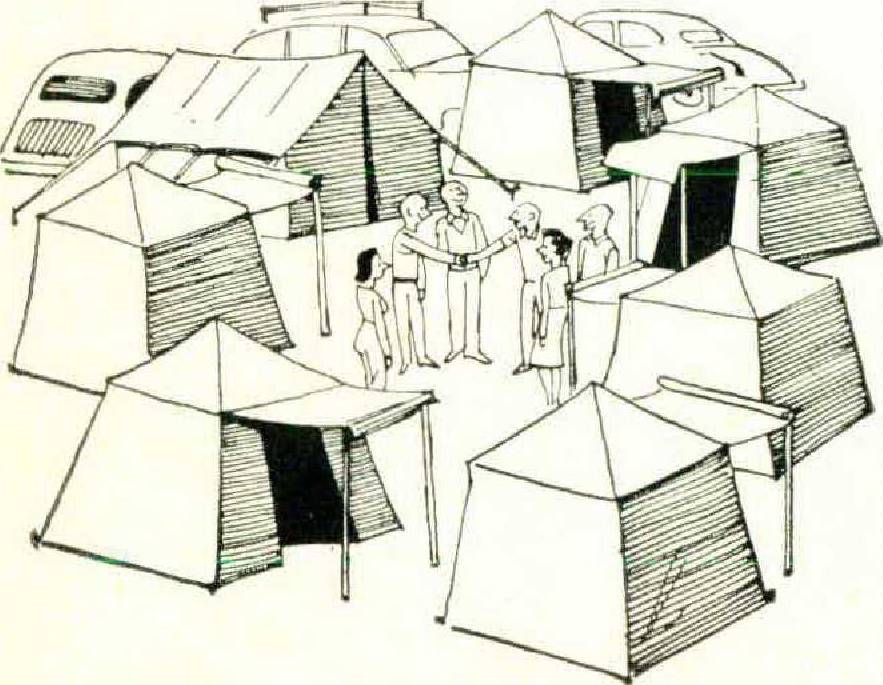 As we were driving down the Italian coast, we found another pleasant campground near the town of Fermo. This little camp community featured fiber sunshades for the car and tent, a small "bar and grill" which served snacks and apéritifs, modern plumbing and fresh water showers, and, best of all, several miles of uninhabited beach.
Campers in Europe, as in the United States, are friendly and helpful. Many Europeans camp when they travel simply because they cannot afford to travel under other circumstances. Many use motorcycles or motor scooters, and we often met families of four or five traveling on a motorcycle with sidecar.
The campgrounds are adequately managed, often by some local family, and are usually fenced or guarded. In all countries, the campgrounds seemed to be under close government supervision, and registration and checking of passports were always required.
If we found a campground too congested to suit us, we either searched for another area or stayed in the more civilized dwellings. In Loano, along the Italian Riviera, we found a wonderful camp with plenty of elbow room which was called simply "Emilio's." During our twoday visit we splashed in the Mediterranean, lounged in the sun, and chatted with the German family next door or with the couple from Antwerp who had lent us their corkscrew. During the evenings the charming manager-host, Mr. Emilio, provided accordion music for dancing and slightly discordant singing at the camp pavilion. Language problems were more humorous than serious. Knowing a little German and French was helpful, but someone who could speak English was usually around.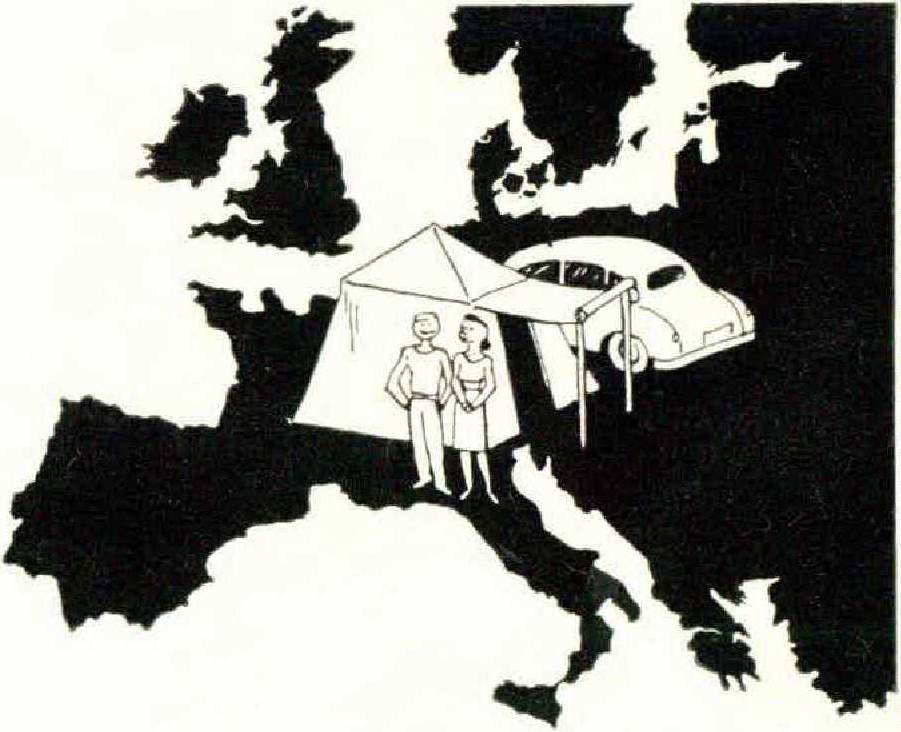 Farther west along the coast near Cannes, we discovered a settlement among scattered pines overlooking the picturesque resort village of Saint-Raphaël. Two local boys camping out provided guide service to the swimming area in town in exchange for a ride to and from the camping site. The Riviera provided innumerable camping possibilities, although many locations were too crowded to suit us.
We arrived in Pamplona, Spain, about ten o'clock one night, having no plan about where we would stay. After rejecting the dusty rooms at several hotels and almost getting a room at the local jail for going the wrong way down a dimly lighted oneway street, we found the municipal campground. This was located in the clean and very spacious fairgrounds. After we had registered and assembled our portable quarters, we wandered across the street into a café, with crooked walls, in search of a late supper. But communications were very poor that evening, and absolutely no one could understand either our spoken or sign language. The problem was resolved when finally the frustrated waiter introduced us to the cook, who in turn invited us to visit the kitchen and prepare our own meal.
In central France the châteaux were often quite close to campgrounds. Château Fontainebleau, for example, is only a few miles away from a spacious camp retreat in the forest, between Fontainebleau and Bois-le-Roi, just off the highway to Paris.
One day we pitched our tent at the sea near the town of Edam in the Netherlands. As at many camps, the tents were arranged in a circle inside a fence with the center area reserved for playing games and for getting into and out of the grounds. The colorful tents with splashes and stripes of red, blue, and yellow made one wonder for a second whether this was a bona fide campground or a local carnival. About six o'clock in the afternoon a man on a smoking motorcycle would come clanging into the center of the grounds to sell beverages, bread, sweets, vegetables, and fruit.
The number of campgrounds in the popular tourist areas of Europe is quite large. For example, according to our camping map of the Netherlands, obtained from the Netherlands Tourist Bureau in New York, this small country, which one can easily drive across in one day, has about 140 campgrounds. Useful maps and information about camping can be obtained by writing to the various National Tourist Bureaus in the United States.
During rainy weather we fled to lodgings in the towns — less sporting than camping and more comfortable. But for good weather, and if one has the temperament for tenting, we heartily endorse the campgrounds in Europe.