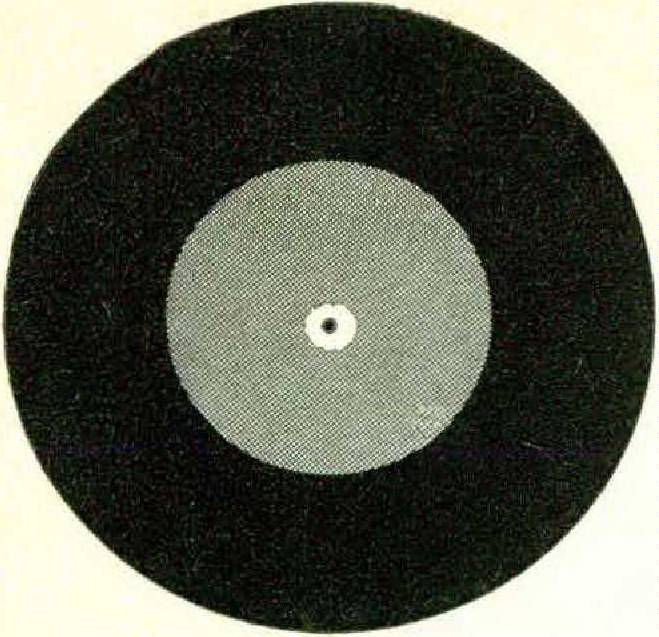 BY JOHN M. CONLY
Bach: Arias from Cantatas
William Scheide conducting Bach Aria Croup; Decca DL-79405 (stereo) and DL-9405
William Scheide formed the Bach Aria Group shortly after World War II. The singers are Eileen Farrell. Carol Smith, Jan Peerce, and Norman Farrow. The instrumentalists are Julius Baker, flute; Robert Bloom, oboe; Bernard Greenhouse, cello; Paul Ulanowsky, piano; and Maurice Wilk, violin. They make their music with real joy and devotion and a thrilling confidence. All eight arias given here are beautiful, but my favorite is My Heart Ever Faithful (Miss Farrell), taken at a jubilant pace that should make anybody's heart ever faithful, which was doubtless Mr. Bach's unerring aim. Decca's sound engineers, given a jewel, have treated it like a jewel.
Beethoven: Symphony No. 3
Arturo Toscanini conducting NBC Symphony Orchestra; RCA Victor LM-2387 This December, 1953, performance of the Eroica may have been Toscanini's finest. I thought so, and after hearing it by radio I advertised for an air-check tape, which set me back $15 and made me extremely happy. From a better aircheck tape, Walter Toscanini processed this disc, which now you may buy for $4.98. No good Beethovenian should resist the temptation.
Brahms: Variations and Fugue on a Theme by Handel, Opus 24; Variations on a Theme by Paganini, Opus 35
Jacob Lateiner, piano; Westminster 18870
Here is some very fine Brahms piano, marked by faultless taste and brilliant technique. The only question is, Can you get the record? Just as it approached its tenth anniversary, the Westminster company went out of business, and then back in again under a new ownership. At the time of this writing, the status of its recorded repertoire was in doubt. Still, the record is good enough to merit an inquiry of your dealer.
Delius: Florida Suite; Dance Rhapsody No. 2; Over the Hills and Far Away
Sir Thomas Beecham conducting Royal Philharmonic Orchestra; Capitol SG7193 (stereo) and G-7193 Of the remarkable musical symbiosis between Frederick Delius, the remittance man and sometime Florida orange farmer, and Sir Thomas Beecham, youthful millionaire and conductor, I will have more to write when I lay hold of Bcecham's biography of Delius, recently published in America. Their minds really met (as was also the case with Delius and Edvard Grieg), and Sir Thomas has been a sort of Sir Lancelot on Delius' behalf since 1910. He was right in his fight. To prove it to yourself, hear Over the Hills and Far Away in this performance. The English have given the world its greatest poets, and sometimes the poets have been musicians. Delius was. Here he has visioned with his hills as Wordsworth with his daffodils. They seem to sing in tones of green. The other two works, longer, are also piquant and picturesque, but the real country magic is in Over the Hills and Far Away. The EMI-Capitol sound technicians have given it the transparency it needs and merits.
Gilbert and Sullivan: II.M.S. Pinafore
Isidore Godfrey conducting D'Oyly Carte Opera singers and New Symphony Orchestra of London; London OSA-1209 (stereo) and A-4234: two records
The old Savoyards are mostly gone, but their successors retain a firm grip on the right style for G. & S. This Pinafore proves it and is further graced by the whole spoken dialogue, so you need not read the booklet to know what is going on. It's a delight, conveyed in London's richest sound. I do not know who sings Bobstay the Boatswain, but one thing about him is certain. He his a Henglishman.
Schubert: Die SchÖne MÜllerin
Aksel SchiØtz, tenor; Gerald Moore, piano; Harry Goldman Records K ALP-11
Aksel SchiØtz is a genial Dane for whom the times really were out of joint. He matured as one of the truly great art song stylists just as World War II commenced and all Danes became prisoners. Later illness interfered with his career. Just the same, his Schöne Müllerin, made on 78s at war's end, became a sort of criterion by which good Schubertians have since judged all other attempts, mostly unfavorably. Here now is this criterion on LP, painstakingly transcribed by careful compatriots. It is not high fidelity, and of course not stereo, but it contains some of the most poignant singing ever sung, of one of the most beautiful song cycles that has ever been written.
Schütz, Heinrich: Biblical Music
Robert Craft conducting Los Angeles singers and instrumentalists; Columbia MS-6088 (stereo) and ML-5411
Heinrich SchÜtz (1585-1672) was perhaps the ultimate product of the Baroque musical intercourse, Netherlands to Italy to Germany, that happened in the sixteenth and seventeenth centuries. He set psalms and scriptural episodes to music, uniquely among Protestant church composers. Unlike Bach, he did not use hymns in which the congregation could join; only trained singers can perform the SchÜtz dramas. And they are, all of them, short antiphonal dramas, extraordinarily gripping. Mr. Craft, Stravinsky's assistant and a leading musical antiquarian, presents them here with absolute authenticity, and you can hear the real union of church and theater that existed four hundred years ago. I especially recommend David's lament for Absalom.
Leonard Warren: Arias
Leonard Warren, baritone; various conductors and orchestras; RCA Victor LM-2453
RCA Victor has brought out a memorial album of arias sung by Leonard Warren, this century's finest American baritone, who last March died on the stage of the Metropolitan Opera House, during a performance of La Forzn del Destino. It is a good album, bearing arias from Pagliacci, Traviata, Rigoletto, Andrea Chenier, Gioconda, Trovatore, Macbeth, Boccanegra, and La Forzn. Mr. Warren never had any trouble filling a hall with sound, with people, or with feeling.