BY JOHN M. CONLY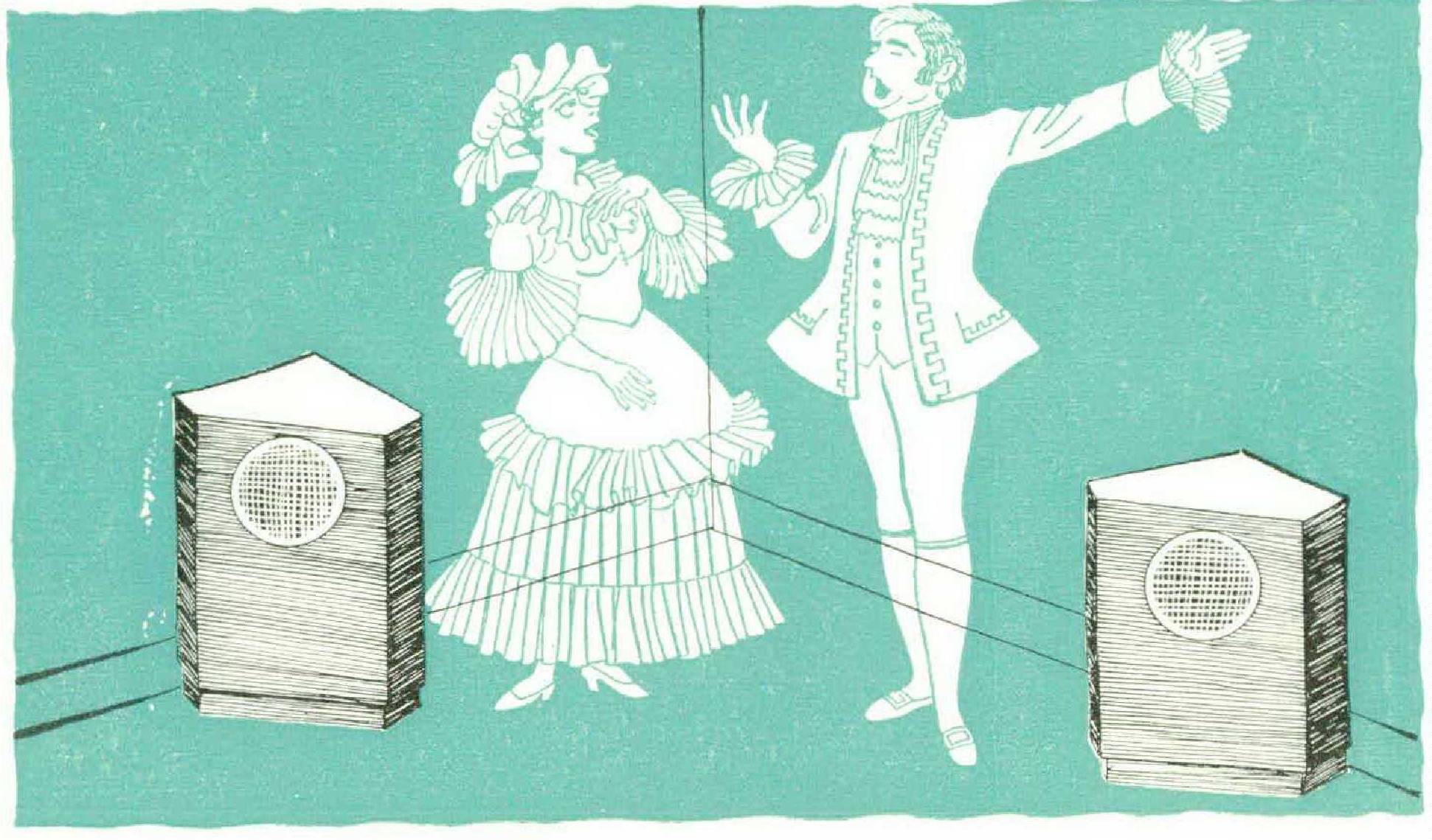 Some months ago I described the way in which I used a living-room corner for the disposition of a pair of loudspeaker cabinets, to deliver stereophonic sound. Apparently — to judge from my mail — I did not describe it very well. And apparently, also, there are a goodly number of music lovers interested in this topic. Having devoted a corner to their sound source originally, in monophonic days, and perhaps having arranged other furniture for listening, they do not want to make a drastic change now if they needn't.
Probably they needn't, and indeed they shouldn't. Unless a room is perfectly square, a corner seems to me the best place for a loudspeaker, or a pair of loudspeakers. From almost anywhere in a riving room, a speaker will stir up some random resonances. but this happens in any concert hall as well and is not offensive. It is the natural sound of music.
What is offensive, and not natural, is what may happen when speakers arc placed foursquare in a rectangular room — a standing wave. This means simply that the sound waves from the loudspeaker and those rebounding from the opposite wall meet each other somewhere near the middle of the room and either neutralize or reinforce each other. The effect is never uniform, either. The cellos playing two octaves under the violins will come out fff, while the violins come out ppp, whatever the intentions of Mr. Beethoven and Dr. Walter may have been. I don't mean to sound frightening. This does not happen always, or even often, but it does sometimes, and it is ruinous to music. The general rule to follow is that, in sonics, symmetry is to be avoided. Commonly, corner placement can help, since few rooms are perfectly square or scaled to develop bad resonances on the second bounce, so to speak.
11 is probably silly for me to talk here about single-cabineted stereo phonographs. Any man who has bought one, in its French provincial casing, has already yielded to his wife and will do so again. She will put the thing where it looks best, whether it sounds best there or not. It is not likely that she will let him try the benefits of a corner. And, further, there is no sense in tucking the thing into a corner with its back against one wall; that will simply help one loudspeaker overpower the other. There will be no stereo effect.
It would have to be placed across the corner, like the base of a triangle, facing into the center of the room. However, it might look awkward there, which is the basis of my misgiving.
For the do-it-yourself high fidelity man, or woman, the prospect is better. I have proved by ear two good ways to use a corner. They do not involve, to my eye, any unsightliness.
(I must admit that I do not find phonographic equipment unsightly, any more than I find a Steinway baby grand unsightly. Both look as if they are supposed to make music. Why should a cupboard or a lowboy be deemed more acceptable to the view?) One of these systems I use myself, in fact, I use it in duplicate, having a second, smaller stereo setup in my study. This is the system J described and will now describe again.
Diagrams would make it easier to do but are not necessary. Imagine a corner loudspeaker cabinet, triangular in shape as seen from above. It is snuggled in a corner. Now go and take hold of it, manfully. Wrestle it and slide it out of the corner, along the left wall. Maintain the orientation of the cabinet, so its left rear side (as reckoned from a front view) is still flush against the left wall of the room.
You have now, standing somewhere about, a second speaker cabinet, an exact duplicate of the first, which some tireless local carpenter has built for you in a mere six weeks. You needn't actually put this second enclosure in the same corner, but visualize it there. This also you would seize and slide, but along the right wall. All this shoving should stop when the fronts of the two enclosures are in line, like a broken base line of an isosceles triangle, of which the room corner is the apex. The two loudspeaker ports now will stare out across the room from the corner in parallel, like the headlights of a Cadillac. I specify a Cadillac because the two speaker ports should be a fair distance apart, i use about nine feet of spacing in my livingroom, which is twenty-seven by thirty feet, and about six feet in the study, which is smaller. My criterion is the separation at which a good stereo record of a grand piano or a chamber group sounds real.
With this amount of spacing, there is enough corner room left behind the speaker cabinets to contain a dictionary stand or a record cabinet. In other words, there can be a pleasant little enclave there, not only usable but attractive to look at. For some reason, this is important in the stereo illusion. Sometimes, in the space between and behind the speakers, I almost fancy I can see Figaro and Susanna, or Mr. Clifford Curzon's piano. Stereo has a compulsive force that monophony has not; you are made to want to turn toward the source of the music. And a corner has a little more mystery about it than a flat blank wall; it is easier for your imagination to people it and to stretch it out into a concert or opera stage.
The second use of a corner is one for which I am indebted to Edward Tatnall Canby, the reviewer, who introduced me to the charms of reflected sound. He discovered them by happy accident, I think, though accident and ingenuity are hard to tell apart. At any rate, he pointed his loudspeaker (this was long before stereo) at the side and top-board of a piano, and the reflected dispersion was a delectable illusion. The tweeter twang vanished, and the spatial effect was admirable.
The stereo-corner application of reflected sound is especially suitable to people who want to use what are now called "compact" loudspeaker systems, in which the speaker elements and their rectilinear enclosures come as integral sealed units. The Acoustic Research and KLH boxes are the best-known examples. These arc small enough to fit a bookshelf but are amply powerful.
For corner use, position two of these vertically and back to back. I suggest also some kind of low stand under them, to raise them to somewhere near car level, for sitting listeners. Now place the pair diagonally across the corner (again, like the base of a triangle) and from three to four feet out from it. Thus, the loudspeaker cones will be projecting at the walls, from about two and a half feet away. The sound will hit the walls, of course, at a forty-live degree angle and will be reflected into the main part of the room from apparent sources seven or eight feet apart. A little treble is lost in the reflection, but most of these small speaker systems have switches which can raise the tweeter output. The twin flank of the array that faces out into the room can be disguised with a piece of tapestry or something of the sort, if the lady of the house so wishes. This device also helps dispel awareness of the sound source, which is a prime essential of good listening in a living room.
Lovers of good music have been lukewarm about stereophony thus far, as record and equipment sales prove. I need not say that 1 think this is a mistaken attitude. Stereo does even more for the best music especially small-scale music than it does for sports car sounds, Pingpong games, or locomotive noises.
The Juilliard Quartet, playing Schubert's Death and the Maiden, sounds better in my living room than it docs in the Juilliard auditorium (I drove 130 miles to make this comparison). But the stereo has to be good stereo, and the goodness depends largely on creative imagination in speaker placement. When you do have good stereo, you can listen to a Maureen Forrester song recital and lorget that you are missing Wagon Train. What more can I say?
Small Record Companies
In the early years of LP, there was an exciting development. Encouraged by the case and economy of tape recording, a spate of small record companies came into being. They recorded a wealth of music that their founders simply wanted to hear and that no big company could afford to touch esoteric works by everyone from Sammartini to Samuel Barber. Later, these small companies either grew big or were forced out of business, as the larger firms spread their territories.
Now the onset of stereo has forced the big companies back into the standard repertoire, which they are remaking from A to Z (with special emphasis on T for Tchaikovsky). And, perhaps partly as result of this, new small companies arc springing up again. Their ideas are interesting, and their standards are high. I am going to report on them from time to time. Some ol them arc headed by artists. Eleanor Steber has launched a company named St/And, mainly to put forth a BachMozart-Berg scries. About Richard Dyer-Bennet's company, I have written already; its next project is to record all thirty-two Beethoven piano sonatas, with Jacob Lateiner as soloist. Max Goberman, of West Side Story fame, aims to produce the entire music of Vivaldi on one hundred and twelve stereo LPs, with scores, under a label called Library of Recorded Masterpieces. There arc others, too.
One of the most interesting is an outfit that calls itself American Society Concerts in the Home. It is a subsidiary of Bell Records. Heretofore Bell has devoted itself prin-
cipally to popular "cover" records. This means that when Mitch Miller, for Columbia, would score a hit with the River Kwai march. Bell would rush out, hire a band that could whistle, and make another River Kwai, as much like Mitch's as possible. That's "covering."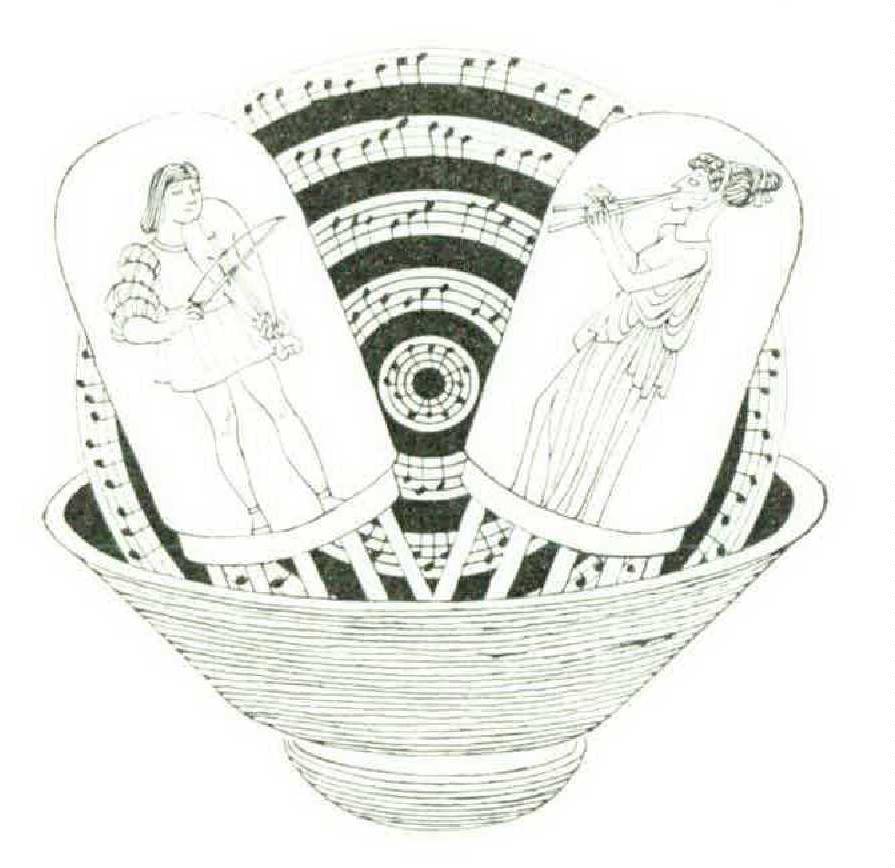 Lately, Bell has been prospering. Indeed, it hit the best-seller list with a "pop" tune known as The Madison. It decided it would like to acquire prestige, have some highbrow fun, and get in on the stereo classical ground floor. "We won't sell millions,"Arthur Yale, the sales manager, says, "but we're enjoying it."
The executives pondered and decided that they would try a cycle of nineteenth-century chamber music. Accordingly they called up Daniel Saidenberg, the founder and conductor of the Saidenberg Little Symphony.
Saidenberg will be remembered by veteran record collectors for some delightful recordings of the mid1940s, notably the Mozart and Cimarosa oboe concertos, with Mitch Miller as soloist, and the Grifles Poem foi Flute and Orchestra, with Julius Baker at the flute. Saidenberg. now fifty-three, was leading cellist with the Chicago Symphony in 1935, when he decided there was a need for good chamber orchestras. He formed one from the symphony's string sections (just as Arthur Zimbler has clone front the Boston Symphony's string choir). It was such a success that, paradoxically. Saidenberg left it in 1941 to go to New York and recruit a new orchestra.
This also has been a success, up and down the whole Eastern seaboard. Incidentally, it has remained independent of the big managements; it makes its own business deals. "This may lessen the fees,"Saidenberg says, "but we can program just what we want to. Nobody gives us instructions."
What Saidenberg likes to program is music of the seventeenth and eighteenth centuries. He was pretty firm about this with the Bell people, and they acquiesced readily. The result is their first issue of a planned half dozen. It is numbered American Society SAS-1003 (stereo) and AS1003. Its contents are Purcell's music for The (Sardian Knot Untied: a Pergolesi trio sonata in G; a Telemann trio sonata in C; and Boyce's Eighth Symphony. All are played with the winning grace and robust humor of the time, a time when it must have been fun to live. And the Bell engineers, perhaps tired of "covering" Elvis Presley and Michel Lcgrand. have done a very fine job with the Little Symphony. Withal, the variety on the record is the thing: it really is a chamber orchestra concert for the living room, credible in sound and varied to the taste, a complete and lasting pleasure.
Record Reviews
Beethoven: Sonatas No. 9, "Kreutzer," and No. 1
Robert Casadesus, piano: ino Francescatti, violin; Columbia MS-6125 (stereo) and ML-5455
These two long-time fellow players are going to make the whole Beethoven piano-violin canon for Columbia. They play in a French way, with a wonderful feeling for grace and contour. I am not sure die structure and dynamics are always made clear, or perhaps I should say they are not emphasized, but this is a perfectly valid approach; these works have more grace and vivacity than drama anyway.
Haydn: London Symphonies, Vol. II
Sir Thomas Beecham conducting Royal Philharmonic Orchestra; Capitol SGCR7198 (stereo) and GCR-7198; three records
Here are the second six of the symphonies Haydn wrote for Mr. Salomon in London. Beecham is a great Haydn conductor in his own way; the music comes out fresh, crisp, elegant, and — ii you will accept an orthographical exactitude merrie. This was indeed the flavor of Haydn's reception in London, where two ambassadors asked him to dinner the first day and where he was welcomed by the Prince of Wales. The baronet's proud trumpets sing this out. My only cavil about the set is the unrelieved gaiety in No. 100, the Military, wherein the dark ironic hues found by Hermann Scherchen are completely sunnied over by Bcecham. Otherwise, wonderful.
Lehár: The Merry Widow
William Reid conducting the Sadler's Wells Opera Company and Orchestra; Angel S-35816 (stereo) and 35816 Perhaps I am not alone in that one disc of Merry Widow excerpts is all I can take at a sitting, and even so I am impatient until the widow gets around to singing Vilia. This always persuades me that I enjoy the whole thing enormously, and maybe I do. It's not hard to, in this lilting English translation by Christopher Hassall and in Angel's lucent stereo. A worthy companion piece, from the same company and with kindred virtues, is Noel Coward's Bitter Sweet, also on one record (35814), in which the treasure is Sjgeuner out of a wholly tasty dish. At the same time was issued The White Morse Inn, but the less said about that, the better.
Mahler: Songs of a Wayfarer; Songs on the Death of Children
Maureen Forrester, contralto; Charles Munch conducting Boston Symphony Orchestra; RCA Victor LSC-2371 (stereo) and LM-2371
Maureen Forrester seems to me the long-sought successor to SchumannHeink, a true and natural dramatic contralto with boundless flexibility and a real thrilling quality in her voice. Mahler is a good composer to bring this out, and he does. The two cycles of longing and grief come beautifully to life, assisted by the gorgeous sonic glint of the Boston Symphony. Munch distinguishes himself too; I won't say he is as good as Bruno Walter at Mahler, because nobody is, but he can make a threnody throb when he has a mind to. This record is mainly an exercise in the beauty of pathos, and as such it is a success.