Harold Ober, Literary Agent
The duties and helpfulness of literary agents are often unappreciated by those outside the writing profession. CATHERINE DRINKER BOWEN,versatile and eloquent biographer, tells of her warm and inspiring association with the late Harold Ober, one of the greatest literary agents.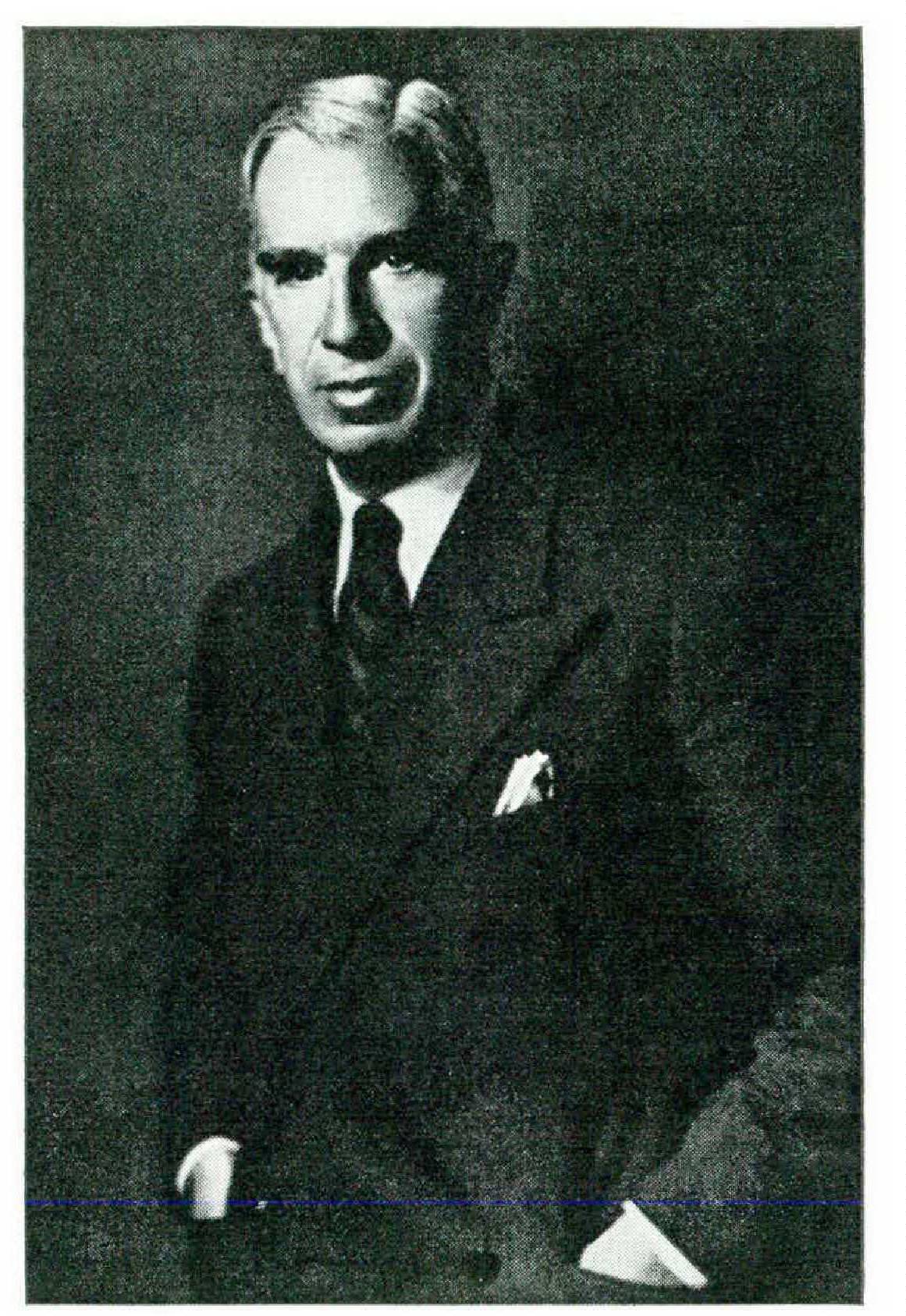 a personal reminiscence by
CATHERINE DRINKER BOWEN
HE WAS tall and lean, with deep-set, serious blue eyes, a big nose, a high color, and, when I first knew him, a head of handsome gray hair which he wore parted on one side and carefully brushed down. He had the figure of a polo player; his clothes and his elegant big brown shoes were made to order on Bond Street and he was apt to carry a rolled umbrella. He looked, in short, like nothing in the known world of New York literary business; he was neither slick nor shaggy and the wonder was that with his disposition and natural propensities he managed to develop one of the biggest and best-known literary agencies in the world. An agent spends half his time reading manuscript; Harold even had a defect of vision — without his glasses he saw two trees where only one stood. Once, driving two neighbor children and me, he ran spang into a car standing by a Scarsdale curb.
What with the rolled umbrella and the Bond Street clothes, his London partner, Edmund Cork, liked to say that Harold was more British than a duke. Actually he was as New Hampshire as the town of New Ipswich (population, four hundred), where his roots lay. He used four syllables for the word "pneumoni-a"; his a's had more than a touch of the flat Maine ah. He said the name Ober sounded like a German cornet player; actually it was French and had originally been spelled Aubert. Physically, Harold was strong and not a little vain about it. He was born nearly eighty years ago; the legend is that when young he walked on Sundays from Tenth Street, New York, where he lived, out to Scarsdale for lunch with Paul Reynolds. In his late sixties, Harold was still skiing every winter with his sons. I remember when at sixty-four he broke a leg on the slopes and told me irritatedly that a middleaged woman came down the mountain and crashed into him. He persisted in climbing ten flights to the office floor; he said it strengthened his leg muscles. His partners were afraid he might collapse on the way; at the appointed time one of them would sneak out and stand guard at the stairwell.
He never liked the word "agent"; he said it sounded as if he made soap or sports cars. Thirty years ago, when I first came to him, the heading on his office paper read "Harold Ober, Authors' Representative." Later on it changed to plain "Harold Ober Associates," without the "Representative." But he was right about those words: neither of them came near to describing his function. His clients ranged from Scott Fitzgerald, William Faulkner, John Gunther, Faith Baldwin, Adlai Stevenson, Paul Gallico, Walter D. Edmonds, Philip Wylie, Agatha Christie, Agnes de Mille, J. D. Salinger, Dean Brelis, John Brooks, Bcrton Roucché to the newest recruit who had walked in with a manuscript which the partners considered promising.
It was quite a stable to keep in order. Aside from actual business and the making of contracts, Harold looked after certain of his authors as if they were his children — stood up at their marriages, helped them through their divorces, got them to the doctor when they were sick, and lent them money out of his own pocket when they were broke. Once I saw a pile of laundry in the office hallway; Harold said it belonged to a woman writer who lived in the country — she picked it up on Thursdays. The only thing Harold would not do was take his authors to psychiatrists when they needed it. "I don't believe in that stuff," he would say. He was very stiff about it; he said people should be able to discipline themselves and not pay somebody twenty-five dollars an hour to do it for them. With the license of an old association I used to try to argue him out of this. I said it was antediluvian and no wonder his ulcer kept coming back; his kind of self-discipline was bad for ulcers. But I got nowhere.
IT WAS seldom, I believe, that any of us spoke to Harold about himself; always the relationship was the other way around. For my part it was Harold Ober who advised me whether or not to send my thirteen-year-old son to boarding school, helped me decide on colleges for my son and daughter, told me what to do when my springer bitch whelped, what to say to the neighbors when a community storm blew up, and whether to marry my second husband. ("If you marry this doctor, do you think you will keep on writing?") I don't know how many years Scott Fitzgerald was Harold's client, but it is well known that Scott's daughter, Scotty, lived with the Obers in Scarsdale and also that before Fitzgerald died Harold had given him not only a long and loyal friendship but had lent him, in all, twenty thousand dollars.
One afternoon in the early thirties I ran into Harold Ober in the Pennsylvania Station. He looked frantic and said there were two authors in the building, both drunk; he had been trying to get them out and home. One of them was Scott Fitzgerald. Harold worried more about Fitzgerald than any other author he ever took care of, and with reason. Yet even when Fitzgerald's drinking had brought him to near ruin, Harold kept on with him, hoping against hope. Once I walked into the office at 40 East 49th Street and found Harold at his desk, reading manuscript and looking depressed, a condition unusual with him. When I asked the reason, he passed me some typed sheets and asked what I could make of them. The pages were interlined, written over in red ink, blotched, almost illegible, and made no sense at all. Harold said that was the way Scott's stories had been coming in lately. He got up and stood with his back to me, looking out the window; I saw him take out his handkerchief and blow his nose. I think it was as though one of his own sons had delected and gone past the point of no return.
I have met many literary agents, and Harold was markedly different from the rest of them. I do not mean to stress here his elegance, because that had a sturdy New England quality, altogether without affectation. But there was no city push or rush about him, no smooth manipulative techniques; he never pressured his authors. His office reflected this attitude. One met there no chrome or sling-backed chairs, no hurry and noise of typewriters, though much business flowed through this place. When you needed to talk to Harold you sat in his quiet corner room, where books were shelved to the ceiling and the telephone did not ring. Agents and publishers are forever asking writers to go out and speak at book and author lunches, preside at book fairs, attend literary cocktail parties, or in other ways show their faces in public. Harold operated the other way around. When an author was engaged in a book that Harold believed in, he simply sheared away petty annoyances or business responsibilities and left the writer in a vacuum until the work was done. "You don't have to make that speech or attend that meeting," he would say. "Just give me the telephone numbers and I'll get you out of it." The miracle was that Harold accomplished these missions without offense at the other end. It was the business of a writer to write, Harold maintained. Let publishers take care of the advertising.
In 1937, after six hard-working and entirely obscure years with Harold's office, I published a biography of Tchaikovsky which was chosen by the Book-of-the-Month Club. I must have been feeling my oats, because I asked Harold if he didn't think it a good thing for a writer to be part of the general literary scene. What was the use of my languishing in the Philadelphia suburbs, and would he please introduce me to some New York authors? The answer was in the negative and, for Harold, very eloquent. The gist of it was that most New York writers sat up all night talking their books instead of writing them, and I had much better stay in Bryn Mawr, where I belonged. Didn't I realize how lucky I was to have a decent roof over my children's and my heads, plenty of daylight writing time, and no pressing need to go out and get a job teaching or copy reading? Actually, I had once tried for a job with the Woman's Home Companion; at my insistence Harold had even made me an appointment with Miss Roberts, one of the editors. Miss Roberts said she couldn't hire me; they didn't need anybody. But she commissioned me to write six articles on music at a price I had never before commanded, and I went out of the place on wings. Years later, Harold confessed that he had asked Miss Roberts not to take me on. "I knew in the end you'd do better financially, writing books,"he said blandly.
I THINK Harold was the only survivor in the New York literary business who called people by their last names. He always referred to his partners as Miss Olding and Mr. Von Auw, even when everybody else was calling them Dorothy and Ivan. There was an old-fashioned courtesy about him even when he was young. Yet Harold could take a writer down with aim as deadly as the legendary Tell. He was impatient with the prima donna type. More than once I have heard him say that writers were an egotistical, maddening breed and he wondered how he had happened to get mixed up with them in the first place. As a matter of fact, I wondered a little myself. His early education had been in the New England public schools, from whence he had gone in due course to Harvard, where he stroked the varsity crew. After that he went to Paris for a year. When I asked him why he went abroad and stayed so long he told me, looking embarrassed, that he had wanted to be a writer, and in those days people who wanted to be writers went to Paris.
Harold was a shrewd trader, with the mark of worldliness about him, when bargaining was in process one rejoiced to be on his side. I think there was something in him which disarmed publishers and editors, even when they had known him for a long time. Perhaps "deceived" is the better word, though the deception was unconscious on Harold's part. He carried in his bearing no hint of Madison Avenue and the hard tough marts of trade. Indeed it seemed scarcely right to mention money to Harold at all. When John Gunther first came over to the agency he asked me one day if Harold Ober wasn't perhaps too much the gentleman to be a good businessman. I repeated this to a magazine editor, at a moment when his magazine was settling terms with Harold for a feature article they wanted me to write. The editor made a loud derisive noise. "Harold Ober, too much the gentleman to drive a bargain?" he said. "Has he told you what he is getting out of us, in his gentlemanly way, for your piece?"
The lunch table is, of course, the confidential conference place of the publishing world. Yet Harold Ober was offish about inviting people to lunch, though on occasion he would favor old clients or out-of-town authors. I first met Harold in 1930. I had come from Easton, Pennsylvania, where I then lived, and I had never been to lunch in a New York restaurant in my life. I carried three notebooks 1 had brought along, with pieces of paper stuck in, about things I wanted to write next. Harold led me into a restaurant, and we were ushered to our seats. I got out the notebooks and put them on the table in front of me; the pieces of paper fell out, and Harold helped me pick them off the floor. Then he smiled and said, "Suppose we wait till we have something to eat?" I put away the notebooks, ate my oysters, and looked around. The walls were oak-paneled, but the room was bright; there was an air of ease and gaiety. I said, "Where arc we, Mr. Ober, what is this place?" He said, "This place? Why, this is the Ritz."
At once I felt reassured; in fact I felt wonderful. Nobody, I reasoned, gets fed at the Ritz unless he is worth something to the person who feeds him. Mr. Ober had read the manuscript of my novel; he must think it pretty good. He hadn't said so, it was true, but then he hadn't said much of anything. Harold, I was to discover, possessed a genius for knowing just how much encouragement and discouragement to give a writer, how much of what William James called "No no!" — and how much of comfort. With the latter he was chary. I remember when my first novel was published in 1934, Harold said kindly that perhaps I would like to walk down with him to Putnam's and see my book on the stands. But he felt he must tell me something: When an author's first novel comes out, the author thinks it is going to change the world. And then it doesn't. Nothing happens. "Actually, the world pays very little attention to first novels."
Long afterward, when other books of mine had been published, I thanked Harold for that remark. He said he remembered it well and that he had hated saying it. But it was better to be frank with beginning authors; it saved them worse suffering in the end. In thirty years of association, I remember just three letters of professional comment that Harold showed me. All three had a profound effect, and there is no doubt that Harold knew they would and had calculated it out to the last twinge. The first came from Fanny Heaslip Lea, the novelist and short story writer, who had introduced me to Harold after reading the manuscript of my novel. My manuscript had amateurish places in it, Fanny's letter said, but she thought that I could learn to write. The juxtaposition of those two remarks was enough to set a writer off like a time bomb and Harold knew it. I took the letter home with me and went to work.
The second letter came a few years later and it was from Frederick Lewis Allen, then editor in chief of Harper's magazine. I was trying to write personal essays, eventually to be published as a small collection called Friends and Fiddlers. But the unfamiliar form crippled me; I was stiff and self-conscious. Harold offered two of the essays to Harper's, which already had published several things of mine. The essays were rejected. Harold sent them back with a brief note saying that he was enclosing Fred Allen's covering letter, which 1 was not supposed to sec. But he thought it might be wise to send it on. "What is the matter with Mrs. Bowen?" Allen's letter said. "She writes like a disgruntled schoolteacher." 1 put that letter on the floor beside my typewriter, where it stared up at me. In anger and chagrin — all stiffness knocked out of me — I began to rewrite. Once again, Harold had known exactly what he was doing.
The third letter I mention because Harold Ober's accompanying note was so characteristic. The letter had come to Harold from Hamish Hamilton, my English publisher, who had just received the manuscript of my biography of Chief justice Sir Edward Coke, on which I had been at work for six years. Hamilton was pleased with the book and said so. "When you read this you won't turn into a conceited author, will you?" Harold wrote. I used to tell Harold he was just like John Adams. If on Saturday night there was joy, on Sunday morning Adams turned it into cause for sober thought and future self-improvement.
HAROLD was indeed so reserved that I wondered, sometimes, how he managed in conference with publishers and with the lawyers who took care of his clients' income tax returns and plagiarism suits and all the tangled affairs of the literary business. When he did take an author to lunch, he could sit for ten minutes straight without anybody saying a word. One morning I told the same Miss Roberts of the Woman's Home Companion that 1 was to lunch at noon with Mr. Ober. She shook her head and inquired what on earth we would find to talk about. "That New Hampshireman can say nothing for longer periods than the great Buddha." Yet, as soon as one found out that these silences did not make Harold Ober uneasy, they ceased also to make other people uneasy. After the smooth volubility of editors and publishers, Harold's silence had a reassuring quality.
In politics he was liberal, a strong supporter of Franklin D. Roosevelt, and thereby fell into difficulties with his far-to-the-right neighbors of Westchester County. At a big Scarsdale dinner party the talk became viciously anti-Semitic. Harold endured it as long as he could. ("I didn't know what to say, it's hard to break into a conversation like that.") Finally he put his napkin on the table, got up, and left the dining room and the house. "My wife came along later," he told me vaguely. When I asked if he had mentioned the incident afterward to his host and hostess, called up or anything, Harold said No, what would there be to say?
We didn't talk about business much, though we discussed at length what I was currently writing and what I had better plan to write next. Harold plainly considered me feeble-minded where money was concerned. He told me sharply never to make terms with editors or publishers, but let him do it for me. Once he astonished me with a check for $5000 from Hollywood; he said it was an option on Yankee from Olympus. The option covered eighteen large single-spaced pages, and it specified that the production could include singing and dancing. The notion of Justice Holmes en ballet charmed me (even aside from the $5000), and I begged Harold to complete the deal. How did the office think I'd do in Hollywood? Harold said he would think it over.
I never heard another word about Hollywood and Holmes. Before I knew it I was deep in a biography of John Adams. Looking back, I am sure it was no accident that this pattern kept repeating itself, and that for thirty years under Harold's direction I wrote straight out of one book into another. Sometimes, at the end of a book, I would inquire ii iiny publishers had sent in ideas for a new biography I might write. Last lime I asked was just after The Lion and the Throne was finished. Harold said Yes, he had a list of a dozen or so ideas from different publishers; he had held them back until I finished writing. Actually I never saw the list because I started right in on a new book of my own choosing.
I don't know how it was with his other authors, but for me the greatest service Harold did was to keep me at work. Of course every writer is confronted, sooner or later, by false prophets who urge him to change publishers or agents. The farthest pastures are greenest, and look how much that new agent, Harry Srnithers, made for So-andso on his last novel, what with digests and paperbacks. I remember one remark of Harold's that alone was worth thirty years at 10 per cent. We were walking along Forty-ninth Street toward his office. At this particular time I wanted to break away from books on music, of which I had published three, and write about Justice Oliver Wendell Holmes. Most authors overtalk their points. I had talked mine down to incoherence, tormenting myself with obvious logic against the venture, arguing counter to my own desires and then demanding of Harold why he didn't say something. Was it that old Yankee caution? What did he really think — should I try this book about a judge and the law? Suppose I ended up, five years later, flat on my face?
Harold did not pause in his stride or glance around. He looked straight ahead, and he was frowning. "People should gamble on their abilities," he said. He repeated it. "'Kitty, you must gamble on yourself."
It was the sheer integrity of his character, I think, that made Harold's pronouncements so impressive — when he made them. Again, he was sparing of that kind of thing. His letters were triumphs of reticence. "Dear Kitty: Here is your Chapter 21 and it is a very nice one. Any comments I have arc inconsequential. Filacer and prothonotary on page 17 stumped me but perhaps lawyers will know them. Isn't Jenny a little far fetched, wouldn't marshy do as well? Sincerely, Harold."
That was in 1955, when I was writing the biography of Sir Edward Coke, with fourteen chapters still ahead of me. Long before, in 1941 or 1942, I remember sending Harold the first seven chapters of Yankee from Olympus — about twenty-live thousand words which were concerned entirely with Justice Holmes's ancestors and his father and mother. I waited anxiously for Harold's reply. "I am sure," he wrote, "that your book is going to be very interesting. Your books are always interesting. But how can I judge seven chapters of a biography when the hero isn't even born yet?"
Authors are exigent; there is no end to the sympathy they need and can absorb. A good agent knows it. During the final year of my successive biographies, my telephone would ring at exactly the right moment in the morning's work. "How is it coming?" the cheerful, even voice would ask. Plainly, Harold Obcr was not worried about my book, so why should I be so everlastingly anxious? He was strongly against hurry in writing — a trait unusual in a profession which is forever sighting
deadlines and whipping up ideas for books that can be written in six months, articles that can be produced in two weeks. "Never mind if the publishers are pushing you," Harold said. "Take another five months if you need it. Take another year. Good books aren't written in a hurry."
It was my great good fortune to have a literary agent with a passion for history. Harold thought the writing of biography was "worth while," and he did not hesitate to use that comfortable, outmoded phrase. As he grew older, Harold stayed much in New York and let his young partners make the necessary trips to see his Hollywood and
London affiliates. For his writers it was marvelous to know that Harold was in New York and available. Most agents and publishers seem forever to be somewhere else — flying to Paris to round up French authors, to England for play contracts. Or it is August and they are in Maine. For an author with a manuscript to be read, these absences are unreasonable, unforgivable, and altogether crushing.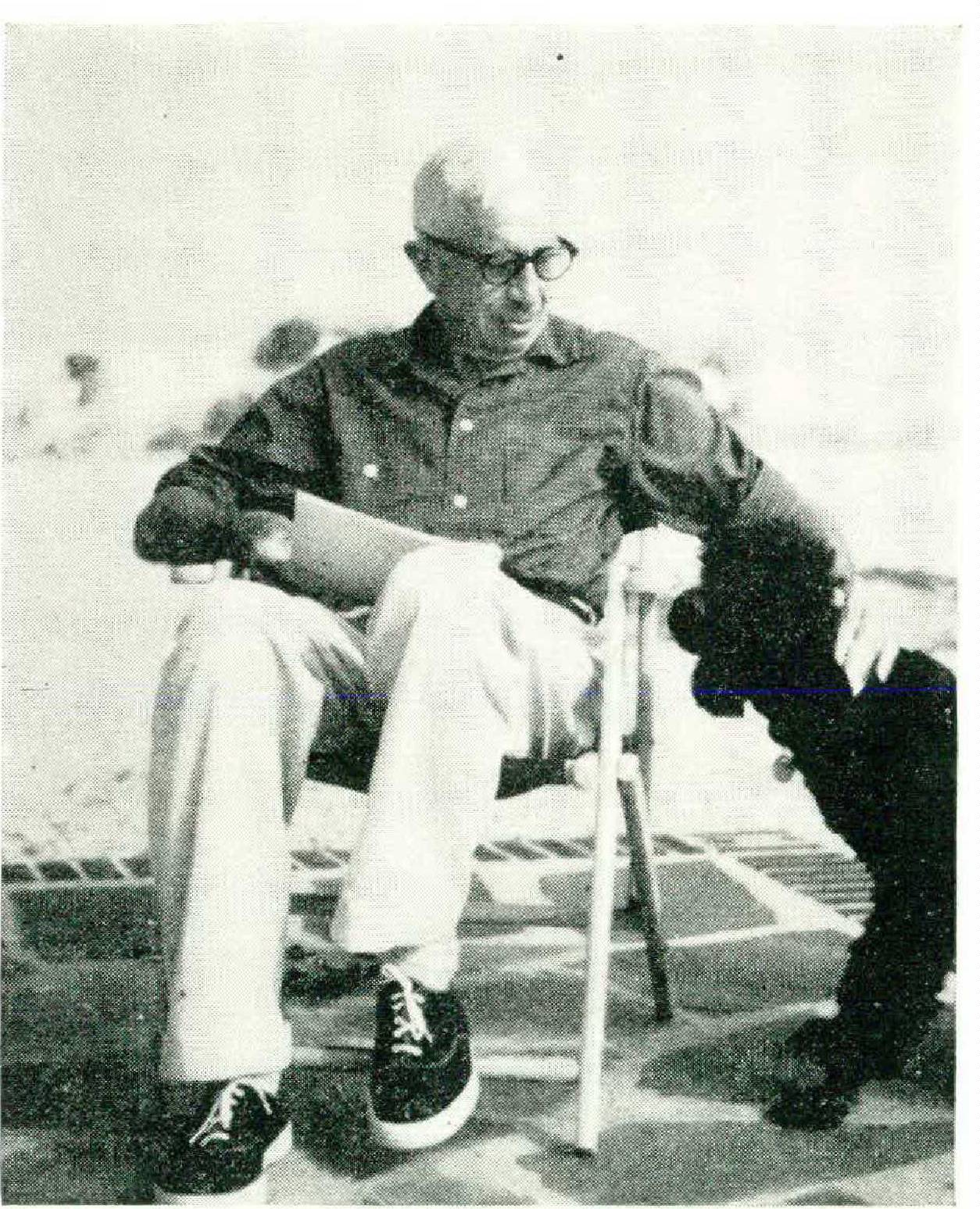 As he grew older, Harold became more exacting about the quality of manuscripts submitted. It must have been hard on his partners. He told me ruefully that he could no longer judge the magazine fiction that came to his office. "I take home a serial, and next day I tell Miss Olding it's horrible, not fit to print. Then she reads it and sells it to some woman's magazine for thirty thousand dollars." In his last years he read much for his own pleasure: history, philosophy — Carlyle, Froude, Santayana, Trevelyan, Burckhardt. He said he had given up reading manuscript on the commuters' train and read printed books instead. Right up to the end he continued to work in his Scarsdale garden. He had wonderful strawberries, and four thousand gladioli which he crossbred for new species; his wife, Anne, complained that he would break his back digging trenches for asparagus.
Harold did not like getting old; the fact of it seemed to embarrass him, as if he had done something a bit off-color that ought to be suppressed. Over the rafters in his living room was the big oar he had won as stroke at Harvard, with his name and class painted on it; he kept it rolled over so no one could see the date. When his sons came home from college for the holidays, they used to turn the oar around, to tease him. "Yesterday was my birthday," Harold would announce, standing in the office hallway. "I am getting very old." He would look quickly to see what we would say. I always made the same reply. "Harold, I know exactly how old you are. I have known for thirty years." This seemed at the same time to surprise and relieve him. "Why, I had no idea you knew my age!" he would exclaim.
Beginning in 1956 he had several heart attacks, one of which sent him to the hospital. But he never talked about his health. Some months after the first attack, I ventured to ask Harold how he had really felt about it. From his manner one would think heart attacks were part of normal daily life. Hadn't he been under any strain at all? Was he scared, apprehensive?
Harold shook his head quickly. "I felt humiliated," he said.
The summer before he died, some of us had driven down through New Hampshire with him and had prevailed on him to stop at New Ipswich and call on his Cousin Caroline. Cousin Caroline was eighty-five; she lived in a brick-ended clapboard house not far from the common. We drove up to the back door after the New England fashion; Miss Caroline was in the kitchen putting up beans. She had on a big apron and a cap which entirely covez'ed her hair; she lived alone and she spoke with Harold's exact accent. We sat in the front room while the two of them talked, exchanging stories. Obviously there was mutual affection and respect. Miss Caroline showed a quick interest in everything pertaining to the world of books. It was the only time I ever heard Harold expand into anecdote — homely stories about the region, about his grandfather's friend, for instance, who was up shingling the roof and all of a sudden called out, "By the gods, I'm going to fall!" Then he said, "By the gods, I'm falling!" And then, "By the gods, I've fallen!" And he picked himself up and limped off.
We left Miss Caroline and walked along a treelined road to the cemetery. Four stones bore the name of Ober; they were small stones, and they looked out over the valley and hills to the south. There was a big pond in the cemetery; boys were fishing in it. As we drove out of town we passed a little house, very old and set deep in a green slope. Harold said it had belonged to his greatgrandfather.
All of us were glad, afterward, that we had gone there and seen the gravestones, Cousin Caroline, and the old house built in the green bank. They explained Harold Ober, defined him as New York City and Scarsdale could never define him: spare and kind, cautious yet believing, a gentleman of the old school who kept his sights high and his bargaining wits about him — above all a man country bred, in whose hands an author could feel safe.