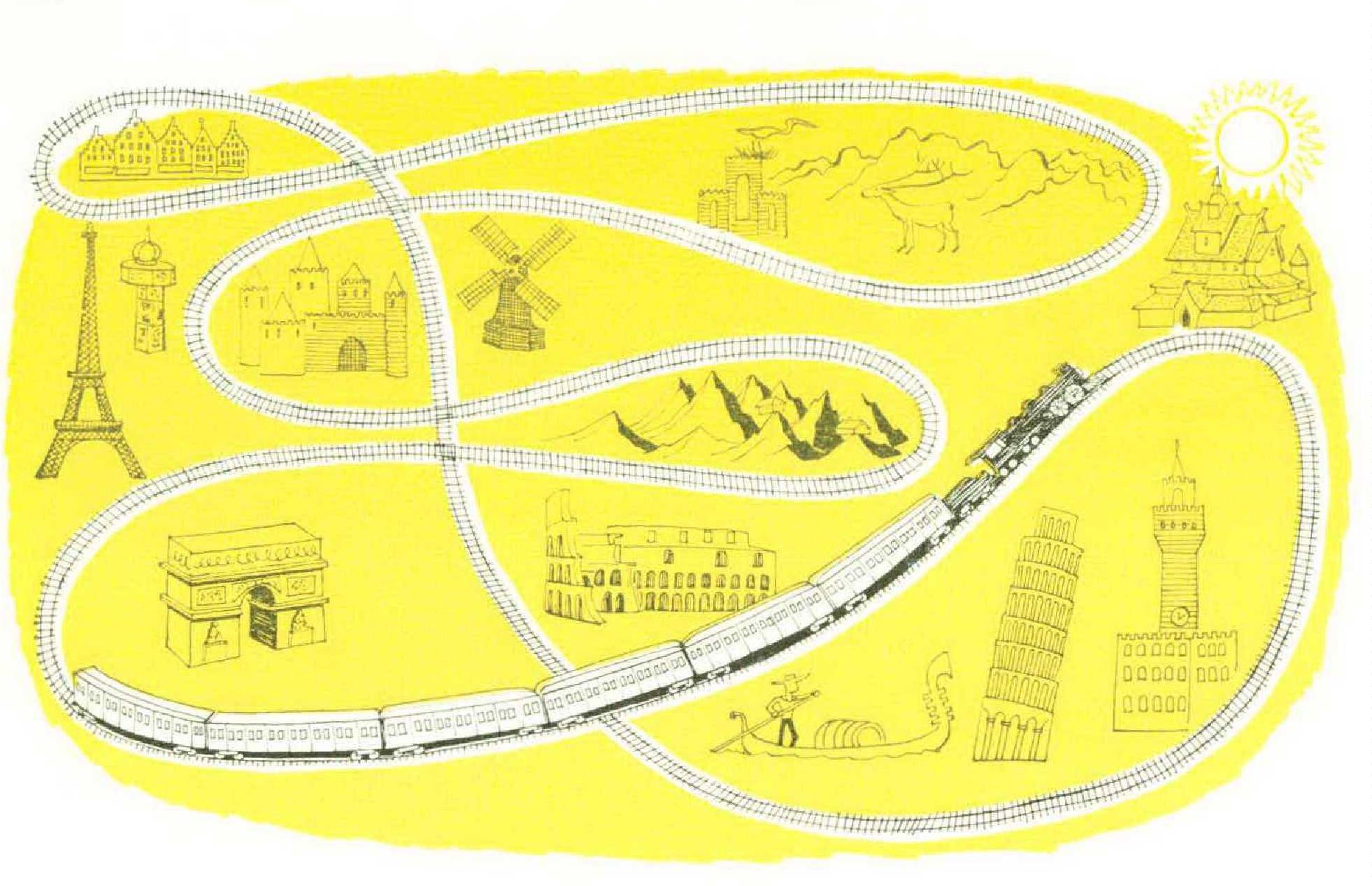 I have just returned from a twomonth, 13,000-mile trip through thirteen European countries, from the Arctic Circle to the Mediterranean, and my total transportation cost was only $125; that is, less than one cent a mile, although I traveled exclusively by rail and always first class. What's more, 1 frequently had a whole compartment to myself and often rode the more expensive expresses. I did all this with a Eurailpass, which, for $125, is the greatest travel bargain ever offered.
Now this is quite a claim, but I believe I can prove it. The 13,000 miles I traveled is a distance greater than halfway around the world. I landed at Cherbourg, France, and took a train to Paris. From there I took a TEE (Trans Europe Express), and in three hours I was in Brussels. My itinerary from this point on was as follows: Luxembourg City, Rotterdam, Amsterdam, Copenhagen, Oslo, Stockholm, Narvik, Hamburg, Bonn, Frankfurt, Munich, Vienna, Venice, Rome, Naples, Reggio (at the tip of the Italian peninsula), Messina (across the strait in Sicily), Florence, Pisa, Zurich, Bern, Geneva, Nice, Barcelona, Seville, Granada, Lisbon, Madrid, and back to Paris, arriving on the evening my pass expired.
I stayed only one day in most of the cities mentioned but spent two days in Amsterdam, Copenhagen, Stockholm, Hamburg, Vienna, Venice, Naples, and Nice, and three days in Rome and Madrid. Arriving back in Paris at the end of my journey, I could take time to recover from ihe trip and see the city at leisure.
Considering that a first-class round trip across Europe from Naples to Stockholm costs $130 if you use no supplementary fare trains, and as much as $168 if you do, I feel that I got my money's worth. I doubt very much whether any of the more than five thousand Americans who purchased and used Eurailpasses in 1959 followed my exact route. But my itinerary does show what can be done.
The Eurailpass may well bring a much greater influx of American travelers to Europe. It is easy, for instance, to use the pass for night riding instead of paying for an expensive hotel room. One simply takes an overnight train and sleeps in a compartment. This is especially good off-season when the first-class traveler can frequently obtain a whole compartment to himself and stretch out on the seat quite comfortably.
France pioneered the idea of the Eurailpass, and it was French officials who struggled through long conferences to convince the other nations of Europe that the project was sound. Some of the countries that now take part in the program at first refused to consider the plan at all. They wanted to keep their railroads independent and were satisfied with prevailing conditions. For three years meetings, discussions, and arguments went on. Even after the plan was agreed upon, it took an enormous amount of explaining to ticket collectors, conductors, and platform attendants — it was new to them and not very easy to understand.
As a Eurailpass user, I was curious and even a little concerned over whether the pass would transcend the language barrier, but it was accepted everywhere. On most of the ordinary runs, the pass was acknowledged with careless ease. On the less frequented lines, there was at times paging through the rulebook, but always I was allowed to continue without delay. On several occasions, the conductors got together over my pass, mumbled incantations or exhibited it around for others to see, but it was returned unharmed, and I was allowed to go my way.
Sometimes, I will admit, there was a show of annoyance at a prevalent nuisance. In the trial year of 1959, the ticket collectors on all the trains were required to copy down the name of the pass holder, the number of the pass, where it was purchased, from whom it was purchased, and the destination of the pass holder. The information was recorded and sent back to Paris, where it was tabulated on IBM cards. However, the future users of the Eurailpass will be greeted more pleasantly, for the ticket collectors arc no longer required to copy this information.
Representatives of the railroads of the thirteen countries involved in the program France, Italy, Switzerland, Germany, Austria, Denmark, Norway, Sweden, Belgium, Holland, Luxembourg, Spain, and Portugal — met last December 9 and agreed to continue the Eurailpass program indefinitely. The price will remain the same, at least for the present. The object of the program was never to earn money but to encourage more American travel in Europe.
Although the number of users is expected to double in 1960, the 1959 statistics will be used, and percentages of the $125 fee will be apportioned among the various countries concerned, on the basis of the trial year. Each country involved in the program will receive a proportion of the money, depending upon what part of the tourist's trip was made in that country and the average price per kilometer charged by that country. As you can see, this is a mathematical problem for a computer.
And even the computer is working overtime. The results for 1959 will probably not be known until the middle of 1960, but it is expected that France will have received somewhat over one quarter of the tourist travel, Italy somewhat less than one quarter, and Germany about one seventh. The big three would then take two thirds of the money, which is resting quietly in a French bank account. This expectation is based on the prevailing tourist picture: France has always been first, Italy second, Germany third.
To buy a Furailpass, one sends a check for $125 to a travel agent, and the agent writes to one of the seven places in America where the passes are sold. New York has five of these: the New York offices of the French, German, Swiss, Italian, and Scandinavian railroads. There are also French railroad offices that sell the passes in San Francisco and Montreal. It is hoped that more sales offices will be opened sometime in i960, especially in South America.
One big improvement in the passes has come this year. Since February. 1960, all Eurailpasscs have been sold without a date. This prevents the difficulty experienced last year by a few Americans whose ships arrived in Europe late, so that the validity of their passes was lessened by several days. From now on, Furailpass purchasers will buy the passes in America, and then when they arrive in Europe and are ready to begin using their passes, they will go to any railroad ticket window and ask to have the date affixed.
Eurailpasscs cannot be bought in Europe, but the main railroad offices in capital cities of countries involved in the program will extend them for an additional two months upon the payment of another $125.
T asked M. Masmejcan, who is currently in charge of the French end ol the Furailpass program, what route he would follow if he were an American tourist. He said he would naturally go to Paris first, then to the French Riviera, Rome, and Naples, and back through Switzerland. He would take a steamer trip on the Rhine and go on to Scandinavia if he had time: otherwise he would go directly to Belgium, Holland, and Luxembourg, and return to Paris. Naturally M. Masmejcan was speaking as a Frenchman, but this is the trip many Americans make. The Furailpass is also good for the steamer trip on the Rhine, steamers on the Danube, various ferryboats connecting the Scandinavian countries, and steamers on the Swiss lakes.
M. Masmejean's projected trip does not include the Spanish peninsula, and unless the service in that section improves, which it shows no sign of doing, I would suggest that Furailpass holders avoid the Spanish railroads entirely and skip Spain and Portugal. True, living costs in Spain are cheap, but all transportation, other than flying, is primitive. On my trip I did not follow a prearranged schedule but inquired only after reaching each city on my list as to trains for the next place. I had intended going to Algeciras and Gibraltar, but I found that to do so I would have to wait for two days for the train. So 1 went on to Seville, instead. Considering that in other European countries there are many trains between main towns each day, Spain's railroad connections seem backward. For instance, between Naples and Rome there arc, even in the off-season winter months, seven rapido or express trains and twelve locals operating daily.
One of the advantages of the Furailpass is its simplicity. While other travelers are struggling with complicated tickets, the pass holder has one little card that does it all for him. Another virtue of the Furailpass is that, if the traveler wants to get back and forth onto the station platform, he merely shows his card. An attractive plastic folder and maps ol the European railroad lines are given with the pass. The folder is jList the right size for an American passport, and the railroad timetables and travelers' check booklets can also be stored neatly within. In fact, one package is all that is needed for the trip.