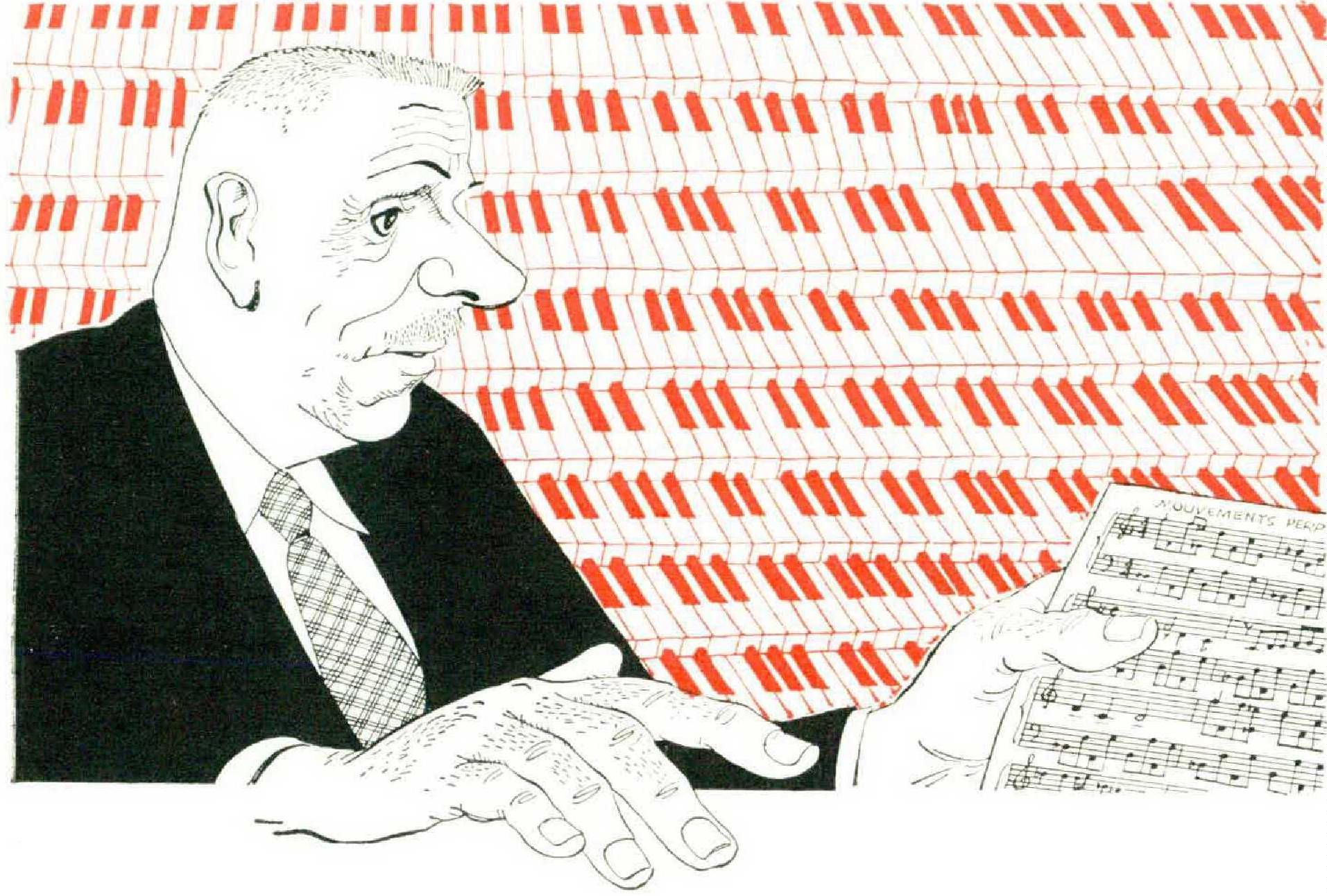 Francis Poulenc has been described as music's tallest living Frenchman. I would have been willing to accept this as a figurative description, long having been a sturdy Poulenc admirer, but I did not recognize it as graphically apt until I sought the man in his hotel in New York. He met me at the elevator, and I had to crane. He towers above one, and, from up yonder, he twinkles — in a way, I think, that anyone who knows his music would expect. It has been said that he resembles the famous comedian Fernandel, and so he does, but the resemblance is superficial, not significant. Really, he made me think rather of pictures of Voltaire, who wasn't tall but who had about him the same quite inimitable air of Paris, the bright wit overlying the deep concern for humanity.
This speaks in his music, for Poulenc is probably today's subtlest musical humorist and most compassionate religious composer. If he had to split these dual honors, it would be with the American Virgil Thomson, with whose work Poulenc's has much in common. Thomson has been the less industrious of the two, but both men have proved — for listeners, at least — that the comprehensible idiom which sufficed for Brahms and Saint-Saens suffices still, and amply, when the I.Q. and the spirit behind it are high enough. There is a coincidence beyond my powers to explain in both men's main efforts having been divided between humor and worship. Poulenc sees nothing odd in this, and perhaps neither should anyone.
Poulenc was here to supervise a touring presentation of his opera La Voix Humaine, a one-woman telephone monologue of love lost, which also was recorded at the time for RCA Victor records' Soria celebrity series. A generous man, he then went five blocks uptown and made a tape for Columbia of his Piano and Woodwinds Sextet. He is a very good pianist and an appreciative fellow player as well. He said it was "a fun" to perform with the Philadelphia Wind Quintet.
Poulenc's English is easy to understand for anyone with a smattering of French. "Don't make me to be a neoclassicist," he said. "I just write as I want, as it comes to me. Some composers innove, but some great composers do not innove. Schubert did not innove. Wagner, Monteverdi, they innove. Debussy innove; Ravel does not innove. It is not necessary that one innove. I am not against, you understand. Today there is the electronic music. Some I like, what I have heard. The musique concrete I do not like; it is sale; music made with 'teen pote.' 'Teen pote.'" He went into a recess of the apartment and emerged with a small saucepan, on which he hammered redoubtably with a spoon. " 'Teen pote,' " he said. Musique concrete is the product of tape tinkering with assorted sounds, some of which no doubt have come from tin pots.
Poulenc's greatest successes on records in America have been the Organ Concerto, in an early LP by E. Power Biggs, which, oddly, struck the fancy of hi-fi enthusiasts, by reason of some tremendous pedal and percussion passages, and the Dialogues of the Carmelites, an opera about nuns sentenced to execution in the French Revolution. This latter gained impetus from a fine Englishlanguage presentation by the NBCTV Opera Company and was subsequently recorded beautifully (in French) by Angel. It is a devotional work of moving pathos. So is the earlier Stabat Mater, still available on Westminster.
"Now I write a sonata for clarinet and piano," he said, moving around the suite and picking things up, because his airplane for Paris was to leave in three hours. "I have just finished a Gloria for soprano, chorus, and orchestra; this Leontyne Price and Charles Munch will perform in February, and also I work upon a Good Friday music for New York Philharmonic — choral, of course."
Poulenc was something of a prodigy. He joined the Paris group of musicians and poets called Les Six when he was only eighteen, and charmed post-war audiences with songs, mostly based on poems by Guillaume Apollinaire, and whimsical ballets. He was thought afterwards, by many critics, to have lost his spark, which may prove simply that they were not listening. There is, for instance, nothing flimsy or transient about the Organ Concerto; it is gripping, exciting, at once deep and accessible.
"I would like if Mr. Biggs does this again," said Poulenc. "With the new records it would make a good effect."
I asked E. Power Biggs about this. "Nothing I'd rather do," he said briskly. I called Columbia. "It's on our minds," said John McClure, artists and repertoire director, "but a special sound is called for. Wait till we find the right organ."
The Young Voices
The overture ended; the gold curtain went up; and a young lady from Mexico City named Carmen de Solis came out on the stage of the Metropolitan Opera House and sang Caro Nome. Being no opera buff, I do not know on what note this aria ends, but I do know it is awfully high and hard and that Miss de Solis made an angelic pianissimo of it. She knew this, too, and favored us with a delightful Latin grin as she walked off.
Thus began the second New York finals of the Metropolitan Opera auditions, one of the most exciting and depressing events of the musical year. I say "exciting" because the seventeen young voices brought forth from North America's various regions were exciting, even in timeworn arias. I say "depressing" because I cannot help thinking about what Mickey Mantle is going to be paid this summer to hit a baseball with a bat. The best these youngsters, who can sing Tosca and Siegmund and Gilda, may hope for are a couple of $2000 scholarships and, for one of them, a beginner's Met contract.
The 1960 Met contract was won by a graceful Californian mezzo named Mary MacKenzie. She sang O mio Fernando, accompanied by a middle-aged lady who sat in front of me and hummed, not quite on key.
I would have tapped her shoulder, except that I figured she might be one of the many people there who had given $500 or $250 to the National Council of the Metropolitan Opera, which makes possible the hundreds of hearings all over the continent which yield the finalists. Young Mr. Howard Hook, the council's chairman, and Mr. John Gutman, one of the Metropolitan's two assistant managers, make the arrangements and do the listening. They do it, as the phrase goes, con amore and indefatigably, and their harvest is astounding. We have on this continent a quite wonderful supply of magnificent young voices, with good musical brains behind them.
Unfortunately we have in this country, so far as I know, fewer than a half-dozen opera companies that present anything like a full season. So what do these youngsters do? They go to West Germany, where nearly every town big enough to call itself a city has a state-subsidized opera theater. (Ironically, many of these have been substantially helped by American aid money.) Sometimes one wonders about America's boast that it is the world's most musical nation.
Aconstic Researcher
"I'm retiring from the rat race," said Edgar Villchur in 1952, when he was only thirty-five. It wasn't too arduous a rat race, really, since he was an instructor in electronics at New York University, but Villchur speaks colorfully, nowadays from under a piratical mustache. Anyway, he bought a house in Woodstock, New York, and became 1) a free-lance writer, 2) a choral singer, and 3) a researcher in loudspeaker design, since he hated the massive and distortion-prone devices wherewith he had to listen to his Bach and Stravinsky. This is what put him back into the rat race, since he is now president of Acoustic Research, Inc., better known to hi-fidelitarians as AR.
AR, which has established the small loudspeaker on the American listening scene, began when Villchur wondered whether a speaker cone might not give truer, firmer bass if it were cushioned by air in a sealed box than if it had to depend on its own built-in elasticity. Villchur impressed his wife into service, and they sawed and hammered and soldered until they could try the aircushion theory. It worked. The box was small enough to sit on, and twenty-cycle tones came out of it like Mr. Kipling's Chinese thunder. "The smallness of acoustic-suspension speaker systems," Villchur says, "is incidental to the production of pure bass. It's easier to use the mechanical properties of air in a small enclosure than in a big one." The mechanical properties of air turned out to be highly salable. This year Acoustic Research will ship 40,000 loudspeaker systems. Best seller will be the ninety-six-dollar AR-2, since people are buying it in pairs, because of the onset of stereo. Next will come the original model AR-1, a little bigger at $185, and then the no-compromise AR-3 ($225), designed by Villchur as a loudspeaker with no beam effect or directionality at all, which he says is the type needed for proper stereophonic ambience.
"This was the nearest thing to music we could make," he says of the AR-3. "I knew we were a success to start with when I brought a pilot model home and my wife said, 'What a quiet speaker!' Men accuse women of being against high fidelity. They're not. When a woman says, 'Turn it down,' she means to turn down the distortion. Most women hear better than men.
"I'm going to get out of the rat race again," Villchur went on. "I'm sick of commuting across Massachusetts, but mainly, I've built a dream laboratory on Overlook Mountain in Woodstock, and I want to get at hearing aids. The reason people are ashamed of hearing aids — as they are not of eyeglasses — is that everyone knows they don't work. At least, they don't work as well as they should. When you wear a hearing aid, people feel obliged to yell at you. I think, or at any rate I hope, that I can design some that do work.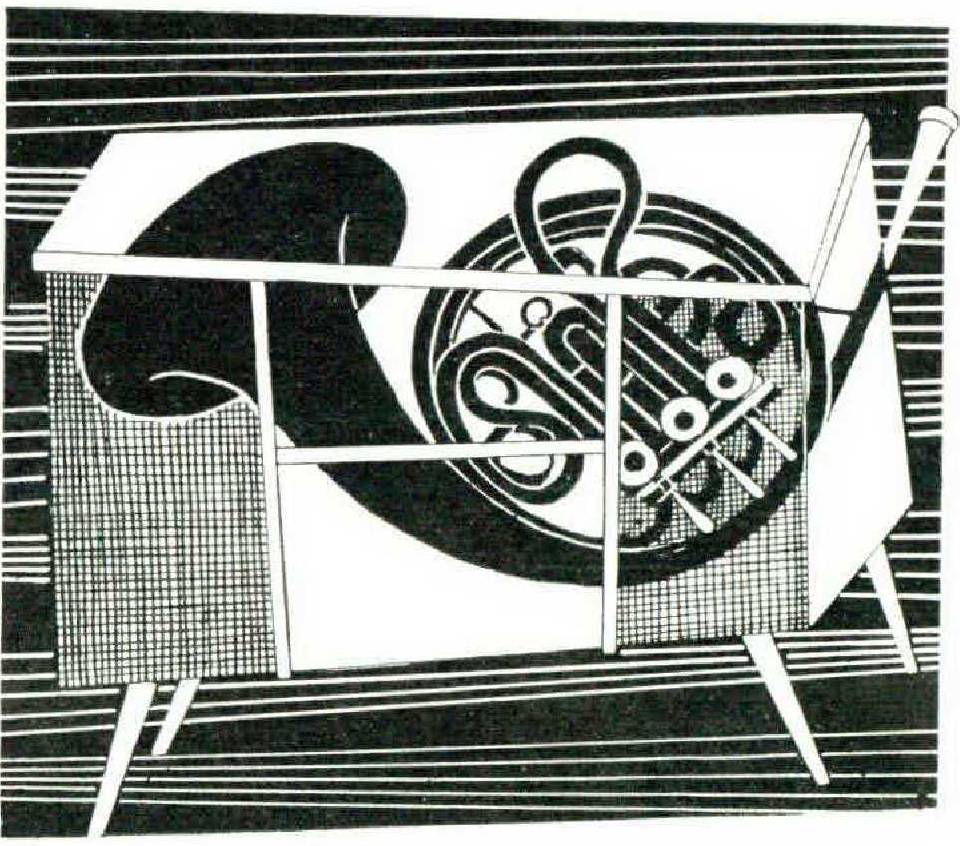 "They don't really need me at the plant anyway," said Villchur with a pleased smile. "I've got a perfect and flexible staff. One of them used to teach history. One taught German literature. One was a choral director, and one a magazine editor. I never took an engineering degree myself.
"Now I'm on my way from Woodstock to the plant in Cambridge. It's a day's work just getting to work, though it's not so bad as when I had to go to N.Y.U. to lecture once a week as well. The luxury I really want is to be at research all day long." Whereupon the leading maker of compact loudspeakers departed for the western end of the Massachusetts Turnpike, whistling something that sounded like Bach, and probably was.