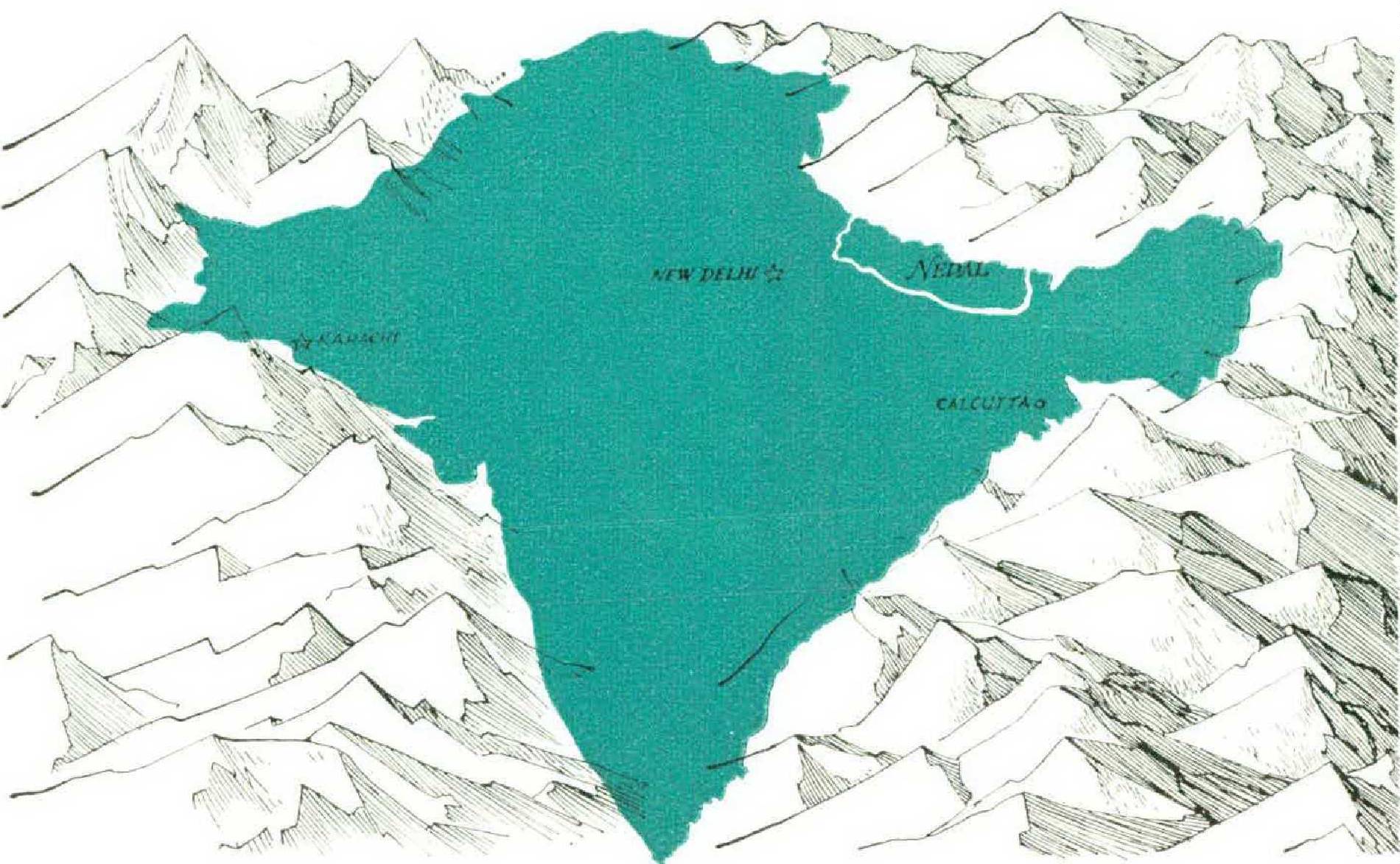 The fifty-minute flight from the Indian frontier city of Patna to Katmandu, the capital of Nepal, is much more than a journey from one ancient country to another. India has been exposed to the rest of the world for hundreds of years. The conquerors, the traders, the diplomats, the tourists have all left their marks. But Nepal, tucked away in the Himalayas, was left alone in almost complete isolation until less than a decade ago.
To visit there today is to leap backward four centuries and more and find oneself in a remote land with a rich culture, a happy, handsome people, and the magnificent, formidable mountains which have been a sort of trade-mark for this otherwise little-known kingdom.
What Marco Polo wrote in the fourteenth century, "The country is little frequented by strangers, whose visits the king discourages," was pretty much the case until 1951, except that in the preceding century it was not the kings who did the discouraging, but the Rana family autocracy.
The Ranas treated all of Nepal as their own estate, kept each successive king a prisoner in his palace, and, with few exceptions, forbade visitors from entering and Nepalese from leaving.
Nepal would probably still be Rana-controlled if, after India received independence, the late King Tribhuwan's followers had not been able to make contacts with the new and sympathetic Indian government, and secure its help in the revolution.
There are still Ranas all about Katmandu, nonetheless. Queen Ratna Devi, wife of the present King Mahendra, is a Rana, and so are a number of civil servants. As the Nepalese explain the situation to surprised visitors, there must be some educated people in the government, and the Ranas — of which there were hundreds, with a caste system of their own — were about the only Nepalese allowed a decent education.
It is in a Rana palace that the visitor may well live while in Katmandu. There arc eight or ten such buildings, and they constitute the only examples of Western-style architecture in the country. Each is a vast, white-walled Versailles-type pile, surrounded by a formal, French garden which is large enough to be termed a park.
The largest building, once the Prime Minister's home, has fifteen hundred rooms and now serves, more than adequately, as the government's Secretariat. One of the smaller palaces is now the Royal Hotel, owned by the government and operated by a White Russian named Boris Lissanovich and his blonde Danish wife. Most bedrooms are the size of ballrooms, with adjoining tiled baths practically as large. There are Ranas still living in an isolated wing.
The Royal sets an astonishingly good European table, which runs the gamut from borsch to crepes suzette, and rates are $15 per day for a single room, American plan. The only other eating place is the dining room of the smaller, simpler Snow View Hotel $4 for a single room, American plan), run by Tom Menzies, an Anglo-Indian, and his Canadian wife, and often the headquarters for mountaineering parties.
A guide is essential for getting about, and so is a Jeep or an army truck, ordinary cars being too delicate for the rough roads. There are not many Nepalese who speak Western languages, but the two hotels have pressed a handful of qualified people into service. Their rates are $3 per day; a sturdy truck or Jeep rents for $10 per day, with chauffeur.
The Valley of Katmandu is the core of the country. Most Nepalese refer to it as the Valley of Nepal, because until recent years the mountain people in the sparsely populated provinces considered themselves citizens of the region in which they lived, with only nebulous, if any, ties to the capital. Still-primitive communications and the terrain have kept this situation little changed, and unless the visitor is a mountain climber, or on a scientific mission, he probably will not leave the valley.
The valley remains quite as it has been for many hundreds of years. There is no newness to distract from its distinctively Nepalese character. Even its setting, at an elevation of 4700 feet, framed by a rim of snowcapped mountains, is in the best travel folder tradition.
In addition to Katmandu (the name in Nepali means "City of Glory"), the valley is the site of Nepal's two other important towns, Patan and Bhadgaon, as well as the great Buddhist centers of Swayambhunath and Bodhnath and the most sacred of the Hindu shrines, Pashupatinath. Common to all are the Nepalese genius for design and the basic native building materials, bricks and mortar, which these people have used for centuries. One finds no mud huts, as in neighboring India; even the simplest houses are of brick.
There is not a phase of the decorative arts which has escaped the Nepalese — intricate wood carving in latticework, windows, sills, pillars, cornices, doors; stone carving, particularly of religious figures; fine work in bronze, gold, silver, copper; painting, with a splendid sense of color and perspective.
Never invaded by the Muslims or colonized by Europeans, Nepal developed an indigenous art and architecture, which inspired design in other Eastern countries. "The Nepalese," wrote French Orientalist Sylvan Levi, "changed the arts of India, built temples and palaces which served as models to the Tibetans and Chinese, and created the classical pagoda." What makes these treasures exciting is the fact that virtually all of them are still in use. Only one structure in Nepal is formally designated as a museum, and many visitors never get to it; there is really no need.
Patan's center is a maze of superbly proportioned pagodas, surrounding a cloistered palace whose courtyard contains a sunken pool which was once the bathing place of the kings. In Bhadgaon, the main square is dominated by the enormous Golden Door of the principal palace, with a façade of fifty-five distinctively decorated windows. Overlooking the scene — which includes the five-story Nyatapola, the highest pagoda in the country — is the statue of an ancient king, seated on a towering pedestal, his head covered by a golden umbrella. And in Katmandu itself, the Durbar Square is a cluster of temples. Guarding the most imposing is a huge figure of the monkey god Hanuman.
Even the drive from one valley town to another is not uneventful. There are no beasts of burden in all the country, and there is a neverending stream of porters and peasants marching along in single file, with heavily loaded baskets whose straps are secured on their foreheads. High-caste Nepalese rarely walk any considerable distance, and those without cars (motor vehicles are still a rarity) are carried in venerable sedan chairs.
There is always color and movement — women combing yarn on the streets and threshing wheat by hand in the courtyards; children playing, and their elders praying, in the temple compounds; housewives shopping in the open market stalls and the low-ceilinged little shops.
On a drive with my guide from Katmandu to Swayambhun a t h, I was stopped by a throng of marchers, most of them beneath splendidly decorated yellow umbrellas. High above the crowd were two young boys jogging along in sedan chairs carried by relatives. The occasion was a typical child-wedding. One boy, aged ten, was the brave young groom; the other was his eight-year-old brother, the best man.
Buddha, who was born in Nepal, is reputed to have visited 2500-yearold Swayambhunath, situated atop a two-hundred-foot hill. Its main stupa is a white brick dome, crowned by a golden pinnacle which is surmounted by an umbrella of burnished gold. On each side of the tower are painted two mystic eyes, symbols of the ever-seeing Buddha, and visible from almost anywhere in the valley.
At Bodhnath is the Buddhist temple which is headquarters for the Lamaist (Tibetan) branch of that faith in Nepal, and there are two representatives of the Dalai Lama in residence, overseeing the staff of Tibetan monks, several of whom insisted on inspecting my camera. One of their chiefs, who lives a chaste life, received me in his simple quarters, where his bearer served Tibetan yakbutter tea (I do not recommend it); the other leader, a worldly gentleman with several wives and numerous offspring, served a highly potent guava brandy and conversed in fluent English about his early years in Lhasa.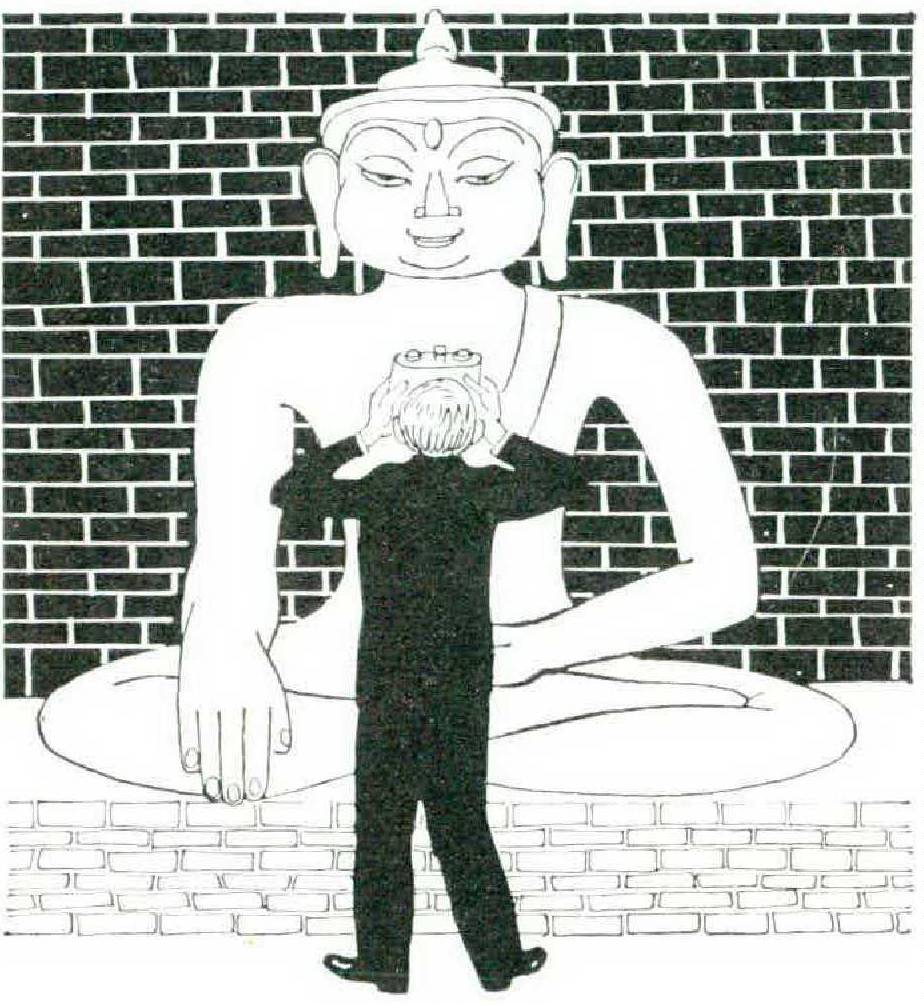 Nepal is not without its Hindu holy men. One sees them (along with scores of well-mannered, and sacred, monkeys) on the grounds of Pashupatinath, the holiest Hindu shrine in the country, and like In dia's Benares, on a sacred river, the Bagmati.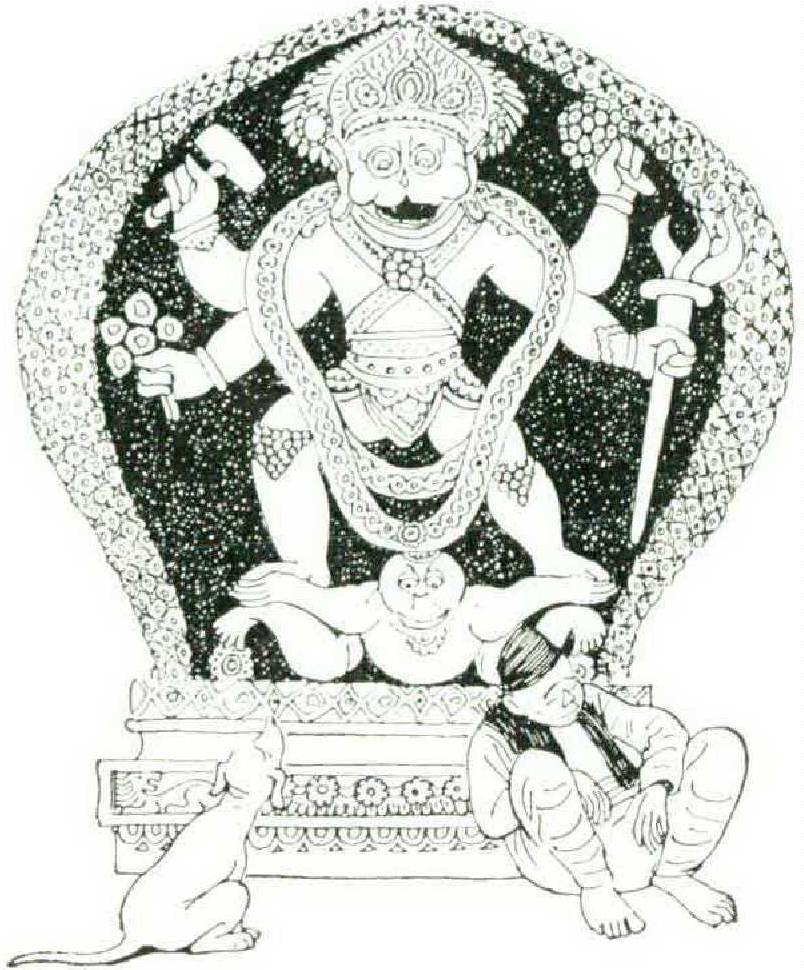 Clad only in loincloths, with long beards, tall staffs, and copper pots of holy water, the holy men sit in contemplation by the river or pray within the temple. One, in a hut near the entrance, squats crosslegged day in and day out, receiving the faithful who bring him food and ask for his blessing.
Everywhere in the valley, the people manage to combine in their reception of the foreigner a sense of wonder coupled with a sense of humor. They are inordinately polite and gracious and have infectious grins. And though quite as poor as their often dour Indian neighbors, their outlook is bright and sparkling, thanks perhaps to the Buddhist influence and the relatively healthy mountain climate.
They dress as they always have: women in long, flowing skirts, billowy shawls, and quantities of jewelry; men in homespun costumes with fitted tunics, jodhpur-like trousers, and rakish caps.
They seem to get along well with each other as well as with visitors. There has never been any religious difficulty in Nepal. The two major faiths are peculiarly intermixed, and one finds Hindus at Buddhist stupas and Buddhists at Hindu temples. The two religions are the mainstay of their life, inspiring daily activity, architecture, diet, and social structure. A caste system, Hindu in origin, remains enforced. But a relaxed gaiety and gentleness, typical of Buddhist peoples, seems to lessen its rigidity.
The photographer can count on returning home laden with photographs of persons as well as places; no people in the world are more willing to pose, or indeed more fascinated by the insertion of a roll of film in a camera.
But besides pictures, there is a great deal more that can be brought back from Nepal, most of it best purchased in the shops of Patan, where the country's best artisans live and work.
Outstanding are hand-wrought eigarette and jewel boxes decorated in semiprecious stones; neckcklaces, bracelets, brooches, earrings of the same materials; Buddhist prayer wheels in silver and copper; wooden yak-butter dishes embellished with brass; Hindu and Buddhist religious figures; wood and ivory carvings; handmade rice paper (the only kind used in Nepal); multicolored prayer masks; homespun cotton and wool yard goods.
Prices are very low ($2 will buy a beautiful cigarette box, for example), and bargaining is the rule except in the government's emporium in Katmandu, the only fixed-price store in the country. One may use either Indian or Nepalese rupees.
Like most Oriental countries, Nepal requires a visa of visitors. But before applying for it, one should secure first a double-entry visa for India from a consulate of that country. This authorizes the initial entry into India from abroad, as well as the return to India from Nepal. Next, two copies of the Nepalese visa application form should be obtained, either by writing the Nepalese Embassy or from a travel agency specializing in Asian bookings, such as American Express.
The completed forms should be mailed to the Embassy of Nepal, 2131 Leroy Place, N.W., Washington, D.C. Accompanying them should be the traveler's passport, two passport-size photos, and a letter from a travel agency or airline certifying that round-trip transportation has been booked. The embassy will visa the passport and return it within a week or ten days.
Cholera, typhoid, and smallpox inoculations are needed, too. Spring and fall are the best seasons for a visit; summer is less good because it is the rainy season. In winter there is a great deal of snow.
There are daily Patna-Katmandu flights in both directions, via Indian Airways Corporation's two-engine, nonpressurized and nonairconditioned Dakotas. The line's excellent safety record compensates for the discomfort of the aircraft. Planes from both Calcutta and Delhi make convenient Patna connections.
These days, the Nepalese are terribly busy trying to transform their ancient autocracy into a progressive monarchy. They have already accomplished what many thought impossible — the first elections in their history. With American and other foreign aid, they are attempting needed improvements in agriculture and hygiene.
But they have a long way to go, even by Asian standards. There is a brand-new university but few lower schools and only about 4 per cent literacy. There is a modern international airport, but the postal system still handles only domestic mail. (The Indian Embassy in Katmandu processes foreign mail, and it has been known to falter.)
There is a democratic constitution, but there is also a ten-year-old girl selected by the King to be worshiped as a living goddess; she can be observed any day at her own little palace. And during my visit, the people of the valley heralded the birth of another goddess — a malformed Siamese twin, to whose home I was taken in central Katmandu.
All things considered, there is little likelihood that Nepal will rush too quickly into the twentieth century. But one can never be sure in the age of the technician, and if the prospective visitor has any doubts, he had better lose no time in setting the visa-application wheels in motion.