At the Beginning of Life: My Meeting With Gorky
A poet who enjoys particular success in his books for children, SAMUIL MARSHAK was discovered by Gorky. He learned English in London in 1911 and there began his brilliant translations of Blake, Wordsworth, and Burns, as well as the English ballads and nursery rhymes. We have selected this chapter from his reminiscences now being serialized in NOVY MIR.
IT HAPPENED on a warm August day in 1904 out at Vladimir Vasilevich Stasov's house in the country. From year to year, for more than twenty years, he had been spending the summer months in the village of Starozhilovka, near Pargolov. He rented the same house from local residents, the Bezrukovs. The spacious two-storied log house with glass-enclosed verandas on both floors was always open to friends. How many improvised concerts we had there, how many literary readings and family celebrations! Sometimes, during the Stasov home concerts, crowds of people would gather outside the fence and listen to the sounds wafting out of the open windows.
On this particular day, guests were expected who were especially dear to Vladimir Vasilevich. We prepared for their coming gaily, ingeniously, and painstakingly. Among other festivities Vladimir Vasilevich had thought of delivering to the guests a special welcome, comical, but at the same time, solemn. The sculptor Ginzburg had done a pen-and-ink drawing of Stasov's summer house on a large sheet of cardboard and had left space under the drawing for some text. I was assigned the task of writing the greeting and doing it in the shortest possible time, as we had to copy the text and decorate it with ornamental gold and scarlet initial letters before the guests arrived.
I quickly composed something in the nature of a majestic scroll of honor in the ancient style, under the heading of "The Three Russian Heroes." As is the custom with Russian epics, I gave first place to Ilya — not Muromets, but Repin. He was followed by new names not out of the epics: Maxim Gorky and Fyodor the Great Chaliapin.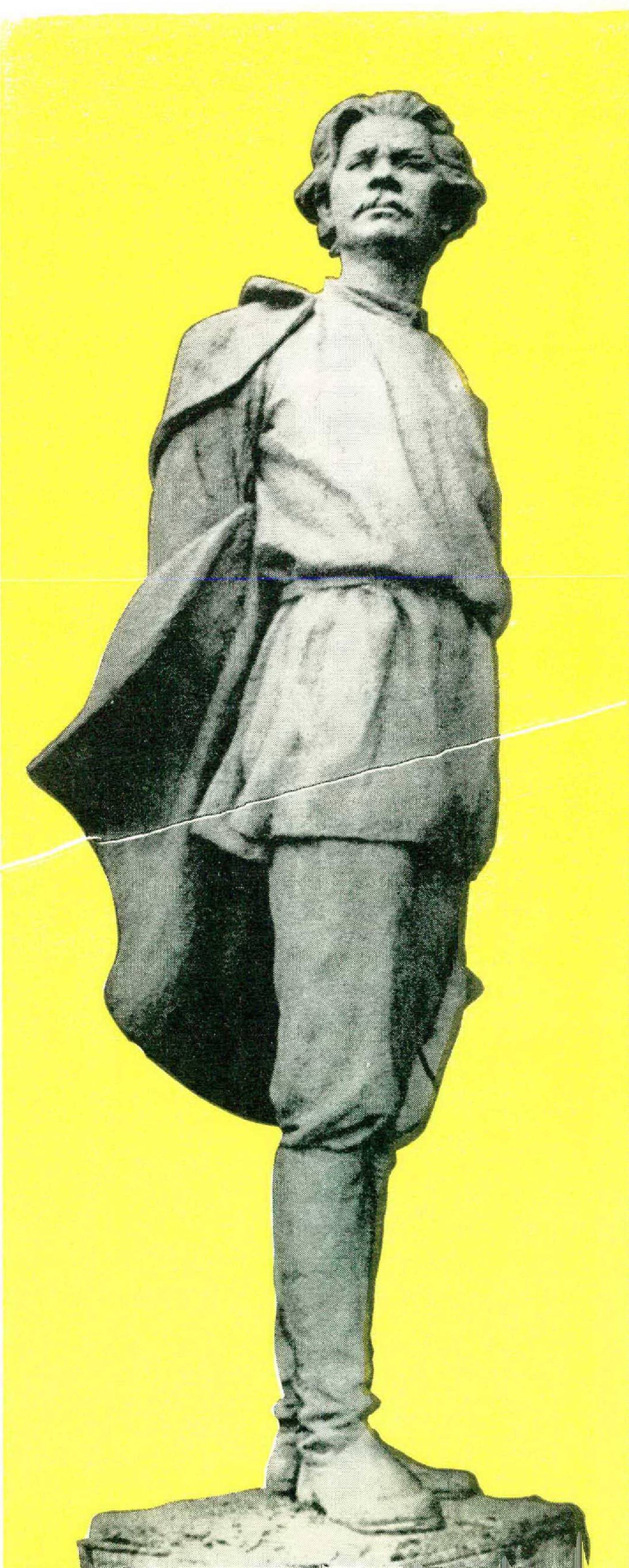 Considering that my job was done, I slid down the banister of the porch and broke into a run along the sandy path of the garden, rejoicing in the August sun and the mild breeze which was permeated with the scent of resin and heather. Then suddenly I was again called back into the house, to the lower veranda, and was put to work. It turned out that I had omitted from the text one other guest — Glazunov, the composer. What could I do? There was no time to copy everything over again. Vladimir Vasilevich came to my assistance just in time. He cheered me up and advised me to add just one word to the heading and one line to the text.
The heading turned out even more unusual than it had been: "To the Three Russian Heroes and a Fourth." And the scroll itself now closed with these lines about Glazunov:
"A younger brother but a greater Hero — Alexander — the Light Konstantinovich!"
There was nothing surprising in my having forgotten one of our most famous guests in my greetings. It was the meeting with Gorky to which I was looking forward more than anything else that day. I had already met Repin more than once. I had had the opportunity to see Chaliapin, too — true, only from afar and in that very special glamorous world that the theater was for me. But Gorky's name meant more to me than the names of the other guests, who were his seniors in age and in fame. His fame, too, was of a somewhat special kind. Not only what he wrote but he himself attracted a general curiosity and cither ardent admiration or just as passionate hatred.
Even Vladimir Vasilevich Stasov, who was always sympathetic to everything forceful and original, had not immediately taken to him. At first he had spoken of Gorky with reserve and a little distrust. This was not surprising. They were people of different epochs. Old Stasov, who was a man four years older than Tolstoy, had had to perform a great and complicated task to be able to appreciate Gorky's style and direction. But he soon became the most avid of readers, and later even the most avid of admirers, of Gorky's prose.
Reading the little green-bound volumes, he seemed to grow young again. He would treat everybody who visited him, whether he knew him well or not, to excerpts from Gorky and say joyfully: "What a mighty man! What original talent! Why, this is a first-rate poet and thinker of the stature of Byron and Victor Hugo."
I listened to Vladimir Vasilevich and rejoiced in the fact that, although he was eighty, in arguments about Gorky he was at one with the young people. And to the young people Gorky seemed the most contemporary of all contemporary writers. For my generation his voice was the voice of the times, not only of today but of tomorrow.
And now this man about whom we had thought and argued so much would just walk in here, would climb these steps and would talk, joke, and listen to music with the rest of us. And perhaps I would succeed in observing in him something I had found neither in his books nor in the talk about him.
THE three of them came together — Repin, Chaliapin, and Gorky. The wheels of the Finnish gigs rumbled up to the gates of the Stasov country house, the gate creaked, and into the garden, conversing merrily, walked not three Russian heroes but three of the most ordinary and, at the same time, the most extraordinary men.
The prankish ceremonial of a greeting was carried out to the last detail. A flourish was played loudly, if I remember rightly, on two grand pianos. The scroll was brought up. The reading of the greeting fell to me, the youngest of the guests, an adolescent in school uniform with shining buttons and carved letters on his belt buckle.
I was complimented; my hand was shaken; I was embraced. Only Gorky said not a word. In general, he was not too talkative at first and only gradually entered into the conversation.
I looked at all three of them without lowering my eyes. Repin and Chaliapin looked quite smart, especially Chaliapin. He was dressed in a light suit that had the look of a sun-drenched day. The summer suit fit this handsome, big, stately man smartly and well.
There was not the shadow of smartness about Gorky's appearance. He was dressed like some railroad foreman or the head of a construction gang. His dark jacket with its stand-up collar was tightly buttoned; his trousers were tucked into the tops of his soft Russian boots. But his whole body, lean and well-proportioned despite a slight stoop, and his small, well-set head with its thick wings of chestnut-colored hair falling over his temples, and his blue-gray eyes with their intent look and their long lashes shadowing them gave one the feeling of a neatness, a clearness of purpose, and a restrained strength that lent every movement of the man purpose, dignity, and even grace. He lost nothing by comparison with the magnificent Chaliapin; and Repin, who was wearing a festive light-gray suit, seemed rather prosaic alongside Gorky.
As was often the case in the Stasov household, the entire evening was filled with song, with music, and with the "great epics of the wandering minstrels,"as Vladimir Vasilevich jokingly expressed it. And all the time I kept glancing at Gorky involuntarily, listening to his rather muffled accent with the stress on the "o", taking note of his very special smile, at times so mischievous and provocative, as if he were pulling off some kind of amusing boyish prank.
He was not at all the man we knew from his photographs. I had expected to see a pensive and melancholy long-haired youth in a Russian peasant blouse, but here facing me was a mature, selfconfident man. Everything about him was a surprise to me: his hugeness, his muffled bass, the calm, businesslike manner in which he spoke about contemporary literature, about the new publishing house of which he was in charge.
On every one of my visits to the Starozhilovka summer house something new and interesting was sure to happen. But in my memory no day had yet turned out as well as this one. Vladimir Vasilevich was animated and affable as never before, and probably for this reason everybody felt wonderfully free and easy.
Ponderous and most serious in appearance, Glazunov, without the trace of a smile, told us an incredible story at dinner about some drunk in the street who had mistaken him for a horsecar and even tried to clamber up onto the outside seat of the car.
The sculptor Ginzburg, a little, wizened, and extraordinarily agile man, mimicked a small-town tailor at work, a drayman dozing off with the reins in his hand, a quarrel between two old women neighbors over an egg a chicken had laid in the wrong yard. I can remember that he needed a kerchief for this last little scene to hide his beard and the bald spot which gave greater height to his already high forehead.
He performed the whole show with such humor and grace, with such subtle keenness of observation that every gesture of his little hands, every movement of his eyebrows and his half-lowered eyelids remained fixed in the memory of the spectator. According to the stories of eyewitnesses, Leo Tolstoy, looking at him, would laugh until tears came into his eyes and involuntarily imitate him, at times wrinkling his forehead, at other times moving his lips.
And then Chaliapin sang. He sang unstintingly, choosing songs that were special favorites of Vladimir Vasilevich. Among the pieces that he sang were the majestic ballad At Twelve O'clock Midnight, austere in a military way, but at the same time full of a sense of mystery; and the rollicking and desperate and sinister dance The Trepak by Moussorgsky; and right after this, the choppy tongue twister The Seminary Student, repeating a series of Latin grammar-rule exceptions without any real reason, the same exceptions I had to learn by heart at school:
"Panis, piscis, crinis, finis,
Ignis, lapis, pulvis, linisT
This little cramming session was gradually transformed into the unsophisticated, bitter, though, at the same time, humorous lamentation of an overgrown seminary student complaining about his ill-fated life:
"And so the priest gave me a tug By the scruff of the neck, by the neck! . .
And it was the same voice singing these words that had just sounded with the peal of a copper bell which had commanded the obedience of the mighty, measured step of phantom troops, a voice that had resounded with the rage of a blizzard singing its witchery and causing a poor little drunk to dance until he fell, and then lulling him to sleep forever.
PERHAPS it was that evening that I first sensed not only the power of music but the great power of the word when it is fully understood to its complete end and when it stands in its proper place, supported by the whole breadth of breathing, by the full power of rhythm, by the full depth of the image. Was it any wonder that my heart almost stopped beating when, after Chaliapin's singing, Vladimir Vasilevich suddenly suggested that I recite my verses?
Still, I did recite. I don't remember which ones precisely — better than fifty years have passed since then. It seems to me that they were an excerpt from a poem by Mickiewicz that I had translated and, in addition, some lyrical poetry. Just one thing has remained sharply etched in my memory. From the first line I recited, I felt a serious, kind attention which immediately gave me a feeling of confidence and made it possible for me to regain my composure.
When I finished, Gorky sat down next to me, tenderly patted my hand, and began to ask me what 1 read, what books I liked, where I came from, and where I was studying. And all of a sudden I felt amazingly at ease and talked simply with this man, who just yesterday had been but a name and a book for me. He listened with the closest attention, leaning slightly toward me, to my brief history. You might have thought that there was nothing of deeper interest to him than the life of this boy on whom he had just set his eyes for the first time.
But at this point Vladimir Vasilevich cut into our conversation. Putting his big arm around my shoulder, he began to tell Gorky that of late I had been ailing frequently and that it would seem that this area was harmful to me. Gorky thought for a minute and then asked me simply: "Would you like to live in Yalta? Fyodor and I will arrange it for you. Right, Fyodor?"
"We'll arrange it immediately!" Chaliapin called out gaily over the heads of the people who were surrounding him.
A month or two passed. And all of a sudden, three telegrams came to us across the Moscow gates, across the Putilov Bridge: one in my father's name and two in mine. As I remember, these were the first telegrams I had ever received in my life. Both were from Gorky in Yalta. To this very day I can remember the text of the telegrams. One consisted of just a few words: "You have been accepted at the Yalta High School. Details follow. Peshkov [Gorky's real name]."
The second was a little longer: "Come. You will stay in Yalta on the corner of Morskaya and Autskaya in the Shiryaev summer house. Ask for Katerina Pavlovna Peshkova, my wife. Peshkov."
The telegram sent to my father was signed "Director Gottlieb." It carried the same news, but in a more official form.
I was already acquainted with the name of the director. Not too long ago this big, portly man, with his wavy head of hair, had been teaching Latin in our school.
And so everything was settled. All that there was left for me to do was to gather together some clothes and my books and to set out for the Black Sea on my new wanderings.
IN THE train I hardly moved away from the window. The northern forests gave way to the fields and copses of Central Russia. In white-stoned Sevastopol I was blinded for the first time by the southern sun and by the blueness of the sea that splintered up its rays. Another few hours on a steamship — a real seagoing steamship, with two decks glistening with fresh paint and copper — and there before me was Yalta: the semicircle of the embankment, the many-tiered city climbing up along the incline of the hills, the rust-colored tendrils of the vineyards, and the cypresses that looked like monks covered from head to foot in dark cloaks.
Announcing its arrival with a husky, unbearable, penetrating whistle, the ship slowed its pace and, shaking all over, began moving toward the pier sideways. The propeller screws of the ship ripped up the mirrorlike surface of the sea as if it were turning it inside out. Now, in place of an iridescent blue between shipboard and the pier, there was a bubbling white lacerated foam swirling up, glistening in the sun with colored sparks.
Together with the motley crowd of travelers, I descended the gangplank onto the pier, and with my light luggage in hand walked first along the embankment and then along the stone walks leading upward. Everything here was new for me, unexpected; it was as if I weren't in a real city, inhabited, serious, businesslike, but somewhere in the midst of a stage set, festive but temporary. Everything here was so unlike anything I had seen up to then — the lacy iron grilles covered with ivy, already sprayed with the crimson paint of autumn; the white summer homes with their broad balconies; the well-kept gardens with their thick, almost metallic leaves of laurel. And finally I came to the Shiryaev summer house on the corner of Morskaya and Autskaya.
After carefully opening the iron gate, I found myself in front of a house which had been built of natural stone in the middle of an area surrounded by carefully trimmed thick bushes with tiny, stiff leaves.
I climbed the stairs and on the threshold was met by a young woman, light of step, energetic, with smoothly combed but still fluffy, dark, chestnut-colored hair. Her face looked stern, but her lips were lightly touched with an appealing, sweet, friendly smile.
Grasping my hand in her small but strong hand, she led me into the house, which was drenched with sunshine, with the sea breeze, and with the dry fragrance of the southern garden. I followed her, not yet guessing that these few steps would be leading me not only from one room to another but into another stage of my life — from adolescence to youth.
Here, in the heart of Gorky's family, in this seaside city, I was to come face to face with the years, of which these long-familiar, sweeping lines of poetry had given me a forewarning: "Above the flat gray expanse of the sea the wind gathers the clouds. . . ."
Gorky himself came down here after a term of imprisonment in the Petropavlovsk Fortress, noticeably thinner, and because of this, seeming even taller. In prison he had grown a short, tough, reddish beard and got to look somehow like a northern White Sea captain.
The entire Gorky household at that time seemed like a ship still fixed to its moorings but flinching with every wave and rising higher and higher with the swelling tide.
Nineteen hundred and five was approaching, the threshold of a new period in history, the threshold of my youth.
Translated by Bernard Koten.